Abstract
The aim of this paper is to empirically test whether interlinking patterns between higher education institutions (HEIs) conform to a document model, where links are motivated by webpage content, or a social relationship model, where they are markers of underlying social relationships between HEIs. To this aim, we analyzed a sample of approximately 400 European HEIs, using the number of pages on their web domains and the total number of links sent and received; in addition we test whether these two characteristics are associated with organizational size, reputation, and the volume of teaching and research activities. Our main findings are as follows: first, the number of webpages of HEI websites is strongly associated with their size, and to a lesser extent, with the volume of their educational activities, research orientation, and reputation; differences between European countries are rather limited, supporting the insight that the academic Web has reached a mature stage. Second, the distribution of connectivity (as measured by the total degree of HEI's) follows a lognormal distribution typical of social networks between organizations, while counts of weblinks can be predicted with good precision from organizational characteristics. HEIs with larger websites tend to send and receive more links, but the effect is rather limited and does not fundamentally modify the resulting network structure. We conclude that aggregated counts of weblinks between pairs of HEIs are not significantly affected by the web policies of HEIs and thus can be considered as reasonably robust measures. Furthermore, interlinking should be considered as proxies of social relationships between HEIs rather than as reputational measures of the content published on their websites.
Access options
Buy single article
Instant access to the full article PDF.
US$ 39.95
Tax calculation will be finalised during checkout.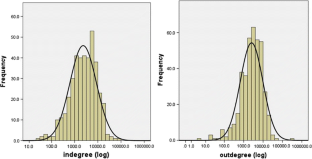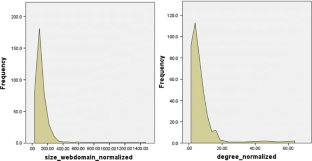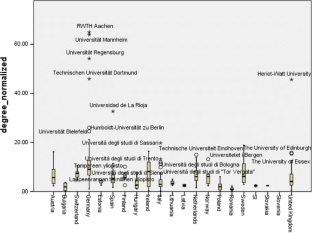 Notes
1.

Following countries were covered: Austria, Bulgaria, Switzerland, Germany, Estonia, Spain, Finland, Hungary, Ireland, Italy, Lithuania, Latvia, Netherlands, Norway, Poland, Romania, Sweden, Slovenia, Slovakia and UK.
References
Adamic, L. A., & Huberman, B. A. (2000). Power-law distribution of the world wide web. Science, 287(5461), 2115.

Aguillo, I., Ortega, J. L., & Fernández, M. (2008). Webometric Ranking of World Universities: Introduction, Methodology, and Future Developments. Higher Education in Europe, 33(2), 233–244.

Aguillo, I. F., Ortega, J. L., Fernández, M., & Utrilla, A. M. (2010). Indicators for a webometric ranking of open access repositories. Scientometrics, 82(3), 477–486.

Almind, T. C., & Ingwersen, P. (1997). Infometric analyses on the world wide web: Methodological approaches to 'webometrics'. Journal of Documentation, 53(4), 404–426.

Astani, M. (2013). A decade of changes in university website design. Issues in Information Systems, 14(1), 189–196.

Barabási, A., Albert, R., & Jeong, H. (2000). Scale-free characteristics of random networks: The topology of the world-wide web. Physica A: Statistical Mechanics and its Applications, 281(1), 69–77.

Bar-Ilan, J. (2005). What do we know about links and linking? A framework for studying links in academic environments. Information Processing and Management, 41(3), 973–986.

Bar-Ilan, J. (2009). Infometrics at the beginning of the 21st century: A review. Journal of Infometrics, 2(1), 1–52.

Callahan, E. (2005). Cultural similarities and differences in the design of university web sites. Journal of Computer-Mediated Communication, 11(1), 239–273.

Callahan, E., & Herring, S. C. (2012). Language choice on university websites: Longitudinal trends. International Journal of Communication, 6, 322–355.

Cameron, A. C., & Trivedi, P. K. (1998). Regression analysis of count data. Cambridge: Cambridge University Press.

Capocci, A., Servedio, V. D., Colaiori, F., Buriol, L. S., Donato, D., Leonardi, S., et al. (2006). Preferential attachment in the growth of social networks: The internet encyclopedia Wikipedia. Physical Review E, 74(3), 036116.

Cattani, G., Ferriani, S., Negro, G., & Perretti, F. (2008). The structure of consensus: Network ties, legitimation, and exit rates of U.S. Feature Film Producer Organizations. Administrative Science Quarterly, 53(1), 145–182.

Daraganova, G., Pattison, P., Koskinen, J., Mitchell, B., Bill, A., Watts, M., et al. (2012). Networks and geography: Modelling community network structures as the outcome of both spatial and network processes. Social Networks, 34(1), 6–17.

De Stefano, D., Fuccella, V., Vitale, M. P., & Zaccarin, S. (2013). The use of different data sources in the analysis of co-authorship networks and scientific performance. Social Networks, 35(3), 370–381.

Gaudeul, A., & Giannetti, C. (2013). The role of reciprocation in social network formation, with an application to Live Journal. Social Networks, 35(3), 317–330.

Glänzel, W., & Schubert, A. (2005). Analysing scientific networks through co-authorship. In H. F. Moed, W. Glänzel, & U. Schmoch (Eds.), Handbook of quantitative science and technology research (pp. 257–276). Dordrecht: Kluwer Academic Publications.

Gonzalez-Bailon, S. (2009). Opening the black box of link formation: Social factors underlying the structure of the Web. Social Networks, 31(4), 271–280.

Heller-Schuh, B., Barber, M., Henriques, L., Paier, M., Pontikakis, D., Scherngell, T., et al. (2011). Analysis of networks in European Framework Programmes (1984–2006). Luxembourg: Publications Office of the European Union.

Ijiri, Y., & Simon, H. A. (1964). Business firm growth and size. The American Economic Review, 54(2), 77–89.

Katz, J. S., & Cothey, V. (2006). Web indicators for complex innovation systems. Research Evaluation, 15(2), 85–95.

Kretschmer, H., Kretschmer, U., & Kretschmer, T. (2007). Reflection of co-authorship networks in the Web: Web hyperlinks versus Web visibility rates. Scientometrics, 70(2), 519–540.

Lee, M., & Park, H. W. (2012). Exploring the web visibility of world-class universities. Scientometrics, 90, 201–218.

Lepori, B., Barberio, V., Seeber, M., & Aguillo, I. (2013). Core–periphery structures in national higher education systems: A cross-country analysis using interlinking data. Journal of Infometrics, 7(3), 622–634.

Lepori, B., & Bonaccorsi, A. (2013). Towards an European census of higher education institutions. Design, methodological and comparability issues. Minerva, 51(3), 271–293.

Más-Bleda, A., & Aguillo, I. F. (2013). Can a personal website be useful as an information source to assess individual scientists? The case of European highly cited researchers. Scientometrics, 96(1), 51–67.

Ortega, J. L., Aguillo, I., Cothey, V., & Scharnhorst, A. (2008). Maps of the academic web in the European Higher Education Area: An exploration of visual web indicators. Scientometrics, 74(2), 295–308.

Owen-Smith, J., & Powell, W. W. (2008). Networks and institutions. In R. Greenwood, C. Oliver, K. Shalin, & R. Suddaby (Eds.), The SAGE handbook of organizational institutionalism (pp. 594–621). London: SAGE Publications Ltd.

Payne, N., & Thelwall, M. (2007). A longitudinal study of academic webs: Growth and stabilization. Scientometrics, 71(3), 523–539.

Pennock, D. M., Flake, G. W., Lawrence, S., Glover, E. J., & Giles, C. L. (2002). Winners don't take all: Characterizing the competition for links on the web. Proceedings of the National Academy of Sciences, 99(8), 5207–5211.

Peterson, K. (2013). Academic web site design and academic templates: Where does the library fit in? Information Technology and Libraries, 25(4), 217–221.

Rivera, M. T., Soderstrom, S. B., & Uzzi, B. (2010). Dynamics of dyads in social networks: Assortative, relational, and proximity mechanisms. Annual Review of Sociology, 36, 91–115.

Seeber, M., Lepori, B., Lomi, A., Aguillo, I., & Barberio, V. (2012). Factors affecting weblink connections between European higher education institutions. Journal of Infometrics, 6(3), 435–447.

Thelwall, M. (2002a). A research and institutional size based model for national university web site interlinking. Journal of Documentation, 58(6), 683–694.

Thelwall, M. (2002b). Evidence for the existence of geographic trends in university web site interlinking. Journal of Documentation, 58(5), 563–574.

Thelwall, M. (2006). Interpreting social science link analysis research: A theoretical framework. Journal of the American Society for Information Science and Technology, 57(1), 60–68.

Thelwall, M. (2012a). A history of webometrics. Bulletin of the American Society for Information Science and Technology, 38(6), 18–23.

Thelwall, M. (2012b). Journal impact evaluation: A webometric perspective. Scientometrics, 92(2), 429–441.

Thelwall, M., Binns, R., Harries, G., Page-Kennedy, T., Price, L., & Wilkinson, D. (2002). European Union associated university websites. Scientometrics, 53(1), 95–111.

Thelwall, M., & Sud, P. (2011). A comparison of methods for collecting web citation data for academic organizations. Journal of the American Society for Information Science and Technology, 62(8), 1488–1497.

Thelwall, M., Tang, R., & Price, E. (2003). Linguistic patterns of academic web use in Western Europe. Scientometrics, 56(3), 417–432.

van Raan, A. F. J. (2007). Bibliometric statistical properties of the 100 largest European universities: Prevalent scaling rules in the science system. Eprint:arXiv:0704.0889.

Vaughan, L., Kipp, M., & Gao, Y. (2007). Why are websites co-linked? The case of Canadian Universities. Scientometrics, 72(1), 81–92.

Vaughan, L., & Thelwall, M. (2005). A modeling approach to uncover hyperlink patterns: The case of Canadian universities. Information Processing and Management, 41(2), 347–359.

Wagner, C. S., & Leydesdorff, L. (2005). Network structure, self organization, and the growth of international collaboration in science. Research Policy, 34(10), 1608–1618.

Wilkinson, D., Harries, G., Thelwall, M., & Price, L. (2003). Motivations for academic web site interlinking: Evidence for the Web as a novel source of information on informal scholarly communication. Journal of Information Science, 29(1), 49–56.
About this article
Cite this article
Lepori, B., Aguillo, I.F. & Seeber, M. Size of web domains and interlinking behavior of higher education institutions in Europe. Scientometrics 100, 497–518 (2014). https://doi.org/10.1007/s11192-014-1242-6
Received:

Published:

Issue Date:
Keywords
Social relationships

Document network

Weblinks

Higher education
MSC
JEL Classification