Abstract
There are fewer female than male professors in the world (21–79 distribution in the country of examination). The unequal distribution of male and female professors has usually been taken to indicate that men and women have not had equal opportunities to achieve professorship. At the same time, the increase in the proportion of female professors has been taken as evidence that academia is becoming more gender equal. It is possible that both of these assumptions are flawed, and that the gender distribution among professors is the result of demographic inertia, i.e., affected by the previous distribution of men and women within the system, and how fast the distribution has changed.This study examines whether the chances, for men and women, of becoming a full professor changes over time, and whether gender differences may possibly depend on early career events. It concludes that women are significantly less likely than men to become professors and that this situation is not improving over time. In spite of policies that have tried to increase the proportion of female professors, the chances of a woman becoming a professor do not change over time. We also show that these gender differences in promotion rate can be attributed to early career events.
Access options
Buy single article
Instant access to the full article PDF.
USD 39.95
Price excludes VAT (USA)
Tax calculation will be finalised during checkout.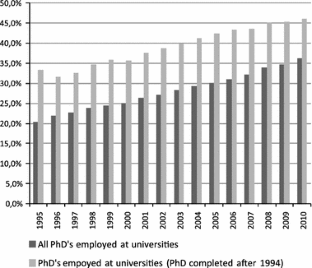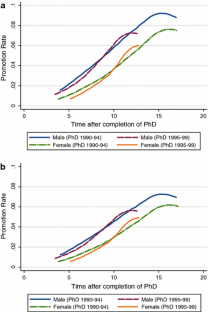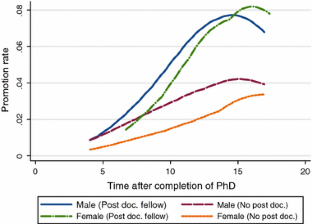 Notes
Silander does have problems defining university belonging which opens up for some ambiguity in the results (Danell 2004). However, we have tested differences in exit with our data and finds that there are no significant differences between men and women in the risk of leaving the university system after finalizing the PhD (results available from the authors)

The gender development index measures three dimensions; reproductive health (maternal mortality and adolescent fertility rate), empowerment (seat in parliament and secondary and higher education attainment), and the labor market (participation in the labor force).

This position implies a 4 year fully financed full-time research position. It is important to note that these positions are limited to 4 years and that they do not result in a permanent position regardless of performance, as permanent positions are not related to these research positions.
References
Catalyst (2011) Women in Academia. Catalyst Quick Takes. http://www.catalyst.org/publication/327/women-in-academia.

Ceci, J. S., & Williams, M. W. (2011). Understanding current causes of women's underrepresentation in science. PNAS, 108(8), 3157–3162.

Danell, R. (2004). Hur har de forskarutbildades arbetsmarknad förändrats? In SOU 2004: 7, En ny Doktorsutbildning: Kraftsamling för Excellens och Tillväxt, SOU 2004: 27.

European Commission (2006) She Figures 2006: Women and Science. Statistics and Indicators.

Ginther, D. K., & Hayes, K. J. (2003). Gender differences in salary and promotion for faculty in the humanities 1977–1995. The Journal of Human Resources, 38(1), 34–73.

Ginther, D. K., & Kahn, S. (2009). Does science promote women? Evidence from Academia 1973–2001. In R. B. Freeman & D. L. Goroff (Eds.), Science and Engineering Careers in the United States: An Analysis of Markets and Employment, pp. 163–194. Chicago: Chicago University Press

Hargens, L. L., & Long, J. S. (2002). Demographic inertia and women's representation among faculty in higher education. The Journal of Higher Education, 73(4), 494–517.

Long, J. S. (Ed.). (2001). From scarcity to visibility: gender differences in the careers of doctoral scientists and engineers. Washington, D.C.: National Academy Press.

Merton, R. K. (1973). The Sociology of Science. Chicago: University of Chicago Press.

Sandvik Wiklund, P., Anvret, M., Collin, M., Eriksson, E., Eriksson, P., Glad, C., Höök, P. & Ulf Mellerström (2011)."Belöna universitet som förbättrar jämställdheten", Dagens Nyheter, 2011-01-21, 6.

Silander, C. (2010). Pyramider och pipelines: om högskolesystemets påverkan på jämställdhet i högskolan. Växjö: Linneaus University Press.

SOU (2001) Välfärd och arbete i arbetslöshetens årtionde. Statens offentliga utredningar 2001: 53. Stockholm Fritzes.

Spilerman, S., & Petersen, T. (1999). Organizational structure, determinants of promotion, and gender differences in attainment. Social Science Research, 28, 203–227.

Statistics Sweden (2010) Sveriges officiella statistik statistiska meddelanden. UF 23 SM 1101.

UNDP (2012) http://hdr.undp.org/en/statistics/gii/. Accessed 15 may 2012.
About this article
Cite this article
Danell, R., Hjerm, M. Career prospects for female university researchers have not improved. Scientometrics 94, 999–1006 (2013). https://doi.org/10.1007/s11192-012-0840-4
Received:

Published:

Issue Date:

DOI: https://doi.org/10.1007/s11192-012-0840-4
Keywords
Academic career

Female researchers

Universities

Sweden

Promotion rate