Abstract
Negative results are commonly assumed to attract fewer readers and citations, which would explain why journals in most disciplines tend to publish too many positive and statistically significant findings. This study verified this assumption by counting the citation frequencies of papers that, having declared to "test" a hypothesis, reported a "positive" (full or partial) or a "negative" (null or negative) support. Controlling for various confounders, positive results were cited on average 32 % more often. The citation advantage, however, was unequally distributed across disciplines (classified as in the Essential Science Indicators database). Using Space Science as the reference category, the citation differential was positive and formally statistically significant only in Neuroscience & Behaviour, Molecular Biology & Genetics, Clinical Medicine, and Plant and Animal Science. Overall, the effect was significantly higher amongst applied disciplines, and in the biological compared to the physical and the social sciences. The citation differential was not a significant predictor of the actual frequency of positive results amongst the 20 broad disciplines considered. Although future studies should attempt more fine-grained assessments, these results suggest that publication bias may have different causes and require different solutions depending on the field considered.
This is a preview of subscription content, log in to check access.
Access options
Buy single article
Instant access to the full article PDF.
US$ 39.95
Price includes VAT for USA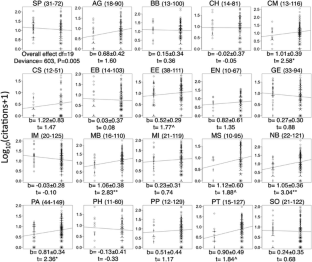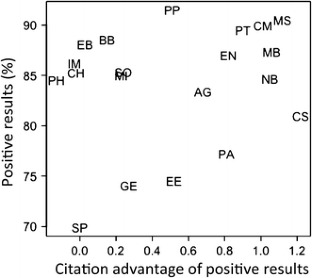 References
Anderson, M. S., Ronning, E. A., De Vries, R., & Martinson, B. C. (2007). The perverse effects of competition on scientists' work and relationships. Science and Engineering Ethics, 13(4), 437–461.

Browman, H. I. (1999). The uncertain position, status and impact of negative results in marine ecology:Philosphical and practical considerations. Marine Ecology Progress Series, 191, 301–309.

Csada, R. D., James, P. C., & Espie, R. H. M. (1996). The ''file drawer problem'' of non-significant results: Does it apply to biological research? Oikos, 76(3), 591–593.

Doucouliagos, H., Laroche, P., & Stanley, T. D. (2005). Publication bias in union-productivity research? Relations Industrielles-Industrial Relations, 60(2), 320–347.

Dwan, K., Altman, D. G., Arnaiz, J. A., Bloom, J., Chan, A.-W., Cronin, E., et al. (2008). Systematic review of the empirical evidence of study publication bias and outcome reporting bias. PLoS ONE, 3(8), e3081.

Fanelli, D. (2010a). Do pressures to publish increase scientists' bias? An Empirical Support from US States Data. PLoS ONE, 5(4). doi:10.1371/journal.pone.0010271.

Fanelli, D. (2010b). "Positive" results increase down the hierarchy of the sciences. PLoS ONE, 5(3). doi:10.1371/journal.pone.0010068.

Fanelli, D. (2011). Negative results are disappearing from most disciplines and countries. Scientometrics, 90(3), 891–904. doi:10.1007/s11192-011-0494-7.

Gerber, A. S., & Malhotra, N. (2008). Publication bias in empirical sociological research––Do arbitrary significance levels distort published results? Sociological Methods & Research, 37(1), 3–30.

Greenberg, S. A. (2009). How citation distortions create unfounded authority: analysis of a citation network. British Medical Journal, 339. doi:10.1136/bmj.b2680.

Howard, G. S., Hill, T. L., Maxwell, S. E., Baptista, T. M., Farias, M. H., Coelho, C., et al. (2009). What's wrong with research literatures? and how to make them right. Review of General Psychology, 13(2), 146–166.

Ioannidis, J. P. A. (2011). Excess significance bias in the literature on brain volume abnormalities. Archives of General Psychiatry, 68(8), 773–780. doi:10.1001/archgenpsychiatry.2011.28.

Jennions, M. D., & Moller, A. P. (2002). Publication bias in ecology and evolution: An empirical assessment using the 'trim and fill' method. Biological Reviews, 77(2), 211–222.

Knight, J. (2003). Negative results: null and void. Nature, 422(6932), 554–555.

Kundoor, V., & Ahmed, M. K. K. (2010). Uncovering negative results: Introducing an open access journal "Journal of Pharmaceutical Negative Results". Pharmacognosy Magazine, 6(24), 345–347. doi:10.4103/0973-1296.71783.

LeBel, E. P., & Peters, K. R. (2011). Fearing the future of empirical psychology: Bem's (2011) evidence of psi as a case study of deficiencies in modal research practice. Review of General Psychology, 15(4), 371–379. doi:10.1037/a0025172.

Leimu, R., & Koricheva, J. (2005). What determines the citation frequency of ecological papers? [Editorial Material]. Trends in Ecology & Evolution, 20(1), 28–32. doi:10.1016/j.tree.2004.10.010.

O'Hara, B. (2011). Negative results are published. Nature, 471(7339), 448–449. doi:10.1038/471448e.

Padial, A. A., Nabout, J. C., Siqueira, T., Bini, L. M., & Diniz, J. A. F. (2010). Weak evidence for determinants of citation frequency in ecological articles. Scientometrics, 85(1), 1–12. doi:10.1007/s11192-010-0231-7.

Pautasso, M. (2010). Worsening file-drawer problem in the abstracts of natural, medical and social science databases. Scientometrics, 85(1), 193–202. doi:10.1007/s11192-010-0233-5.

Sandercock, P. (2012). Negative results: why do they need to be published? International Journal of Stroke, 7(1), 32–33. doi:10.1111/j.1747-4949.2011.00723.x.

Schooler, J. (2011). Unpublished results hide the decline effect. Nature, 470(7335), 437. doi:10.1038/470437a.

Silvertown, J., & McConway, K. J. (1997). Does ''publication bias''' lead to biased science? Oikos, 79(1), 167–168.

Song, F., Parekh, S., Hooper, L., Loke, Y. K., Ryder, J., Sutton, A. J., et al. (2010). Dissemination and publication of research findings: An updated review of related biases. Health Technology Assessment, 14(8). doi:10.3310/hta14080.

Vogeli, C., Yucel, R., Bendavid, E., Jones, L. M., Anderson, M. S., Louis, K. S., et al. (2006). Data withholding and the next generation of scientists: Results of a national survey. Academic Medicine, 81(2), 128–136.

Walters, G. D. (2006). Predicting subsequent citations to articles published in twelve crime-psychology journals: Author impact versus journal impact. Scientometrics, 69(3), 499–510. doi:10.1007/s11192-006-0166-1.

Young, N. S., Ioannidis, J. P. A., & Al-Ubaydi, O. (2008). Why current publication practices may distort science. PLoS Medicine, 5(10), 1418–1422. doi:10.1371/journal.pmed.0050201.
Acknowledgments
This work was supported by a Marie Curie Intra-European Fellowship (Grant Agreement Number PIEF-GA-2008-221441) and a Leverhulme Early-Career fellowship (ECF/2010/0131).
About this article
Cite this article
Fanelli, D. Positive results receive more citations, but only in some disciplines. Scientometrics 94, 701–709 (2013). https://doi.org/10.1007/s11192-012-0757-y
Received:

Published:

Issue Date:
Keywords
Bias

File-drawer

Citations

Competition

Publication

Research evaluation