Abstract
Two relevant recent developments in the area of science and technology (S&T) and related policy-making motivate this article: first, bibliometric data on a specific research area's performance becomes an increasingly relevant source for S&T policy-making and evaluation. This trend is embedded in wider discussions on evidence-based policy-making. Secondly, the scientific output of Southeast Asian countries is rising, as is the number of international research collaborations with the second area of our interest: Europe. Against this background, we employ basic bibliometric methodology in order to draw a picture of Southeast Asian research strengths as well the amount and focus of S&T cooperation between the countries in Southeast Asia and the European Union. The results can prove useful for an interested public as well as for the scientific community and science, technology and innovation policy-making.
Access options
Buy single article
Instant access to the full article PDF.
USD 39.95
Price includes VAT (USA)
Tax calculation will be finalised during checkout.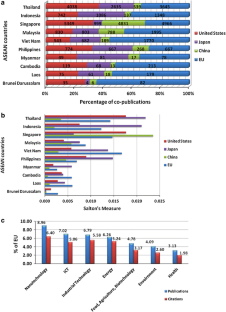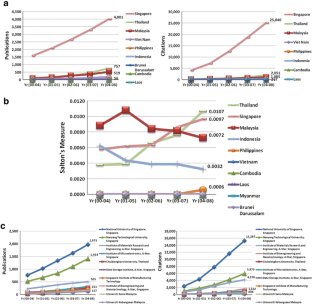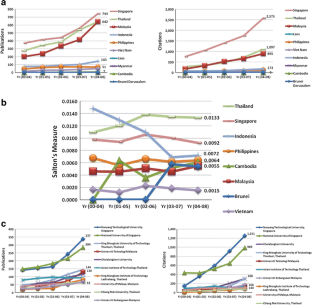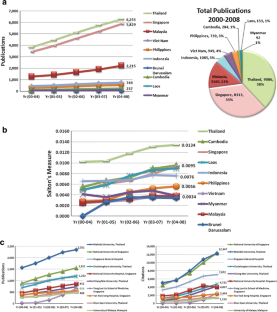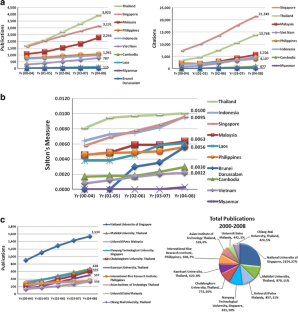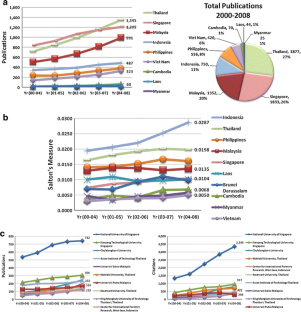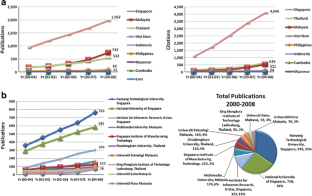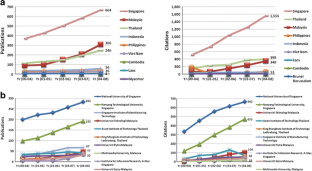 Notes
1.

The European Union has launched a series of international cooperation network (INCO-NET) projects with the aim to support bi-regional policy dialogue in order to promote and structure the participation of third countries in the activities of the Seventh Framework Program for Research and Technological Development (FP7) (Cordis-Europa 2008; European-Commission 2008; European Commission Directorate-General for Research 2008). Among the first six INCO-NET projects was the joint Southeast Asian–European Union project SEA-EU-NET (www.sea-eu.net; grant agreement number 212334). SEA-EU-NET aims to promote regional integration as well as identification and prioritization of common research areas of mutual interest and benefit for the European Union and the Association of South East Asian Nations. SEA-EU-NET was launched on 1 January 2008 and activities will run through to the end of 2011, although it is intended that the outcomes will be sustained beyond this point. A key objective of SEA-EU-NET is to provide an evidence base for the bi-regional political dialogue on S&T cooperation between Southeast Asia and Europe. This dialogue activities aiming at increasing S&T cooperation levels form the context for the present analyses and its area of application.

2.

For the study presented in the following, we retrieved data for Member Countries and Associated States of the European Union, Candidate Countries were not taken into account.

3.

4.

Early Warning Systems for Disaster Risk Reduction; Biofuels; Development and Application of Open Source Systems; Health; Functional Food; and Climate Change.
References
Beaver, D. D. (2001). Reflections on scientific collaboration (and its study): Past, present, and future. Scientometrics, 52(3), 365–377.

Cordis-Europa (2008). Seventh Framework Programme (FP7). http://cordis.europa.eu/fp7/home_en.html. Accessed 20 May 2011.

European Commission Directorate-General for Research (2008). Scientific and technological cooperation between the association of Southeast Asian nations (ASEAN) and the European Union: Past achievements and future prospects. http://ec.europa.eu/research/iscp/pdf/978-92-79-09295-4_en.pdf. Accessed 18 May 2011.

European-Commission (2008). A strategic European framework for international science and technology cooperation. Communication from the commission to the council and the European parliament. http://ec.europa.eu/research/iscp/pdf/com_2008_588_en.pdf. Accessed 14 May 2011.

Garfield, E. (1979). Citation indexing—its theory and applications in science, technology and humanities. New York: Wiley.

Haustein, S., Tunger, D., Heinrichs, G., & Bälz, G. (2011). Reasons for and developments in international scientific collaboration: Does an Asia–Pacific research area exist from a bibliometric point of view? Scientometrics, 86(3), 727–746.

Salton, G., & Bergmark, D. (1979). A citation study of computer science literature. IEEE Transactions on Professional Communication, PC-22(3), 393–440.

The Royal Society. (2011). Knowledge, networks and nations: Global scientific collaboration in the 21st century, RS policy document 03/11. London: The Royal Society.
Acknowledgments
The authors are grateful to Surendra Sedhai at UNU-IIST/Macao and to Dietmar Lampert, Johannes Simon and Isabella Wagner at ZSI/Vienna for their contributions to this article.
About this article
Cite this article
Hassan, SU., Haddawy, P., Kuinkel, P. et al. A bibliometric study of research activity in ASEAN related to the EU in FP7 priority areas. Scientometrics 91, 1035–1051 (2012). https://doi.org/10.1007/s11192-012-0665-1
Received:

Published:

Issue Date:
Keywords
Bibliometrics

FP7 thematic priority areas

Southeast Asia's research activity

International research collaboration