Abstract
This paper provides a first-ever look at differences of centrality scores (i.e., networks) over time and across research specializations in Korea. This is a much needed development, given the variance which is effectively ignored when Science Citation Index (SCI) publications are aggregated. Three quantitative tests are provided—OLS, two sample t-tests, and unit-root tests—to establish the patterns of centrality scores across Korea over time. The unit-root test is particularly important, as it helps identify patterns of convergence in each region's centrality scores. For all other geographic regions besides Seoul, Gyeonggi, and Daejeon, there appears to be little promise—at least in the immediate future—of being network hubs. For these top three regions, though, there is a pattern of convergence in three-quarters of all research specializations, which we attribute in part to policies in the mid- and late-1990s.
This is a preview of subscription content, log in to check access.
Access options
Buy single article
Instant access to the full article PDF.
US$ 39.95
Tax calculation will be finalised during checkout.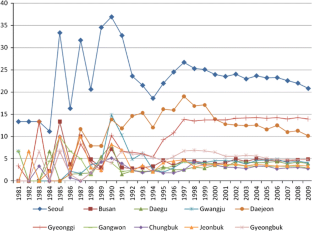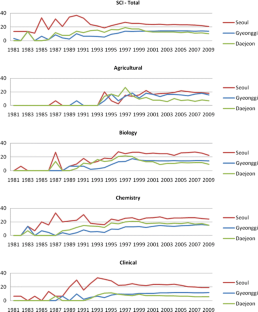 Notes
1.

These figures are available upon request to the corresponding author.

2.

Centrality scores are also continuous, which rules out the use of a Poisson model on technical grounds.

3.

These results are available upon request to the first author.

4.

These results (from models which omit the non-top-three group) were not included in Table 2.

5.

These results are not presented here but are available upon request to the first author.

6.

It certainly did much to salvage, based on Lee (2000), a failed National R&D Program in Daeduk Science Town, as Daejeon is now a major research hub in certain specializations.
References
Bernard, A. B., & Durlauf, S. N. (1996). Interpreting tests of the convergence hypothesis. Journal of Econometrics, 71(1–2), 161–173. doi:10.1016/0304-4076(94)01699-2.

Chang, P. L., & Shih, H. Y. (2005). Comparing patterns of intersectoral innovation diffusion in Taiwan and China: A network analysis. Technovation, 25(2), 155–169.

Cooke, P., & Leydesdorff, L. (2006). Regional development in the knowledge-based economy: The construction of advantage. Journal of Technology Transfer, 31(1), 5–15.

Dreher, A., & Krieger, T. (2005). Do gasoline prices converge in a unified Europe with non-harmonized tax rates? KOF Working Paper No. 114. doi:10.2139/ssrn.617346.

Etzkowitz, H. (2008). Triple helix innovation: Industry, university, and government in action. London: Routledge.

Evans, P., & Karras, G. (1996). Convergence revisited. Journal of Monetary Economics, 37(2), 249–265. doi:10.1016/s0304-3932(96)90036-7.

Hirshman, A. O. (1958). The strategy of economic development. New Have: Yale University Press.

Khan, G. F., & Park, H. W. (2011, forthcoming). Measuring the triple helix on the web: Longitudinal trends in the university-industry-government relationship in Korea. Journal of the American Society for Information Science and Technology.

Kim, M.-J. (2005). Korean science and international collaboration, 1995–2000. Scientometrics, 63(2), 321–339.

Kim, I. K. (2010). Socioeconomic concentration in the Seoul metropolitan area and its implications in the urbanization process of Korea. Korean Journal of Sociology, 44(3), 111–128. (written in Korean).

Kim, L., & Dahlman, C. J. (1992). Technology policy and industrialization: An integrative framework and Korea's experience. Research Policy, 21(5), 437–452.

Kwon, K.-S. (2009). The co-evolution of academic research and knowledge-transfer activities of universities in catch-up countries: In the case of Korea. A paper presented to the Triple Helix 2008 conference. http://www.triple-helix-7.org .

Kwon, K.-S. (2011). Are scientific capacities and industrial funding critical for universities' knowledge-transfer activities? A case study of South Korea. Journal of Contemporary Eastern Asia, 10(1), 15–23. http://www.eastasia.at/documents/Kwon.pdf.

Kwon, K.-S., Park, H. W., So, M. H., & Leydesdorff, L. (2011). Has globalization strengthened South Korea's national research system? National and international dynamics of the triple helix of scientific co-authorship relationships in South Korea. Scientometrics. A special issue on Triple Helix and WSI (Webometrics Scientometrics Informetics) in Asia. doi:10.1007/s11192-011-0512-9.

Lee, W.-Y. (2000). The role of science and technology policy in Korea's industrial development. In L. Kim & R. R. Nelson (Eds.), Technology learning and innovation: Experiences of newly industrializing economies. Cambridge: Cambridge University Press.

Lee, K., Pesaran, M. H., & Smith, R. (1997). Growth and convergence in a multi-country empirical stochastic Solow model. Journal of Applied Econometrics, 12(4), 357–392. doi:10.1002/(sici)1099-1255(199707)12:4<357::aid-jae441>3.0.co;2-t.

Levin, A. T., Lin, C.-F., & Chu, C.-S. (2002). Unit root tests in panel data: Asymptotic and finite-sample properties. Journal of Econometrics, 108(1), 1–24.

Liu, S.-G., & Chen, C. (2003). Regional innovation system: Theoretical approach and empirical study of China. Chinese Geographical Science, 13(3), 193–198.

Park, H. W., Hong, H. D., & Leydesdorff, L. (2005). A comparison of the knowledge-based innovation systems in the economies of South Korea and The Netherlands using triple helix indicators. Scientometrics, 65(1), 3–27.

Park, H. W., & Leydesdorff, L. (2008). Korean journals in the Science Citation Index: What do they reveal about the intellectual structure of S&T in Korea? Scientometrics, 75(3), 439–462.

Park, H. W., & Leydesdorff, L. (2010). Longitudinal trends in networks of university-industry-government relations in South Korea: The role of programmatic incentives. Research Policy, 39(5), 640–649.

Shapiro, M. A., So, M., & Park, H. W. (2010). Quantifying the national innovation system: Inter-regional collaboration networks in South Korea. Technology Analysis and Strategic Management, 22(7), 845–857.

Sohn, D.-W., & Kenney, M. (2007). Universities, clusters, and innovation systems: The case of Seoul, Korea. World Development, 35(6), 991–1004.

Surowiecki, J. (2005). The wisdom of crowds: Why the many are smarter than the few. London: Little Brown.

Wasserman, S., & Faust, K. (1994). Social network analysis: Methods and applications. New York: Cambridge University Press.

Yang, C. H., Park, H. W., & Heo, J. (2010). A network analysis of interdisciplinary research relationships: The Korean government's R&D grant program. Scientometrics, 83(1), 77–92.

Young, A. T., Higgins, M. J., & Levy, D. (2008). Sigma convergence versus beta convergence: Evidence from U.S. county-level data. Journal of Money, Credit and Banking, 40(5), 1083–1093. doi:10.1111/j.1538-4616.2008.00148.x.
Acknowledgments
This work was supported by the National Research Foundation of Korea, SSK (Social Science Korea) Grant funded by the Korean Government (NRF-2010-330-B00232). Also, the authors are grateful to Min-Ho So and Young-Long Kim for their assistance.
About this article
Cite this article
Shapiro, M.A., Park, H.W. Regional development in South Korea: accounting for research area in centrality and networks. Scientometrics 90, 271–287 (2012). https://doi.org/10.1007/s11192-011-0498-3
Received:

Published:

Issue Date:
Keywords
Network analysis

Korean NIS

Centrality

Density

Fragmentation
Mathematics Subject Classification (2000)
90B18

68M10

62G07

91G70

91F99

62P25

62J05
JEL Classification
C14

C31

C33

C65

D85

L14

O31

O32

O33

O38

R12