Abstract
This article seeks to examine the relationship between scientific output and knowledge economy index in 10 South East Asian countries (ASEAN). Using bibliometric data of the Institute of Scientific Information, we analyzed the number of scientific articles published in international peer-reviewed journals between 1991 and 2010 for Vietnam, Cambodia, Laos, Thailand, Myanmar, Malaysia, Indonesia, Brunei, the Philippines, and Singapore. During the 20-year period, scientists from the ASEAN countries have published 165,020 original articles in ISI indexed journals, which represents ~0.5% of the world scientific output. Singapore led the region with the highest number of publications (accounting for 45% of the countries' total publications), followed by Thailand (21%), Malaysia (16%), Vietnam (6%), Indonesia and the Philippines (5% each). The number of scientific articles from those countries has increased by 13% per year, with the rate of increase being highest in Thailand and Malaysia, and lowest in Indonesia and the Philippines. At the country level, the correlation between knowledge economy index and scientific output was 0.94. Based on the relationship between scientific output and knowledge economy, we identified 4 clusters of countries: Singapore as the first group; Thailand and Malaysia in the second group; Vietnam, Indonesia and the Philippines in the third group; and Cambodia, Laos, Myanmar and Brunei in the fourth group. These data suggested that there was a strong relationship between scientific research and the degree of "knowledgization" of economy.
Access options
Buy single article
Instant access to the full article PDF.
US$ 39.95
Tax calculation will be finalised during checkout.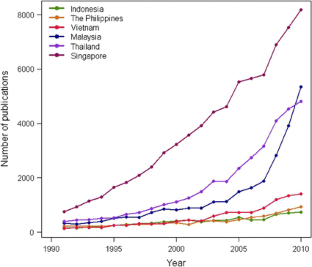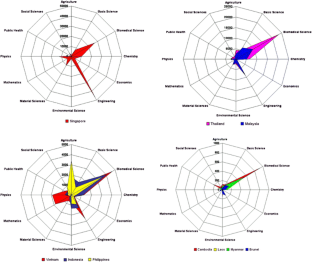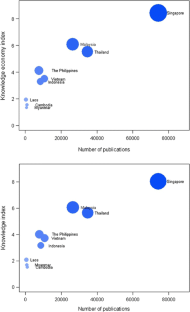 References
Arunachalam, S., & Garg, K. C. (1985). A small country in a world of big science: A preliminary bibliometric study of science in Singapore. Scientometrics, 8, 301–313.

Chen, D. H. C., Dahlman, C. J. (2005). The knowledge economy, the KAM methodology and World Bank Operations. World Bank Technical Report. http://siteresources.worldbank.org/KFDLP/Resources/KAM_Paper_WP.pdf.

Hien, P. D. (2010). A comparative study of research capabilities of East Asian countries and implications for Vietnam. Higher Education, 60, 615–625.

Hirsch, J. E. (2005). An index to quantify an individual's scientific research output. Proceedings of the National Academy of Sciences USA, 102, 16569–16572.

King, D. A. (2004). The scientific impact of nations. Nature, 430, 311–316.

Larsen, P. O., & von Ins, M. (2010). The rate of growth in scientific publication and the decline in coverage provided by Science Citation Index. Scientometrics, 84, 575–603.

Leydesdorff, L., & Zhou, P. (2005). Are the contributions of China and Korea upsetting the world system of science? Scientometrics, 63(3), 617–630.

Mahbuba, D., & Rousseau, R. (2010). Scientific research in the Indian subcontinent: Selected trends and indicators 1973–2007 comparing Bangladesh, Pakistan and Sri Lanka with India, the local giant. Scientometrics, 84, 403–420.

Mely, B., El Kader, M. A., Dudognon, G., & Okubo, Y. (1998). Scientific publication from China in 1994: Evolution or revolution? Scientometrics, 42, 3–16.

Monastersky, R. (2005). The number that's devouring science. The Chronicle 52. http://chronicle.com/free/v52/i08/08a01201.htm.

OECD. (1996). The knowledge based economy. OECD/GD, 102, 7.

Okubo, Y., Dore, J. C., Ojasoo, T., & Miquel, J. F. (1998). A multivariate analysis of publication trends in the 1980s with special reference to South East Asia. Scientometrics, 41, 273–289.

Osareh, F., & Wilson, C. (1997). Third World Countries (TWC) research publications by disciplines: A country-by-country citation analysis. Scientometrics, 39, 253–266.

Ramirez, F., & Meyer, J. (2000). The effects of science on national economic development, 1970–1990. American Sociological Review, 65, 877–898.

R Development Core Team. (2007). R: A language and environment for statistical computing. Vienna: R Foundation for Statistical Computing

Stolerman, I. P., & Stenius, K. (2008). The language barrier and institutional provincialism in science. Drug and Alcohol Dependence, 92, 1–2.

Svasti, M. R. J., & Asavisanu, R. (2006). Update on Thai publications in ISI databases 1999–2005. ScienceAsia, 32, 101–106.

Tyrer, P. (2005). Combating editorial racism in psychiatric publications. British Journal of Psychiatry, 186, 1–3.

Vasconcelos, S. M., Sorenson, M. M., Leta, J., Sant'ana, M. C., & Batista, P. D. (2008). Researchers' writing competence: A bottleneck in the publication of Latin-American science? EMBO Reports, 9, 700–702.

Waworuntu, B., & Holsinger, D. D. (1989). The research productivity of Indonesian professors of higher education. Higher Education, 18, 167–187.
Acknowledgments
We gratefully acknowledge the expert assistance of Dr. Nguyen D. Nguyen, who advised on a standardized procedure for extracting data from ISI database. The present work was done while the first author was visiting the Vietnam National University at Ho Chi Minh City. Professor Tuan V. Nguyen is supported by a Senior Research Fellowship from the Australian National Health and Medical Research Council.
About this article
Cite this article
Nguyen, T.V., Pham, L.T. Scientific output and its relationship to knowledge economy: an analysis of ASEAN countries. Scientometrics 89, 107–117 (2011). https://doi.org/10.1007/s11192-011-0446-2
Received:

Published:

Issue Date:
Keywords
Scientific publication

Bibliometric analysis

Knowledge economy

ASEAN