Abstract
This paper provides an overview of the progression of technology structure based on patent co-citation networks. Methods of patent bibliometrics, social network analysis and information visualization are employed to analyze patents of Fortune 500 companies indexed in Derwent Innovations Index, the largest patent database in the world. Based on the co-citation networks, several main technology groups are identified, including Chemicals, Petroleum Refining, Motor Vehicles, Pharmaceuticals, Electronics, etc. Relationships among the leading companies and technology groups are also revealed.
Access options
Buy single article
Instant access to the full article PDF.
USD 39.95
Price excludes VAT (USA)
Tax calculation will be finalised during checkout.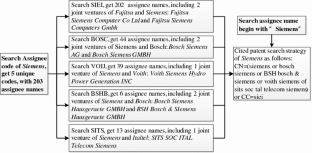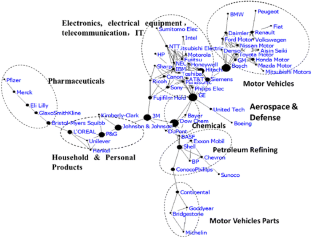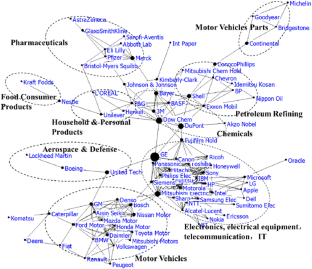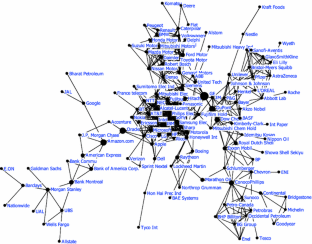 References
Albert, A., & Plaza, L. M. (2004). The transfer of knowledge from the Spanish public R&D system to the productive sectors in the field of biotechnology. Scientometrics, 59(1), 3–14.

Borgatti, S. (2002). NetDraw: Graph visualization software. Harvard: Analytic Technologies.

Garfield, E., & Merton, R. (1979). Citation indexing: Its theory and application in science, technology, and humanities. New York: Wiley.

Kamada, T., & Kawai, S. (1989). An algorithm for drawing general undirected graphs. Information processing letters, 31(12), 7–15.

Karki, M. (1997). Patent citation analysis: A policy analysis tool. World Patent Information, 19(4), 269–272.

Kessler, M. M. (1963). Bibliographic coupling between scientific papers. American Documentation, 14(1), 10–25.

Lai, K. K., & Wu, S. J. (2005). Using the patent co-citation approach to establish a new patent classification system. Information Processing & Management, 41(2), 313–330.

Leydesdorff, L. (2007). Mapping interdisciplinarity at the interfaces between the Science Citation Index and the Social Science Citation Index. Scientometrics, 71(3), 391–405.

Li, X., Chen, H., et al. (2009). Managing knowledge in light of its evolution process: An empirical study on citation network-based patent classification. Journal of Management Information Systems, 26(1), 129–154.

Liu, C., & Yang, J. (2008). Decoding patent information using patent maps. Data Science Journal, 7, 14–22.

Lo, S. (2007). Patent analysis of genetic engineering research in Japan, Korea and Taiwan. Scientometrics, 70(1), 183–200.

Lo, S. C. (2008). Patent coupling analysis of primary organizations in genetic engineering research. Scientometrics, 74(1), 143–151.

Lopez-Munoz, F., Alamo, C., et al. (2003). Bibliometric analysis of biomedical publications on SSRI during 1980–2000. Depression and Anxiety, 18(2), 95–103.

Meyer, M. (2000). What is special about patent citations? Differences between scientific and patent citations. Scientometrics, 49(1), 93–123.

Moed, H. (2000). Bibliometric indicators reflect publication and management strategies. Scientometrics, 47(2), 323–346.

Mogee, M. E. (1991). Patent co-citation analysis of Eli Lilly & Co. patents. Research-Technology Management, 34(4), 43–49.

Narin, F., & D. Olivastro (1988). Technology indicators based on patents and patent citations. Handbook of quantitative studies of science and technology, 465–507.

Narin, F. (1994). Patent bibliometrics. Scientometrics, 30(1), 147–155.

Narin, F. (1995). Patents as indicators for the evaluation of industrial research output. Scientometrics, 34(3), 489–496.

Narin, F., Olivastro, D., et al. (1994). Bibliometrics: Theory, practice and problems. Evaluation Review, 18(1), 65–76.

Ramani, S., & De Looze, M. (2002). Using patent statistics as knowledge base indicators in the biotechnology sectors: An application to France, Germany and the UK. Scientometrics, 54(3), 319–346.

Small, H. (1973). Co-citation in the scientific literature: A new measure of the relationship between two documents. Journal of the American Society for Information Science, 24(4), 265–269.

Small, H. (1997). Update on science mapping: Creating large document spaces. Scientometrics, 38(2), 275–293.

Small, H., & Upham, P. (2009). Citation structure of an emerging research area on the verge of application. Scientometrics, 79(2), 365–375.

Verspagen, B. (2007). Mapping technological trajectories as patent citation networks: A study on the history of fuel cell research. Advances in Complex Systems, 10(1), 93–115.

Wu, S., & Chen, H. (2008). Recognizing the core technology capabilities for companies through patent co-citations. Singapore, IEEE: IEEE International Conference on Industrial Engineering and Engineering Management.
Acknowledgments
The research was supported by the Social Science Foundation of China (Grant No. 10CZX011, Grant No. 08BTQ025), the project of "Specialized Research Fund for the Doctoral Program of Higher Education of China" (Grant No. 2009041110001), as well as the project of "Fundamental Research Funds for the Central Universities" (Grant No. 2009-852009).
About this article
Cite this article
Wang, X., Zhang, X. & Xu, S. Patent co-citation networks of Fortune 500 companies. Scientometrics 88, 761–770 (2011). https://doi.org/10.1007/s11192-011-0414-x
Received:

Published:

Issue Date:

DOI: https://doi.org/10.1007/s11192-011-0414-x
Keywords