Abstract
The objective of this paper is to examine the relationship between innovation and firms' participation in global value chains (GVCs). To achieve this objective, we use rich firm-level data from the World Bank Enterprise Survey (WBES), spanning the period of 2006–2017, belonging to 90 countries. Accounting for endogeneity arising from reverse causality, our study finds firm innovation to be a driver of firm GVC participation across countries. These findings are robust to alternative measures of innovation and various sub-sample analysis.
Access options
Buy single article
Instant access to the full article PDF.
USD 39.95
Price includes VAT (USA)
Tax calculation will be finalised during checkout.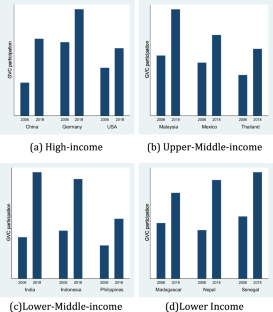 Notes
1.

Adaptive innovation refers to innovation undertaken by MNC, which is then transferred to its subsidiaries in emerging economies for adaptation and further use.

2.

Reverse innovation refers to innovation generated by subsidiaries of an MNC located in an emerging economy, with a view of meeting regional needs which are then further taken up to address the global needs.

3.

4.

5.

GVC participation is measured as the sum of countries, both backward and forward integration (Montalbano et al. 2018). To measure GVC participation, we make use of the EORA multi-region input-output available at https://worldmrio.com/unctadGVC/

6.

The descriptive analysis based on EORA I-O table is only to highlight the prominence of GVCs in the present-day trade framework. The main analysis of the study is based on the WBES an enterprise-level survey database.

7.

For example, India introduced 'assemble in India' initiative to integrate the country with the world market (Government of India 2020).

8.

The three broad stages of value addition are upstream, midstream, and downstream and the value addition for upstream (R&D, design, management) and downstream (Packaging, sales, after sales) activities is the largest, whereas midstream (assembly of products) has relatively lower value-addition (Marín-Odio 2014; Benkovskis et al. 2019).

9.

The WEBS database provides information only regarding whether a firm provides training for its employees or not and does not provide information differentiating the type of training provided by a firm to its employees Hence, paving the way for a binary variable as used in our empirical analysis.

10.

We also use measures of process innovation, and R&D of the firm for robustness analysis.

11.

Innovation system basically accounts for the role of institutions and organizations that systematically interact thereby shaping and guiding the direction of technological change in an economy (Pietrobelli and Rabellotti 2011).

12.

Rodrik (2006) claimed that 'China is special' given the high level of export sophistication of its export basket.

13.

14.

We also identify a panel of 547 firms for 6 countries corresponding to 1212 firm-year observations. We find a significant and positive impact of innovation on firm GVC participation across this sample. Moreover, taking into account the importance of sunk cost, we incorporate prior GVC status of the firm in our bi-probit model. The results highlight a positive impact of prior GVC participation on current GVC participation of the firm. Further, the positive impact of innovation on firm GVC participation remains significant. An important point to note here is that this panel of firms corresponding to 6 countries do not include information on firms belonging to key GVC participating countries like China, and other east Asian countries. The results however are qualitatively similar to Table 3. The same is available from the authors upon request.

15.

Alternatively, we also run IV-probit estimations and the results are qualitatively similar in terms of direction and significance.

16.

17.

We thank the referee for this valuable suggestion.

18.

The Innovation_new is the sum of the firm's response to the following question: (1) "Has this firm introduced, in the last three years, new or significantly improved products or services (Yes/ No)", and (2) "Were any of the new or significantly improved products or services also new for the firm's main market (Yes/No)".

19.

20.

This is analogous to the two-step Heckman model (Heckman 1979).

21.

In this study, we identify a panel we do identify a panel of 6 countries and the results are qualitatively similar. Refer to footnote 14 for more details.

22.

23.

Despite this drawback, our definition of GVC is in line with the firm-level literature on GVCs which proxies for GVC participation of firm through its simultaneous participation in exporting and importing activities (Antràs 2020).

24.

Refer to Table 10 in Appendix.
Acknowledgements
We thank Malathy D, Alex Eapen, and Raja Sethu Durai S for their thoughtful advice. We also thank all the participants of the XIV Annual International conference of the Forum for Global Knowledge Sharing and the 56th Annual Conference of the Indian Econometric Society for their valuable feedback. We also thank the editor and an anonymous referee for their insightful comments and suggestions.
Additional information
Publisher's note
Springer Nature remains neutral with regard to jurisdictional claims in published maps and institutional affiliations.
Appendix
Appendix
About this article
Cite this article
Reddy, K., Chundakkadan, R. & Sasidharan, S. Firm innovation and global value chain participation. Small Bus Econ 57, 1995–2015 (2021). https://doi.org/10.1007/s11187-020-00391-3
Accepted:

Published:

Issue Date:
Keywords
Global value chains

Innovation

Cross-country
JEL classifications