Abstract
Despite the growing recognition that freelancers or temporary contract workers are increasingly being used by organisations to enable them to become more dynamic and innovative, there is a lack of research exploring the extent and manner in which freelancers create value-added and affect net job change for employees. Most analyses view freelancers as substitutes for employees who compete for the same work and so add little or no value-added over that already provided by employees. More recent perspectives portray freelancers as non-competing complementary providers of differentiated labour who help create jobs for employees by enabling businesses to become more agile and entrepreneurial. We explore this empirical agenda and find that freelancers are associated with sales growth in businesses and net job creation for core employees. In the process, we also discover that in order to establish these effects, firms must achieve a critical mass of freelancers in their workforce of a scale around 11% before a positive association emerges. This finding has central relevance for managers seeking to use freelance workforce intensity to enhance business performance. Moreover, while it has some intuitive appeal, this discovery requires further research to fully understand its cause and the process generating this outcome.
Access options
Buy single article
Instant access to the full article PDF.
USD 39.95
Price includes VAT (USA)
Tax calculation will be finalised during checkout.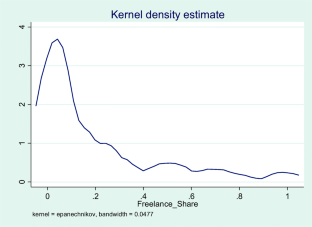 References
Acs, Z. J., Szerb, L. & Autio, E. (2014). Global entrepreneurship and development index 2014. Springer https://doi.org/10.1007/978-3-319-14932-5.

Anyadike-Danes, M., Bjuggren, C. M., Gottschalk, S., Hölzl, W., Johansson, D., Maliranta, M., & Myrann, A. G. (2015). An international cohort comparison of size effects on job growth. Small Business Economics, 44(4), 821–844.

Appelbaum, E., & Batt, R. (1994). The new American workplace: transforming work systems in the United States. Ithaca: Cornell ILR Press.

Atkinson, J. (1984). Manpower strategies for flexible organizations. Personnel Management, 16, 28–31.

Audretsch, D. B. (1995). Innovation and industry evolution. Cambridge: The MIT Press.

Bailey, D. E., & Kurland, N. B. (2002). A review of telework research: Findings, new directions, and lessons for the study of modern work. Journal of Organizational Behavior, 23, 383–400.

Baines, S. 1999. Servicing the media: Freelancing, teleworking and 'enterprising' careers.

Bakker, R. M. (2010). Taking stock of temporary organizational forms: a systematic review and research agenda. International Journal of Management Reviews, 12(4), 466–486.

Barley, S. R., & Kunda, G. (2001). Bringing work back in. Organization Science, 12(1), 76–95.

Barley, S. R., & Kunda, G. (2006). Contracting: a new form of professional practice. Academy of Management Perspectives, 20, 45–66.

Batjargal, B., Hitt, M. A., Tsui, A. S., Arregle, J. L., Webb, J. W., & Miller, T. L. (2013). Institutional polycentrism, entrepreneurs' social networks, and new venture growth. Academy of Management Journal, 56(4), 1024–1049.

Bechky, B. A. (2006). Gaffers, gofers, and grips: role-based coordination in temporary organizations. Organization Science, 17, 3–21.

Bersin, J., Geller, J., Wakefield, N., & Walsh, B. (2016). The new organization: different by design. In Global Human Capital Trends 2016 - the new organization: different by design, Deloitte University Press, https://dupress.deloitte.com.

Block, F. (1990). Postindustrial possibilities: a critique of economic discourse. Berkeley: University of California Press.

Burke, A. E. (2011). The entrepreneurship enabling role of freelancers - theory with evidence from the construction industry. International Review of Entrepreneurship, 9(3), 131–158.

Burke, A.E. (2012). The role of freelancers in the 21stcentury British economy, PCG Report, London: PCG. http://www.crse.co.uk/research/role-freelancers-21st-century-british-economy.

Burke, A. E., & Cowling, M. (2015). The use and value of freelancers: the perspective of managers. In A. Burke (Ed.), The handbook of research on freelancing and self-employment. Senate Hall: Dublin.

Burke, A.E. (2019). The freelance project and gig economies of the 21st century. London: CRSE. http://crse.co.uk/sites/default/files/The%20Freelance%20Project%20and%20Gig%20Economies%20of%20the%2021st%20Century.pdf.

Colclough, G., & Tolbert, C. M. (1992). Work in the fast lane: flexibility, divisions of labor, and inequality in high-tech industries. Albany: SUNY.

CRSE, (2017). The true diversity of self-employment: uncovering the different segments of the UK's self-employment workforce, London: Centre for Self-Employment Research (CRSE), http://www.crse.co.uk/research/true-diversity-self-employment

De Vries, M. R., & Wolbers, M. H. J. (2005). Non-standard employment relations and wages among school leavers in the Netherlands. Work, Employment & Society, 19(3), 503–525.

DeFillippi, R. J. (2001). Introduction: project-based learning, reflective practices and learning outcomes. Management Learning, 32, 5–10.

Dex, S., Willis, J., Paterson, R., & Sheppard, E. (2000). Freelance workers and contract uncertainty: the effects of contractual changes in the television industry. Work, Employment & Society, 14(2), 283–305.

DiNatale, M. (2001). Characteristics of and preference for alternative work arrangements. Monthly Labor Review, 124(3), 28–49.

Ekstedt, E., Lundin, R. A., Söderholm, A., & Wirdenius, H. (1999). Neo-industrial organizing: renewal by action and knowledge formation in a project-intensive economy. London: Routledge.

Evans, J.A., Kunda, G., & Barley, S. 2004. Beach time, bridge time, and billable hours: the temporal structure of technical contracting, Administrative Science Quarterly, 49: 1–38.

Freelancers Union and Elance-oDesk. (2014). Freelancing in America: a national survey of the new workforce, an independent study commissioned by the Freelancers Union & Elance-oDesk, https://fu-web-storage-prod.s3.amazonaws.com/content/filer_public/7c/45/7c457488-0740-4bc4-ae45-0aa60daac531/freelancinginamerica_report.pdf.

Geary, J. F. (1992). Employment flexibility and human resource management: the case of three American electronics plants. Work, Employment & Society, 6, 251–270.

Greenhaus, J. H., & Kossek, E. E. (2014). The contemporary career: a work-home perspective. Annual Review of Organizational Psychology and Organizational Behavior, 1, 361–388.

Guest, D. (2004). Flexible employment contracts, the psychological contract and employee outcomes: an analysis and review of the evidence. International Journal of Management Reviews, 5/6(1), 1–19.

Hall, D. T. (1996). Protean careers of the 21st century. Academy of Management Executive, 10, 8–16.

Haltiwanger, J., Jarmin, R., & Miranda, J. (2013). Who creates jobs? Small vs. large vs. young. Review of Economics and Statistics, 95(2), 347–361.

Hardin, J. W., & Hilbe, J. M. (2012). Generalized linear models and extensions (3rd ed.). College Station: Stata Press.

Herzenberg, S. A., Alic, J. A., & Wial, H. (1998). New rules for a new economy: employment opportunity in post-industrial America. Ithaca: ILR Press.

Jahn, E., Riphahn, R., & Schnabel, C. (2012). Flexible forms of employment: boon and bane. Laser Discussion Papers, No.62. Nuremberg. Germany.

Kalleberg, A. L. (2000). Nonstandard employment relations: part-time, temporary and contract work. Annual Review of Sociology, 26, 341–365.

Kalleberg, A. L. (2001). Organizing flexibility: the flexible firm in a new century. British Journal of Industrial Relations, 39(4), 479–504.

Kalleberg, A. L. (2011). Good jobs, bad jobs: the rise of polarized and precarious employment systems in the United States, 1970s–2000s. New York: Russell Sage.

Keegan, A., & Turner, J. R. (2002). The management of innovation in project-based firms. Long Range Planning, 35(4), 367–388.

Kirkpatrick, I., & Hoque, K. (2006). A retreat from permanent employment? Accounting for the rise of professional agency work in UK public services. Work, Employment & Society, 20(4), 649–666.

Kitching, J. (2016). Tracking UK freelance workforce trends 1992-2015. In A. Burke (Ed.), The handbook of research on freelancing and self-employment. Senate Hall: Dublin.

Leighton, P., & Brown, D. (2013). Future working: the rise of Europe's independent professionals (iPros), European Forum of Independent Professionals, http://www.efip.org/future-working-the-rise-of-europeans-independent-professionals.

Massoudi, A. (2016). How Masayoshi Son brought arm into SoftBank's embrace, Financial Times, July 20, 2016: London. https://www.ft.com/content/cf6c0be0-4dd4-11e6-8172-e39ecd3b86fc.

Millward, N., Bryson, A., & Forth, J. (2000). All change at work? London: Routledge.

Morris, M. D. S., & Vekker, A. (2001). An alternative look at temporary workers, their choices, and the growth in temporary employment. Journal of Labor Research, 22(2), 373–390.

Neumark, D., Wall, B., & Zhang, J. (2011). Do small businesses create more jobs? New evidence for the United States from the National Establishment Time Series. Review of Economics and Statistics, 93(1), 16–29.

Nye, L., & Jenkins, K. (2016). Understanding independent professionals in the EU, 2015, Independent Association of Independent Professionals and the Self-Employed (IPSE): http://www.crse.co.uk/research/understanding-independent-professionals-eu-2015.

Pofeldt, A. (2015) Shocker: 40% of worker now have 'contingent' jobs, says U.S. government, Forbes, May 25, 2015: http://www.forbes.com/sites/elainepofeldt/2015/05/25/shocker-40-of-workers-now-have-contingent-jobs-says-u-s-government/#5d7a77b32532.

Polivka, A. E. (1996). Contingent and alternative work arrangements, defined. Monthly Labor Review, 119(10), 3–9.

Rapelli, S. (2012). European iPros: a study. London: PCG.

Remery, C., Van Doorne-Huiskes, J., & Schippers, J. J. (2002). Labour market flexibility in the Netherlands: looking for winners and losers. Work, Employment & Society, 16(3), 477–496.

Rousseau, D. L. (1997). Organizational behavior in the new organizational era. Annual Review of Psychology, 48, 515–546.

Sisson, K. (1983). Employers' organisations. In G. S. Bain (Ed.), Industrial relations in Britain (pp. 121–134). Oxford: Basil Blackwell.

Smith, V. (1997). New forms of work organization. Annual Review of Sociology, 23, 315–339.

Standing, G. (2016). The precariat: the new dangerous class. London: Bloomsbury.

Swan, J., Scarbrough, H., & Roberston, M. (2002). The construction of communities of practice in the management of innovation. Management Learning, 33, 476–496.

Wial, H. (1994). New bargaining structures for new forms of business organization. In S. Friedman, R. W. Hurd, R. A. Oswald, & R. L. Seeber (Eds.), Restoring the Promise of American Labor Law. Ithaca: ILR Press.

Wood, S. (1999). Human resource management and performance. International Journal of Management Reviews, 1, 367–413.
Additional information
Publisher's note
Springer Nature remains neutral with regard to jurisdictional claims in published maps and institutional affiliations.
About this article
Cite this article
Burke, A., Cowling, M. The relationship between freelance workforce intensity, business performance and job creation. Small Bus Econ 55, 399–413 (2020). https://doi.org/10.1007/s11187-019-00241-x
Accepted:

Published:

Issue Date:
Keywords
Temporary contract workers

Freelancers

Flexible organizations

Job creation

Business performance
JEL codes