Abstract
Access to external financing is a major obstacle for starting a new business across various country contexts. Ethnic minorities, in particular, tend to face more extreme financial constraints, although the linkages between ethnicity, finance, and entrepreneurship have never been previously studied in China. Relying on a new proprietary dataset, this paper compares ethnic-based differences in external financing from both formal and informal sources used to start a new micro-enterprise or a small-and-medium-sized enterprise (SME) and the implications on post-entry business performance in China. The main results show that Han households tend to rely more on initial formal financing, but not initial informal financing, to start a new business. Furthermore, Han-operated businesses tend to perform better than their minority-operated counterparts, although this performance gap disappears given similar access to initial external financing.
This is a preview of subscription content,
to check access.
Access this article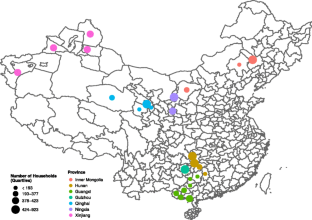 Notes
Other potential explanations is that ethnic minorities lack access to information, lack sufficient human and physical capital, or maintain stronger cultural or religious preferences that prevent them seeking out formal loans.

Note that ethnic minorities in China are concentrated in lesser developed regions with fewer growth opportunities, so the survey areas are not representative of China as a whole.

Spatial deflators developed by Brandt and Holz (2006) were updated and used take into account regional price differences among the seven provinces.

The following items are included as durable goods: car, motorcycle, washing machine, refrigerator, color TV, home computer, air conditioner, and mobile phone.
References
Acs, Z.J., & Virgill, N. (2010). Entrepreneurship in developing countries. In Acs, Z., & Audretsch, D.B. (Eds.) Handbook of entrepreneurship research (pp. 485–515). New York: Springer.

Ayyagari, M., Demirgüç-Kunt, A., & Maksimovic, V. (2010). Formal versus informal finance: evidence from China. The Review of Financial Studies, 23(8), 3048–3097.

Banerjee, A., & Newman, A. (1993). Occupational choice and the process of development. Journal of Political Economy, 101, 274–98.

Bates, T. (1989). The changing nature of minority business: a comparative analysis of Asian, NonMinority and Black owned businesses. The Review of Black Political Economy, 18(2), 25–42.

Bates, T. (1991). Commercial bank financing of white and black owned small business start-ups. Quarterly Review of Economics and Business, 31(1), 64–80.

Bates, T. (1997). Financing small business creation: the case of Chinese and Korean immigrant entrepreneurs. Journal of Business Venturing, 12(2), 109–124.

Beck, T., Lu, L., & Yang, R. (2015). Finance and growth for microenterprises: evidence from rural China. World Development, 67, 38–56.

Becker, G. (1957). The economics of discrimination. Chicago: The University of Chicago Press.

Bertrand, M., Chugh, D., & Mullainathan, S. (2005). Implicit discrimination. American Economic Review, 95(2), 94–98.

Besley, T., & Levenson, A.R. (1996). The role of informal finance in household capital accumulation: evidence from Taiwan. The Economic Journal, 106(434), 39–59.

Bianchi, M., & Bobba, M. (2013). Liquidity, risk, and occupational choices. Review of Economic Studies, 80(2), 491–511.

Blanchflower, D.G., Levine, P., & Zimmerman, D. (2003). Discrimination in the small business credit market. Review of Economics and Statistics, 85(4), 930–943.

Bose, P. (1998). Formal-informal sector interaction in rural credit markets. Journal of Development Economics, 56, 265–280.

Brandt, L., & Holz, C. A. (2006). Spatial price differences in China: estimates and implications. Economic Development and Cultural Change, 55(1), 43–86.

Coleman, S. (2004). Access to debt capital for women- and minority-owned small firms: does educational attainment have an impact? Journal of Developmental Entrepreneurship, 9(2), 127–143.

Djankov, S., Roland, G., & Zhuravskaya, E. (2006). Who are China's entrepreneurs? American Economic Review, Papers and Proceedings, 96(2), 348–352.

Elston, J.A., Chen, S., & Weidinger, A. (2016). The role of informal capital on new venture formation and growth in China. Small Business Economics, 46(1), 79–91.

Evans, D.S., & Leighton, L.S. (1989). Some empirical aspects of entrepreneurship. American Economic Review, 79(3), 519–535.

Fairlie, R.W., & Robb, A.M. (2008). Race and entrepreneurial success: black- Asian-, and white-owned businesses in the United States. Cambridge: MIT Press.

Fields, G.S. (2012). Working hard working poor: a global journey. Oxford: Oxford University Press.

Gladney, D. (2004). Dislocating China: muslims, minorities and other subaltern subjects. Chicago: University of Chicago Press.

Gustafsson, B., & Li, S. (2003). The ethnic minority-majority income gap in rural China during transition. Economic Development and Cultural Change, 51(4), 805–822.

Hannum, E., & Xie, Y. (1998). Ethnic stratification in northwest China: occupational differences between han Chinese and national minorities in Xinjiang, 1982–1990. Demography, 35(2), 323–333.

Heckman, J. (1998). Detecting discrimination. Journal of Economic Perspectives, 12(2), 101–16.

Howell, A. (2011). Labor market segmentation in Urumqi, Xinjiang: exposing labor market segments and testing the relationship between migration and segmentation. Growth and Change, 42(2), 200–226.

Howell, A. (2016). Direct and indirect effects of targeted cash transfers on credit constraints and ethnic migration in China. Unpublished mimeo.

Howell, A. (2017). Ethnic migration and Han-Minority income inequality in rural China. World Development, 94, 200– 211.

Howell, A., & Fan, C. (2011). Migration and inequality in xinjiang: a survey of han and uyghur migrants in urumqi. Eurasian Geography and Economics, 52(1), 119–139.

Huang, Y., & Zhang, W. (2007). Minzu Quyu Zizhiquan de Xianzheng jieshi [Explaining the Right of Regional Ethnic Autonomy in the Constitution]. Guangxi Minzu Yanjiu, 1, 12–18.

Hurst, E., & Lusardi, A. (2004). Liquidity constraints, household wealth and entrepreneurship. Journal of Political Economy, 112, 319–47.

Liu, Z. (2005). Institution and inequality: the hukou system in China. Journal of Comparative Economics, 33(1), 133–15.

MacDonald, A., & Hasmath, R. (2015). What is the role of discrimination in ethnic minority salary determination? Evidence from China. Unpublished Mimeo.

Maurer-Fazio, M., Hughes, J., & Zhang, D. (2007). An ocean formed from one hundred rivers: the effects of ethnicity, gender, marriage, and location on labour force participation in urban China. Feminist Economics, 13(3/4), 159– 187.

Phelps, E. (1972). The statistical theory of racism and sexism. American Economic Review, 62(4), 659–61.

Poschke, M. (2013). Entrepreneurs out of necessity: a snapshot. Applied Economics Letters, 20(7), 658–663.

Poston, D., & Shu, J. (1987). The demographic and socioeconomic composition of China's ethnic minorities. Population and Development Review, 13(4), 703–722.

Robb, A. (2013). Access to capital among young firms, minority-owned firms, women-owned firms, and high-tech firms. Technical report, Office of Advocacy, US Small Business Administration, Washington, DC.

Rosenzweig, M.R., & Wolpin, K.I. (1983). Credit market constraints, consumption smoothing, and the accumulation of durable production assets in low-income countries: investments in bullocks in India. Journal of Political Economy, 101(2), 223–244.

Sautman, B. (2010). Scaling back minority rights? Stanford Journal of International Law, 51, 51–120.

Shi, L., & Sai, D. (2013). An empirical analysis of income inequality between a minority and the majority in urban China: the case of ningxia hui autonomous region. The Review of Black Political Economy, 40(3), 341–355.

Tsai, K.S. (2004). Imperfect substitutes: the local political economy of informal finance and microfinance in rural China and India. World Development, 32(9), 1487–1507.

Wang, S.-Y. (2012). Credit constraints, job mobility, and entrepreneurship: evidence from a property reform in China. Review of Economics and Statistics, 94(2), 532–551.

Zhang, Y. (2015). The contingent value of social resources: entrepreneurs' use of debt-financing sources in Western China. Journal of Business Venturing, 30(3), 390–406.

Zhou, W. (2014). Regional institutional development, political connections, and entrepreneurial performance in China's transition economy. Small Business Economics, 43(1), 161–181.

Zhu, Y., & Blachford, D. (2012). Economic expansion: marketization, and their social impact on China's ethnic minorities in Xinjiang and Tibet. Asia Survey, 52(4), 714–733.
Acknowledgments
The author would like to thank Björn Gustafsson, Ding Sai, Rachel Connelly, Sylvie Démurger, and other participants at the CHES conference for helpful comments.
Funding
This project received funding support from the School of Economics at Peking University and the Natural Science Foundation of China No. 71603009.
Appendix: Summary statistics
Appendix: Summary statistics
About this article
Cite this article
Howell, A. Ethnic entrepreneurship, initial financing, and business performance in China. Small Bus Econ 52, 697–712 (2019). https://doi.org/10.1007/s11187-017-9980-5
Accepted:

Published:

Issue Date:

DOI: https://doi.org/10.1007/s11187-017-9980-5
Keywords
JEL Classification