Abstract
China is experiencing rapid urbanization during which millions of migrants move from rural to urban areas. Recently, China initiated the national strategy of "mass entrepreneurship and innovation" to tap into the innovative potential and promote entrepreneurial development among the general public, with rural migrants being one of the targeted groups of this policy. This context calls for a better understanding of rural migrants' entrepreneurial formation and transition. Using the 2012 and 2014 Chinese Labor-force Dynamics Survey (CLDS) data, we test the importance of human capital, social capital, and community trust on migrants' entrepreneurial entry with cross-sectional and panel data analyses. We find that rural migrants' entrepreneurship rates and entrepreneurial entry rates surpass both their urban resident and rural resident counterparts, indicating the active role they play in urban business landscape. While individual characteristics and social networks play similar roles in these three groups' entrepreneurial transition, rural migrants' business activities are particularly shaped by their perception of communities. Further analysis of migrant-owned businesses reveals their over-representation in main-street industries but their firm performances are on par with other businesses, suggesting their positive economic contribution in cities.
This is a preview of subscription content, log in to check access.
Access options
Buy single article
Instant access to the full article PDF.
US$ 39.95
Price includes VAT for USA
Subscribe to journal
Immediate online access to all issues from 2019. Subscription will auto renew annually.
US$ 199
This is the net price. Taxes to be calculated in checkout.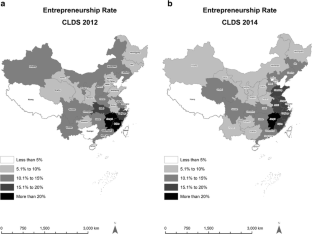 Notes
1.

Sampling framework, parameter design, coding scheme, and additional information of the data can be found at http://engcss.sysu.edu.cn/. Provinces include Hebei, Shanxi, Liaoning, Jilin, Heilongjiang, Jiangsu, Zhejiang, Anhui, Fujian, Jiangxi, Shandong, Henan, Hubei, Hunan, Guangdong, Guangxi, Sichuan, Guizhou, Yunnan, Gansu, Qinghai, Ningxia, Xinjiang, and Inner Mongolia. Direct municipalities are Beijing, Tianjin, Shanghai, and Chongqing.

2.

The overall retention rate of 60% compares favorably to the retention rates usually reported in other studies. Sample composition did not change significantly between 2012 and 2014 along the dimensions we consider in the analysis. While we do not rule out potential biases induced by the differential attrition, CLDS has redesigned survey weight to make the panel sample nationally representative. We include this weight in the panel sample analysis to ward off remaining biases.

3.

According to the 2012 and 2014 National Bureau of Statistics of China, the entrepreneurial rate were 11 and 13%, respectively.

4.

We exclude individuals with urban hukou but live in rural areas as they are very small in number.

5.

Value 0 (10) is assigned when respondents choose the first (last) category.

6.

Statistical conclusions from specification (1) and (2) are not changed by clustering standard errors at the province level. Results are available upon request.
References
Barrett, G. A., Jones, T. P., & McEvoy, D. (1996). Ethnic minority business: theoretical discourse in Britain and North America. Urban Studies, 33(4–5), 783–809.

Basu, A. (1998). An exploration of entrepreneurial activity among Asian small businesses in Britain. Small Business Economics, 10(4), 313–326.

Bates, T. (1997). Race, self-employment & upward mobility: an illusive American dream. Washington, D.C.: Woodrow Wilson Center Press.

Bertrand, M., Duflo, E., & Mullainathan, S. (2004). How much should we trust differences-in-differences estimates? Quarterly Journal of Economics, 119(1), 249–275.

Borjas, J. (1986). The self-employment experience of immigrants. The Journal of Human Resources, 21(4), 485–506.

Chan, K. W., & Buckingham, W. (2008). Is China abolishing the hukou system? The China Quarterly, 195(6), 582–606.

Chen, J. (2015). Creating the environment for the strategic industrial restructuring and "mass entrepreneurship mass innovation" policy in Zhejiang. Zhejiang Economics, 7, 11–13.

Constant, A., & Zimmermann, K. (2006). The making of entrepreneurs in Germany: are native men and immigrant alike? Small Business Economics, 42(3), 279–300.

Cui, Y, Nahm, D. and Tani, M. (2013). Self-employment in China: are rural migrant workers and urban residents alike? IZA working paper no. 7191.

Djankov, S., Qian, Y., Roland, G., & Zhuravskaya, E. (2006). Who are China's entrepreneurs? American Economic Review, 96(2), 348–352.

Fairlie, R. W. (2012). Immigrant entrepreneurs and small business owners, and their access to financial capital. Washington, D. C.; Office of Advocacy, Small Business Administration.

Fan, C. C. (2003). Rural‐urban migration and gender division of labor in transitional China. International Journal of Urban and Regional Research, 27(1), 24–47.

Kerr, S. P, & Kerr, W. R. (2016). Immigrant entrepreneurship, NBER working paper No. 22385.

Kim, P. H., Aldrich, H. E., & Keister, L. A. (2006). Access (not) denied: the impact of financial, human, and cultural capital on entrepreneurial entry in the United States. Small Business Economics, 27(1), 5–22.

Kloosterman, R. C. (2003). Creating opportunities: policies aimed at increasing openings for immigrant entrepreneurs in the Netherlands. Entrepreneurship & Regional Development, 15(2), 167–181.

Knight, J., & Yueh, L. (2008). The role of social capital in the labour market in China. Economics of Transition, 16(3), 389–414.

Li, B. (2006). Floating population or urban citizens? Status, social provision and circumstances of rural–urban migrants in China. Social Policy & Administration, 40(2), 174–195.

Light, I. (1972). Ethnic enterprise in America. Berkeley, CA: University of California Press.

Liu, C. Y. (2012). Intrametropolitan opportunity structure and the self-employment of Asian and Latino immigrants. Economic Development Quarterly, 26(2), 178–192.

Liu, C. Y., & Huang, X. (2016). The rise of urban entrepreneurs in China: capital endowments and entry dynamics. Growth and Change, 47(1), 32–52.

Liu, C. Y., Miller, J., & Wang, Q. (2014). Ethnic enterprises and community development. GeoJournal, 79(5), 565–576.

Liu, Y., Li, Z., Liu, Y., & Chen, H. (2015). Growth of rural migrant enclaves in Guangzhou, China: agency, everyday practice and social mobility. Urban Studies, 52(16), 3086–3105.

Meng, X., & Zhang, J. (2001). The two-tier labor market in urban China: occupational segregation and wage differentials between urban residents and rural migrants in Shanghai. Journal of Comparative Economics, 29(3), 485–504.

Peroni, C., Riillo, C. A. F., & Sarracino, F. (2016). Entrepreneurship and immigration: evidence from GEM Luxembourg. Small Business Economics, 46(4), 639–656.

Rath, J., & Kloosterman, R. (2000). Outsiders' business: a critical review of research on immigrant entrepreneurship. International Migration Review, 34(3), 657–681.

Sanders, J., & Nee, V. (1987). Limits of ethnic solidarity in the enclave economy. American Sociological Review, 52(6), 745–773.

The State Council. (2015). Opinions on the Policy Promoting "Mass Entrepreneurship and Mass Innovation". Retrieved from http://www.gov.cn/zhengce/content/2015-06/16/content_9855.htm, August 7, 2017.

Waldinger, R., Aldrich, H., & Ward, R. (1990). Ethnic entrepreneurs: immigrant business in industrial societies. Newbury Park, CA: Sage Publications.

Wang, Q., & Liu, C. Y. (2015). Transnational activities of immigrant-owned firms and their performances in the USA. Small Business Economics, 44(2), 345–359.

Wilson, L., & Portes, A. (1980). Immigrant enclaves: an analysis of the immigrant labor market experience of Cubans in Miami. American Journal of Sociology, 86(2), 295–319.

Yueh, L. (2009). China's entrepreneurs. World Development, 37(4), 778–786.

Yueh, L. (2012). Legal development, financial repression, and entrepreneurship in a marketizing economy. The Chinese Economy, 45(4), 39–82.

Yuengert, A. M. (1995). Testing hypotheses of immigrant self-employment. Journal of Human Resources, 30(1), 194–204.

Zhang, J., & Zhao, Z. (2015). Social-family network and self-employment: evidence from temporary rural–urban migrants in China. IZA Journal of Labor & Development, 4(1), 1–21.

Zhou, M. (2004). Revisiting ethnic entrepreneurship: convergences, controversies, and conceptual advancements. International Migration Review, 38(3), 1040–1074.
Acknowledgements
L.Y. appreciates the financial support from Chinese Ministry of Education Key Research Center Major Project 16JJD630013.
About this article
Cite this article
Liu, C.Y., Ye, L. & Feng, B. Migrant entrepreneurship in China: entrepreneurial transition and firm performance. Small Bus Econ 52, 681–696 (2019). https://doi.org/10.1007/s11187-017-9979-y
Accepted:

Published:

Issue Date:
Keywords
Migrant entrepreneurship

Firm performance

China

Chinese Labor-force Dynamics Survey (CLDS)
JEL codes