Abstract
In this paper, we explore the way the evolution of entrepreneurial ecosystems is shaped by different governance designs. We propose a theoretical framework in which we discuss what type of governance design would best fit the needs of an entrepreneurial ecosystem throughout its evolution. We also provide argumentations concerning the mechanisms that may explain the evolution through the different governance configurations. The conceptualization of a new framework has allowed us to specify a set of propositions, which we have tested on one single empirical setting, represented by Turin's entrepreneurial ecosystem. The paper introduces some important policy implications. It highlights the need for a more complex relational form of governance for the growth of an entrepreneurial ecosystem, which could be obtained by means of a systemic and participative approach rooted in shared cooperative norms and informal routines.
This is a preview of subscription content, log in to check access.
Access options
Buy single article
Instant access to the full article PDF.
US$ 39.95
Tax calculation will be finalised during checkout.
Subscribe to journal
Immediate online access to all issues from 2019. Subscription will auto renew annually.
US$ 119
Tax calculation will be finalised during checkout.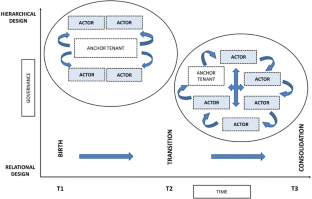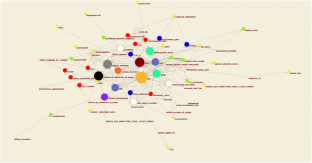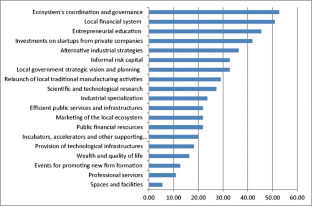 Notes
1.

It should be pointed out that the empirical exercise has had the primary objective of testing a set of propositions that are the outcome of our conceptual framework, which, however, is sufficiently general to allow it to be employed in other contexts and on a set of multiple cases, by means of comparative analyses, in future research.

2.

Today, Turin is one of the most entrepreneurial and innovative cities in Italy. In fact, it is the fourth Italian province, after Rome, Milan, and Naples, in terms of new firms created in 2015, and the third Italian province, after Milan and Rome, in terms of number of innovative start-ups. It counts a total of 268 innovative start-ups registered at the Chamber of Commerce between 2012 and 2015 over a total of 5143 in Italy (Italian Chamber of Commerce, Registro Imprese). Turin is one of the 30 top European metropolitan areas, second in Italy only to Milan, in terms of total patent applications to the European Patent Office (EPO): the city counts 195 new patent applications and 87 patent applications per million inhabitants in 2012, while the European average for NUTS3 regions is 73 and 72, respectively (Eurostat, online datacodes pat_ep_mtot and pat_ep_rtot).

3.

We dropped three institutions: one is a patent consultancy company that offers professional services to support the patenting process of private firms, the second one is a consortium of cooperatives, and the third one is a private foundation, which has the broad objective of helping people at the margin of society. The activities of these organizations are quite different from the aim of supporting innovative start-ups.

4.

Torino Strategica is the public association that promotes and develops the strategic plan of the metropolitan area of Turin (www.torinostrategica.it).

5.

I3P is the main university-based incubator and one of the best at a European level: in 2014 it ranked fifth in Europe and fifteenth in the UBI (University Business Incubator) world ranking, the Global Benchmark Report annual ranking of the best academic incubators.

6.

The underlying idea of the Strategic Plan, initially devoted to the urban requalification of the city, was to progress beyond a city centered on FIAT, to promote the growth in new sectors, by starting a process of diversification, and to attract new international players. The two pillars of this phase were "culture" - to make Turin an attractive touristic location - and "technological innovation" - to start a process of economic and industrial renewal. The proponents' original idea was that these two attributes should have developed in tandem so that they could influence one another.

7.

Città Metropolitana di Torino is the governing body of the metropolitan area of Turin. Following the drawing up of "Delrio" Law, no. 56 (2014), it has substituted the Province of Turin as the governing body since January 2015.
References
Acs, J. Z., Stam, E., Audretsch, D. B., & O'Connor, A. (2017). The lineages of the entrepreneurial ecosystem approach. Small Business Economics, 49(1), 1–10.

Adner, R. (2006). Match your innovation strategy to your innovation ecosystem. Harvard Business Review, 84(4), 98–107.

Agrawal, A., & Cockburn, I. (2003). The anchor tenant hypothesis: exploring the role of large, local R&D-intensive firms in regional innovation systems. International Journal of Industrial Organization, 21(9), 1227–1253.

Aldrich, H., & Fiol, C. (1994). Fools rush in? The institutional context of industry creation. Academy of Management Review, 19(4), 645–670.

Anderson, A. R., & Jack, S. L. (2002). The articulation of social capital in entrepreneurial networks: a glue or a lubricant? Entrepreneurship and Regional Development, 14, 193–210.

Arruda, C., Nogueira, V. S., & Costa, V. (2013). The Brazilian entrepreneurial ecosystem of startups: an analysis of entrepreneurship determinants in Brazil as seen from the OECD pillars. Journal of Entrepreneurship and Innovation Management, 2(39), 17–57.

Auerswald, P. E., & Dani, L. (2017). The adaptive life cycle of entrepreneurial ecosystems: the biotechnology cluster. Small Business Economics, 49(1), 97–117.

Autio, E., Kenney, M., Mustar, P., Siegel, D., & Wright, M. (2014). Entrepreneurial innovation: the importance of context. Research Policy, 43, 1097–1108.

Borissenko, Y., & Boschma, R. (2016). A critical review of entrepreneurial ecosystems: towards a future research agenda, no. 1630. Section of Economic Geography: Utrecht University.

Brown, R., & Mason, C. (2017). Looking inside the spiky bits: a critical review and conceptualisation of entrepreneurial ecosystems. Small Business Economics, 49(1), 11–30.

Brusoni, S., & Prencipe, A. (2013). The organization of innovation in ecosystems: Problem framing, problem solving, and patterns of coupling. Collaboration and Competition in Business Ecosystems, 167–194.

Cannone, G., & Ughetto, E. (2014). Funding innovation at regional level: an analysis of a public policy intervention in the Piedmont Region. Regional Studies, 48(2), 270–283.

Cassia, L., Colombelli, A., & Paleari, S. (2008). Regional transformation processes through the universities, institutions and industry relationship. Industry and Higher Education, 22(2), 105–118.

Clarysse, B., Wright, M., Bruneel, J., & Mahajan, A. (2014). Creating value in ecosystems: crossing the chasm between knowledge and business ecosystems. Research Policy, 43, 1164–1176.

Cohen, B. (2006). Sustainable valley entrepreneurial ecosystems. Business Strategy and the Environment, 15, 1–14.

Colantonio, A., Burdett, R., & Rode, P. (2013). Transforming urban economies: policy lessons from European and Asian Cities. Routledge: LSE Cities.

Colombelli, A. (2006). Modelli di trasformazione territoriale: Lezioni per Torino? In G. Russo & P. Terna (Eds.), Produrre a Torino. Torino: Otto Editore.

Cooke, P., Gomez Uranga, M., & Etxebarria, G. (1997). Regional innovation systems: institutional and organisational dimensions. Research Policy, 26(4–5), 475–491.

Delgado, M., Porter, M. E., & Stern, S. (2010). Clusters and entrepreneurship. Journal of Economic Geography, 10(4), 495–518.

Eisenhardt, K. M. (1989). Building theories from case study research. The Academy of Management Review, 14(4), 532–550.

Eisenhardt, K., & Galunic, D. C. (2000). Coevolving: at last a way to make synergies work. Harvard Business Review, 78, 91–101.

Eurostat (2016). http://ec.europa.eu/eurostat.

Feldman, M., & Zoller, T. D. (2012). Dealmakers in place: social capital connections in regional entrepreneurial economies. Regional Studies, 46(1), 23–37.

Feldman, M., & Zoller, T. D. (2014). The character of innovative places: entrepreneurial strategy, economic development, and prosperity. Small Business Economics, 43, 9–20.

Feldman, M., Francis, J., & Bercovitz, J. (2005). Creating a cluster while building a firm: entrepreneurs and the formation of industrial clusters. Regional Studies, 39(1), 129–141.

Fritsch, M. (2001). Co-operation in regional innovation systems. Regional Studies, 35(4), 297–307.

Gibbons, R., & Henderson, R. (2012). Relational contracts and organizational capabilities. Organization Science, 23(5), 1350–1364.

Hoang, H., & Antoncic, B. (2003). Network-based research in entrepreneurship: a critical review. Journal of Business Venturing, 18(2), 165–187.

Iansiti, M., & Levien, R. (2004). Strategy as ecology. Harvard Business Review, 82(3), 68–79.

Isenberg, D. (2010). The big idea: how to start an entrepreneurial revolution. Harvard Business Review. June 2010.

Kenney, M., & Patton, D. (2005). Entrepreneurial geographies: support networks in three high technology industries. Economic Geography, 81(2), 201–228.

Le Galès, P., & Voelzkow, H. (2001). Introduction: the governance of local economies. In C. Crouch, P. Le Galès, C. Trigilia, & H. Voelzkow (Eds.), Local production systems in Europe. Oxford: Oxford University Press.

Markusen, A. (1996). Sticky places in slippery space: a typology of industrial districts. Economic Geography, 72(3), 293–313.

Mason, C., & Brown, R. (2013). Creating good public policy to support high-growth firms. Small Business Economics, 40(2), 211–225.

Miller, & Acs. (2017). The campus as entrepreneurial ecosystem: the University of Chicago. Small Business Economics, 49(1), 75–95.

Mooi, E. A., & Ghosh, M. (2010). Contract specificity and its performance implications. Journal of Marketing, 74(2), 105–120.

Neck, H. M., Meyer, G. D., Cohen, B., & Corbett, A. C. (2004). An entrepreneurial system view of new venture creation. Journal of Small Business Management, 42, 190–208.

Nijkamp, P. (2003). Entrepreneurship in a modern network economy. Regional Studies, 37(4), 395–405.

Phelps, C., Heidl, R., & Wadhwa, A. (2012). Knowledge, networks and knowledge networks: a review and research agenda. Journal of Management, 38, 1115–1165.

Poppo, L., Zheng Zhou, K., & Zenger, T. R. (2008). Examining the conditional limits of relational governance: specialized assets, performance ambiguity, and long-standing ties. Journal of Management Studies, 45(7), 1195–1216.

Porter, M. E. (1998). Clusters and the new economics of competition. Harvard Business Review, November–December, p. 77–90.

Powell, W. W., Packalen, K., & Whittington, K. (2010). Organizational and institutional genesis: the emergence of high-tech clusters in the life sciences. Queen's School of Business Research Paper, 03–10.

Quatraro, F. (2007). Change vs. decline: a comparative analysis of the evolution of TFP in Italian regions, with a particular attention to the case of Turin. International Review of Economics, 54, 86–105.

Regione Piemonte (2014). Guida pratica all'ecosistema della creazione d'impresa. Centro Stampa Regione Piemonte.

Rogers, E. M., & Larsen, J. K. (1984). Silicon Valley fever: growth of high-technology culture. New York: Basic Books.

Spigel, B. (2017). The relational organization of entrepreneurial ecosystems. Entrepreneurship Theory and Practice, 41(1), 49–72.

Spilling, O. R. (1996). The entrepreneurial system: on entrepreneurship in the context of a mega-event. Journal of Business Research, 36(1), 91–103.

Stam, E. (2015). Entrepreneurial ecosystems and regional policy: a sympathetic critique. European Planning Studies, 23(9), 1759–1769.

Stuart, T. E., & Sorenson, O. (2005). Social networks and entrepreneurship. In S. A. Alvarez, R. Agarwal, & O. Sorenson (Eds.), Handbook of entrepreneurship research (pp. 233–252). New York: Springer.

Tewdwr-Jones, M., & McNeill, D. (2000). The politics of city-region planning and governance. Reconciling the national, regional and urban in the competing voices of institutional restructuring. European Urban and Regional Studies, 7(2), 119–134.

Totterman, H., & Sten, J. (2005). Start-ups: business incubation and social capital. International Small Business Journal, 23(5), 487–511.

Tracey, P., Heide, J. B., & Bell, S. J. (2014). Bringing "place" back in: regional clusters, project governance, and new product outcomes. Journal of Marketing, 78(6), 1–16.

Van de Ven, A. H. (1993). The development of an infrastructure for entrepreneurship. Journal of Business Venturing, 8, 211–230.

Welter, F. (2011). Contextualizing entrepreneurship: conceptual challenges and ways forward. Entrepreneurship Theory and Practice, 35(1), 165–178.

Westlund, H., & Bolton, R. (2003). Local social capital and entrepreneurship. Small Business Economics, 21(1), 77–113.

Whitford, J., & Enrietti, A. (2005). Surviving the fall of a king: the regional institutional implications of crisis at Fiat auto. International Journal of Urban and Regional Research, 29(4), 771–795.

Whittington, K., Owen-smith, J., & Powell, W. (2009). Networks, propinquity and innovation in knowledge-intensive industries. Administrative Science Quarterly, 54, 90–122.

Winkler, A. (2007). Torino City Report, CASE report 41, London School of Economics and Political Science, London.

World Economic Forum. (2013). Entrepreneurial ecosystems around the globe and company growth dynamics. Davos: World Economic Forum.

Yin, R. (1984). Case study research. Beverly Hills: Sage Publications.

Zahra, S. A., & Nambisan, S. (2011). Entrepreneurship in global innovation ecosystems. Academy of Management Science Review, 1, 4–17.

Zahra, S. A., & Nambisan, S. (2012). Entrepreneurship and strategic thinking in business ecosystems. Business Horizons, 55, 219–229.
Acknowledgments
We are grateful to all of the interviewees for having given up their time to talk to us. We wish in particular to thank Valentino Castellani and Anna Prat (Torino Strategica) for having shared their profound knowledge of the history and strategy of Turin's entrepreneurial ecosystem with us. We are also grateful to Silvio Aime (University of Turin), Marco Cantamessa (I3P), Andrea Casalegno (Top-IX), Barbara Graffino (YES4TO), Giancarlo Rocchietti, Marco Lingua, and Silvano Bernardi (Club degli Investitori), Stefano Molino (Innogest), Nicoletta Marchiandi (Camera di Commercio di Torino). We are indebted to the Fondazione Human Plus for having provided us with the questionnaire data. The authors are responsible for all of the views and opinions expressed in the paper.
About this article
Cite this article
Colombelli, A., Paolucci, E. & Ughetto, E. Hierarchical and relational governance and the life cycle of entrepreneurial ecosystems. Small Bus Econ 52, 505–521 (2019). https://doi.org/10.1007/s11187-017-9957-4
Accepted:

Published:

Issue Date:
Keywords
Governance

Entrepreneurial ecosystem

Local stakeholders