Entrepreneurial personalities in political leadership
Abstract
Societies around the globe respond to the contemporary technological and economic change by defining entrepreneurship and innovation as core principles for future competitive advantage. Does this rise of the "entrepreneurial society" also imply that entrepreneurial personalities are becoming increasingly widespread and powerful in political leadership? Joseph A. Schumpeter already argued that highly influential entrepreneurs are unique and show a certain personality pattern that can be described as being not only high in creativity and change orientation but also high in competitiveness and rule-breaking. It is interesting to ask whether such Schumpeterian personalities indeed play an increasingly important role in political leadership, given that daily routines of policy leaders, at least at first glance, usually require rather non-entrepreneurial strategies such as careful, risk-averse diplomacy. To address this question, we first survey the existing literature on personality and political leadership. We further present a novel personality analysis of an influential business leader that recently made a transition to political leadership: Donald J. Trump, the incumbent US president. Employing a language-based, computerized method of analyzing Twitter statements, we compare his online personality to the online personality of other influential entrepreneurs and business managers, who do not engage in political leadership. The results indicate that Trump is indeed distinct in that he shows stronger features of a Schumpeterian personality. However, he is also comparatively high in Neuroticism. We discuss these findings focusing on the potential implications of a concentration of entrepreneurial mindsets in political leadership.
Keywords
Personality 
Big Five 
Political leadership 
Donald J. Trump 
Entrepreneurship 
JEL classification
L20 
L26 
"Politics is a strong and slow boring of hard boards. It takes both passion and perspective."

Max Weber (1919)
1

The entrepreneurial society and political leadership

In 2007, David B. Audretsch published a book entitled "The entrepreneurial society" (Audretsch 2007). In this book, he describes and champions the idea of a societal, political, and economic trajectory leading away from a traditional, managed economy towards an entrepreneurial economy. While the managed economy relies on mass production, the planned management of labor and economic processes conducive to such mass production, the entrepreneurial economy stimulates and relies on entrepreneurial thinking and acting at all levels of society (e.g., education, research, policy, administration). The current rapid pace of social, technological, and economic change requires such an entrepreneurial society (Silbereisen and Chen 2010). To generate competitive advantage in today's post-industrial era where disruptive innovation is an important driver of economic progress, this entrepreneurial society transcends formal and informal institutions, including leaders in business and politics.

Often, disruptive innovations are linked to Schumpeterian entrepreneurship, making reference to Schumpeter's early theories on economic development driven by creative destruction (Schumpeter 1934). In his often-cited understanding, the constant birth and death of firms develops economies forward. This process is mainly driven by a particular set of entrepreneurs that disturb the economic status quo by turning new ideas into marketable products and services. Thereby, they overcome incumbent industries and make them obsolete (Schumpeter 1934; Hébert and Link 1989; Acs et al. 2009; Block et al. 2017). These innovative entrepreneurs are different, as Schumpeter (1934) postulates. They can be distinguished from the population of self-employed by their ability and willingness to search and create new economic opportunities and hence create the desired benefits for society (Wennekers and Thurik 1999). In other words, there is an innovation-aspect to Schumpeterian entrepreneurs that most self-employed lack. However, it is not entirely clear what exactly distinguishes them from other individuals. While Block et al. (2017) outline several unique features of Schumpeterian entrepreneurship in a recent literature review, they also come to the conclusion that a better understanding of these innovative Schumpeterian entrepreneurs, including how they can be spotted, is lacking.

In addition to the importance of innovations, a crucial aspect of such an entrepreneurial society is entrepreneurship in the political domain (e.g., in governments and governmental agencies). This necessity of integrating entrepreneurship not only in the economic sector but also in the political and public sector was already proposed by Peter F. Drucker. Drucker argued that, given the tremendous change societies face in the modern world, entrepreneurial management in governments and the public sector, as a whole, should be an effective proactive answer to that change. Change is not a threat to traditional structures and solutions but an opportunity for positive developments that actually utilize the potential of said change (Drucker 1985). Indeed, there is an increasing interest in political entrepreneurs, individuals who change the direction and flow of politics (Schneider and Teske 1992; Klein et al. 2010). To a certain degree, the political process requires the identification and exploitation of opportunities, which is a core principle of entrepreneurship (Duane Ireland and Webb 2007).

Today's entrepreneurial societies increasingly value entrepreneurial traits and related achievements. This is not only true for the economic realm, where topics surrounding entrepreneurship (e.g., start-ups, intrapreneurship, corporate entrepreneurship) are established. Although actual Schumpeterian entrepreneurship, and Schumpeterian entrepreneurs, might be a rare breed, entrepreneurship is a very visible and respected part of mainstream culture (e.g., there are various cinema movies and bestseller biographies about famous entrepreneurs like Steve Jobs, Mark Zuckerberg, or Elon Musk). Therefore, one could assume that Schumpeterian personalities are also on the rise in mainstream politics, and in highly influential politicians in leading positions in particular, given the dominance of innovation and entrepreneurship in today's economy and political agenda, and the distinct power orientation in Schumpeterian personalities. In this paper, we ask the following: Is there a rise of entrepreneurial personalities in political leadership or does the political elite continue to value traits associated with diplomacy and the typical mindsets of career politicians? To address this question, we first summarize the existing literature on personality and political leadership. Then, we present an empirical analysis of personality characteristics of a contemporary political leader that sees himself more as a businessman than as a (career) politician, Donald J. Trump, the incumbent President of the US (POTUS).
2

Conceptual framework: personality, politics, and entrepreneurship
3

A language-based personality comparison of Donald J. Trump to superstar entrepreneurs and managers
3.1

Approach: computerized language assessment using Twitter

Language provides extensive information about individuals' personality characteristics. People express (and signal) their individual personality via their characteristic language, either in written or oral form. Psychological research found strong support for the usefulness and validity of a comprehensive language analysis. For example, language analysis has been extensively used to study social relationships, hierarchies, emotions, thinking styles, and psychological traits (e.g., Pennebaker et al. 1997; Tausczik and Pennebaker 2010).

While research on personality normally relies on well-established questionnaires to study personality based on self-reports, this is obviously not an option in the case of the POTUS. Therefore, prior research mostly draws on expert opinions to derive the personality profiles, for example by consulting biographers, journalists, and scholars who are established authorities on the subject (e.g., Rubenzer and Faschingbauer 2004; Simonton 1988). Common sources of data are speeches, public statements, letters, or biographies (e.g., House et al. 1991; Weintraub 1986).

One fact that definitively distinguishes the current President Trump from his predecessors (and most other politicians for that matter) is his extensive use of Twitter as a tool of mass communication. On Twitter, previously inaccessible individuals willingly and voluntarily publish information that can be analyzed for scientific purposes. According to Lee et al. (2017), messages on Twitter can be seen as "unfiltered, personal, and spontaneous" information, providing an opportunity for psychological research. While his use of Twitter is discussed in the media almost on a daily basis, his Tweets also deliver systematic insights that are useful for research. Hence, we analyze the language he uses in his many Twitter messages.

Trump joined Twitter in March 2009 and made his first post on May 04, 2009. As of May 2017, Trump had 29.9 million followers on Twitter, making him the second most followed politician after former POTUS Barack Obama. So far, Trump issued 34,900 messages on Twitter ("Tweets"), equaling roughly 12 Tweets per day. His high activity provides a great body of language that should be representative (e.g., across different topics and situations) for his individual personality. In comparison, Obama issued approximately 4 Tweets per day. Through his Tweets, Trump gives the public a very direct and almost real-time account of his thinking and actions, as never seen before from a US president (Walshe 2017).

The most established software to assess language and text for psychological purposes is the Linguistic Inquiry and Word Count (LIWC) (e.g., Pennebaker et al. 2015). The core of LIWC is a dictionary that matches words to a certain domain with psychological value, such as "sadness." For example, to measure sadness, the LIWC dictionary as of 2015 scans the text for 136 individual words, containing "crying", "grief", and "sad", that are then used to calculate a value for the sadness of the text at hand. Like Obschonka et al. (2017a), we analyze Tweets using Receptiviti (www.receptiviti.ai). Receptiviti is a novel and commercial variant of the LIWC text analysis platform and quantifies language samples along a large number of psychological metrics while also providing several measures that are not part of the canonical LIWC dictionary. More information on Receptiviti is provided in Obschonka et al. (2017a). Such online methods have been proven to be important sources in the study of personality traits that can deliver remarkably (and often surprisingly) accurate information about actual personality features (Back et al. 2010; Boyd and Pennebaker 2015; Golbeck et al. 2011; Kosinski et al. 2013). However, these methods also convey limitations as one can only indirectly infer personality characteristic by means of a comprehensive language analysis. By all means, such methods seem to be very useful in assessing the "online personality" of a person—the personality profile the person in question creates, signals, and conveys in their digital footprints. And, as in the case of Trump, this online personality can be very influential in the real world, with Trump's outreach and participation in the public discourse as well as in diplomatic and political matters via Twitter.
3.2

Sample and data

The dataset used in this study has been used by Obschonka et al. (2017a) to study differences between superstar managers and entrepreneurs and comprises 106 individuals. In this prior paper, Trump was one of the 59 cases in the influential entrepreneurs group. In the present study, we reanalyze the dataset used by Obschonka et al. (2017a) with a specific focus on the personality of Trump and compare him to the remaining 58 influential entrepreneurs and also to the 47 influential managers.

As described in detail in Obschonka et al. (2017a), we construct our sample of business leaders by identifying individuals with a Twitter account in the Forbes 400 ranking of 2016, which lists the 400 wealthiest US Americans (Forbes 2016b). We combine this list with Forbes "America's richest entrepreneurs under 40," which includes the 40 wealthiest entrepreneurs under 40 years and is similar to the Forbes 400 (Forbes 2016c). Finally, we extend this sample by identifying the CEOs of Fortune 500 companies that have an individual Twitter account (Fortune 2016). In total, this approach yielded a total sample of 156 Twitter accounts. However, we were required to exclude 50 accounts because of missing information or because they could not be clearly described as a manager or entrepreneur. Thus, the final sample consists of 106 individuals with Twitter accounts whose Tweets we collected and assessed based on Receptiviti. In addition to Trump, we categorize 56 as (superstar) entrepreneurs and 49 as (superstar) managers.

Table

1

provides an overview of the 25 individuals with the most Twitter followers in our sample. As Table

1

shows, Donald Trump is the individual with the most Tweets in our sample. Note that all of our data was extracted in October 2016—so before Trump became POTUS. Also, note that the number of messages extracted is limited to a maximum of 3200 messages by Twitter, so that we extracted the most recent 3200 Tweets of every individual in October 2016.

Table 1

Individuals in our dataset ranked according to their number of followers on Twitter
| No. | Twitter | Name | DOB | Followera | Tweetsa | Role | Source | Openness | Conscientiousness | Extraversion | Agreeableness | Neuroticism |
| --- | --- | --- | --- | --- | --- | --- | --- | --- | --- | --- | --- | --- |
| 1 | Oprah | Oprah Winfrey | 1954 | 36,186,528 | 11,940 | Founder Harpo Productions Inc. | Forbes 400 | −1.320 | −1.256 | 0.627 | −0.018 | 0.279 |
| 2 | billgates | Bill Gates | 1955 | 34,144,402 | 2306 | Founder Microsoft | Forbes 400 | 1.961 | 0.361 | −0.114 | −1.515 | 0.156 |
| 3 | realDonaldTrump | Donald Trump | 1946 | 27,359,166 | 34,701 | Former CEO of Trump Org. | Forbes 400 | 1.229 | −0.230 | −1.329 | −1.623 | 1.702 |
| 4 | elonmusk | Elon Musk | 1971 | 8,066,368 | 2821 | Founder Paypal and Tesla | Forbes 400 | 0.791 | −1.412 | −1.507 | −0.420 | 0.876 |
| 5 | Mcuban | Mark Cuban | 1958 | 6,703,918 | 1802 | Founder Broadcast.com | Forbes 400 | −0.571 | −1.479 | −2.057 | −1.265 | 1.815 |
| 6 | tim_cook | Timothy D. Cook | 1960 | 4,549,234 | 349 | CEO Apple | Fortune 500 | 0.614 | 0.669 | 1.138 | 0.443 | −0.887 |
| 7 | Jack | Jack Dorsey | 1976 | 4,021,091 | 21,703 | Founder Twitter | Forbes 400 | −0.289 | −0.450 | −0.157 | 0.076 | −1.256 |
| 8 | RalphLauren | Ralph Lauren | 1939 | 1,976,751 | 3843 | Founder Ralph Lauren | Forbes 400 | 0.219 | 0.078 | −0.835 | −0.224 | −1.238 |
| 9 | mikebloomberg | Michael Bloomberg | 1942 | 1,937,301 | 9513 | Founder Bloomberg | Forbes 400 | 1.855 | 1.065 | 0.211 | −0.875 | 0.134 |
| 10 | ericschmidt | Eric Schmidt | 1955 | 1,850,750 | 494 | Ex-CEO Google | Forbes 400 | 0.611 | 0.369 | −0.154 | 0.151 | 0.331 |
| 11 | satyanadella | Satya Nadella | 1967 | 1,279,496 | 593 | CEO Microsoft | Fortune 500 | 0.376 | 1.064 | 1.380 | 0.640 | −0.998 |
| 12 | MichaelDell | Michael Dell | 1965 | 1,157,852 | 3555 | Founder Dell | Forbes 400 | −0.508 | 1.433 | 1.449 | 1.365 | −1.324 |
| 13 | rupertmurdoch | Rupert Murdoch | 1931 | 774,142 | 1717 | Founder News Corp. | Forbes 400 | 0.916 | −0.597 | −1.388 | −1.140 | 2.497 |
| 14 | Benioff | Marc Benioff | 1964 | 684,406 | 14,343 | Founder salesforce | Forbes 400 | −0.002 | 0.453 | −0.207 | 0.066 | 0.649 |
| 15 | Pierre | Pierre Omidyar | 1967 | 533,809 | 9965 | Founder ebay | Forbes 400 | 2.265 | −1.251 | −2.222 | −2.623 | 2.629 |
| 16 | johnhenry | John Henry | 1949 | 442,850 | 521 | Founder John W. Henry | Forbes 400 | 0.751 | 0.244 | −0.895 | −0.431 | −0.155 |
| 17 | reidhoffman | Reid Hoffman | 1967 | 430,058 | 1816 | Founder LinkedIn | Forbes 400 | 0.270 | 1.099 | 0.344 | 0.222 | −0.045 |
| 18 | Sparker | Sean Parker | 1979 | 429,503 | 498 | Founder Napster | Forbes 400 | 1.102 | −1.220 | −1.345 | −2.129 | 1.648 |
| 19 | Carl_C_Icahn | Carl Icahn | 1936 | 329,982 | 319 | Founder Icahn Capital Man. | Forbes 400 | −0.372 | 0.908 | −0.765 | −0.228 | 0.266 |
| 20 | johndoerr | John Doerr | 1951 | 287,835 | 809 | Investor | Forbes 400 | −0.175 | 0.169 | −0.271 | −0.720 | −0.532 |
| 21 | drewhouston | Drew Houston | 1983 | 247,864 | 386 | Founder Dropbox | Forbes 40u40 | −0.423 | 0.856 | 0.719 | 0.685 | −0.410 |
| 22 | MegWhitman | Meg Whitman | 1956 | 235,988 | 798 | CEO HP | Forbes 400 | −1.760 | −0.674 | −0.109 | 0.139 | −1.195 |
| 23 | bchesky | Brian Chesky | 1981 | 231,376 | 3826 | Founder AirBnB | Forbes 400 | −0.626 | 0.320 | −0.439 | −0.832 | −1.105 |
| 24 | MickyArison | Micky Arison | 1949 | 225,171 | 13,430 | Ex-CEO Carnival Corp. | Fortune 500 | −0.208 | 0.132 | 0.680 | 1.657 | −1.278 |
| 25 | jeffbezos | Jeff Bezos | 1964 | 202,693 | 100 | Founder Amazon | Forbes 400 | −0.568 | 0.100 | 0.211 | −0.423 | 0.070 |
3.3

Results

Our empirical analysis mainly focuses on the Big Five profile of Trump's online personality in comparison to the average Big Five profile of superstar entrepreneurs and managers. In addition to the Big Five, our analysis contains further personality characteristics that previous research has linked to an entrepreneurial personality (i.e., achievement orientation, social skills, well-being). Like Obschonka et al. (

2017a

), we use a set of 20 variables included in Receptiviti to operationalize these characteristics. The results of our descriptive assessment are displayed in Table

2

. The first columns of Table

2

present the mean values and standard deviations for all variables in our sample for the group of managers and entrepreneurs. The last four columns present the individual scores of Trump and the percentile at which he would score in the subsamples of managers and entrepreneurs, and in the total sample. The individual scores in Table

2

are

z

-standardized (mean = 0, standard deviation = 1). Positive values thus indicate an above average value, while negative values indicate a below average value.

Table 2

Differences between the group of managers, entrepreneurs, and Donald Trump
 
 

Managers (N = 47)

Entrepreneurs (N = 58)

Donald Trump

Variable

Description in Receptiviti

Mean

(SD)

Mean

(SD)

Score

Percentile Manager

Percentile Entrepr.

Percentile total

Big Five

 Openness

Open to new ideas and experiences

−0.071

(0.768)

0.036

(1.155)

1.229

97.92

86.44

91.51

 Conscientiousness

Reliable

0.502

(0.876)

−0.403

(0.921)

−0.230

20.83

55.93

39.62

 Extraversion

Energized and uplifted

0.610

(0.735)

−0.471

(0.918)

−1.329

4.17

23.73

14.15

 Agreeableness

Inclined to please others

0.593

(0.629)

−0.453

(0.989)

−1.623

2.08

15.25

8.49

 Neuroticism

Expresses strong negative emotions

−0.418

(0.904)

0.309

(0.944)

1.702

93.75

93.22

93.40

Achievement orientation

 Independent

Non-conformist

0.030

(1.061)

−0.023

(0.966)

−0.064

52.08

52.54

51.59

 Power driven

Driven by the desire for power

0.480

(0.994)

−0.381

(0.838)

−0.433

16.67

55.93

37.74

 Type A

Driven and competitive, intolerant of setbacks

−0.049

(0.971)

0.020

(1.028)

1.148

93.75

84.75

88.68

 Workhorse

Strong work ethic

0.467

(0.793)

−0.369

(1.006)

−0.501

10.42

47.46

30.19

Social style

 Social skills

At ease with others and in social situations

0.525

(0.727)

−0.411

(1.001)

−0.876

2.08

35.59

19.81

 Insecure

Lacks confidence when dealing with others

−0.471

(0.917)

0.352

(0.895)

1.744

97.92

93.22

95.28

 Cold

Emotionally unresponsive and not empathic

−0.563

(0.786)

0.447

(0.935)

0.541

87.50

55.93

69.81

 Family orientation

Values and behaviors rooted in sense of family

0.130

(1.058)

−0.107

(0.956)

0.122

56.25

62.71

59.43

Well-being

 Adjustment

Grounded healthy life goals

0.533

(0.782)

−0.414

(0.961)

−1.002

8.33

27.12

17.93

 Happiness

Optimistic, upbeat, and happy

0.563

(0.755)

−0.436

(0.951)

−1.156

4.17

25.42

15.09

 Depression

Has difficulty finding joy in life

−0.582

(0.816)

0.443

(0.881)

1.667

100.00

93.22

96.23
3.3.1

Big Five

The language that Trump uses on Twitter indicates that he is higher in Openness than the influential business leaders in our sample. Specifically, his value is 1.3 standard deviations above the mean, which puts him in the 91.5% percentile. This means that he scores higher in terms of Openness than 91.5% of the individuals in our sample (only 8.5% of the individuals in our sample score higher than him). While Trump's score in Openness is higher than 97.9% of the managers, his score is also higher than 86.4% of the entrepreneurs. Trump's score in Conscientiousness is not extreme and only slightly below average in our sample. Interestingly, Trump scores comparatively low in Extraversion. Specifically, with a value 1.3 SDs lower than average, only 14.2% of the managers and entrepreneurs in our sample score even lower. Similarly, Trump scores very low on Agreeableness in the comparison to the influential business leaders. With a value 1.6 SDs below the mean, only 8.5% of the individuals are less agreeable than him, making him a clear outlier on the negative side. Only 15.3% of the entrepreneurs and only 2.1% of the managers score lower than Trump, indicating a particularly low Agreeableness when compared to highly successful entrepreneurs and managers. Finally, Trump's score in Neuroticism is another outlier. With a value 1.7 SDs above average, Trump scores higher in this dimension than 93.4% of the individuals in our sample. Only seven individuals in our sample scored higher than Trump in this dimension, including Pierre Omidyar (highest score) and Mark Cuban.

To sum up, Trump shows signs of a Schumpeterian personality pattern of comparatively very high Openness and very low Agreeableness in our sample of highly influential business leaders. However, we also find relatively high levels in Neuroticism, which might indicate an emotionally unstable Schumpeterian personality, at least according to his presentation on Twitter before he got elected as the 45th POTUS. Figure

1

illustrates the personality differences between Trump and the other influential business leaders. Figure

2

provides the respective box plots.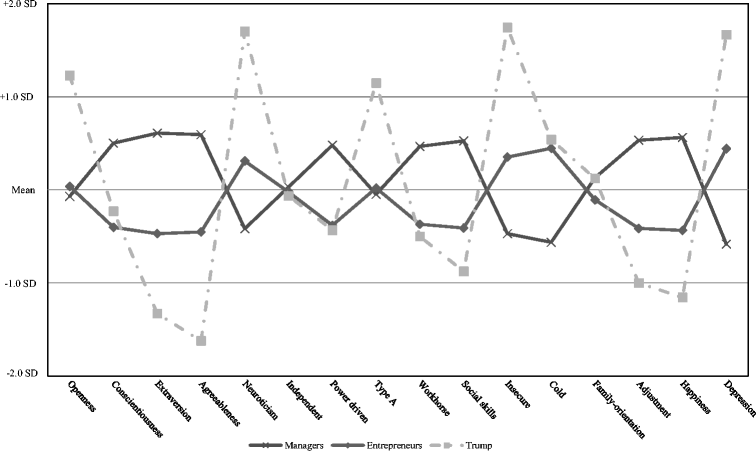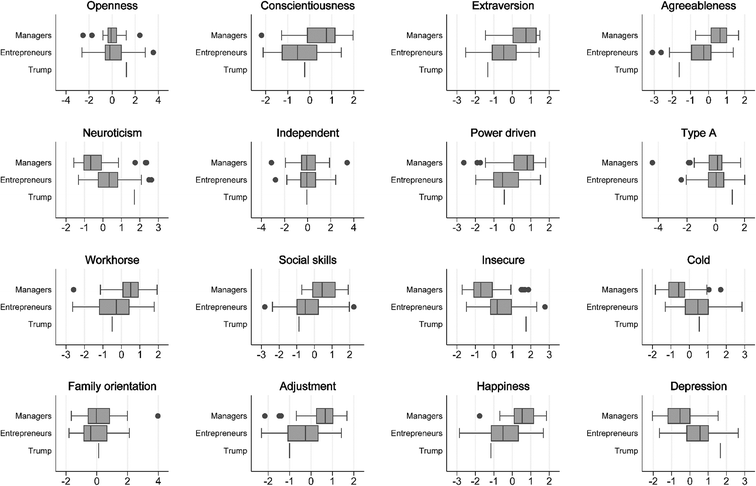 3.3.2

Achievement orientation

Four variables in Receptiviti can be directly attributed to achievement orientation. Trump's values in these dimensions are less extreme. Specifically, Trump scores slightly above or below the mean in the variables independence (i.e., being a non-conformist), power-driven (i.e., being driven by a desire for power), and workhorse (i.e., having a strong work ethic). However, Trump scores very high in the variable type A, with a value 1.1 SDs above average. High values in this variable indicate that a person is achievement-driven, competitive, and intolerant of setbacks ("workaholic"). While the entrepreneurs generally score very similar to the managers in this dimension, Trump scores higher than 88.7% of the individuals in our sample. This indicates a strongly above average competitiveness even when compared with the usually very competitive superstar managers and entrepreneurs. Competitiveness, as indicated by the high type A score, can be seen as another characteristic of the Schumpeterian entrepreneur.
3.3.3

Social style

The third group of variables addresses the social style, which describes an individual's social psychological orientation towards others. Receptiviti operationalizes this dimension via the variables social skills (i.e., being at ease with others and in social situations), insecure (i.e., lacking confidence when dealing with others), cold (i.e., emotionally unresponsive and lacking empathy), and family orientation (i.e., values and behavior is rooted in a sense of family). Trump scores comparatively low in terms of social skills. With a value 0.88 SDs below the mean, Trump scores in the 19.8 percentile, indicating that only 20% of the influential business people in our sample score lower in this dimension. Trump also scores particularly high in the variable insecure. With a value 1.7 SDs above the mean, he is a strong outlier on the positive side. In total, only 4.7% of the respondent in our sample scored higher in terms of insecurity. Trump's scores in the dimensions cold and family orientation are not extreme in our sample. He scores slightly above average in both dimensions.
3.3.4

Well-being

The final group of variables refers to individual well-being, which is operationalized via three variables in Receptiviti. With regard to the variable adjustment, Trump scores 1.0 SDs below the mean. This variable generally refers to an individual being grounded and having healthy life goals. Only 17.9% of the individuals in our sample score lower than Trump. Similarly, Trump scores very low in happiness (1.2 SD below the mean). Only 15.1% of the individuals in our sample score lower. Finally and relatedly, Trump scores relatively high in depression. With a value 1.7 SDs above average, Trump is an outlier in our sample. Specifically, only 3.8% of the individuals in our sample score higher than him, making depression the variable with the most extreme score for Trump. In our sample, not a single manager and only four entrepreneurs score higher than Trump. Taken together, these variables consistently indicate a comparatively low well-being in the language used by Trump.
4

Discussion

Do we see a rise of entrepreneurial personalities in political leadership in today's entrepreneurial societies? While a systematic investigation of this question requires an analysis of a representative sample of political leaders (preferably comparing different cohorts of political leaders to test for a historical trend), we approach this topic rather indirectly by consulting the existing literature on personality features in political elites and by comparing the online personality of an influential business leader that recently got elected as 45th POTUS with the online personality of other influential business leaders that show less (interest for an own) engagement in political leadership.

First of all, our literature review shows that the existing literature on personality features in a political leader has no clear consensus on typical traits or historical trends. While this literature is very limited with respect to the research methods employed, we read these preliminary findings and speculations in such a way that there is not a clear indication that Schumpeterian personalities are on the rise and increasingly prevalent in political leadership. One underlying aspect here could be that such a personality pattern was simply not in the focus of the (public and scientific) debate on political leaders so far. Nevertheless, we believe that our own empirical analysis inspired by such a Schumpeterian perspective can provide new insights in this regard.

Translating a Schumpeterian personality as a combination of high Openness and low Agreeableness, we find indications that Trump indeed shows a more Schumpeterian personality than other influential business leaders. We speculate that it is this extreme entrepreneurial drive directed towards power, change, disruption, and competition (in a Schumpeterian sense) that has guided not only his entrepreneurial career but also his young political career. If that is indeed the case (and we have to reiterate that our results should be seen as a rough approximation of the real personality profiles in our sample), what are potential advantages and disadvantages of a Schumpeterian type as a powerful political leader?

An advantage might be a good match between entrepreneurial requirements in an entrepreneurial society (entrepreneurial thinking and acting at all levels of the society) and political leaders that show an entrepreneurial spirit deeply enrooted in their personality. The individual personality profile is in general a powerful shaper of own behavior, motivation, and decisions (Roberts et al. 2007), and this might be similar in the political arena (Best 2007). Hence, political leaders with an entrepreneurial personality might show a strong, persisting entrepreneurial motivation and orientation not only in their non-political behavior (e.g., in their business or private life) but also in the political realm. This entrepreneurial approach to politics might be instrumental in leading and growing an entrepreneurial society as a top-down process (Audretsch and Link 2012).

However, one could argue that leading a company is very different from leading a country (e.g., with respect to risk-taking, "disruptive" behaviors, and careful diplomacy). Therefore, it is debatable whether political leaders with an extremely entrepreneurial personality can indeed act strictly entrepreneurially in their highly responsible role. Based on a fit perspective, which is a leading approach in career research (Fouad 2007), it can be expected that a good fit between one's personality and the character of the job is a good predictor of job satisfaction, performance, and continuity within that job (e.g., the individuals enjoying a good fit stay longer in that kind of job and have lower turnover intentions to change to other kinds of jobs that might fit their personality better). Hence, one could ask whether extremely entrepreneurial personalities feel happy and productive in political leadership, and whether they show persisting continuity in staying in such a job for a longer time (or whether they are soon more attracted by job opportunities outside the political arena that allow them to live out their entrepreneurial drive more freely). If entrepreneurial personalities indeed show a rather weak fit to a political leadership job (and thus less interest for, and productivity and continuity in, such a job), this might explain why we obviously see so few highly entrepreneurial types in political leadership roles. In this regard, Trump seems to be an absolute outlier (McAdams 2016) and one could ask what a weak fit between personality and occupational role would mean for his political career. On the other hand, however, it is noteworthy that a famous occupational choice theory, Holland's (1997) RIASEC model, deems entrepreneurs and politician to be in the same (out of six) interest/job category ("Enterprising Type"). Holland (1997) thus stresses the similarities of the two personality types and also of the two occupations (e.g., in that they show similar key features such as (a strong interest in) influencing, persuading, and leading others, and managing organizations). So we have to conclude that it is not really clear whether extremely entrepreneurial personalities, or enterprising types (Larson et al. 2002), show a weak or, contrary, a good fit to political leadership roles. However, we would speculate that particularly Schumpeterian personalities might lean towards a rather weak fit, which might be a potential downside of having extremely entrepreneurial personalities in political leadership.

What are other potential downsides? Arguably, one can name the typical, more "problematic" correlates of an entrepreneurial mindset as identified in research. A replicated finding in entrepreneurship research is that entrepreneurs tend to have a distinct biographical rule-breaking tendency in their behavior across various contexts of behaviors (Levine and Rubinstein 2016; Obschonka et al. 2013; Zhang and Arvey 2009). As long as this rule-breaking tendency is embedded in a social control setting or gets canalized in productive, innovative behaviors (e.g., Schumpeterian entrepreneurship or innovative solutions generating a positive value for society), this is not harmful but can be very positive. If this is not given, however, it might make the individual more prone to uncontrolled and unproductive rule-breaking that is problematic, such as risky gambling and antisocial behaviors as stressed by Zhang and Arvey (2009). To be clear, this is not the case for every entrepreneur with a Schumpeterian personality nor for every politician with such a personality. However, there might be a certain tendency in the personality system of these individuals that makes them more prone to such extreme (negative) outcomes. Also, personality is not simply deterministic because individuals can always willingly shape their behavior, choices, and decisions. Furthermore, one could argue that writing Tweets with a Schumpeterian online personality does not automatically mean that the same personality gets indeed expressed in diplomacy at the highest political level, because this is a field that is certainly more regulated and controlled (e.g., by advisors, political correctness, or a critical media and public).

Moreover, research indicates that entrepreneurs often have a tendency for relying on cognitive biases (e.g., overconfidence and overoptimism) and decision shortcuts and heuristics (Busenitz and Barney 1997; Koellinger et al. 2007). While it might be, to some extent, useful to overestimate one's own abilities and resources (or those of one's own organization and networks) when starting and growing one's own company (e.g., because such biases are a powerful motivational driver facilitating decision making processes and business interactions in some situations), it could have completely different effects in political leadership. As famously concluded by Max Weber (1919): "Politics is a strong and slow boring of hard boards. It takes both passion and perspective". Hence, the daily routines in political leadership might involve repetitive, careful, and sometimes frustrating efforts in diplomacy where such cognitive biases and heuristic might be harmful. This might be one reason why entrepreneurial types could be less attracted to becoming a career politician, instead of working as a start-up entrepreneur or in an entrepreneurial job elsewhere. Particularly, this may be true for Schumpeterian entrepreneurs who are often highly dynamic and might not want to be restricted by such bureaucratic and diplomatic barriers slowing down actual change processes.

So far, we have discussed Trump's obvious entrepreneurial personality features with regard to two traits. Our analysis also indicates that he shows comparatively high levels in Neuroticism, and underlying low well-being. This is rather untypical for entrepreneurs since working as an entrepreneur may not only require emotional stability and optimism. Such work is also able to increase happiness due to procedural utility (Benz and Frey 2004, 2008). Can one thus conclude that he is more of an emotionally unstable Schumpeterian personality type, which would be a very rare case? Maybe. And maybe this is one reason why he did not engage so much in classic Schumpeterian entrepreneurship pushing forward disruptive innovations in his career as an entrepreneur to date because he might shy away from the risk and also the emotional stress associated with such highly innovative endeavors. But this is pure speculation. Nevertheless, one should be careful in interpreting high Neuroticism as a purely negative thing. As stressed by Nettle (2006), research showed that high Neuroticism can stimulate a high competitiveness and other studies found highly neurotic individuals to be very successful in life if they had the intelligence, virtues, and abilities needed to succeed. Accordingly, Nettle (2006, p. 626) concludes: "Although very high Neuroticism has evident drawbacks, it may also serve as a motivator to achievement in competitive fields among those equipped to succeed." So maybe this high Neuroticism is a major motivator to succeed in Trump's entrepreneurial projects not only in his business life but also in his role as political leader (given that he has the resources needed to succeed).

Last but not least, we find it important to stress how different Trump's profile is from the other influential business leaders. If Schumpeter is right, and seeking social distinction is a core principle of the entrepreneurial personality, then we clearly see this principle reflected in his unusual personality profile (in the context of highly influential business leaders). Many experts agree with Schumpeter today, that really successful entrepreneurs not only dare to be different—they are different.

Our paper offers multiple avenues for future research. As indicated by Audretsch (2007), the entrepreneurial society promotes and requires entrepreneurial thinking and acting not only in the start-up sector but also in basically all institutional levels in the society. So far, research on entrepreneurial personalities has been focusing on the startup sector and self-employed activity, and in this paper we tried to extent this perspective by addressing the topic of political leadership. Future research could broaden this perspective on the (changing) role of entrepreneurial personalities in the entrepreneurial society. This could address, for example, other leadership roles besides political leadership (e.g., leaders in education and science or leaders of large corporations, social projects, and influential movements in arts and literature). Do we see a stronger presence and influence of entrepreneurial personalities in leadership roles in general in the (emerging) entrepreneurial societies across the globe, compared to the earlier situation in the managed economies? Besides leadership roles, future research could also address the (changing) role of entrepreneurial personalities in the workforce in general. A popular topic is intrapreneurship, or corporate entrepreneurship, which describes entrepreneurial thinking and acting in employees in existing corporations (Antoncic and Hisrich 2001). Can we see, for example, entrepreneurial personalities among these employees as a kind of "avant-garde" and forerunner in terms of their entrepreneurial thinking and acting in the form of intrapreneurship (Hisrich 1990; Shetty 2004; Sinha and Srivastava 2013)?. Finally, future research could also address systematic faking tendencies in entrepreneurial individuals' presentation of their own personality traits in social media and television.
4.1

Limitations

Finally, we should keep in mind the likely limitations of our language-based analysis of digital footprints. As discussed by Obschonka et al. (2017a), we cannot guarantee that all individuals examined in our analysis really write their Tweets themselves. Thus, we do not have complete certainty that the online personality always overlaps with the real personality. Nevertheless, the online personality as such (even if it does not substantially overlap with the real personality) is an important social channel though which these powerful individuals interact with the outer world. Furthermore, since our language analysis was based on Trump's Tweets that he has published before he was elected to become the next POTUS, his language in these Tweets might mirror the (aggressive) tone of his presidential campaign (e.g., being open for change but also highly competitive and disagreeable and an emotionally unstable "troublemaker"). Moreover, especially the manager group in our sample might employ certain impression management techniques to evoke a certain positive and energetic personal image that is linked to their responsibility for the major companies they lead as CEOs. Finally, we should acknowledge that there is a lively debate on potential psychopathological traits and problems associated with Trump's behavior and language. While the comparatively higher score in Neuroticism and the comparatively lower score in Agreeableness can (but not necessarily must; see Nettle 2006) indicate a certain tendency for clinically relevant problems, we would like to refrain from making any speculations from afar in this regard.
5

Conclusion

To conclude, the topic of entrepreneurial personalities in political leadership is clearly a timely and fascinating, yet still largely unexplored topic that should deserve more scientific attention in the future. Besides other issues, this future research could address the question of whether extremely entrepreneurial personalities show a good or bad fit to political leadership roles. This might also help to shed more light on the potential pros and cons of having Schumpeterian types in powerful political positions, on the personal implications for these extremely entrepreneurial individuals themselves, and on the implications for the society that is subjected to their political leadership.
Footnotes
1.

However, he may not be a prototypical Republican candidate. For example, while being a candidate in the 2016 presidential campaign, Trump was perceived as the most liberal Republican presidential candidate in 20 years.
Copyright information
© Springer Science+Business Media, LLC 2017