Abstract
US Small Business Innovation Research (SBIR) and Small Business Technology Transfer (STTR) programs provide Federal research and development (R&D) grants to technology ventures. We explore how grantor demographic diversity explains why demographically diverse grantees experience different odds for successfully transitioning from initial to follow-on R&D grants. We empirically analyze 52,126 Phase I SBIR/STTR awards granted by 11 Federal agencies (2001–2011). We find a positive association between agency workforce diversity and Phase II funding for Phase I grantees, but minority and women technology entrepreneurs are less likely to receive this funding than their non-minority and male counterparts. Agencies valuing workforce ethnic diversity or leveraging gender homophily positively influence the likelihood of women technology entrepreneurs obtaining Phase II funding. We discuss evidence-based implications for policy and practice.
This is a preview of subscription content, log in to check access.
Access options
Buy single article
Instant access to the full article PDF.
US$ 39.95
Price includes VAT for USA
Subscribe to journal
Immediate online access to all issues from 2019. Subscription will auto renew annually.
US$ 199
This is the net price. Taxes to be calculated in checkout.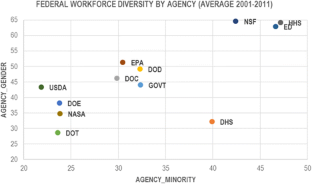 Notes
1.

2.

3.

4.

5.

6.

7.

8.

SBA SBIR Policy Directive February 24, 2014

9.

10.

11.

12.

13.

14.

For 2001–2009, the OPM's diversity categories were Black, Hispanic, Asian/Pacific Islander, and Native American. For 2010–2011, the OPM redefined these categories to Black, Hispanic, Asian, American Indian/Alaskan, and Native Hawaiian/Pacific Islander. This re-categorization does not affect our measure, since either set of categories captures the respective percentages of minority or non-White employees in the Federal Agency.

15.

16.

17.

18.

19.

20.

A member of our co-author team was an invited participant in a special NASA event held at the team member's university. With advanced planning and NASA's permission, our team member scheduled and met individually with appropriate representatives from 8 Research Centers and 2 Mission Directorates.

21.

The one notable exception in NASA's demographic diversity is that it does have a sizable Hispanic workforce compared to other large Federal agencies and the overall U.S. government. Most of NASA's major facilities are located in Florida, Texas, and California, which are states with large Hispanic populations relative to the rest of the U.S. NASA employees attributed the apparent success in recruiting Hispanic employees to the agency's ability to build long-term relationships with universities located near NASA centers.

22.

23.

24.
References
Aldrich, H. E. (1989). Networking among women entrepreneurs. Women-Owned Businesses, 103, 132.

Aldrich, H. E., & Waldinger, R. (1990). Ethnicity and entrepreneurship. Annual Review of Sociology, 111–135.

Allison, P. D. (1999). Comparing logit and probit coefficients across groups. Sociological Methods & Research, 28(2), 186–208.

Audretsch, D. B. (2003). Standing on the shoulders of midgets: The US Small Business Innovation Research program (SBIR). Small Business Economics, 20(2), 129–135.

Audretsch, D. B., Link, A. N., & Scott, J. T. (2002). Public/private technology partnerships: Evaluating SBIR-supported research. Research Policy, 31(1), 145–158.

Baron, J. (1993). The small business technology transfer (STTR) program: converting research into economic strength. Economic Development Review, 11(4), 63.

Bates, T., & Robb, A. (2015). Has the community reinvestment act increased loan availability among small businesses operating in minority neighbourhoods? Urban Studies, 52, 1702–1721.

Borgatti, S. P., & Cross, R. (2003). A relational view of information seeking and learning in social networks. Management Science, 49(4), 432–445.

Cheav, V. (2013). Programs of parity: current and historical understandings of the small business Act's section 8 (a) and HUBZone programs. DePaul Business and Commercial Law Journal, 12, 477.

Cooper, R. S. (2003). Purpose and performance of the Small Business Innovation Research (SBIR) program. Small Business Economics, 20(2), 137–151.

Delgado, M., Porter, M. E., & Stern, S. (2014). Clusters, convergence, and economic performance. Research Policy, 43(10), 1785–1799.

Elsass, P. M., & Graves, L. M. (1997). Demographic diversity in decision-making groups: the experiences of women and people of color. Academy of Management Review, 22(4), 946–973.

Elston, J. A., & Audretsch, D. B. (2011). Financing the entrepreneurial decision: an empirical approach using experimental data on risk attitudes. Small Business Economics, 36(2), 209–222.

Ford, B. K., Sander, E., Shino, K. J., & Hardin, J. M. (2008). SBIR and STTR programs: the private sector, public sector and university trifecta. Journal of Research Administration, 39(1), 58–77.

Gansler, J., & Shivakumar, S. (2015). SBIR/STTR at the National Institutes of Health. Washington, D.C: The National Academies of Sciences, Engineering and Medicine.

Gicheva, D., & Link, A. N. (2013). Leveraging entrepreneurship through private investments: does gender matter? Small Business Economics, 40(2), 199–210.

Gicheva, D., & Link, A. N. (2015). The gender gap in federal and private support for entrepreneurship. Small Business Economics, 45(4), 729–733.

Gilbert, B. A., Audretsch, D. B., & McDougall, P. P. (2004). The emergence of entrepreneurship policy. Small Business Economics, 22(3–4), 313–323.

Grossman, G. M., & Helpman, E. (1993). Endogenous innovation in the theory of growth. Cambridge: National Bureau of Economic Research.

Hoetker, G. P. (2004). Confounded coefficients: extending recent advances in the accurate comparison of logit and probit coefficients across groups. Available at SSRN 609104.

Hoetker, G. P. (2007). The use of logit and probit models in strategic management research: Critical issues. Strategic Management Journal, 28(4), 331–343.

Jackson, S. E., & Joshi, A. (2004). Diversity in social context: a multi-attribute, multilevel analysis of team diversity and sales performance. Journal of Organizational Behavior, 25(6), 675–702.

Jackson, S. E., May, K. E., & Whitney, K. (1995). Understanding the dynamics of diversity in decision-making teams. Team effectiveness and decision making in organizations, 204, 261.

Jackson, S. E., Joshi, A., & Erhardt, N. L. (2003). Recent research on team and organizational diversity: SWOT analysis and implications. Journal of Management, 29(6), 801–830.

Jones, S. R. (2007). Supporting urban entrepreneurs: law, policy, and the role of lawyers in small business development. Western New England Law Review, 30, 71.

Joshi, A. M. (2014). Innovation policy. In: The Palgrave Encyclopedia of Strategic Management (pp. 5). Basingstoke: Palgrave Macmillan.

Joshi, A., & Roh, H. (2009). The role of context in work team diversity research: a meta-analytic review. Academy of Management Journal, 52(3), 599–627.

Joshi, A., Liao, H., & Jackson, S. E. (2006). Cross-level effects of workplace diversity on sales performance and pay. Academy of Management Journal, 49(3), 459–481.

Joshi, A., Liao, H., & Roh, H. (2011). Bridging domains in workplace demography research: a review and reconceptualization. Journal of Management, 37(2), 521–552.

Kalnins, A., & Chung, W. (2006). Social capital, geography, and survival: Gujarati immigrant entrepreneurs in the US lodging industry. Management Science, 52(2), 233–247.

Kariv, D., Menzies, T. V., Brenner, G. A., & Filion, L. J. (2009). Transnational networking and business performance: ethnic entrepreneurs in Canada. Entrepreneurship and Regional Development, 21(3), 239–264.

King, R. G., & Levine, R. (1993). Finance, entrepreneurship and growth. Journal of Monetary Economics, 32(3), 513–542.

Kochan, T., Bezrukova, K., Ely, R., Jackson, S., Joshi, A., Jehn, K., et al. (2003). The effects of diversity on business performance: report of the diversity research network. Human Resource Management, 42(1), 3–21.

Lanahan, L. (2016). Multilevel public funding for small business innovation: A review of US state SBIR match programs. The Journal of Technology Transfer, 41(2), 220–249.

Lanahan, L., & Feldman, M. P. (2015). Multilevel innovation policy mix: a closer look at state policies that augment the federal SBIR program. Research Policy, 44(7), 1387–1402.

Lau, D. C., & Murnighan, J. K. (1998). Demographic diversity and faultlines: the compositional dynamics of organizational groups. Academy of Management Review, 23(2), 325–340.

Lerner, J. (2000). The government as venture capitalist: the long-run impact of the SBIR program. The Journal of Private Equity, 3(2), 55–78.

Link, A. N., & Ruhm, C. J. (2009). Bringing science to market: Commercializing from NIH SBIR awards. Economics of Innovation and New Technology, 18(4), 381–402.

Link, A. N., & Ruhm, C. J. (2011). Public knowledge, private knowledge: the intellectual capital of entrepreneurs. Small Business Economics, 36(1), 1–14.

Link, A. N., & Scott, J. T. (2010). Government as entrepreneur: Evaluating the commercialization success of SBIR projects. Research Policy, 39(5), 589–601.

McKay, P. F., Avery, D. R., & Morris, M. A. (2008). Mean racial-ethnic differences in employee sales performance: the moderating role of diversity climate. Personnel Psychology, 61(2), 349–374.

McPherson, M., Smith-Lovin, L., & Cook, J. M. (2001). Birds of a feather: homophily in social networks. Annual Review of Sociology, 27, 415–444.

Miller, K. L. (1999). Moving from the racial battleground to the economic common ground. Small & Emerging Business Law, 367, 374.

Rauch, J. E., & Trindade, V. (2002). Ethnic Chinese networks in international trade. Review of Economics and Statistics, 84(1), 116–130.

Richard, O. C. (2000). Racial diversity, business strategy, and firm performance: a resource-based view. Academy of Management Journal, 43(2), 164–177.

Robinson, J. A. (2007). Urban entrepreneurship: patterns and policy. Western New England Law Review, 30, 103.

Romer, P. M. (1990). Endogenous technological change. The Journal of Political Economy, 98(5), S71–S102 Part 2: The Problem of Development: A Conference of the Institute for the Study of Free Enterprise Systems.

Romer, P. M. (1994). The origins of endogenous growth. Journal of Economic Perspectives, 8(1), 3–22.

Sen, M. (2014). How judicial qualification ratings may disadvantage minority and female candidates. Journal of Law and Courts, 2(1), 33–65.

Stuart, T. E., & Sorenson, O. (2007). Strategic networks and entrepreneurial ventures. Strategic Entrepreneurship Journal, 1(3–4), 211–227.

Wessner, C. W. (2000). The Small Business Innovation Research program: an assessment of the Department of Defense fast track initiative. Washington, DC: National Academy Press.

Williams, K. Y., & O'Reilly III, C. A. (1998). A review of 40 years of research. Research in Organizational Behavior, 20, 77–140.
Acknowledgements
We would like to express our sincere appreciation and gratitude to Tim Bates, Bill Bradford, Rob Seamans, Alicia Robb, Maryann Feldman, Michael Verchot, and two anonymous reviewers for their helpful insights and valuable feedback on earlier versions of this paper. We also thank NASA and our fellow participants in two Kauffman Minority Entrepreneurship Conferences held in San Francisco and Anaheim in 2016. This research is funded in part by the Ewing Marion Kauffman Foundation and the Rutgers Center for Urban Entrepreneurship & Economic Development. The contents of this publication are solely the responsibility of the authors.
Appendices
Appendix A.
Appendix B.
About this article
Cite this article
Joshi, A.M., Inouye, T.M. & Robinson, J.A. How does agency workforce diversity influence Federal R&D funding of minority and women technology entrepreneurs? An analysis of the SBIR and STTR programs, 2001–2011. Small Bus Econ 50, 499–519 (2018). https://doi.org/10.1007/s11187-017-9882-6
Accepted:

Published:

Issue Date:
Keywords
Entrepreneurship

Economics of minorities

Economics of gender

Technological innovation

R&D
JEL classifications