Abstract
The 8(a) business development program supports small disadvantaged U.S. federal contractors through benefits such as set-aside and sole-source contracts, management and technical assistance, and mentor-protégé relationships with established firms. This study examines the effectiveness of the 8(a) program at producing positive firm-level outcomes by comparing 8(a) firms with those participating in other preferential contracting programs with different benefits. The average 8(a) program participant performs well relative to baseline firms that do not receive contracting preferences; however, these effects are driven directly by funding and not by broader stimulation of sound business practices as intended by program designers. Program participants perform similarly to service-disabled veteran-owned businesses, which benefit from comparable contract preferences but none of the mentorship, administrative support and management assistance offered to 8(a) firms. While growing at similar rates, 8(a) firms are substantially more likely to go out of business than firms in this comparison group.
Access options
Buy single article
Instant access to the full article PDF.
US$ 39.95
Tax calculation will be finalised during checkout.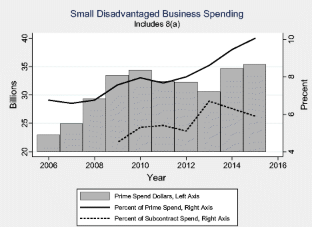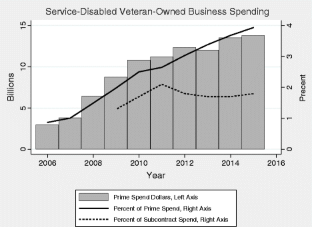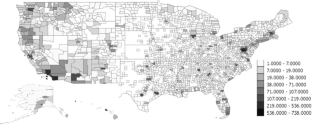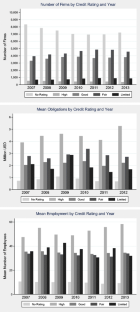 References
Abadie A., & Imbens, G. (2012). Matching on the estimated propensity score. NBER Working Paper, 15301. doi: 10.3386/w15301.

Acs, Z., Astebro, T., Audretsch, D., & Robinson, D. T. (2016). Public policy to promote entrepreneurship: a call to arms. Small Business Economics, 47, 35–51. doi:10.1007/s11187-016-9712-2.

Anglund, S. M. (2000). Small business policy and the American creed. Westport: Praeger.

Ashenfelter, O., & Heckman, J. (1976). Measuring the effect of an antidiscrimination program. In Ashenfeter & Blum (Eds.), Evaluating the labor-market effects of social programs (pp. 46–89). Princeton: Princeton University Press.

Astebro, T. (2017). The private financial gains to entrepreneurship: is it a good use of public money to encourage individuals to become entrepreneurs? Small Business Economics, 48, 323–329. doi:10.1007/s11187-016-9777-y.

Audretsch, D. B., & Feldman, M. P. (1996). R&D spillovers and the geography of innovation and production. The American Economic Review, 86(3), 630–640 http://www.jstor.org/stable/2118216.

Bates, T. (1985). Impact of preferential procurement policies on minority-owned businesses. The Review of Black Political Economy, 14(1), 51–65. doi:10.1007/BF02902609.

Bates, T. 2004. "Minority business development programs: Failure by design." in Race, poverty, and domestic policy, by C.M. Henry. New Haven: Yale University Press.

Bates, T. (2009). Utilizing affirmative action in public sector procurement as a local economic development strategy. Economic Development Quarterly, 23(3), 180–192. doi:10.1177/0891242409333549.

Bates, T. (2015). Contested terrain: the role of preferential policies in opening government and corporate procurement markets to Black-owned businesses. Du Bois Review – Social Science Research on Race, 12(1), 137–159. doi:10.1017/S1742058X14000289.

Bates, T., & Williams, D. (1995). Preferential procurement programs and minority-owned businesses. Journal of Urban Affairs, 17(1), 1–17. doi:10.1111/j.1467-9906.1995.tb00516.x.

Bates, T., & Williams, D. (1996). Do preferential procurement programs benefit minority business? The American Economic Review, 86(2), 294–297 http://www.jstor.org/stable/2118140.

Becker, G. S. (1983). A theory of competition among pressure groups for political influence. The Quarterly Journal of Economics, 98(3), 371–400. doi:10.2307/1886017.

Black, D. (1983). Effectiveness of the mandatory minority business set-aside contracting goals: a regression analysis. Evaluation Review, 7(3), 321–336. doi:10.1177/0193841X8300700303.

Blanchard, L., Zhao, B., & Yinger, J. (2008). Do lenders discriminate against minority and woman entrepreneurs? Journal of Urban Economics, 63(2), 467–497. doi:10.1016/j.jue.2007.03.001.

Blanchflower, D. G., Levine, P. B., & Zimmerman, D. J. (2003). Discrimination in the small-business credit market. Review of Economics and Statistics, 85(4), 930–943. doi:10.3386/w6840.

Boston, T. D., & Boston, L. R. (2007). Secrets of gazelles: the differences between high-growth and low-growth businesses owned by African American entrepreneurs. Annals of the American Academy of Political and Social Science, 613, 108–130. doi:10.1177/0002716207303581.

Butler, I., Galassi, G., & Ruffo, H. (2016). Public funding for startups in Argentina: an impact evaluation. Small Business Economics, 46, 295–309. doi:10.1007/s11187-015-9684-7.

Cavalluzzo, K. S., & Cavalluzzo, L. C. (1998). Market structure and discrimination: the case of small business. Journal of Money, Credit and Banking, 30(4), 771–792. doi:10.2307/2601128.

Cavalluzzo, K., & Wolken, J. (2005). Small business loan turndowns, personal wealth, and discrimination. Journal of Business, 78(6), 2153–2177. doi:10.1086/497045.

Chatterji, A. K., Chay, K. Y., & Fairlie, R. W. (2014). The impact of city contracting set-asides on Black self-employment and employment. Journal of Labor Economics, 32(3), 507–561. doi:10.3386/w18884.

Cox, A. G., & Moore, N. Y. (2013). Improving federal and Department of Defense use of service-disabled veteran-owned businesses. Washington, DC: RAND Corporation.

Davila, R., Ha, I., & Myers Jr., S. (2012). Affirmative action retrenchment in public procurement and contracting. Applied Economics Letters, 19(18), 1857–1860. doi:10.1080/13504851.2012.654906.

Davis, S., Haltiwanger, J., & Schuh, S. (1996). Small business and job creation: dissecting the myth and reassessing the facts. Small Business Economics, 8(4), 297–315. doi:10.1007/BF00393278.

Decker, R., Haltiwanger, J., Jarmin, J., & Miranda, J. (2014). The role of entrepreneurship in US job creation and economic dynamism. The Journal of Economic Perspectives, 28(3), 3–24. doi:10.1257/jep.28.3.3.

Enchautegui, M., Fix, M., Loprest, P., von der Lippe, S., & Wissoker, D. (1996). Do minority-owned businesses get a fair share of government contracts? Washington, DC: Urban Institute.

Fairlie, R. W., & Robb, A. M. (2007). Why are Black-owned businesses less successful than white-owned businesses? The role of families, inheritances, and business human capital. Journal of Labor Economics, 25(2), 289–323. doi:10.1086/510763.

Fairlie, R. W., & Robb, A. M. (2008). Race and entrepreneurial success: Black-, Asian-, and White-owned businesses in the United States. Cambridge: MIT Press.

Figueroa-Armijos, M., & Johnson, T. G. (2016). Entrepreneurship policy and economic growth: solution or delusion? Evidence from a state initiative. Small Business Economics, 47, 1033–1047. doi:10.1007/s11187-016-9750-9.

Holzer, H., & Neumark, D. (2000). Assessing affirmative action. Journal of Economic Literature, 38(3), 483–568. doi:10.1257/jel.38.3.483.

Hopkins, G. L. (1975). Contracting with the disadvantaged, sec. 8(a) and the small business administration. Public Contract Law Journal, 7(2), 169–217 http://www.jstor.org/stable/25753856.

Jaffe, A. B., Trajtenberg, M., & Henderson, R. (1993). Geographic localization of knowledge spillovers as evidenced by patent citations. The Quarterly Journal of Economics, 108(3), 577–598. doi:10.2307/2118401.

Kotlowski, D. (1998). Black power—Nixon style: the Nixon administration and minority business enterprise. The Business History Review, 72(3), 409–445. doi:10.2307/3116216.

Krugman, P. (1991). Increasing returns and economic geography. Journal of Political Economy, 99(3), 483–499. doi:10.1086/261763.

La Noue, G. (2008). Follow the money: who benefits from the Federal Aviation Administration's DBE program? American Review of Public Administration, 38(4), 480–500. doi:10.1177/0275074007311309.

Leiter, S., & Leiter, W. (2002). Affirmative action in antidiscrimination law and policy: an overview and synthesis. Albany: State University of New York Press.

Marion, J. (2009). How costly is affirmative action? Government contracting and California's proposition 209. Review of Economics and Statistics, 91(3), 503–522. doi:10.1162/rest.91.3.503.

Marshall, A. (1920). Principles of economics. London: Macmillan.

McCrudden, C. (2004). Using public procurement to achieve social outcomes. Natural Resources Forum, 28(4), 257–267. doi:10.1111/j.1477-8947.2004.00099.x.

McVay, B. L. (2009). Getting started in Federal Contracting: a guide through the Federal Procurement Maze. Burke: Panoptic Enterprises.

Minola, T., Criaco, G., & Obschonka, M. (2016). Age, culture, and self-employment motivation. Small Business Economics, 46, 187–213. doi:10.1007/s11187-015-9685-6.

Myers Jr., S. L., & Chan, T. (1996). Who benefits from minority business set-asides? The case of New Jersey. Journal of Policy Analysis and Management, 15(2), 202–226. doi:10.1002/(SICI)1520-6688(199621)15:2<202::AID-PAM3>3.0.CO;2-N.

Myers, S.L., & Yuan, G. (2013) The deterrent effects of reverse discrimination claims on federal rule compliance: The case of public procurement and contracting. APPAM International Conference, Fudan University, May 25–27, 2013. http://www.umdcipe.org/conferences/GovernmentCollaborationShanghai/ShanghaiAgenda.html

Reeder, J.R., & Vergilio, J.A. (1984). Small business set-asides and corporate affiliation – A billion dollar business. Public Contract Law Journal, 15(2), 279–308. http://www.jstor.org/stable/25755477

Rice, M. F. (1992). Justifying state and local government set-aside programs through disparity studies in the post-Croson era. Public Administration Review, 52(5), 482–490. doi:10.2307/976808.

Rosa, P., Carter, S., & Hamilton, D. (1996). Gender as a determinant of small business performance: insights from a British study. Small Business Economics, 8(6), 463–478. doi:10.1007/BF00390031.

Sakallaris, A. G. (2007). Questioning the sacred cow: reexamining the justifications for small business set asides. Public Contract Law Journal, 36(4), 685–700 http://www.jstor.org/stable/25755431.

Sirmons, D.B. (2004). Federal contracting with women-owned businesses: An analysis of existing challenges and potential opportunities. Public Contract Law Journal, 33(4), 725–779. http://www.jstor.org/stable/25755295

Stigler, G. J. (1971). The theory of economic regulation. The Bell Journal of Economics and Management Science, 2(1), 3–21. doi:10.2307/3003160.

Strupler, M.L.,& Wolter, S.C. (2016). Empirical evidence on the effectiveness of social public procurement policy: The case of the swiss apprenticeship training system. IZA Discussion Paper No. 9646. http://legacy.iza.org/en/webcontent/publications/papers/viewAbstract?dp_id=9646

Sweet, M. J. (2006). Minority business enterprise programmes in the United States of America: an empirical investigation. Journal of Law and Society, 33(1), 160–180. doi:10.1111/j.1467-6478.2006.00353.x.
Acknowledgements
Funding was provided by the Center for Study of Public Choice at George Mason University and the Cosmos Club Foundation. Thanks to Alex Tabarrok, Thomas Stratmann and John Earle of George Mason University.
About this article
Cite this article
Lewis, G.H. Effects of federal socioeconomic contracting preferences. Small Bus Econ 49, 763–783 (2017). https://doi.org/10.1007/s11187-017-9860-z
Accepted:

Published:

Issue Date:
Keywords
Entrepreneurship

Firm sales

Firm size

National subsidies

Policy

Public economics

Public expenditure
JEL classification