Abstract
Previous research focuses on factors that influence self-employment participation, in part because entrepreneurship has been associated with economic growth. This literature has tended to focus only on men or the comparison of women to men, while ignoring substantial heterogeneity in employment decisions among women. By investigating the impact of individual, household, and local economic and cultural characteristics on the labor market outcomes of different groups of women, we get a more comprehensive picture of their self-employment decision. Recognizing self-employment as one of multiple labor market choices, we use multinomial logit and two confidential, geocoded micro-level datasets to study women`s career choices in urban areas. We find that the effects of various push and pull factors differ between married and unmarried women. In particular, more progressive gender attitudes pull married women into self-employment, while household burdens associated with children push them into self-employment. For unmarried women, the local business climate and individual characteristics have the strongest influence. In both cases, the motivations for women are quite different than men.
This is a preview of subscription content, log in to check access.
Access options
Buy single article
Instant access to the full article PDF.
US$ 39.95
Tax calculation will be finalised during checkout.
Subscribe to journal
Immediate online access to all issues from 2019. Subscription will auto renew annually.
US$ 199
Tax calculation will be finalised during checkout.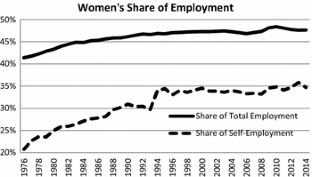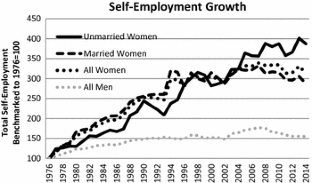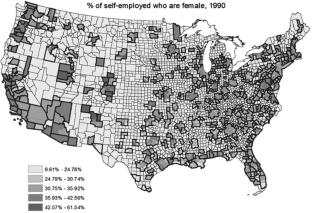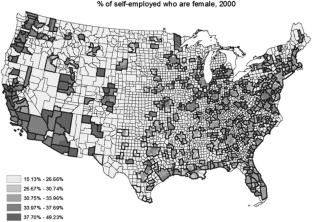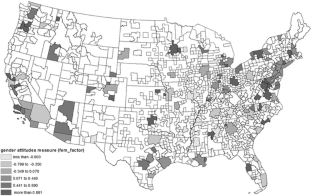 Notes
1.

Calculated using IPUMS CPS data on non-agricultural self-employment and non-agricultural employment.

2.

Similarly, Booth and van Ours (2013) and Gianelli (1996) separate the employment choices facing women into full-time, part-time, and non-employment. They find that some women prefer part-time employment and are not simply using it as a step to full-time employment. Thus, the availability of part-time employment increases the labor force participation of women who would otherwise choose non-employment.

3.

Our definition of not working is similar to the definition of non-employment in the above-referenced studies and includes persons not in the labor force as well as unemployment. The overwhelming majority of "not working" respondents are out of the labor force. In the pooled female sample, for example, 1.5 % of the estimation sample is unemployed, while approximately 18 % is out of the labor force. We also estimated versions of our models where the choice set is expanded to differentiate between respondents that are out of the labor force and unemployed. Our primary results remain unchanged. The results of this exercise are available from the authors upon request.

4.

We also estimated versions with individual fixed effects on the pooled data with interaction terms. We employed Pforr's (2014) femlogit implementation of a solution to avoid the incidental parameters problem (explained further in footnote 12). Although this approach prevents identifying important interactions with time-invariant individual characteristics and consumes substantial degrees of freedom, the marriage interactions remain statistically significant and further indicate that separate examination of married and unmarried women is warranted.

5.

For more information on the multinomial logit approach, see Wooldridge (2010).

6.

We also explored looking at the self-employment decision through an entry specification (the choice to enter self-employment from either salary employment or not working). Because of the small sample sizes associated with this specification, married and unmarried women must be pooled together (though we include interaction variables between marriage and some other variables). Though the results of this specification are largely similar to our preferred methodology, this specification cannot eliminate concerns about masking the heterogeneity in the employment decisions between married and unmarried women.

7.

Unlike the conditional logit approach, multinomial logit does not account for differences between the actual choices, just the factors that are important to the choice. As long as the choice set is fully specified then we do not need to make the Independence of Irrelevant Alternatives (IIA) assumption as in conditional logit (Wooldridge 2010).

8.

Clustering the standard errors at the individual level produces non-symmetric or highly singular variance matrices when the number of observations within a cluster becomes too small or there are too few observations within some cells. Although this is not a problem for most of our specifications, it presents an issue with the unmarried sample and some of the extension samples. In general the cause is too few observations in some of the industry cells. Table notes include information on the standard errors.

9.

Marginal effects for indicator variables are calculated using discrete differences rather than derivatives.

10.

Expected wages are predicted using estimates from Heckman selection-corrected, expanded wage equations that include age, experience, experience squared, education, sex, race, marital status, ability, MSA of residence, industry, and time dummies. The selection equation includes age, experience, experience squared, education, marital status, number of children, children under five, citizenship, and health limitations.

11.

In order to limit the influences of outliers in an MSA biasing our gender attitude measure, we aggregate the data from our sample period to generate a single "fem_factor" observation for each MSA. Even if there are changes in attitudes over time within an MSA, the relative gender attitudes between cities are likely to remain relatively constant. In other words, while a city like Dallas, Texas, may become more progressive about gender roles during our time period, it is likely to remain more conservative than a city like Los Angeles. We also estimated models with the time-varying fem_factor variable. The results were similar and omitted for brevity.

12.

We do not report results for specifications using individual or MSA fixed effects because there are several significant drawbacks to this approach within our context. Notably, our variables of interest include both time-varying and time-invariant characteristics. Ability, pre-labor market characteristics, health limitations, and a number of other important time-invariant factors that our results suggest differentially influence married and unmarried women do not change over time. Effects associated with the smoothed gender-role attitude metric could not be separately identified with MSA fixed effects and would be identified only from women who change MSAs with an individual fixed effect. Employing the time-varying fem_factor does not substantially improve our statistical power as the vast majority of variation in gender-role attitudes is between MSAs, rather than within MSAs over time. Fixed effects estimation within a multinomial logit framework also creates the well-known incidental parameters problem when implemented by including individual or MSA indicator variables. Instead, multinomial fixed effects estimation requires the Chamberlain (1980) solution. Recently, Pforr (2014) operationalized the Chamberlain solution for multinomial logit with the Stata command femlogit. Unfortunately, the command has not been extended to allow for the estimation of marginal effects. Thus, another drawback of individual fixed effects is that we can only obtain coefficient estimates relevant to the base outcome. With these issues in mind, we estimated fixed effects versions of our primary models with the time-varying fem_factor using femlogit. While we were unable to directly compare the marginal effects estimates due to the computational limitations described, comparing the coefficient estimates revealed no significant differences in our primary findings.

13.

We use the phrases "not working" and "not employed" synonymously in what follows. However, technically, we are referring to women who are "not employed" by the definitions used in Table 1—those women who did not work at least 10 h per week for at least ten weeks in the year.

14.

Our findings provide additional clarification to the results from Taniguchi (2002) and Renzulli et al. (2000) who find that education does not affect women's self-employment rates after controlling for other factors. These authors compare self-employment to wage and salary employment, and find the education effect for married women appears relevant on the labor force participation margin only.

15.

Because the difference is the predicted salaried employment wage minus the predicted self-employment wage, we would expect that if that is positive, it would make salaried employment more attractive or self-employment less attractive relative to salaried employment.
References
Acs, Z. J. (2006). How is entrepreneurship good for economic growth? Innovations, 1(1), 97–107. doi:10.1162/itgg.2006.1.1.97.

Amit, R., & Muller, E. (1995). 'Push' and 'pull' entrepreneurship. Journal of Small Business and Entrepreneurship, 12(4), 64–80. doi:10.1080/08276331.1995.10600505.

Black, D., Kolesnikova, N., & Taylor, L. (2014). Why do so few women work in New York (and so many in Minneapolis)? Labor supply of married women across US cities. Journal of Urban Economics, 79, 59–71. doi:10.1016/j.jue.2013.03.003.

Blau, D. (1987) A time-series analysis of self-employment in the United States. Journal of Political Economy, 95(3), 445–467. http://www.jstor.org/stable/1831972.

Blau, F. D., & Kahn, L. M. (1997). Swimming upstream: Trends in the gender wage differential in the 1980s. Journal of Labor Economics, 15(1), 1–42. doi:10.1086/209845.

Blau, F., Kahn, L., Liu, A. Y.-H., & Papps, K. (2013). The transmission of women's fertility, human capital, and work orientation across immigrant generations. Journal of Population Economics, 26, 405–435. doi:10.3386/w14388.

Boden, R. (1996). Gender and self-employment selection: An empirical assessment. The Journal of Socio-Economics, 25, 671–682. doi:10.1016/S1053-5357(96)90046-3.

Boden, R. (1999). Flexible working hours, family responsibilities, and female self-employment: Gender differences in self-employment selection. American Journal of Economics and Sociology, 58(1), 71–83. doi:10.1111/j.1536-7150.1999.tb03285.x.

Booth, A., & van Ours, J. (2013). Part-time jobs: What women want? Journal of Population Economics, 26, 263–283. doi:10.1007/s00148-012-0417-9.

Borck, R. (2014). Adieu Rabenmutter: Culture, fertility, female labour supply, the gender wage gap and childcare. Journal of Population Economics, 27, 739–765. doi:10.1007/s00148-013-0499-z.

Borjas, G., & Bronars, S. (1989). Consumer discrimination and self-employment. Journal of Political Economy, 97, 581–605. doi:10.3386/w2627.

Bruce, D. (1999). Do husbands matter? Married women entering self-employment. Small Business Economics, 13(4), 317–329. doi:10.1023/A:1008179214572.

Budig, M. (2006). Intersections on the road to self-employment: Gender, family, and occupational class. Social Forces, 84(4), 2223–2239. doi:10.1353/sof.2006.0082.

Burke, A. E., Fitzroy, F. R., & Nolan, M. A. (2002). Self-employment wealth and job creation: The roles of gender, non-pecuniary motivation and entrepreneurial ability. Small Business Economics, 19(3), 255–270. doi:10.1023/A:1019698607772.

Carr, D. (1996). Two paths to self-employment? Women's and men's self-employment in the United States, 1980. Work and Occupations, 23, 26–53. doi:10.1177/0730888496023001003.

US Census Bureau. Census 2000 SF3.

Clain, S. H. (2000). Gender differences in full-time self-employment. Journal of Economics and Business, 52, 499–513. doi:10.1016/S0148-6195(00)00032-1.

Connelly, R. (1992). Self-employment and providing child care. Demography, 29, 17–29. doi:10.2307/2061360.

Cowling, M., & Hayward, R. (2000). Out of unemployment, research centre for industrial strategy. Birmingham: Birmingham University.

Cowling, M., & Taylor, M. (2001). Entrepreneurial women and men: Two different species? Small Business Economics, 16, 167–175. doi:10.1023/A:1011195516912.

Cramer, J. S., Hartog, J., Jonker, N., & Van Praag, C. M. (2002). Low risk aversion encourages the choice for entrepreneurship: An empirical test of a truism. Journal of Economic Behavior & Organization, 48, 29–36. doi:10.1016/S0167-2681(01)00222-0.

Cristia, J. (2008). The effect of a first child on female labor supply: Evidence from women seeking fertility service. Journal of Human Resources, 43(3), 487–510. doi:10.2307/40057357.

Crompton, R., Brockmann, M., & Lyonette, C. (2005). Attitudes, women's employment and the domestic division of labour: A cross-national analysis in two waves. Work, Employment & Society, 19, 213–233. doi:10.1177/0950017005053168.

Curl, A. L., Sharpe, D. L., & Noone, J. (2014). Gender differences in self-employment of older workers in the United States and New Zealand. Journal of Sociology and Social Welfare, 16(1), 29–52.

Doms, M., Lewis, E., & Robb, A. (2010). Local labor force education, new business characteristics, and firm performance. Journal of Urban Economics, 67, 61–77. doi:10.1016/j.jue.2009.10.002.

Fairlie, R. (2006). Entrepreneurship among disadvantaged groups: Women, minorities and the less educated. In S. C. Parker, J. Zoltan, & D. R. Audretsch (Eds.), International handbook series on entrepreneurship (Vol. 2, pp. 437–475). New York: Springer. doi:10.1007/978-0-387-32313-8_15.

Fairlie, R., & Meyer, B. (1996). Ethnic and racial self-employment differences and possible explanations. Journal of Human Resources, 31, 757–793. doi:10.2307/146146.

Fairlie, R. W., & Robb, A. M. (2009). Gender differences in business performance: Evidence from the characteristics of business owners survey. Small Business Economics, 33, 375–395. doi:10.1007/s11187-009-9207-5.

Fernandez, R., & Fogli, A. (2009). Culture: An empirical investigation of beliefs, work, and fertility. American Journal of Economics Macroeconomics, 1, 147–177. doi:10.1257/mac.1.1.146.

Florida, R., & Gates, G. (2001). Technology and tolerance: The importance of diversity to high-tech growth. Washington, DC: Brookings Institution.

Fölster, S. (2000). Do entrepreneurs create jobs? Small Business Economics, 14, 137–148. doi:10.1023/A:1008141516160.

Fossen, F. (2012). Gender differences in entrepreneurial choice and risk aversion: A decomposition based on a microeconometric model. Applied Economics,. doi:10.1080/00036846.2011.554377.

Georgellis, Y., & Wall, H. J. (2005). Gender differences in self-employment. International Review of Applied Economics, 19(3), 321–342. doi:10.1080/02692170500119854.

General Social Survey. NORC at the University of Chicago. http://www.norc.org/Research/Projects/Pages/general-social-survey.aspx.

Gianelli, G. C. (1996). Women's transitions in the labor market: A competing risk analysis on German panel data. Journal of Population Economics, 9, 287–300. doi:10.1007/s001480050019.

Glaeser, E., Rosenthal, S., & Strange, W. (2010). Urban economics and entrepreneurship. Journal of Urban Economics, 67, 1–14. doi:10.1016/j.jue.2009.10.005.

Goldin, C. (1990). Understanding the gender gap. New York: Oxford University Press. doi:10.2307/3115857.

Hamilton, B. H. (2000). Does entrepreneurship pay? An empirical analysis of the returns to self-employment. Journal of Political Economy, 108(3), 604–631. doi:10.1086/262131.

Hundley, G. (2000). Male/female earnings differences in self-employment: The effects of marriage, children, and the household division of labor. Industrial and Labor Relations Review, 54(1), 95–114. doi:10.1177/001979390005400106.

Juhn, C., & Potter, S. (2006). Changes in labor force participation in the United States. Journal of Economic Perspectives, 20(3), 27–46.

Killingsworth, M., & Heckman, J. (1986). Female labor supply: A survey. In O. Ashenfelter & R. Layard (Eds.), Handbook of labor economics (Vol. 1, pp. 103–204). Amsterdam: North-Holland.

Levine, R., & Rubinstein, Y. (2013). Smart and illicit: Who becomes an entrepreneur and does it pay? NBER Working Paper 19276. doi:10.3386/w19276.

Lombard, K. V. (2001). Female self-employment and demand for flexible, nonstandard work schedules. Economic Inquiry, 39(2), 214–237. doi:10.1111/j.1465-7295.2001.tb00062.x.

Loscocco, K. A., & Robinson, J. (1991). Barriers to women's small-business success in the United States. Gender and Society, 5, 511–532. doi:10.1177/089124391005004005.

Madden, J. F. (1981). Why women work closer to home. Urban Studies, 18(2), 181–194. doi:10.1080/00420988120080341.

Moore, R. L. (1983). Employer discrimination: Evidence from self-employed workers. Review of Economics and Statistics, 65(3), 496–501. doi:10.2307/1924197.

Noseleit, F. (2014). Female self-employment and children. Small Business Economics, 43, 549–569. doi:10.1007/s11187-014-9570-8.

Parker, S. (2008). Entrepreneurship among married couples in the United States: A simultaneous probit approach. Labour Economics, 15, 459–481.

Pforr, K. (2014). femlogit-implementation of the multinomial logit model with fixed effects. The Stata Journal, 14(4), 847–862.

Renzulli, L. A., Aldrich, H., & Moody, J. (2000). Family matters: Gender, networks, and entrepreneurial outcomes. Social Forces, 79(2), 523–546. doi:10.1093/sf/79.2.523.

Robbins, K. D., Pantusco, L. J., Parker, D. F., & Fuller, B. K. (2000). An empirical assessment of the contribution of small business employment to US state economic performance. Small Business Economics, 15, 293–302. doi:10.1023/A:1011129728483.

Robinson, P. B., & Sexton, E. A. (1994). The effect of education and experience on self-employment success. Journal of Business Venturing, 9(2), 141–156. doi:10.1016/0883-9026(94)90006-X.

Rosa, P., Carter, S., & Hamilton, D. (1996). Gender as a determinant of small business performance: Insights from a british study. Small Business Economics, 8, 463–478. doi:10.1007/BF00390031.

Rosenthal, S. S., & Strange, W. (2012). Female entrepreneurship, agglomeration, and a new spatial mismatch. Review of Economics and Statistics, 94(3), 764–788. doi:10.1162/REST_a_00193.

Sapienza, P., Zingales, L., & Maestripieri, D. (2009). Gender differences in financial risk aversion and career choices are affected by testosterone. Proceedings of the National Academy of Sciences of the United States of America, 106(36), 15268–15273. doi:10.1073/pnas.0907352106.

Saxenian, A. (1994). Regional advantage: Culture and competition in silicon valley and route 128. Cambridge: Harvard University. doi:10.1017/S0022050700040924.

Shrestha, S. S., Goetz, S. J., & Rupasingha, A. (2007). Proprietorship formations and US job growth. The Review of Regional Studies, 37, 146–168.

Smith, T.W., Marsden, P., Hout, M., & Kim, J. General Social Surveys, 1972–2012 [machine-readable data file]/Principal Investigator, Tom W. Smith; Co-Principal Investigator, Peter V. Marsden; Co-Principal Investigator, Michael Hout; Sponsored by National Science Foundation. –NORC ed.– Chicago: National Opinion Research Center [producer]; Storrs, CT: The Roper Center for Public Opinion Research, University of Connecticut [distributor], 2013. 1 data file (57,061 logical records) + 1 codebook (3,432p.). – (National Data Program for the Social Sciences, No. 21).

Stephens, H. M., Partridge, M. D., & Faggian, A. (2013). Innovation, entrepreneurship and economic growth in lagging regions. Journal of Regional Science,. doi:10.1111/jors.12019.

Taniguchi, H. (2002). Determinants of women's entry into self-employment. Social Science Quarterly, 83, 875–893. doi:10.1111/1540-6237.00119.

US Bureau of Labor Statistics. Restricted Access National Longitudinal Survey of Youth 1979.

Waldfogel, J. (1997). The effect of children on women's wages. American Sociological Review, 62, 209–17. http://www.jstor.org/stable/2657300.

Wang, W., & Parker, K. (2014). Record share of Americans have never married as values, economics and gender patterns change. Pew Research Social and Demographic Trends. http://www.pewsocialtrends.org/2014/09/24/record-share-of-americans-have-never-married/.

Welington, A. (2006). Self-employment: The new solution for balancing family and career? Labour Economics, 13, 357–386. doi:10.1016/j.labeco.2004.10.005.

Wooldridge, J. M. (2010). Econometric analysis of cross section and panel data. Cambridge: MIT Press.

IPUMS-CPS, University of Minnesota, www.ipums.org.

Yao, R., & Hanna, S. (2005). The effect of gender and marital status on financial risk tolerance. Journal of Personal Finance, 4, 66–85.

Zissimopoulos, J. M., & Karoly, L. A. (2007). Transitions to self-employment at older ages: The role of wealth, health, health insurance and other factors. Labour Economics, 14, 269–295. doi:10.1016/j.labeco.2005.08.002.
Acknowledgments
This research was supported in part by funding from the Coca-Cola Critical Difference for Women Graduate Studies Research Grant and the Department of Women's, Gender and Sexuality Studies at The Ohio State University.
Electronic supplementary material
Below is the link to the electronic supplementary material.
About this article
Cite this article
Patrick, C., Stephens, H. & Weinstein, A. Where are all the self-employed women? Push and pull factors influencing female labor market decisions. Small Bus Econ 46, 365–390 (2016). https://doi.org/10.1007/s11187-015-9697-2
Accepted:

Published:

Issue Date:
Keywords
Female labor force participation

Self-employment

Gender

Culture
JEL Classifications