Abstract
Several analyses report a positive correlation between fertility and female self-employment; however, scholars disagree about the direction of this relationship. Knowing about the causal relationship is important because the relevant mechanisms and possible implications differ tremendously. This paper studies two competing hypotheses: Is self-employment more attractive to women because they have children? Or, is it occupation-specific characteristics of self-employed women that impact their fertility? This work applies a unique approach by utilizing exogenous variation in both children and self-employment.
Access options
Buy single article
Instant access to the full article PDF.
USD 39.95
Price includes VAT (USA)
Tax calculation will be finalised during checkout.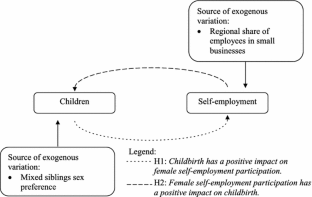 Notes
1.

An earlier version of this paper used the self-employment status of parents when the survey respondents were 14 years old as an instrument for the respondents' self-employment status. As one of the reviewers pointed out, the respondents' parents who were self-employed may also have had more children, which may influence preferences regarding family size and could make this variable inappropriate as an instrument.

2.

The identification strategy applied in this study requires focusing on female labor force participants who have children instead of female labor force participants in general. In contrast to studies in which one wishes to have estimates for a representative sample (e.g. female labor supply), this restriction is less problematic in this case, because the managerial and policy implications resulting from gender related intergroup differences can be driven by a sub-group.

3.

The sample used for this study classifies around 2.24 % of all births as twins based on birth in the same year. For the US, the National Vital Statistics Report reports that 1.89 % of all births are twins in 1980, 2.93 % twin births in the year 2000 and 3.26 % in 2008. For 2009, the UK Office of National Statistics reports 1.6 %, and the German Statistical Office reports that 1.7 % of all births are multiple births. Statistics Denmark reported a multiple birth rate of 2.3 % in 2008.
References
Akerlof, G. A. (1970). The market for "lemons": Quality uncertainty and the market mechanism. The Quarterly Journal of Economics, 84(3), 488–500.

Alsos, G. A., Isaksen, E. J., & Ljunggren, E. (2006). New venture financing and subsequent business growth in men- and women-led businesses. Entrepreneurship Theory and Practice, 30(5), 667–686.

Andersson, M., & Koster, S. (2011). Sources of persistence in regional start-up rates—Evidence from Sweden. Journal of Economic Geography, 11(1), 179–201.

Angrist, J. D. (2001). Estimation of limited dependent variable models with dummy endogenous regressors: Simple strategies for empirical practice. Journal of Business and Economic Statistics, 19(1), 2–16.

Angrist, J. D., & Evans, W. N. (1998). Children and their parents' labor supply: Evidence from exogenous variation in family size. American Economic Review, 88(3), 450–477.

Arai, A. B. (2000). Self-employment as a response to the double day for women and men in Canada. Canadian Review of Sociology/Revue Canadienne De Sociologie, 37(2), 125–142.

Audretsch, D. B., & Fritsch, M. (1994). The geography of firm births in Germany. Regional Studies, 28(4), 359–365.

Beesley, M. E., & Hamilton, R. T. (1984). Small firms' seedbed role and the concept of turbulence. The Journal of Industrial Economics, 33(2), 217–231.

Begall, K., & Mills, M. C. (2012). The influence of educational field, occupation, and occupational sex segregation on fertility in the Netherlands. European Sociological Review. doi:10.1093/esr/jcs051.

Bernhardt, E. M. (1993). Fertility and employment. European Sociological Review, 9(1), 25–42.

Bhattacharya, J., Goldman, D., & McCaffrey, D. (2006). Estimating probit models with self-selected treatments. Statistics in Medicine, 25(3), 389–413.

Bianchi, S. M., & Casper, L. M. (2000). American families. Population Bulletin, 55(4). Washington, DC: Population Reference Bureau.

Birley, S., Moss, C., & Saunders, P. (1987). Do women entrepreneurs require different training. American Journal of Small Business, 12(1), 27–35.

Boden, R. J., Jr. (1999). Flexible working hours, family responsibilities, and female self-employment. American Journal of Economics and Sociology, 58(1), 71–83.

Brandstätter, H. (1997). Becoming an entrepreneur—A question of personality structure? Journal of Economic Psychology, 18(2–3), 157–177.

Bronars, S. G., & Grogger, J. (1994). The economic consequences of unwed motherhood: Using twin births as a natural experiment. The American Economic Review, 84(5), 1141–1156.

Broussard, N. H., Chami, R., & Hess, G. D. (2013). (Why) do self-employed parents have more children? Review of Economics of the Household. doi:10.1007/s11150-013-9190-0.

Brush, C. G. (1990). Women and enterprise creation. In S. K. Gould & J. Parzen (Eds.), Enterprising women: Local initiatives for job creation (pp. 37–55). France: OECD Publications and Information Centre.

Budig, M. J. (2006). Intersections on the road to self-employment: Gender, family and occupational class. Social Forces, 84(4), 2223.

Caputo, R. K., & Dolinsky, A. (1998). Women's choice to pursue self-employment: The role of financial and human capital of household members. Journal of Small Business Management, 36(3), 8–17.

Carr, D. (1996). Two paths to self-employment? Work and Occupations, 23(1), 26–53.

Carrasco, R., & Ejrnæs, M. (2003). Self-employment in Denmark and Spain: Institution, economic conditions and gender differences. Centre for Applied Microeconometrics Working Papers no. 06, University of Copenhagen.

Carter, S., & Rosa, P. (1998). The financing of male-and female-owned businesses. Entrepreneurship and Regional Development, 10, 225–242.

Carter, S., Shaw, E., Lam, W., & Wilson, F. (2007). Gender, entrepreneurship, and bank lending: The criteria and processes used by bank loan officers in assessing applications. Entrepreneurship Theory and Practice, 31(3), 427–444.

Chaganti, R. (1986). Management in women-owned enterprises. Journal of Small Business Management, 24(4), 18–29.

Chiburis, R. C., Das, J., & Lokshin, M. (2011). A practical comparison of the bivariate probit and linear IV estimators. Economics Letters 117(3), 762–766.

Coltrane, S. (2000). Research on household labor: Modeling and measuring the social embeddedness of routine family work. Journal of Marriage and Family, 62(4), 1208–1233.

Connelly, R. (1992). Self-employment and providing child care. Demography, 29(1), 17–29.

Cowling, M., & Taylor, M. (2001). Entrepreneurial women and men: Two different species? Small Business Economics, 16(3), 167–175.

Cramer, J. A. C. (1980). Fertility and female employment: Problems of causal direction. American Sociological Review, 45(2), 167–190.

Davidsson, P. (1991). Continued entrepreneurship: Ability, need, and opportunity as determinants of small firm growth. Journal of Business Venturing, 6(6), 405–429.

DeMartino, R., & Barbato, R. (2003). Differences between women and men MBA entrepreneurs: Exploring family flexibility and wealth creation as career motivators. Journal of Business Venturing, 18(6), 815–832.

Dinkel, R. M. (1952). Occupation and fertility in the United States. American Sociological Review, 17(2), 178–183.

Edwards, L. N., & Field-Hendrey, E. (2002). Home-based work and women's labor force decisions. Journal of Labor Economics, 20(1), 170–200.

Eriksson, T., & Moritz Kuhn, J. (2006). Firm spin-offs in Denmark 1981–2000—patterns of entry and exit. International Journal of Industrial Organization, 24(5), 1021–1040.

European Social Survey. (2012). ESS-1 2002, ESS-2 2004, ESS-3 2006, ESS-4 2008, ESS-5 2010 Documentation report. Bergen, European Social Survey Data Archive, Norwegian Social Science Data Services.

Fairlie, R. W., & Robb, A. M. (2009). Gender differences in business performance: Evidence from the characteristics of business owners survey. Small Business Economics, 33(4), 375–395.

Fay, M., & Williams, L. (1993). Gender bias and the availability of business loans. Journal of Business Venturing, 8(4), 363–376.

Fritsch, M., & Mueller, P. (2007). The persistence of regional new business formation-activity over time—assessing the potential of policy promotion programs. Journal of Evolutionary Economics, 17(3), 299–315.

Giannetti, M., & Simonov, A. (2004). On the determinants of entrepreneurial activity: Social norms, economic environment and individual characteristics. Swedish Economic Policy Review, 11(2), 269–313.

Goffee, R., & Scase, R. (1983). Business ownership and women's subordination: A preliminary study of female proprietors. Sociological Review, 31(4), 625–648.

Haines, G., Jr., Orser, B., & Riding, A. (1999). Myths and realities: An empirical study of banks and the gender of small business clients. Canadian Journal of Administrative Sciences/Revue Canadienne Des Sciences De L'Administration, 16(4), 291–307.

Holmquist, C., & Sundin, E. (1988). Women as entrepreneurs in Sweden—conclusions from a survey. Frontiers of Entrepreneurship Research, 1988, 626–642.

Hundley, G. (2000). Male/female earnings differences in self-employment: The effects of marriage, children, and the household division of labor. Industrial and Labor Relations Review, 54(1), 95–114.

Hyytinen, A., & Maliranta, M. (2008). When do employees leave their job for entrepreneurship? The Scandinavian Journal of Economics, 110(1), 1–21.

Jokela, M., Hintsa, T., Hintsanen, M., & Keltikangas-Järvinen, L. (2010). Adult temperament and childbearing over the life course. European Journal of Personality, 24(2), 151–166.

Jovanovic, B. (1982). Selection and the evolution of industry. Econometrica, 50(3), 649–670.

Kaplan, E. (1988). Women entrepreneurs: Constructing a framework to examine venture success and failure. In B. Kirchoff et al. (Eds.), Frontiers of Entrepreneurship Research (pp. 643–653). Boston, MA: Babson College.

Kuhn, P. J., & Schuetze, H. J. (2001). Self-employment dynamics and self-employment trends: A study of Canadian men and women, 1982–1998. Canadian Journal of Economics/Revue Canadienne D'Économique, 34(3), 760–784.

Lombard, K. V. (2001). Female self-employment and demand for flexible, nonstandard work schedules. Economic Inquiry, 39(2), 214–237.

MacPherson, D. A. (1988). Self-employment and married women. Economics Letters, 28(3), 281–284.

McManus, P. A. (2001). Pathways into self-employment in the United States and Germany. Vierteljahrshefte Zur Wirtschaftsforschung (Quarterly Journal of Economic Research), 70(1), 24–30.

Miller, W. B. (1992). Personality traits and developmental experiences as antecedents of childbearing motivation. Demography, 29(2), 265–285.

Mueller, P. (2006). Entrepreneurship in the region: Breeding ground for nascent entrepreneurs? Small Business Economics, 27(1), 41–58.

Parker, S. C. (2009). Why do small firms produce the entrepreneurs? Journal of Socio-Economics, 38(3), 484–494.

Presser, H. B., & Baldwin, W. (1980). Child care as a constraint on employment: Prevalence, correlates, and bearing on the work and fertility nexus. American Journal of Sociology, 85(5), 1202–1213.

Rauch, A., & Frese, M. (2007). Let's put the person back into entrepreneurship research: A meta-analysis on the relationship between business owners' personality traits, business creation, and success. European Journal of Work and Organizational Psychology, 16(4), 353–385.

Rindfuss, R. R., Guilkey, D. K., Morgan, S. P., & Kravdal, Ø. (2010). Child-care availability and fertility in Norway. Population and Development Review, 36(4), 725–748.

Rosa, P., Carter, S., & Hamilton, D. (1996). Gender as a determinant of small business performance: Insights from a British study. Small Business Economics, 8(6), 463–478.

Scott, C. E. (1986). Why more women are becoming entrepreneurs. Journal of Small Business Management, 24, 37–44.

Sørensen, J. B. (2007). Bureaucracy and entrepreneurship: Workplace effects on entrepreneurial entry. Administrative Science Quarterly, 52(3), 387–412.

Stuart, T., & Sorenson, O. (2003). The geography of opportunity: Spatial heterogeneity in founding rates and the performance of biotechnology firms. Research Policy, 32(2), 229–253.

Stycos, J. M., & Weller, R. H. (1967). Female working roles and fertility. Demography, 4(1), 210–217.

Van Bavel, J. (2010). Choice of study discipline and the postponement of motherhood in Europe: The impact of expected earnings, gender composition, and family attitudes. Demography, 47(2), 439–458.

Waldfogel, J. (1998). Understanding the "family gap" in pay for women with children. The Journal of Economic Perspectives, 12(1), 137–156.

Wellington, A. J. (2006). Self-employment: The new solution for balancing family and career? Labour Economics, 13(3), 357–386.

Wiklund, J., & Shepherd, D. (2003). Aspiring for, and achieving growth: The moderating role of resources and opportunities. Journal of Management Studies, 40(8), 1919–1941.

Wilde, E. T., Batchelder, L., & Ellwood, D. T. (2010). The mommy track divides: The impact of childbearing on wages of women of differing skill levels. NBER working paper no. 16582.

Wooldridge, J. M. (2002). Econometric analysis of cross section and panel data. Cambridge, MA: The MIT Press.
Acknowledgments
I am grateful to seminar participants at the I&O Seminar in Groningen, as well as two anonymous referees, for many helpful comments.
About this article
Cite this article
Noseleit, F. Female self-employment and children. Small Bus Econ 43, 549–569 (2014). https://doi.org/10.1007/s11187-014-9570-8
Accepted:

Published:

Issue Date:
Keywords
Self-employment

Causality

Gender

Female entrepreneurship

Children
JEL Classifications