Abstract
Private solutions to personal protection and property rights often evolve in environments that are weakly institutionalized. In this vein, we examine the effect of private maritime security on international public safety—through the reduction of piracy and its related risks—by analyzing International Maritime Organization vessel security data from 2007 to 2014. We find that private security generates a direct effect on vessel safety, significantly reducing piracy-related risk, but also generating an external effect of private security, whereby as little as 10% of all attacked vessels being privately secured significantly reduces the risk of an attack against unsecured vessels both contemporaneously and in the future. This research contributes to our knowledge of the private provision of public safety by displaying how the risk and uncertainty borne from employing private security can nearly eradicate piracy.
Access options
Buy single article
Instant access to the full article PDF.
USD 39.95
Price includes VAT (USA)
Tax calculation will be finalised during checkout.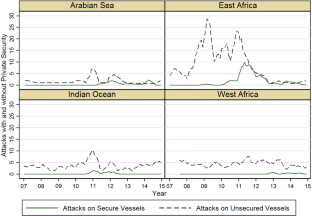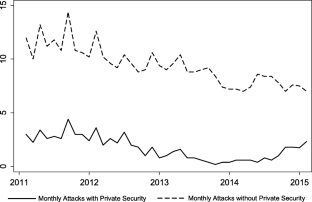 Notes
1.

As Barker (2013) notes: "In recent years, the deployment of multinational forces in the waters around the Horn of Africa, particularly off the coast of Somalia, has created the perception that maritime piracy is exclusively a Somali problem. This is far from the case. Pirates also currently operate in places like Bangladesh, Indonesia, the Malacca Straits, the South China Sea, West Africa and South America." See also the International Maritime Organization Global Integrated Shipping Information System; https://gisis.imo.org/Public/Default.aspx, and International Chamber of Commerce Commercial Crime Services International Maritime Bureau Piracy Reporting Center; https://icc-ccs.org/piracy-reporting-centre.

2.

In many instances, Somali pirates do not view themselves as criminals, but rather as the "coast guard" in the absence of a formal coast guard, charged with preventing illegal fishing in Somali territorial waters (Bahadur 2011).

3.

Our paper is similar to Kroll and Shafran (2018), who discuss the decision to privately insure in an experimental coordination game with deterministic and stochastic games where spillover benefits from deciding to privately insure exist. This paper is also in the spirit of Johannesson et al. (1996), who examine the decision to invest in private safety or a public safety program.

4.

5.

Note that private security is not always legal. In fact, the legality of private security is determined by the laws governing specific territorial waterways and ports as well as the flag state where a vessel registers their ship. Laws pertaining to private security onboard vessels per the flag country of the vessel could have changed throughout our data set, so we control for the flag country of the ship as well as whether private security was legal. Additionally, we present a set of results that focus exclusively on international waterways, where laws pertaining to private security did not change during our sample.

6.

The United Nations and European Union have both endorsed the use of force off Somalia, and substantial forces have been deployed (World Bank 2013). In addition, at least seven countries acting individually have deployed ships or aircraft in the area. The international response to Somali piracy manifests in an intergovernmental naval occupation in Somali waters. European Union Operation Atalanta of the European Naval Force (EUNAVFOR) Somalia has operated since December 2008. EUNAVFOR claims legitimacy in the resolutions of the United Nations Security Council. The sole mission of Task Force 151 is to conduct anti-piracy operations in the region of Somalia. The task force is composed of two dozen ships from 25 countries. NATO also established Operation Allied Provider, which is composed of 30 vessels contributed by India, China, Russia, Pakistan, Saudi Arabia, the Netherlands, Malaysia, South Korea, Japan and the UAE. The estimated total cost of these efforts rises to the level of US$1.3 billion per year.

7.

The use of private security to deter piracy is not a new phenomenon. Q-Ships were utilized in the 1670s to deter piracy as well—specifically pirates in the Mediterranean Sea—by masquerading as merchant vessels to be unsuspecting, while being heavily armed to engage in an attack. During World Wars I and II they were also used by the Royal British Navy, but their primary purpose was to induce submarines to surface to sink the vessel. Unlike Q-Ships, the armed private security aboard our vessels did not seek out piracy, instead acting defensively in the event of an attack.

8.

9.

With respect to maritime piracy, this is especially true. Intergovernmental navies that occupy waters off the Horn of Africa are rarely capable of responding to pirate attacks until undesirable outcomes have occurred. Much of the activities conducted by these navies are after-the-fact rescue efforts (Bellais 2013).

10.

We utilized Google's Word2vec extraction technique (Mikolov 2013) to perform this task, which has considerable advantages over regular expression extractions that we leverage in our data extractions. Simple regular expression extractions might falsely characterize data into categories that they do not belong. For example, a statement such as "no weapons were used during the attack" could easily be categorized as weapons being involved. Even if a series of classifiers are used to ensure that such simple mistakes are not made, they will still underperform relative to an extraction that focuses on features rather than algorithms. Additionally, these extractions were manually checked to ensure the accuracy of the extraction methods.

11.

Note that all documented private security in our data involve armed security. Private security predominately acts as a deterrent to pirates by issuing warning shots or returning fire when pirates initiate. In 82% of the private security observations in our data, the private security either shot a warning flare, warning shot, or returned fire. In the remaining 18%, the private security officers made their presence and weapons observable to deter the pirates from attacking.

12.

Anti-piracy measures include removing all but needed crew from the deck and maintaining a close watch on all sides of the vessel, drawing attention to the ship entails blowing a whistle, sounding an alarm or illuminating the lights on the ship, while evasive action involves the ship taking one of the previously noted actions, but not explicitly stated in the incident details.

13.

There are 90 registered flag states in our data set. Antigua and Barbuda, Liberia, Malta, The Marshall Islands, Panama, and Singapore comprise the flag states of 53.3% of all reported attacks and the use of private security in international waterways is permitted by each of these nations.

14.

The first documented instance of private security onboard a vessel in our data set is on January 14, 2009.

15.

Note that we do not count injuries and fatalities to pirates in these measures.

16.

Figure 1 of the online appendix displays the distribution of attacks across secured and unsecured vessels.

17.

The 2002 IMO Safety of Life at Sea (SOLAS) agreement placed mandates on large passenger vessels and other transportation vessels (e.g. tankers) to utilize AIS technology.

18.

While it is certainly true that all piracy attempts might not be reported, we believe that underreporting is not an issue in our analysis. Underreporting could occur if firms/people fear backlash associated with having private security onboard a vessel when it is forbidden. Additionally, underreporting might occur when a pirate attack resulted in a vessel being boarded when private security was present. However, every ransom situation discussed in our data involves naval presence, resulting in the incident being reported. Alternatively, private security has an incentive to make their effectiveness known by ensuring that private security is mentioned in the incident report to keep their enterprise lucrative, which could lead private security to over-claim their effectiveness. Lastly, insurance companies could have an incentive to document how treacherous waterways are in order to keep insurance premiums higher, which again could lead to over-reporting of incidents. Thus, we conclude that both over- and under-reporting biases might be expected.

19.

Logit and Probit specifications produce nearly identical results in terms of statistical significance and are available from the authors upon request.

20.

We report the results within the previous 30 days. We find qualitatively and quantitatively similar results when we examine longer and shorter time periods, which are available upon request.

21.

These large extensive effects of private security are consistent with the findings in Ayres and Levitt (1998) who find that a one percentage point increase in cars equipped with Lojack in the market reduced car thefts by 7%.

22.

Both machine guns and RPGs, which are rarely used, do not share any relationship with the level of private security. These results are available from the authors upon request.
References
Altonji, J. G., Elder, T. E., & Taber, C. R. (2005). Selection of observed and unobserved variables: Assessing the effectiveness of Catholic schools. Journal of Political Economy, 113(1), 151–184.

Ayres, I., & Levitt, S. D. (1998). Measuring positive externalities from unobservable victim precaution: An empirical analysis of Lojack. The Quarterly Journal of Economics, 113, 43–77.

Bahadur, J. (2011). The pirates of Somalia: Inside their hidden world. New York: Pantheon.

Barker, S. (2013). International maritime piracy: An old profession that is capable of new tricks, but change is possible. Case Western Reserve Journal of International Law, 46, 387–396.

Becker, G. S. (1968). Crime and punishment: An economic approach. Journal of Political Economy, 76(2), 169–217.

Bellais, R. (2013). Fighting piracy and international public goods: The Atalanta experiment in the horn of Africa. Peace Economics, Peace Science, and Public Policy, 19, 73–101.

Bellows, J., & Miguel, E. (2009). War and local collective action in Sierra Lione. Journal of Public Economics, 93(11–12), 1144–1157.

Bergstrom, T., Blume, L., & Varian, H. (1986). On the private provision of public goods. Journal of Public Economics, 29(1), 25–49.

Bernstein, L. (1992). Opting out of the legal system: Extralegal contractual relations in the diamond industry. The Journal of Legal Studies, 21, 115–157.

Besley, T., Fetzer, T., & Mueller, H. (2015). The welfare cost of lawlessness: Evidence from Somali piracy. Journal of the European Economic Association, 95(1), 203–239.

Bruce, N., & Kar-Yiu, W. (1996). Moral hazard, monitoring costs, and optimal government intervention. Journal of Risk and Uncertainty, 12(1), 77–90. https://www.jstor.org/stable/41760797. Accessed 28 Feb 2020.

Bushway, S., DeAngelo, G. J., & Hansen, B. (2013). Deterability by age. International Review of Law and Economics, 36, 70–81.

Clarkson Research Services Limited. (2013). Shipping market overview. London: Security Associated for the Maritime Industry.

Coase, R. H. (1974). The lighthouse in economics. Journal of Law and Economics, 17(2), 357–376.

DeAngelo, G., & Gee, L. (2019). Peers or police? Detection and sanctions in the provision of goods. Working Paper.

DeAngelo, G., & Hansen, B. (2014). Life and death in the fast lane: Police enforcement and traffic fatalities. American Economic Journal: Economic Policy, 6(2), 231–257.

DeAngelo, G. J., Humphreys, B., & Reimers, I. (2017). The perils of democracy. Journal of Economic Behavior & Organization, 141, 151–163.

DeAngelo, G. J., Dubois, D., & Romaniuc, R. (2018a). The perils of democracy. Journal of Economic Behavior & Organization.

DeAngelo, G. J., Nowak, A., & Reimers, I. (2018b). Examining regulatory capture: Evidence from the NHL. Contemporary Economic Policy, 36(1), 183–191.

Dell, M. (2010). The persistent effects of Peru's mining mita. Econometrica, 78(6), 1863–1903.

Dixit, A. K. (2007). Lawlessness and economics: Alternative modes of governance. Princeton University Press.

Ellickson, R. C. (1994). The aim of order without law. Journal of Institutional and Theoretical Economics, 1(150), 97–100.

Hirschleifer, J. (1989). Conflict and rent-seeking success functions: Ratio vs. difference models of relative success. Public Choice, 63(2), 101–122.

Holcombe, R. G. (1997). A theory of the theory of public goods. Review of Austrian Economics, 10(1), 1–22.

International Maritime Organization. (n.d.). Global integrated shipping information system. Retrieved from https://gisis.imo.org/Public/Default.aspx. Accessed June 2019.

Johannesson, M., Johansson, P.-O., & O'Conor, R. M. (1996). The value of private safety versus the value of public safety. Journal of Risk and Uncertainty, 13(3), 263–275.

Kroll, S., & Shafran, A. P. (2018). Spatial externalities and risk in interdependent security games. Journal of Risk and Uncertainty, 56(3), 237–257.

Kunreuther, H., & Heal, G. (2003). Interdependent security. Journal of Risk and Uncertainty, 26, 231–249.

Mikolov, T. K. (2013). Efficient estimation of word representations in vector space. http://arxiv.org/pdf/1301.3781.pdf. Accessed June 2019.

Nunn, N., & Wantchekon, L. (2011). The slave trade and the origins of mistrust in Africa. American Economic Review, 101, 3221–3252.

Oceans Beyond Piracy. (2012). The economic cost of Somali piracy. Oceans Beyond piracy, One Earth Future Foundation.

Oceans Beyond Piracy. (2017). The state of maritime piracy. The One Earth Future Foundation.

Ostrom, E. (1990). Governing the commons: The evolution of institutions for collective action. Cambridge: Cambridge University Press.

Philipson, T. J., & Posner, R. A. (1996). The economic epidemiology of crime. The Journal of Law & Economics, 39(2), 405–433.

Samuelson, P. A. (1954). The pure theory of public expenditure. The Review of Economics and Statistics, 36, 387–389.

Schelling, T. C. (1960). The strategy of conflict. Harvard University Press.

Tullock, G. (1967). The welfare costs of tariffs, monopolies, and theft. Economic Inquiry, 5(3), 224–232.

World Bank. (2013). The pirates of Somalia: Ending the threat, rebuilding a nation. Washington, DC: International Bank for Reconstruction and Development/The World Bank - Vice-Presidency for Africa.
Acknowledgements
We are grateful to Samuel Bazzi, Fernando Gomez, Alon Harel, Kaitlyn Harger, Alex Imas, Bryan McCannon, Benjamin Powell, Rustam Romaniuc, Jacob Shapiro, Andrew Young, and participants at the NBER Summer Institute on National Security, MetaLawEcon Workshop at the University of Amsterdam, Ohio University Seminar Series, Western Economic Association, Public Choice Society Meetings, Southern Economic Association Meetings, the Association for Private Enterprise Education.
Additional information
Publisher's note
Springer Nature remains neutral with regard to jurisdictional claims in published maps and institutional affiliations.
Electronic supplementary material
About this article
Cite this article
DeAngelo, G., Smith, T.L. Private security, maritime piracy and the provision of international public safety. J Risk Uncertain 60, 77–97 (2020). https://doi.org/10.1007/s11166-020-09323-8
Keywords
Private security

Criminal deterrence

International public goods

Maritime trade

Risk management
JEL Classifications