Abstract
This qualitative case study examined the process of change in an experienced elementary teacher's belief structure during implementation of an inquiry-based science program. Difficulties generally associated with ascertaining beliefs were minimized by using Leatham's (Journal of Mathematics Teacher Education, 9, 91-102 (2006) Sensible System Framework, enabling researchers to obtain rich descriptions of the teacher's belief structure by focusing on words (professed beliefs), intentions (intended beliefs), and actions (enacted beliefs). Models were constructed of the teacher's belief structure before and after implementation of the Science Writing Heuristic (SWH) approach (Hand et al. International Journal of Science Education, 26(2), 131–149, 2004), an inquiry-based approach to teaching science. Key beliefs for this teacher were related to how students learn, goals for teaching science, focus of instruction, and roles of teacher and student. Ultimately, the teacher shifted her professed, intended, and enacted beliefs resulting in a shift from a teacher-centered to a student-centered classroom. Findings support Thagard's Coherence Theory of Justification (2002), positing that change in one belief creates a state of disequilibrium that must be alleviated by changing/realigning other beliefs in order to re-establish coherence in the overall belief structure. This research focus is distinct from the general trend in teacher beliefs research in important ways. Most significant is that this study was not focused on the traditional two lists—those beliefs that were consistent with practice and those that were inconsistent with practice—but instead focused on the entwined nature of beliefs and practice and have shown that a teacher's practice can be viewed as their enacted beliefs, an integral part of the teacher's overall belief structure.
Access options
Buy single article
Instant access to the full article PDF.
USD 39.95
Price excludes VAT (USA)
Tax calculation will be finalised during checkout.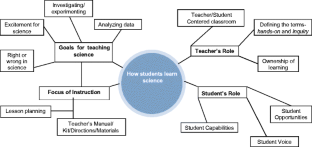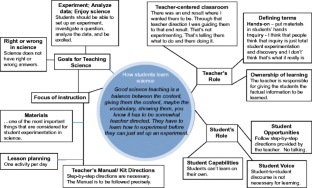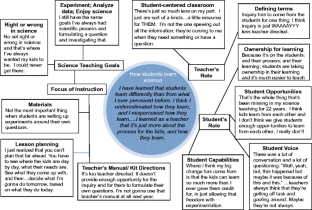 References
Ajzen, I., & Fishbein, M. (1973). Attitudinal and normative variables as predictors of specific behaviors. Journal of Personality and Social Psychology, 27(1), 41–57.

Ajzen, I., & Fishbein, M. (1975). A bayesian analysis of attribution processes. Psychological Bulletin, 82(2), p. 261.

Barnett, C., & Sather, S. (1992). Using case discussions to promote changes in beliefs among mathematics teachers. San Francisco, CA: annual meeting of the American Educational Research Association.

Bryan, L. (2003). Nestedness of beliefs: examining a prospective elementary teacher's belief system about science teaching and learning. Journal of Research in Science Teaching, 40, 835–868.

Clark, C., & Peterson, P. (1986). Teachers' thought processes. In M. C. Wittrock (Ed.), Handbook of research on teaching (3rd ed., pp. 255–296). New York: Macmillan.

Crawford, B. (2007). Learning to teach science as inquiry in the rough and tumble of practice. Journal of Research of Science Teaching, 44, 613–642.

Davis, K. (2003). Change is hard: what science teachers are telling us about reform and teacher learning in innovative practices. Science Education, 87, 3–30.

Duffee, L., & Aikenhead, G. (1992). Curriculum change, student evaluation, and teacher practical knowledge. Science Education, 76, 493–506.

Fang, Z. (1996). A review of research on teacher beliefs and practices. Educational Research, 38(1), 47–65.

Feldman, A. (2002). Multiple perspectives for the study of teaching: knowledge, reason, understanding, and being. Journal of Research in Science Teaching, 39(10), 1032–1055.

Fetterman, D. M. (Ed.). (1991). Using qualitative methods in institutional research (no. 72). Jossey-Bass.

Fonteyn, M. E., Kuipers, B., & Grobe, S. J. (1993). A description of think aloud method and protocol analysis. Qualitative Health Research, 3(4), 430–441.

Friedrichsen, P., & Dana, T. (2005). A substantive-level theory of highly-regarded secondary biology teachers' science teaching orientations. Journal of Research in Science Teaching, 42(2), 218–244.

Glaser, B., & Strauss, A. (1967). Discovery of grounded theory: strategies for qualitative research. Chicago: Aldine.

Hand, B., Wallace, C. W., & Yang, E. (2004). Using a science writing heuristic to enhance learning outcomes from laboratory activities in seventh-grade science: quantitative and qualitative aspects. International Journal of Science Education, 26(2), 131–149.

Haney, J., & McArthur, J. (2002). Four case studies of prospective science teachers' beliefs concerning constructivist teaching practices. Science Education, 86, 783–802.

Haney, J., Czerniak, C., & Lumpe, A. (1996). Teacher beliefs and intentions regarding the implementation of science education reform strands. Journal of Research in Science Teaching, 33, 971–993.

Haney, J., Czerniak, C., Lumpe, A., & Egan, V. (2002). From beliefs to actions: the beliefs and actions of teachers implementing change. Journal of Science Teacher Education, 13, 171–187.

Harwood, W. S., Hansen, J., & Lotter, C. (2006). Measuring teacher beliefs about inquiry: the development of a blended qualitative/quantitative instrument. Journal of Science Education and Technology, 15(1), 69–79.

Jääskeläinen, R. (2010). Think-aloud protocol. Handbook of translation studies, 1, 371–374.

Leatham, K. (2006). Viewing mathematics teachers' beliefs as sensible systems. Journal of Mathematics Teacher Education, 9, 91–102.

Loucks-Horsley, S., Stiles, K. E., Mundry, S., & Hewson, P. W. (Eds.). (2009). Designing professional development for teachers of science and mathematics. Corwin Press.

Luft, J. (1999). Teachers' salient beliefs about a problem-solving demonstration classroom in-service program. Journal of Research in Science Teaching, 36, 141–158.

Luft, J. A., Roehrig, G. H., & Patterson, N. C. (2003). Contrasting landscapes: a comparison of the impact of different induction programs on beginning secondary science teachers' practices, beliefs, and experiences. Journal of Research in Science Teaching, 40(1), 77–97.

Lumpe, A., Haney, J., & Czerniak, C. (2000). Assessing teachers' beliefs about their science teaching context. Journal of Research in Science Teaching, 37, 275–292.

Marra, R. (2005). Teacher beliefs: the impact of the design of constructivist learning environments on instructor epistemologies. Learning Environments Research, 8, 135–155.

Nespor, J. (1987). The role of beliefs in the practice of teaching. Journal of Curriculum Studies, 19, 317–328.

Nisbett, R., & Ross, L. (1980). Human inference: strategies and shortcomings of social judgment. Englewood Cliffs, NJ: Prentice-Hall.

Norton-Meier, L., Hand, B., Hockenberry, L., & Wise, K. (2008). Questions, claims and evidence. Portsmith, NH: Heinemann.

Pajares, M. (1992). Teachers' beliefs and educational research: cleaning up a messy construct. Review of Educational Research, 62, 307–332.

Peacock, M. (2001). Pre-service ESL teachers' beliefs about second language learning: a longitudinal study. System, 29(2), 177–195.

Peers, C. S. E., Diezmann, C. M., & Watters, J. J. (2003). Supports and concerns for teacher professional growth during the implementation of a science curriculum innovation. Research in Science Education, 33(1), 89–110.

Pintrich, P. (1990). Implications of psychological research on student learning and college teaching for teacher education. In W. R. Houston (Ed.), Handbook of research on teacher education (pp. 826–857). New York: Macmillan.

Pintrich, P. (2002). Future challenges and directions for theory and research on personal epistemology. In B. K. Hofer & P. R. Pintrich (Eds.), Personal epistemology: the psychology of beliefs about knowledge and knowing (pp. 389–414). Mahwah, NJ: Lawrence Erlbaum.

Rimm-Kaufman, S., Storm, M., Sawyer, B., Pianta, R., & LaParo, K. (2006). The Teacher Belief Q-Sort: a measure of teachers' priorities in relation to disciplinary practices, teaching practices, and beliefs about children. Journal of School Psychology, 44, 141–165.

Rokeach, M. (1968). Beliefs, attitudes, and values: a theory of organization and change. San Francisco: Jossey-Bass.

Salish Research Consortium. (1997). A final report of secondary science and mathematics teacher preparation programs: influences on new teachers and their students. Iowa City: Science Education Center, University of Iowa.

Sawada, D., Piburn, M., Falconer, et al. (2000). Reformed teaching observation protocol (RTOP) (Tech. Rep No. IN00-1). Tempe, AZ: Arizona State University, Arizona Collaborative for Excellence in the Preparation of Teachers.

Schön, D. (1983). The reflective practitioner: how professionals think in action. London: Temple Smith.

Schön, D. (1987). Educating the reflective practitioner: toward a new design for teaching and learning in the professions. San Francisco: Jossey-Bass.

Stake, R. (1995). The art of case study research. Thousand Oaks, CA: Sage.

Thagard, P. (2002). Coherence in thought and action. Cambridge, MA: MIT Press.

Tobin, K., & LaMaster, S. (1995). Relationship between metaphors, beliefs and actions in the context of science curriculum change. Journal of Research in Science Teaching, 32, 225–242.

Tobin, K., & McRobbie, C. (1996). Cultural myths as constraints to the enacted science curriculum. Science Education, 80, 223–241.

Van Driel, J., Beijaard, D., & Verloop, N. (2001). Professional development and reform in science education: the role of teachers' practical knowledge. Journal of Research in Science Teaching, 38(2), 137–158.

Windschitl, M. (2002). Framing constructivism in practice as the negotiation of dilemmas: an analysis of the conceptual, pedagogical, cultural and political challenges facing teachers. Review of Educational Research, 72, 131–175.

Windschitl, M. (2003). Inquiry projects in science teacher education: what can investigative experiences reveal about teacher thinking and eventual classroom practice? Science Education, 87(1), 112–143.

Yerrick, R., Parke, H., & Nugent, J. (1997). Struggling to promote deeply rooted change: the filtering effect of teachers' beliefs on understanding transformational views of teaching science. Science Education, 81, 137–159.

Yin, R. K. (2002). Applications of case study research, second edition (Applied Social Research Methods Series Volume 34).
About this article
Cite this article
Martin, A., Park, S. & Hand, B. What Happens When a Teacher's Science Belief Structure Is in Disequilibrium? Entangled Nature of Beliefs and Practice. Res Sci Educ 49, 885–920 (2019). https://doi.org/10.1007/s11165-017-9644-0
Published:

Issue Date:

DOI: https://doi.org/10.1007/s11165-017-9644-0
Keywords