Abstract
The use of mobile devices is increasing rapidly as a potential tool for science teaching. In this study, five educators (three middle school teachers and two museum educators) used a mobile application that supported the development of a driving question. Previous studies have noted that teachers make little effort to connect learning experiences between classrooms and museums, and few studies have focused on creating connections between teachers and museum educators. In this study, teachers and museum educators created an investigation together by designing a driving question in conjunction with the research group before field trips. During field trips, students collected their own data using iPods or iPads to take pictures or record videos of the exhibits. When students returned to the school, they used the museum data with their peers as they tried to answer the driving question. After completing the field trips, five educators were interviewed to investigate their experiences with designing driving questions and using mobile devices. Besides supporting students in data collection during the field trip, using mobile devices helped teachers to get the museum back to the classroom. Designing the driving question supported museum educators and teachers to plan the field trip collaboratively.
Access options
Buy single article
Instant access to the full article PDF.
USD 39.95
Price excludes VAT (USA)
Tax calculation will be finalised during checkout.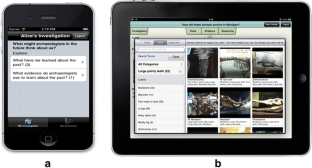 References
Ballantyne, R., & Packer, J. (2002). Nature-based excursions: school students' perceptions of learning in natural environments. International Research in Geographical and Environmental Education, 11(3), 218–236.

Barton, A. C., & Osborne, M. D. (2001). Urban girls participation in informal science settings: playing with identities and borders. Curriculum and Teaching, 16(2), 17–37.

Baylor, A. L., & Ritchie, D. (2002). What factors facilitate teacher skill, teacher morale, and perceived student learning in technology-using classrooms? Computers & Education, 39(4), 395–414.

Bell, P., Lewenstein, B., Shouse, A., & Feder, M. (Eds.). (2009). Learning science in informal environments: people, places and pursuits. Washington, DC: National Academies Press.

Bielaczyc, K. (2006). Designing social infrastructure: critical issues in creating learning environments with technology. Journal of Learning Sciences, 15, 301–329.

Blumenfeld, P., Fishman, B. J., Krajcik, J., Marx, R. W., & Soloway, E. (2000). Creating usable innovations in systemic reform: Scaling up technology-embedded project-based science in urban schools. Educational Psychologist, 35(3), 149–164.

Cabrera, J. S., Frutos, H. M., Adrian, G. S., Avouris, N., Dimitriadis, Y., Fiotakis, G., & Liveri, K. D. (2005). Mystery in the museum: collaborative learning activities using handheld devices. In Tscheligi, M., Bernhaupt, R. & Mihalic, K. (Eds.), Proceedings of the 7th International Conference on Human Computer Interaction with Mobile Devices & Services (pp. 315-318). Salzburg, Austria.

Cahill, C., Kuhn, A., Schmoll, S., Lo, W. T., McNally, B., & Quintana, C. (2011). Mobile learning in museums: how mobile supports for learning influence student behavior. In Moher, T., Quintana, C. & Price, S. (Eds.), Proceedings of the 10th International Conference on Interaction Design and Children (pp. 21-28). Ann Arbor, USA.

Creswell, J. (2007). Qualitative inquiry and research design (2nd ed.). Thousand Oaks, CA: Sage.

Delen, I. (2014). Supporting Students' Scientific Explanations: A Case Study Investigating The Synergy Focusing On A Teacher's Practices When Providing Instruction And Using Mobile Devices (Unpublished Doctoral Dissertation). Michigan State University, East Lansing, USA.

Dillon, J., Rickinson, M., Teamey, K., Morris, M., Young Choi, M.-Y., Sanders, D., et al. (2006). The value of outdoor learning: evidence from research in the UK and elsewhere. School Science Review, 87, 107–111.

Falk, J. H., & Dierking, L. D. (2000). Learning from museums: visitor experiences and the making of meaning. Walnut Creek, CA: Altamira.

Fido, S. H., & Gayford, G. C. (1982). Field work and the biology teacher: a survey in secondary schools in England and Wales. Journal of Biology Education, 16, 27–34.

Fraser, D.S., Smith, H., Tallyn, E., Kirk, D., Benford, S.,Rowland, D., Paxton, M., Price, S. & Fitzpatrick, G. (2005). The SENSE Project: A Context-Inclusive Approach to Studying Environmental Science within and across Schools. In Koschmann, T., Suthers, D., Chan, T.W. (Eds.), Proceedings of the Computer-Supported Collaborative Learning (pp.155–159). Taipei, Taiwan.

Gikas, J., & Grant, M. M. (2013). Mobile computing devices in higher education: student perspectives on learning with cellphones, smartphones & social media. The Internet and Higher Education, 19, 18–26.

Gray, L., Thomas, N., & Lewis, L. (2010). Teachers' use of educational technology in U.S. Public Schools: Fall 2008 (NCES 2010-034). U.S. Department of Education, National Center for Education Statistics. Washington, DC: U.S. Government Printing Office.

Griffin, J. (1998). Learning science through practical experiences in museums. International Journal of Science Education, 20(6), 655–663.

Griffin, J., & Symington, D. (1997). Moving from task-oriented to learning oriented strategies on school excursions to museums. Science Education, 81, 763–779.

Glesne, C. (2011). Becoming qualitative researchers: an introduction (4th ed.). Boston, MA: Pearson.

Gupta, P., Adams, J., Kisiel, J., & Dewitt, J. (2010). Examining the complexities of school-museum partnerships. Cultural Studies of Science Education, 5(3), 685–699.

Hsi, S. (2003). A study of user experiences mediated by nomadic web content in a museum. Journal of Computer Assisted Learning, 19(3), 308–319.

Kisiel, J. (2005). Understanding elementary teacher motivations for science field trips. Science Education, 89(6), 936–955.

Kisiel, J. F. (2006a). More than lions and tigers and bears: creating meaningful field trip lessons. Science Activities, 43(2), 7–10.

Kisiel, J. (2006b). Making field trips work. Science Teacher, 73(1), 46–48.

Kisiel, J. (2010). Exploring a school-aquarium collaboration: an intersection of communities of practice. Science Education, 94, 95–121.

Kisiel, J. F. (2014). Clarifying the complexities of school–museum interactions: perspectives from two communities. Journal of Research in Science Teaching, 51(3), 342–367.

Klopfer, E., Yoon, S., & Perry, J. (2005). Using palm technology in participatory simulations of complex systems: a new take on ubiquitous and accessible mobile computing. Journal of Science Education and Technology, 14(3), 285–297.

Krajcik, J. S., Blumenfeld, P. C., Marx, R. W., & Soloway, E. (1994). A collaborative model forhelping middle grade science teachers learn project-based instruction. The elementary school journal, 94, 483–497.

Krajcik, J. S., & Starr, M. (2001). Learning science content in a project-based environment.In Tinker, R. F. & Krajcik, J. S. (Eds.) (2001). Portable Technologies: Science Learning in Context (pp. 103–119).  Dordrecht, The Netherlands: Kluwer Academic Publishers.

Maldonado, H., & Pea, R. D. (2010). LET's GO! to the Creek: Co-design of water quality inquiry using mobile science collaboratories. In Hoppe, U., Pea, R. & Liu., C. (Eds.), Proceedings of the Sixth International IEEE Conference on Wireless, Mobile and Ubiquitous Technologies in Education (WMUTE 2010) (pp. 81–87). Kaohsiung, Taiwan.

McKenzie, G., Utgard, R., & Lisowski, M. (1986). The importance of field trip, a geological example. Journal of College Science Teaching, 16, 17–20.

Mirka, G. D. (1970). Factors which influence elementary teachers use of out-of-doors? (unpublished master's thesis). Columbus, OH: Ohio State University.

Morag, O., & Tal, T. (2012). Assessing learning in the outdoors with the field trip in natural environments (FiNE) framework. International Journal of Science Education, 34(5), 745–777.

Orion, N. (1993). A model for the development and implementation of field trips as an integral part of the science curriculum. School Science and Mathematics, 93, 325–331.

Quintana, C. (2012). Pervasive science: using mobile devices and the cloud to support science education. Interactions, 19(4), 76–80.

Rennie, L. J. (2007). Learning science outside of school. In S. K. Abell & N. G. Lederman (Eds.), Handbook of research on science education (pp. 125–167). Mahwah, NJ: Lawrence Erlbaum.

Rogers, Y., Price, S., Fitzpatrick, G., Fleck, R., Harris, E., Smith, H., Randell, C., Weal, M. (2004). Ambient wood: Designing new forms of digital augmentation for learning outdoors. In Druin, A., Hourcade, J. P., Kollet, S. (Eds.), Proceedings of 2004 conference on Interaction design and children: building a community (pp. 3-10). Maryland, USA.

Russell, M., Bebell, D., O'Dwyer, L., & O'Connor, K. (2003). Examining teacher technology use implications for preservice and inservice teacher preparation. Journal of Teacher Education, 54(4), 297–310.

Singer, J., Marx, R. W., Krajcik, J., & Clay Chambers, J. (2000). Constructing extended inquiry projects: Curriculum materials for science education reform. Educational Psychologist, 35(3), 165–178.

Stainfield, J., Fisher, P., Ford, B., & Solem, M. (2000). International virtual field trips: a new direction? Journal of Geography in Higher Education, 24(2), 255–262.

Sung, Y., Hou, H., Liu, C., & Chang, K. (2010). Mobile guide system using problem-solving strategy for museum learning: a sequential learning behavioural pattern analysis. Journal of Computer Assisted Learning, 26(2), 106–115.

Tal, R., Bamberger, Y., & Morag, O. (2005). Guided school visits to natural history museums in Israel: teachers' roles. Science Education, 89(6), 920–935.

Tal, T., & Steiner, L. (2006). Patterns of teacher museum staff relationships: school visits to the educational centre of a science museum. Canadian Journal of Math, Science & Technology Education, 6(1), 25–46.

Tran, L. U. (2007). Teaching science in museums: the pedagogy and goals of museum educators. Science Education, 91, 278–297.

Vavoula, G., Sharples, M., Rudman, P., Meek, J., & Lonsdale, P. (2009). Myartspace: design and evaluation of support for learning with multimedia phones between classrooms and museums. Computers & Education, 53(2), 286–299.

Zhang, M., & Quintana, C. (2012). Scaffolding strategies for supporting middle school students' online inquiry processes. Computers & Education, 58(1), 181–196.
Acknowledgments
We thank Dr. Tali Tal for providing valuable comments when writing the paper; and Dr. Kongju Mun, Dr. Steven McGee, Myunghwan Shin, and Jennifer Duck for their help in the coding process. This work was supported by NSF Grant DRL 1020027.
Additional information
"There is no question that organizing a field trip can be quite a challenge."
Kisiel (2006a, p.10)
About this article
Cite this article
Delen, I., Krajcik, J. Using Mobile Devices to Connect Teachers and Museum Educators. Res Sci Educ 47, 473–496 (2017). https://doi.org/10.1007/s11165-015-9512-8
Published:

Issue Date:

DOI: https://doi.org/10.1007/s11165-015-9512-8
Keywords
Field trips

Mobile application

Teachers

Museum educators

Science education