Abstract
Changes in the cultural and linguistic environments of learners are often associated with identity shifts. The aim of this study was to explore what identity shifts occur when science students from Bahraini national schools transition to an international university. The role of two aspects of learner identity—that is, English proficiency and science background knowledge, was examined in this study. Focus groups and semi-structured interviews were conducted with students and with university lecturers. The analysis suggested three conceptual themes of (1) reliance on science knowledge, (2) the auxiliary role of professional language and (3) adequacy of student learning strategies, demonstrating what subjective meanings the participants ascribe to the interplay between science knowledge and linguistic ability. The findings suggest that despite the lack of adequate linguistic attributes, the students are still able to successfully learn science in the context of language change. It is also implied that through strategically utilising their academic background in science, students preserve their identity as successful learners from school through to university. We conclude that agency plays a separate role in transition and is not a sole function of identity. We also contest the idea of language as a necessary attribute of one's identity as it was perceived by our participants to be an advantage and an auxiliary tool rather than a requirement.
Access options
Buy single article
Instant access to the full article PDF.
USD 39.95
Price includes VAT (USA)
Tax calculation will be finalised during checkout.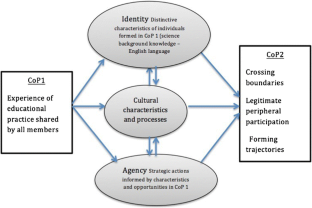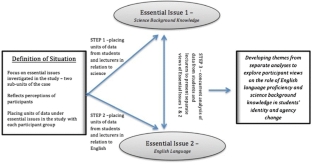 Notes
1.

IELTS stands for the International English Language Testing System, and the score of 6.5 describes a competent English language user who is able to cope with the language demand when studying a discipline in a foreign language.

2.

ELC stands for English Language and Communication classes offered by the university

3.

Pre-sessional Course in English is offered to students prior to their start in Foundation Year. The materials used in this course are based on the learning objectives of the core subjects in the FY.

4.

Tawjihiya is the qualification awarded on completion of national secondary education; the science material is delivered in Arabic.
References
Abdulmajeed, M. Y. (1995). Motivational and socio-cultural contexts of learning english as an international foreign language: a case study of fresh college students in Bahrain. Cardiff: PhD Thesis. University of Wales.

Aikenhead, G. (2001). Integrating western and aboriginal sciences: cross-cultural science teaching. Research in Science Education, 31(3), 337–335.

Al-Ahmed, F. H. (1994). Effect of the critical thinking approaches to teaching and learning in secondary schools of Bahrain. Innovations in Education and Training International, 31(4), 322–335.

Al-Baharna, S. S. (2005). Assessment for teaching and learning: a manual for assessing English language learning for secondary. Bahrain: Ministry of Education.

Anderson, G. (1998). Fundamentals of educational research. London: Falmer.

Bogdan, R. C., & Biklen, S. K. (2003). Qualitative research for education: an introduction to theories and methods (4th ed.). New York: Pearson Education Group, Inc.

Chen, Q., & Donin, J. (1997). Discourse processing of first and second language biology texts: effects of language proficiency and domain-specific knowledge. Modern Language Journal, 81(2), 209–227.

Cobb, P. (1994). Where is the mind? Constructivist and sociocultural perspectives on mathematical development. Educational Researcher, 23(7), 13–20.

Cohen, L., Manion, L., & Morrison, K. (2000). Research methods in education (5th ed.). London: RoutledgeFalmer.

Côté, J. E., & Levine, C. G. (2002). Identity formation, agency and culture: a social psychological synthesis. New Jersey: Lawrence Erlbaum Associates Publishers.

Crafter, S., & Maunder, R. (2012). Understanding transitions using a sociocultural framework. Educational and Child Psychology, 29(1), 10–18.

Cummins, J. (1981). The role of primary language development in promoting educational success for language minority students. In California State Department of Education (Ed.), Schooling and Language Minority Students: A Theoretical Framework (pp. 3–49). Los Angeles: Evaluation, Dissemination and Assessment Center, California State University.

Cummins, J. (2008). BICS and CALP: empirical and theoretical status of the distinction. In B. Street & N. H. Hornberger (Eds.), Encyclopedia of Language and Education (Literacy 2nd ed., Vol. 2, pp. 71–83). New York: Springer Science + Business Media LLC.

Cupane, A. F. (2011). Towards an understanding of the role of language in the science classroom and its association with cultural identity development in the context of Mozambique. Cultural Studies of Science Education, 6(2), 435–440.

Ecclestone, K. (2009). Lost and Found in Transition: Educational Implications of Concerns about 'identity', 'agency' and 'structure'. In: J.Field, J. Galacher, J. Ingram, R. (Eds) Researching Transitions in Lifelong Learning. London, Rutledge.

Erikson, E. H. (1968). Identity: youth and crisis. New York: Norton.

Field, J., Galacher, J., & Ingram, R. (Eds.). (2009). Researching transitions in lifelong learning. Rutledge: London.

Hameed, F.S.M.A. Bujerry, K.Y. Ahmed, S.A. (2011). Strategies in Learning and Teaching of Science in the Unified Tracks System and Schools of the Future. Bahrain.

Hayes, A. (2015). Adopting western models of learning to teaching science as a means of offering a better start at university? the impact of socio-cultural factors: a case of Bahrain. In Mansour, N. (Ed) Science education in the Arab Gulf States: visions, sociocultural contexts and challenges (pp. 169–188), Sense Publishers, UK.

Hayes, A., Holden-Rachiotis, C., Kavanagh, B., & Otoom, S. (2013) Bridging the gap: a programme to enhance medical students' learning experience in the Foundation year. Bahrain Medical Bulletin, 35(4), 196–203.

Hussey, T., & Smith, P. (2010). Transitions in higher education. Innovations in Education and Teaching International, 47(2), 155–164.

Koh, M. Y. (1985). The role of prior knowledge in reading comprehension. Reading in a Foreign Language, 3(1), 275–380.

Lantolf, J. P. (2000). Sociocultural theory and second language learning. Oxford: Oxford University Press.

López-Facal, R., & Jiménez-Aleixandre, M. P. (2009). Identities, social representations and critical thinking. Cultural Studies of Science Education, 4(3), 689–695.

O'Donnell, V., & Tobbell, J. (2007). The transition of adult students to higher education: legitimate peripheral participation in a community of practice. Adult Education Quarterly, 57(4), 312–328.

O'Shea, S. (2013). Transitions and turning points: exploring how first in family female students story their transition to university and student identity formation. International Journal of Qualitative Research in Education, 27(2), 135–158.

Rosenthal, J. W. (1996). Teaching science to language minority students. Clevedon: Multilingual Matters.

Thomas, A. (2008). Focus groups in qualitative research: culturally sensitive methodology for the Arabian Gulf? International Journal of Research & Method in Education, 31(1), 77–88.

Usó-Juan, E. (2006). The compensatory nature of discipline-related knowledge and English-language proficiency in reading English for academic purposes. Modern Language Journal, 90(2), 210–227.

Wang, J. R., Wang, Y. C., Tai, H. J., & Chen, W. J. (2010). Investigating the effectiveness of inquiry-based instruction on students with different prior knowledge and reading abilities. International Journal of Science and Mathematics Education, 8(5), 801–820.

Wenger, E. (1998). Communities of practice: learning, meaning and identity. New York: Cambridge University Press.

Wilson Scott, K., & Howell, D. (2008). Clarifying analysis and interpretation in grounded theory: using a conditional relationship guide and reflective coding matrix. International Journal of Qualitative Methods, 7(2), 1–15.

Yin, R. K. (2012). Applications of case study research (3rd ed.). Washington DC: SAGE Publications, Inc.

Yore, L. D., & Treagust, D. F. (2006). Current realities and future possibilities. language and science literacy-empowering research and informing instruction. International Journal of Science Education, 28(2-3), 291–314.
Compliance with Ethical Standards
ᅟ
Conflict of Interest
The authors have no conflict of interests to declare.
Appendices
Appendix 1 Focus groups questions—students (round 1)
1.

How do you feel about studying at the university now? How is it different from school? What's hard? What's easy?

2.

Do you think your English classes helped you with studying other subjects? Why/why not?

3.

Can you think of anything specific that you learnt in the ELC [English language classes] that you later used for reading/writing/grammar/medical terminology or any other activity in your other subjects? Describe please.

4.

How do you feel about learning grammar, reading and writing now at university? Do you think it is important to improve it? What are your goals in improving those skills?

5.

What was learning English like at school? Can you compare it to what is needed now at university?

6.

Were the tasks at school similar to what you've done this semester? In what ways were they similar/different?

7.

Do you do any reading in your content classes? [think about examinations, lecture preparation, extra reading] Do you find it hard? Easy? Is it the same to the tasks at school?

8.

How about grammar? Is it important for your content classes?

9.

When you think about the academic skills you need now to be a successful student, what are the most important?

10.

Were those skills practised in school? Do you think that the school prepared you well for studying at the university?
Appendix 2 Focus groups questions—students (round 2)
1.

We have already discussed the effects of schooling on your transition to university and you talked about science and language issues, as well as study skills, etc. This time, I would like you to tell me about personal changes that you had to undergo in order to adapt to the university environment.

2.

What aspects of Bahraini culture in schools play a role in making a transition to a university like this one?

3.

Do you feel you have undergone any major changes in identity/agency [any intentional changes in your ways regarding dealing with your studies] in order to be able to study at this university?

4.

Do you feel that being in Bahraini schools has pre-disposed you as to how you view/approach things now? Has anything changed? And if yes, was it difficult to change?

5.

Could you talk about your attitude towards learning before coming to university and compare it with the way you view things now?
Appendix 3 Interview questions—university faculty
1.

What in your view are the biggest problems with learning FY students face?

2.

What are your expectations in terms of the English language? Do you verify the correctness of language in your classes? For example, do you mark it on examination papers?

3.

In terms of reading and writing, what types of tasks are required in your content classes? What are the specific demands of those tasks? What is evaluated?

4.

Are good reading and writing skills important for your subjects? In what ways?

5.

What are your expectations in terms of other skills students should develop to achieve success in your subjects?

6.

Are those skills verified in formal assessment? Are they included in the examination questions?

7.

What do you think about the quality of students? What do you think about the quality of their assignments? What are the strengths/weaknesses? Why do they fail?

8.

How can students better prepare for the requirements in your content classes?

9.

Is there anything you would like to add?
About this article
Cite this article
Hayes, A.L., Mansour, N. Confidence in the Knowledge Base of English Language Learners Studying Science: Using Agency to Compensate for the Lack of Adequate Linguistic Identity. Res Sci Educ 47, 353–371 (2017). https://doi.org/10.1007/s11165-015-9504-8
Keywords
Science background knowledge

English language proficiency

Identity and agency

Culture change

Transition