Abstract
A new class of mixed ligand complexes, [M(L)(phen)2], using a bidentate bischlorophenol ligand H2L (2,2′-methylenebis(4-chlorophenol)) and phenanthroline has been synthesized. All the compounds were characterized by spectral (IR, UV, NMR and mass), magnetic, molar conductivity and cyclic voltammetry studies. The IR spectral data revealed that the bisphenol and phenanthroline ligands coordinate to the metal ions through the formation of M–O and M–N bonds. The electronic and magnetic data indicate the octahedral geometry of the complexes. The ESR spectrum of mononuclear copper complex shows four lines due to hyperfine splitting and the copper + 2 ion is present in octahedral environment. Cyclic voltammograms show two reduction potentials in cathodic direction. The first one at higher potential, − 1.05 to − 1.58 V, is due to the phenanthroline moiety and the second one at − 0.58 to − 0.65 V is due to the metal centered reduction potential. The antimicrobial activity of all the compounds was studied on some human pathogenic bacteria (Escherichia coli, Pseudomonas aeruginosa, Staphylococcus aureus, and Enterococci species) and fungi (Candida species, Aspergillus species). Copper complex 3 and cobalt complex 1 show higher antibacterial and antifungal activities, respectively, than the ligand and other complexes. The in-vitro antioxidant activity was spectrophotometrically studied by radical scavenging and reducing power activities. The biological activities of mixed ligand metal complexes are improved through synergistic effect of ligand, co-ligand and metal center.
Access options
Buy single article
Instant access to the full article PDF.
USD 39.95
Price excludes VAT (USA)
Tax calculation will be finalised during checkout.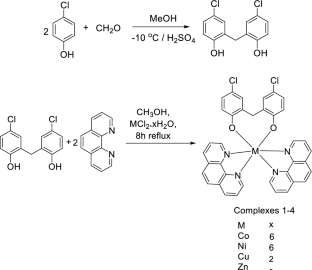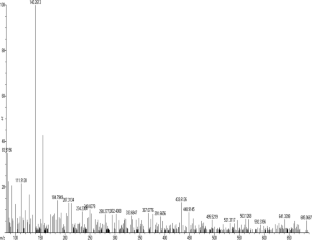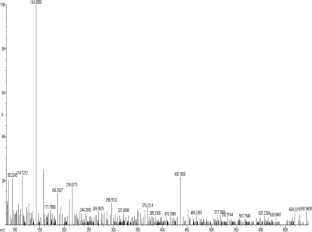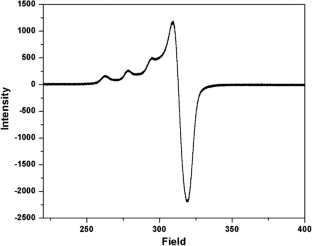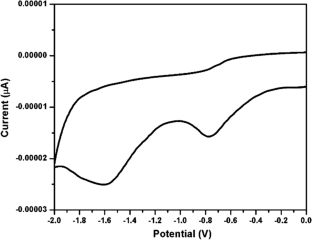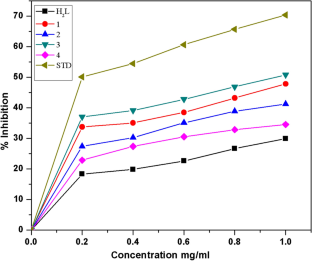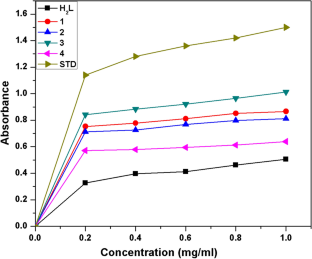 References
K.D. Mjos, C. Orvig, Chem. Rev. 114, 4540 (2014)

S. Kumar, D.N. Dhar, P.N. Saxena, J. Sci. Ind. Res. 68, 181 (2009)

M. Tumer, H. Koksal, S. Serin, Transit. Met. Chem. 24, 13 (1999)

P. Rathi, D.P. Singh, Mol. Biomol. Spectros. 136, 381 (2015)

R.A. Shiekh, I.A. Rahman, M.A. Malik, N. Luddin, S.A.M. Masudi, S.A. AlThabaiti, Int. J. Electrochem. Sci. 8, 6972 (2013)

M.S. Islam, M.A. Farooque, M.A.K. Bodruddoza, M.A. Mosaddik, M.S. Alam, J. Bio. Sci. 2, 797 (2002)

P. Arthi, A. Haleel, P. Srinivasan, D. Prabhu, C. Arulvasu, A.K. Rahiman, Spectrochim. Acta Part A: Mol. Biomol. Spectros. 129, 400 (2014)

M.A. Malik, O.A. Dar, P. Gull, M.Y. Wani, A.A. Hashmi, Med. Chem. Commun. 9, 409 (2018)

Z.H. Abd El-Wahab, J. Coord. Chem. 61, 3284 (2008)

S. Indira, G. Vinoth, M. Bharathi, S. Bharathi, A.K. Rahiman, K. Shanmuga Bharathi, Inorg. Chim. Acta 495, 118988 (2019)

K. Ghosh, K. Harms, S. Chattopadhyay, Polyhedron 123, 162 (2017)

M. Gomez Escalada, A.D. Russell, J.Y. Maillard, D. Ochs, Lett. Appl. Microbiol. 41, 476 (2005)

W.A. Zoubi, F. Karabet, R.A. Bandakji, K. Hussein, Appl. Organometal. Chem. 31, 1 (2016)

I. Kirk, R. Eller, D.F. Othmer, M. Grayson, D. Eckroth, Kirk-Othmer Encyclopedia of Chemical Technology (Wiley, New York, 1979), p. 196

N. Nishat, Asma, Manisha, J. Appl. Polym. Sci.119, 1251 (2011)

D. Banerjea, Mixed-Ligand Complexes in Coordination Chemistry (Tata McGraw-Hill Publishing Company Limited, New Delhi, 1993).

R.A. Lal, S. Adhikari, A. Kumar, J. Chakraborty, Synth. React. Inorg. Met.-Org. Chem. 31, 65 (2001)

B.-H. Peng, G.-F. Liu, L. Liu, D.-Z. Jia, Yu. Kai-bei, J. Mol. Struct. 692, 217 (2004)

H. Zhang, C.-S. Liu, Bu. Xian-He, M. Yang, J. Inorg. Biochem. 99, 1119 (2005)

H.M. Parekh, S.R. Mehta, M.N. Patel, Russ. J. Inorg. Chem. 51, 67 (2006)

K. Hussain Reddy, P. Sambasiva Reddy, P. Ravindra Babu, Transit Met. Chem. 25, 505 (2000)

J.D. Joshi, S. Sharma, G. Patel, J.J. Vora, Synth. React. Inorg. Met.-Org. Chem. 32, 1729 (2002)

L.A. Summers, Adv. Heterocycl. Chem. 22, 1 (1978)

P.G. Sammes, G. Yahioglu, Chem. Soc. Rev. 23, 327 (1994)

C.R. Luman, F.N. Castellano, J.A. McCleverty, T.J. Meyer, A.B.P. Lever (eds.), Comprehensive Coordination Chemistry, 1 (Elsevier, Oxford, 2004)

G.S. Malik, S.P. Singh, J.P. Tandon, Monatsh. Chem. 110, 149 (1979)

S. Indira, G. Vinoth, M. Bharathi, K. Shanmuga Bharathi, J. Mol. Struc. 1198, 126886 (2019)

G. Vinoth, S. Indira, M. Bharathi, A. Nandhakumar, K. Sathishkumar, K. Shanmuga Bharathi, J. Coord. Chem. 71, 3934 (2018)

U. Russo, B. Zarli, P. Zanonato, M. Vidali, Polyhedron 10, 1353 (1991)

M. Bouhdada, M.E. Amane, B.B. Mohammed, K. Yamni, J. Mol. Struc. 1177, 391 (2019)

J. Zhang, E. Ding, S. Xu, Z. Li, A. Fakhri, V.K. Gupta, Int. J. Biol. Macromol. 164, 1584 (2020)

T.C.P. Dinis, V.M.C. Madeira, M.L.M. Almeida, Arch. BioChem. Biophys. 315, 161 (1994)

M. Yanga, F. Luc, T. Zhouc, J. Zhaod, C. Dinge, A. Fakhrif, V.K. Gupta, J. Photochem. Photobiol. B: Biol. 212, 112025 (2020)

T. Noipa, S. Srijaranai, T. Tuntulani, W. Ngeontae, Food Res. Int. 44, 798 (2011)

I.F.F. Benzie, J.J. Strain, Anal. Biochem. 239, 70 (1996)

M. Jafari, M. Salehi, M. Kubicki, A. Arab, A. Khaleghian, Inorg Chim. Acta 462, 329 (2017)

S.A. Sadeek, S.M. Abd El-Hamid, A.A. Mohamed, W.A. Zordok, H.A. El-Sayed, Appl. Organometal Chem. 33, e4889 (2019)

S. Bandyopadhyay, G.N. Mukherjee, M.G.B. Drew, Inorg. Chim. Acta 359, 3243 (2006)

M. Aljahdali, A.A. EL-Sherif, Inorg. Chim. Acta 407, 58 (2013)

N.T. Rahmouni, N.H. Bensiradj, S.A. Megatli, S. Djebbar, O.B. Baitich, Spectrochim. Acta A 213, 235 (2019)

R. Lu, W. Gan, B.-H. Wu, Z. Zhang, Y. Guo, H.-F. Wang, J. Phys. Chem. B 109, 14118 (2005)

M. Margoshes, V.A. Fassel, Spectrochim. Acta 7, 14 (1955)

K. Shanmuga Bharathi, S. Sreedaran, R.A. Ayswarya, A. Kalilur Rahiman, K. Rajesh, V. Narayanan, J. Coord. Chem. 62, 600 (2009)

P. Kamatchi, M. Kandaswamy, Polyhedron 17, 1397 (1998)

R.C. Maurya, P. Patel, S. Rajput, Synth. React. Inorg. M. 33, 801 (2003)

C. Krishna, C. Mahapatra, K.C. Dush, J. Inorg. Nucl. Chem. 39, 1253 (1977)

N. Raman, S. Ravichandran, Synth. React. Inorg. M. 35, 439 (2005)

N. Raman, A. Selvan, P. Manisankar, Spectrochim. Acta Part A 76, 161 (2010)

N.H. Kolhe, S.S. Jadhav, Res. Chem. Intermediat. 45, 973 (2019)

M. Maddi Reddy, A.D. Kulkarni, G.B. Bagihalli, S. Malladi, Helv. Chim. Acta 99, 562 (2016)

E. Tas, A. Kilic, M. Durgun, L. Küpecik, I. Yilmaz, S. Arslan, Spectrochim. Acta A 75, 811 (2010)

A.J. Bard, L.R. Izatt, Electrochemical Methods: Fundamentals and Applications (Wiley, New York, 2001).

E. Erdmann, A. Villinger, B. Konig, W.W. Seidel, Photochem. Photobiol. Sci. 17, 1056 (2018)

M.S. Refat, Spectrochim. Acta Part A 105, 326 (2013)

S. Sathiyaraj, K. Sampath, R.J. Butcher, R. Pallepogu, C. Jayabalakrishnan, Eur. J. Med. Chem. 64, 81 (2013)

A.F. Elhusseiny, H.H.A.M. Hassan, H. Hussien, A. El-Dissouky, R.A. Palmer, J.K. Cockcroft, Transit. Met. Chem. 40, 643 (2015)
Acknowledgements
The authors are grateful for the financial support from the University Grants commission, Government of India, New Delhi, India (UGC-BSR, No: F. 30-319/2016).
Additional information
Publisher's Note
Springer Nature remains neutral with regard to jurisdictional claims in published maps and institutional affiliations.
Supplementary Information
Below is the link to the electronic supplementary material.
About this article
Cite this article
Indira, S., Vinoth, G., Bharathi, M. et al. A new class of mixed ligand complexes bearing bisphenol and 1,10-Phenanthroline for antimicrobial and antioxidant activities: synthesis, spectral and electrochemical studies. Res Chem Intermed 47, 3051–3065 (2021). https://doi.org/10.1007/s11164-021-04447-1
Received:

Accepted:

Published:

Issue Date:

DOI: https://doi.org/10.1007/s11164-021-04447-1
Keywords
Bisphenol

Mixed ligand complexes

Magnetic study

Redox behavior

Antimicrobial and antioxidant studies