Abstract
The doping of TiO2 particles with various manganese (Mn) concentrations (0.25–1.0%) were synthesized using simple sol–gel and modified sol–gel technique. The characteristics of synthesized particles were found employing standard analytical techniques such as X-ray diffraction, scanning electron microscopy and UV–Vis spectroscopy. The photocatalytic activity of the synthesized particles was compared by investigating the mineralization of two selected organic pollutants like ketoprofen and chlorothalonil. The photocatalysts which were produced by improved sol–gel technique show the lower value of band gap energy and small size crystallite and, hence, exhibit better photocatalytic activity. The outcomes also designate that the concentration of dopant Mn 0.75% indicated the highest photocatalytic activity than other concentrations of dopant in the mineralization of both the compounds. The mineralization kinetics of both compounds was studied under various situations like reaction pH and catalyst dosage. The mineralization rates were highly affected by all the above parameters. An effort has also been performed to highlight the intermediates produced during the photooxidation of both the compounds using the GC–MS analysis method. Both compounds show the production of several intermediates. A possible pathway for the production of different products has been suggested.
Access options
Buy single article
Instant access to the full article PDF.
USD 39.95
Price excludes VAT (USA)
Tax calculation will be finalised during checkout.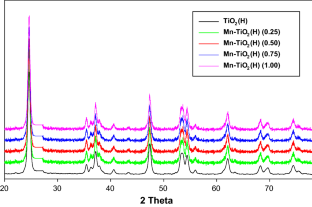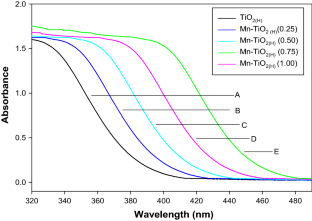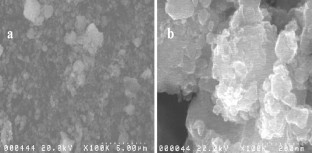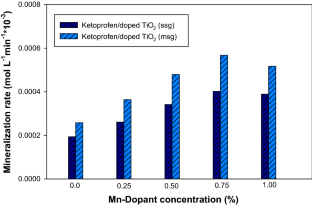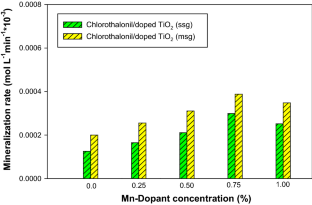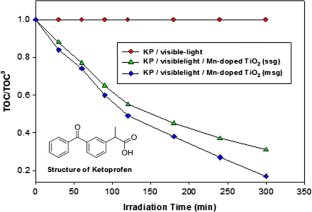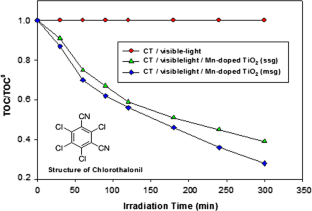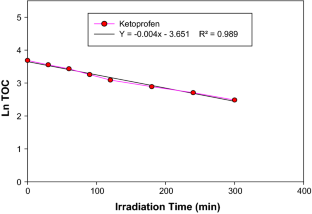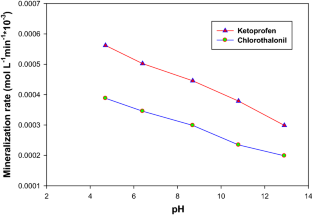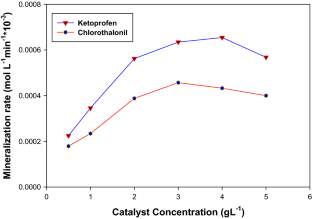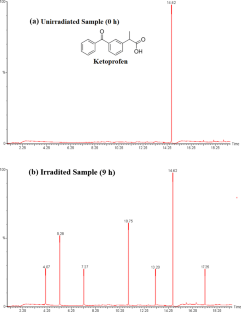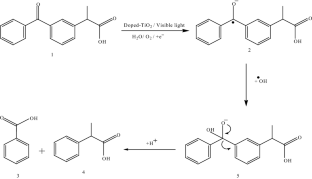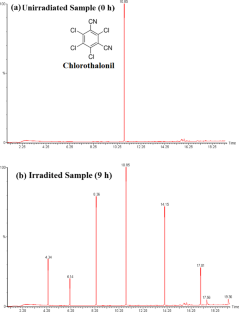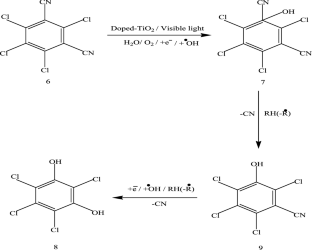 Similar content being viewed by others
References
A. Jakimska, M. Śliwka-Kaszyńska, J. Reszczyńska, J. Namieśnik, A. Kot-Wasik, Anal. Bioanal. Chem. 406, 3667 (2014)

T. Heberer, U. Dunnbier, C. Reilich, H.J. Stan, Fresen. Environ. Bull. 6, 438 (1997)

T. Kosjek, E. Heath, B. Kompare, Anal. Bioanal. Chem. 387, 1379 (2007)

M. Klavarioti, D. Mantzavinos, D. Kassinos, Environ. Int. 35, 402 (2009)

N. Vieno, T. Tunkanen, L. Kronberg, Water Res. 41, 1001 (2007)

F. Mendez-Arriaga, S. Esplugas, J. Gimenez, Water Res. 42, 585 (2008)

P.K. Gupta, Toxicity of Fungicides Veterinary Toxicology (Third Edition) Basic and Clinical Principles, 2018, p. 569

G.A. Peñuelas, D. Barcelo, J. Chromatogr. A 823, 81 (1998)

N. Voulvoulis, M.D. Scrimshaw, J.N. Lester, Chemosphere 38, 3503 (1999)

V.A. Sakkas, D.A. Lambropoulou, T.A. Albanis, Chemosphere 48, 939 (2002)

K. Kummerer, in Pharmaceuticals in the environment, 2nd edn., ed. by K. Kummerer (Springer, Berlin, 2004), p. 3

M. Neumann, R. Schulz, K. Schafer, W. Muller, W. Mannheller, M. Liess, Water Res. 36, 835 (2002)

M.E. DeLorenzo, G.I. Scott, P.E. Ross, Environ. Toxicol. Chem. 20, 84 (2000)

A.C. Affam, M. Chaudhuri, J. Environ. Manag. 130, 160 (2013)

J. Zhou, Y. Zhang, X.S. Zhao, A.K. Ray, Ind. Eng. Chem. Res. 45, 3503 (2006)

K. Umar, A. Aris, T. Parveen, J. Jaafar, Z.A. Majid, A.V.B. Reddy, J. Talib, Appl. Catal. A 505, 507 (2015)

K. Umar, A. Aris, H. Ahmad, T. Parveen, J. Jaafar, Z.A. Majid, A.V.B. Reddy, J. Talib, J. Anal. Sci. Technol. 7, 29 (2016)

S.E.M. Ghahfarokhi, E.M. Shobegar, J. Alloys Compd. 768, 65 (2018)

M. Taheri, H. Abdizadeh, M.R. Golobostanfard, J. Alloys Compd. 725, 291 (2017)

S. Gnanam, V. Rajendran, J. Alloys Compd. 735, 1854 (2018)

N.A. Mir, M.M. Haque, A. Khan, K. Umar, M. Muneer, S. Vijayalakshmi, J. Adv. Oxid. Technol. 15, 252 (2012)

A.A. Dar, K. Umar, N.A. Mir, M.M. Haque, M. Muneer, C. Boxall, Res. Chem. Intermed. 37, 567 (2011)

N.A. Mir, A. Khan, K. Umar, M. Muneer, Energy Environ. 2, 208 (2013)

K. Umar, M.M. Haque, M. Muneer, T. Harada, M. Matsumura, J. Alloys Compd. 578, 431 (2013)

L.G. Devi, N. Murthy, Catal. Lett. 125, 320 (2008)

T. Peng, D. Zhao, H. Song, C. Yan, J. Mol. Catal. A Chem. 238, 119 (2005)

L.G. Devi, N. Kottam, S.G. Kumar, J. Phys. Chem. C 113, 15593 (2009)

L.G. Devi, S.G. Kumar, B.N. Murthy, N. Kottam, Catal. Commun. 10, 794 (2009)

Y.W. Wang, L. Zhang, S. Li, P. Jena, J. Phys. Chem. C 113, 9210 (2009)

V. Stengl, S. Bakardjieva, N. Murafa, Mater. Chem. Phys. 114, 217 (2009)

A.D. Paola, G. Marci, L. Palmisano, M. Schiavello, K. Uosaki, S. Ikeda, B. Ohtani, J. Phys. Chem. B 106, 637 (2002)

J. Augustynski, Structural Bonding (Springer, Berlin, 1988)

G.C. Martinez, J. Lydia, J.C. Sacaiano, Phys. Chem. Chem. Phys. 1, 3533 (1999)

K. Umar, A.A. Dar, M.M. Haque, N.A. Mir, M. Muneer, Desalin. Water Treat. 46, 205 (2012)

K. Umar, M.M. Haque, N.A. Mir, M. Muneer, J. Adv. Oxid. Technol. 16, 252 (2013)
Acknowledgements
The authors gratefully acknowledge the post doctoral financial support (USM/PPSK/FPD(BW) 1/06 (2018) and a research grant (304/PKIMIA/6316174) by School of Chemical Science, Universiti Sains Malaysia.
Additional information
Publisher's Note
Springer Nature remains neutral with regard to jurisdictional claims in published maps and institutional affiliations.
About this article
Cite this article
Umar, K., Ibrahim, M.N.M., Ahmad, A. et al. Synthesis of Mn-doped TiO2 by novel route and photocatalytic mineralization/intermediate studies of organic pollutants. Res Chem Intermed 45, 2927–2945 (2019). https://doi.org/10.1007/s11164-019-03771-x
Received:

Accepted:

Published:

Issue Date:

DOI: https://doi.org/10.1007/s11164-019-03771-x
Keywords