Abstract
Schiff bases such as 2-hydroxy-1-(4-hydroxyphenyl)ethanone (DHAP) and its derivatives have attracted attention because they are useful in design and development of novel organic compounds for potential pharmaceutical applications. In this work, a series of 4-[(1E)-N-(2-aminoethyl)ethanimidoyl]benzene-1,3-diol (4a–h) Schiff bases were synthesized by reaction of ethylenediamine, DHAP, and appropriate aldehyde moieties. The compositions of the prepared compounds were established using elemental analysis and Fourier-transform infrared (FTIR) and ultraviolet–visible (UV–Vis) spectroscopies. The compounds were screened against three Gram-positive and three Gram-negative bacteria, and the results compared with standard drugs ciprofloxacin and amoxicillin. Compounds 4g, 4h were found to have higher activity against Staphylococcus aureus with minimum inhibitory concentration (MIC) value of 2.5 mg/mL, while compounds 4f and 4h inhibited Escherichia coli with MIC values of 2.5 and 5 mg/mL, respectively. The IC50 values of compounds 4a–h for scavenging 2,2-diphenyl-1-picrylhydrazyl (DPPH) radical ranged from 2.63 ± 0.79 to 3.85 ± 0.83 µM with good correlation coefficient of R 2 = 0.957–0.994. In vitro anticancer screening of the compounds showed that compounds 4f, 4h, and parthenolide efficiently affected cell viability of cancer cell line MCF-7 with IC50 values of 4.10 ± 1.32, 4.01 ± 2.26, and 0.44 ± 2.02 µM, respectively.
Access options
Buy single article
Instant access to the full article PDF.
USD 39.95
Price excludes VAT (USA)
Tax calculation will be finalised during checkout.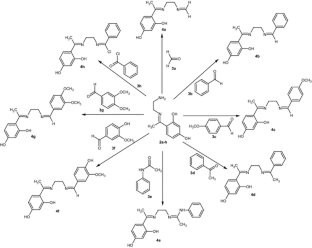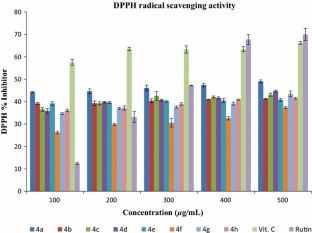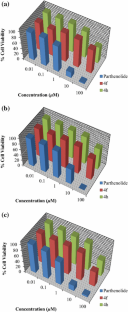 References
A. Kajal, S. Bala, S. Kamboj, N. Sharma, V. Saini, J. Catal. (2013). doi:10.1155/2013/893512

T.P. Yoon, E.N. Jacobsen, Science 299, 1691 (2003)

P.G. Cozzi, Chem. Soc. Rev. 33, 410 (2004)

H. Schiff, Justus Liebigs Annalen der Chemie 131, 118 (1864)

I.P. Ejidike, P.A. Ajibade, Molecules 20, 9788 (2015)

A.O. De Souza, F.C.S. Galetti, C.L. Silva, B. Bicalho, M.M. Parma, S.F. Fonseca, Quim. Nova 30, 1563 (2007)

Z. Guo, R. Xing, S. Liu, Z. Zhong, X. Ji, L. Wang, Carbohydr. Res. 342, 1329 (2007)

I. Kostova, L. Saso, Curr. Med. Chem. 20, 4609 (2013)

D.N. Dhar, C.L. Taploo, J. Sci. Ind. Res. 41, 501 (1982)

C.M. Da Silva, D.L. Da Silva, L.V. Modolo, R.B. Alves, M.A. De Resende, C.V.B. Martins, A. de Fatima, J. Adv. Res. 2, 1 (2011)

P. Przybylski, A. Huczynski, K. Pyta, B. Brzezinski, F. Bartl, Curr. Org. Chem. 13, 124 (2009)

B. Halliwell, J.M.C. Gutteridge, Free Radicals in Biology and Medicine, 3rd edn. (Oxford University Press, New York, 1999)

P. Arulpriya, P. Lalitha, S. Hemalatha, Merr Der Chemica Sinica 1, 73 (2010)

G. Poli, G. Leonarduzzi, F. Biasi, E. Chiarpotto, Curr. Med. Chem. 11, 1163 (2004)

A.K. Saxena, P. Raj, S.K. Dixit, Synth. React. Inorg. Met. Org. Chem. 20, 199 (1990)

R.A. Siddiqui, P. Raj, A.K. Saxena, S.K. Dixit, Synth. React. Inorg. Met. Org. Chem. 26, 1189 (1996)

S.O. Oyedemi, A.J. Afolayan, Asian Pac. J. Trop. Med. 4, 952 (2011)

NCCLS/CLSI—National Committee for Clinical Laboratory Standards. Methods for dilution antimicrobial susceptibility tests for bacteria that grow aerobically. Approved standard document (2004), M7-A6

I.P. Ejidike, P.A. Ajibade, Bioinorg. Chem. Appl. (2015). doi:10.1155/2015/890734

P. Skehan, Assays of cell growth and cytotoxicity, in Cell Growth and Apoptosis. A Practical Approach, ed. by G.P. Studzinski (Oxford University Press, Oxford, UK, 1995), pp. 169–191

K.I. Ansari, I. Hussain, H.K. Das, S.S. Mandal, FEBS J. 276, 3299 (2009)

G. Venkatachalam, R. Ramesh, Spectrochim. Acta, Part A 61, 2081 (2005)

R. Kaushal, S. Thakur, Chem. Eng. Trans. 32, 1801 (2013)

V.A. Shelke, S.M. Jadhav, V.R. Patharkar, S.G. Shankarwar, A.S. Munde, T.K. Chondhekar, Arabian J. Chem. 5, 501 (2012)

K. Mounika, B. Anupama, J. Pragathi, C. Gyanakumari, J. Sci. Res. 2, 513 (2010)

D. Arish, M.S. Nair, J. Coord. Chem. 63, 1619 (2010)

A. Braca, C. Sortino, M. Politi, I. Morelli, J. Mendez, J. Ethnopharm. 79, 379 (2002)

C.P. Pandhurnekar, E.M. Meshram, H.N. Chopde, R.J. Batra, Org. Chem. Int. (2013). doi:10.1155/2013/582079

V.T. Aparadh, V.V. Naik, B.A. Karadge, Ann. Bot. (Roma) 2, 49 (2012)

J.-W. Liu, M.-X. Cai, Y. Xin, Q.-S. Wu, J. Ma, P. Yang, H.-Y. Xie, D.-S. Huang, J. Exp. Clin. Cancer Res. 29, 1 (2010)

A. Ghantous, M. Saikali, T. Rau, H. Gali-Muhtasib, R. Schneider-Stock, N. Darwiche, Cancer Prev. Res. 5, 1298 (2012)

K.I. Ansari, S. Kasiri, J.D. Grant, S.S. Mandal, J. Biomol. Screen. 16, 26 (2011)
Acknowledgments
The authors would like to extend their sincere appreciation to NRF-Sasol Inzalo Foundation for funding this research.
Ethics declarations
Conflict of interest
The authors declare that they have no conflict of interest.
About this article
Cite this article
Ejidike, I.P., Ajibade, P.A. Synthesis and in vitro anticancer, antibacterial, and antioxidant studies of unsymmetrical Schiff base derivatives of 4-[(1E)-N-(2-aminoethyl)ethanimidoyl]benzene-1,3-diol. Res Chem Intermed 42, 6543–6555 (2016). https://doi.org/10.1007/s11164-016-2479-x
Received:

Accepted:

Published:

Issue Date:

DOI: https://doi.org/10.1007/s11164-016-2479-x
Keywords
DHAP

Antioxidant

Schiff base ligands

Antibacterial

Anticancer