Abstract
A clean, efficient and eco-friendly procedure has been developed using nano-copper chromite (nano-CuCr2O4) as catalyst for the synthesis of biscoumarin and dihydropyrano[c]chromene derivatives. This method provides several advantages such as mild reaction conditions, simple work-up procedure and is environment friendly. In addition, water is chosen as a green solvent.
Access options
Buy single article
Instant access to the full article PDF.
USD 39.95
Price excludes VAT (USA)
Tax calculation will be finalised during checkout.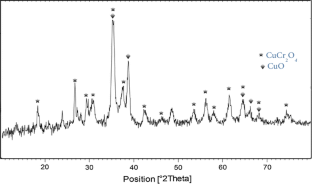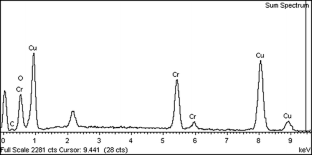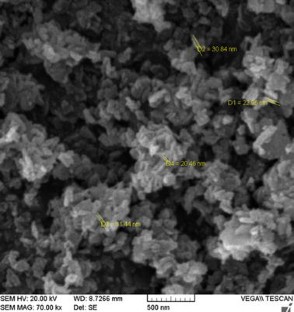 References
I. Kostava, I. Manolov, I. Nicolova, S. Konstantonov, M. Karaivanova, Eur. J. Med. Chem. 36, 339 (2001)

Z.H. Chohan, A.U. Shaikh, A. Rauf, C.T.J. Supuran, Enzym. Inhib. Med. Chem. 21, 741 (2006)

G.R. Green, J.M. Evans, A.K. Vong, A. in Comprehensive Heterocyclic Chemistry II, vol. 5, ed. By A.R. Katritzky, C.W. Rees, E.F.V. Scriven (Pergamon, Oxford, 1995), p. 469

L. Bonsignore, G. Loy, D. Secci, A. Calignano, Eur. J. Med. Chem. 28, 517 (1993)

K.M. Khan, S. Iqbal, M.A. Lodhi, G.M. Maharvi, Z. Ullah, M.I. Choudhary, A. Rahman, S. Perveen, Bioorg. Med. Chem. 12, 1963 (2004)

S. Abdolmohammadi, S. Balalaie, Tetrahedron Lett. 48, 3299 (2007)

M.M. Heravi, B.A. Jani, F. Derikvand, F.F. Bamoharram, H.A. Oskooie, Catal. Commun. 10, 272 (2008)

H. Mehrabi, H. Abusaidi, J. Iran. Chem. Soc. 7, 890 (2010)

H.R. Shaterian, M. Honarmand, Synth. Commun. 41, 3573 (2011)

G.M. Ziarani, A. Badiei, M. Azizi, P. Zarabadi, Iran. J. Chem. Eng. 30, 59 (2011)

N. Hazeri, M.T. Maghsoodlou, F. Mir, M. Kangani, H. Saravani, E. Molashahi, Chin. J. Catal. 35, 391 (2014)

M.E. Sedaghat, M.R. Booshehri, M.R. Nazarifar, F. Farhadi, Appl. Clay Sci. 95, 55 (2014)

M. Esmaeilpour, J. Javidi, F. Dehghani, F.N. Dodeji, RSC Adv. 5, 26625 (2015)

H. Kiyani, F. Ghorbani, Res. Chem. Intermed. 41, 4031 (2015)

G.-X. Gong, J.-F. Zhou, L.-T. An, X.-L. Duan, S.-J. Ji, Synth. Commun. 39, 497 (2009)

K. Tabatabaeian, H. Heidari, A. Khorshidi, M. Mamaghani, N.O. Mahmoodi, J. Serbian Chem. Soc. 76, 1 (2011)

N. Tavakoli-Hoseini, M.M. Heravi, F.F. Bamoharram, A. Davoodnia, M. Ghassemzadeh, J. Mol. Liq. 163, 122 (2011)

J.M. Khurana, S. Kumar, Monatsh. Chem. 141, 561 (2010)

R. Rezaei, M.R. Sheikhi, Res. Chem. Intermed. 41, 1283 (2015)

M.-O. Simon, C.-J. Li, Chem. Soc. Rev. 41, 1415 (2012)

A. Rahmati, N. Pashmforoush, J. Iran. Chem. Soc. 12, 993 (2015)

G. Fortunato, H.R. Oswald, A. Reller, J. Mater. Chem. 11, 905 (2001)

S.S. Acharyya, S. Ghosh, R. Bal, Chem. Commun. 50, 13311 (2014)

S.S. Acharyya, S. Ghosh, R. Bal, A.C.S. Appl, Mater. Interfaces 6, 14451 (2014)

J. Safaei-Ghomi, B. Khojastehbakht-Koopaei, S. Zahedi, Chem. Heterocycl. Compd. 51, 34 (2015)

Z. Karimi-Jaberi, A. Jaafarizadeh, Res. Chem. Intermed. 41, 4913 (2015)

Z. Karimi-Jaberi, B. Pooladian, Synth. Commun. 43, 1188 (2013)

Z. Karimi-Jaberi, M.R. Nazarifar, B. Pooladian, Chin. Chem. Lett. 23, 781 (2012)

M. Edrissi, S.A. Hosseini, M. Soleymani, Micro Nano Lett. 6, 836 (2011)
About this article
Cite this article
Karimi-Jaberi, Z., Moaddeli, M.S., Setoodehkhah, M. et al. Nano-copper chromite (nano-CuCr2O4): a novel and efficient catalyst for the synthesis of biscoumarin and pyrano[c]chromene derivatives in water at room temperature. Res Chem Intermed 42, 4641–4650 (2016). https://doi.org/10.1007/s11164-015-2305-x
Received:

Accepted:

Published:

Issue Date:

DOI: https://doi.org/10.1007/s11164-015-2305-x
Keywords