Removal of methylene blue by silver nanoparticles loaded on activated carbon by an ultrasound-assisted device: optimization by experimental design methodology
Abstract
Ultrasonic waves superimposed with Ag nanoparticles festooned on AC was used as a new economical and green methodological adsorbent for the efficient removal of noxious methylene blue (MB) from the solvent phase. The developed adsorbent was characterized using various analytical techniques namely SEM, XRD, and BET. The impact of influential variables such as pH, sonication time, temperature, initial dye concentration, and adsorbent dosage on MB removal and adsorption were well investigated and optimized using central composite design. Additionally, the optimized operating conditions were obtained through the desirability function superimposed with response surface methodology. It was observed that the very low amount of the adsorbent dose (0.015 g) is applicable for successful removal of MB (RE >95 %) in a very short span of time (4.0 min) with maximum adsorption capacity (75.2 mg g−1). The modeling of the adsorption process is carried out using MLR and RF models. The optimal tuning parameters for the RF model were achieved based on n tree = 100, m try = 2. For the testing data set, the MSE values of 0.0013, the correlation coefficient (R 2) values for RF and MLR model, are 0.9783 and 0.7573 respectively.
Graphical Abstract
Pictorial presentation of surface, response and absorbance behavior of MB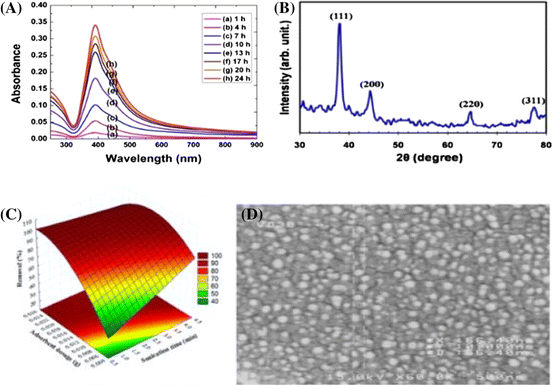 Keywords
Adsorption 
Experimental design 
Ag–NP–AC 
Methylene blue 
Noxious dyes 
Notes
Acknowledgments
The authors express their appreciation to the Graduate School and Research Council of the University of Yasouj for financial support of this work.
Copyright information
© Springer Science+Business Media Dordrecht 2015