Abstract
Essential oils proved their efficiency as natural insecticides to fight many pests of stored products and crops whereas the hydrosols have not been evaluated yet. The objective of this work is to assess the insecticidal effect of hydrosols extracted from Mentha suaveolens Ehrh. and Mentha pulegium L. toward an insect pest of citrus, Toxoptera aurantii (Homoptera, Aphididae). The extraction of hydrosols was carried out by hydro-distillation using Clevenger apparatus and then the chemical composition was identified by gas chromatography coupled with mass spectrometry. The chemical composition of two hydrosols revealed the abundance of hydrophilic and oxygenated compounds as piperitenone oxide and carvacrol. Different concentrations of each hydrosol were separately diluted in distilled water and applied topically to aphids. The results of this investigation have shown a high insecticidal effect, and the M. suaveolens hydrosol is more effective against citrus pests than that of M. pulegium L. Consequently, these natural compounds can be used in the management of aphids on citrus.
Access options
Buy single article
Instant access to the full article PDF.
USD 39.95
Price excludes VAT (USA)
Tax calculation will be finalised during checkout.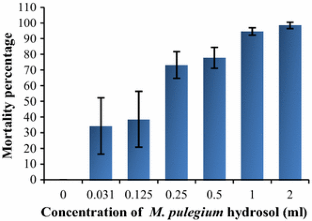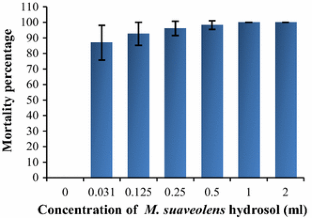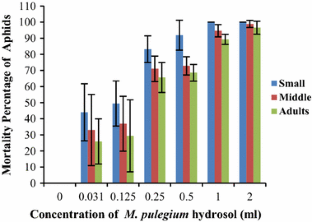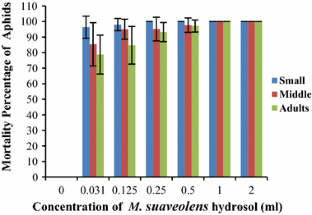 References
S.M. Schorr, Bioresonance and phytotherapeutic hydrosols in healing. Bioponic Phytoceuticals. 1–20 (2004)

L. Bosson, G. Dietz, L'hydrolathérapie: Thérapie des eaux florales. Coll. Douce Alternative, ed by Amyris Bruxelles (2005), pp. 3–20

S. Catty, Hydrosols. The Next Aromatherapy (Healing Arts Press, Rochester, 2001)

M. Piochon, Étude des huiles essentielles d'espèces végétales de la flore laurentienne: composition chimique, activités pharmacologiques et hémi-synthèse. Thesis, University of Québec (2008)

J. Dyer, S. Ashley, C. Shaw, A study to look at the effects of a hydrolat spray on hot flushes in women being treated for breast cancer. Complement Ther Clin Pract 14, 273–279 (2008)

J. Paolini, C. Learndri, J.M. Desjobert, T. Barboni, J. Costa, Comparison of liquid–liquid extraction with headspace methods for the characterization of volatile fractions of commercial hydrolates from typically Mediterranean species. J. Chromatogr. A 1193, 37–49 (2008)

M.N. Boukhatem, M.S. Hamaidi, F. Saidi, Y. Hakim, K. Benomier, Extraction Composition et valorisation de l'eau aromatique de géranium rosat (Pelargonium graveolens) dans la dermopharmacie. Revue «Nature et Technologie». N° 02/Janvier (2010), 59–64

L. Lagunez Rivera, G. Vilarem, R. Sssolano Gomez, M. Jimenez Estrada, J.A. Vazquez Feijoo, Water soluble fractions of caraway (Carumcarvi L.) essential oil. Boletín Latinoamericano y del Caribe de Plantas Medicinalesy Aromáticas 9(6), 495–500 (2010)

S. Sutour, P. Bradesi, J. Casanova, F. Tomi, Composition and chemical variability of M. suaveolens ssp. suaveolens and M. suaveolens ssp. Insularis from Corsica. Chem. Biodivers. 7, 1002–1008 (2010)

S. VermaRam, C. Rajendra, C. Padalia, A. Chauhan, Analysis of the hydrosol Aroma of Indian Oregano. Med Aromatic Plants 1(7), 1–3 (2012)

F.X. Garneau, G. Collin, H. Gagnon, Am. J. Essent. Oils Nat. Prod. 2(1), 29–35 (2014)

N. Zekri, S. Amalich, M. Alaoui El Belghiti, T. Zair, Phytochemical screening and chemical composition of essential oils and hydrosols of Mentha species from Morocco. Adv. Environ. Biol. 8(17), 10–18 (2014)

B.R. Rao Rajeswara, P.N. Kaul, K.V. Syamasundar, S. Ramesh, Water soluble fractions of rose-scented geranium (Pelargonium species) essential oil. Bioresour. Technol. 84, 243–246 (2002)

F. Tornuk, H. Cankurt, O. Ozturk, O. Sagdic, O. Bayram, H. Yetim, Efficacy of various plant hydrosols as natural food sanitizers in reducing Escherichia coli O157:H7 and Salmonella Typhimurium on fresh cut carrots and apples. Int. J. Food Microbiol. 148, 30–35 (2011)

O. Sağdiç, M. Özcan, Antibacterial activity of Turkish spice hydrosols. Food Control 14, 141–143 (2003)

J. Hussein, T. Chalachew, M. Jemal, Assessment of the antimicrobial effects of some ethiopian aromatic spice and herb hydrosols. Int. J. Pharmacol. 6(5), 635–640 (2011)

T. Moon, J.M. Wilkinson, H.M.A. Cavanagh. Int. J. Aromather. 16(1), 9–14 (2006)

N. Boyraz, M. Özcan, Antifungal effect of some spice hydrosols. Fitoterapia 76, 661–665 (2005)

S. Inouye, M. Takahashi, S. Abe, Inhibitory activity of hydrosols, herbal teas and related essential oils against filament formation and the growth of Candida albicans. Jpn. J. Med. Mycol. 50, 243–251 (2009)

G. Adinayarana, G. Rahul, S. Kiran Ravi, K.V. Syamsundar, B.R. Rajeswara Rao, Evaluation of antimicrobial potential of field distilled and water-soluble essential oils of Cymbopogon flexuosus. J. Pharmacogn. 3(2), 142–146 (2012)

B. Wojcik-stopczynska, P. Jakoweinko, The estimation of antifungal activity of essential oil and hydrosol obtained from wrinkled-leaf mint (Mentha crispa L.). Herbapolonica, 58(1), 6–15 (2012)

S. Aazza, B. Lyoussi, M.G. Miguel, Antioxidant activity of eight hydrosols from Morocco. Asian J. Plants Sci. 11(3), 137–142 (2012)

C. Berger, Lutter contre les pucerons (2011). http://www.plantesdusud.com

E. Kováts, Gas chromatographic characterization of organic substances in the retention index system. Adv. Chromatogr. 1, 229–247 (1965)

R.P. Adams, Identification of Essential Oils Components by Gas Chromatography/Quadrupole Mass Spectroscopy (Allured, Carol Stream, 2007)

N. Zekri, H. Sabri, S. Khannouchi, M. Alaoui El Belghiti, T. Zair, Phytochemical study and fumigant toxicity of Mentha suaveolens Ehrh. essential oil from Morocco against adults of S. oryzae (L.). Aust. J. Basic Appl. Sci. 7(14), 599–606 (2014)

N. Zekri, S. Amalich, A. Boughdad, M. Alaoui El Belghiti, T. Zair, Phytochemical study and insecticidal activity of Mentha pulegium L. oils from Morocco against Sitophilus oryzae (L.). Mediterr. J. Chem. 2(4), 607–619 (2013)

Z. BouchikhiTani, M. Bendahou, M.A. Khelil, Lutte contre la Bruche Acanthoscelides Obtectus et la mite Tineola Bisselliella par les huiles essentielles extraites de deux plantes aromatiques d'Algérie. Leban. Sci. J. 11(1), 55–68 (2010)

L. Lagunez Rivera, G. Vilarem, R. Solano Gomez, M. Jimenez Estrada, J.A. Vazquez Feijoo, Water soluble fractions of caraway (Carum carvi L.) essential oil. Boletín Latinoamericano y del Caribe de Plantas Medicinales y Aromáticas 9(6), 495–500 (2010)

A. Fleisher, Water-soluble fractions of the essential oils. Perfum. Flavor 16, 37–41 (1991)

J. Rose, 375 Essential Oils And Hydrosols (Frog edition, New York, 1999), pp. 83–85

S.A. Abdelgaleil, M.I. Mohamed, M.E. Badawy, S.A. El-Arami, Fumigant and contact toxicities of monoterpenes to Sitophilus oryzae (L.) and Tribolium castaneum (Herbst) and their inhibitory effects on acetylcholinesterase activity. J. Chem. Ecol. 35, 518–525 (2009)

Y.-J. Ahn, S.-B. Lee, H.-S. Lee, G.-H. Kim, Insecticidal and acaricidal activity of carvacrol and β-thujaplicine derived from Thujopsis dolabrata var hondai Sawdust. J. Chem. Ecol. 24(1), 81–90 (1998)

A.K. Tripathi, V. Prajapati, A. Ahmad, K.K. Aggarwal, S.P.S. Khanuja, Piperitenone oxide as toxic, repellent, and reproduction retardant toward malarial vector Anopheles stephensi (Diptera: Anophelinae). J. Med. Entomol. 41, 691–698 (2004)

M.I.E. Mohamed, A.M.S. Abdelgaleil, Chemical composition and insecticidal potential of essential oils from Egyptian plants against Sitophilus oryzae (L.) (Coleoptera: Curculionidae) and Tribolium castaneum (Herbst) (Coleoptera: Tenebrionidae). Appl. Entomol. Zool. 43(4), 599–607 (2008)

G. Koliopoulos, D. Pitarokili, E. Kioulos, A. Michaelakis, O. Tzakou, Chemical composition and larvicidal evaluation of Mentha, Salvia, and Melissa essential oils against the West Nile virus mosquito Culexpipiens. Parasitol. Res. 107, 327–335 (2010)

M. Szczepanik, B. Zawitowska, A. Szumny, Insecticidal activities of Thymus vulgaris essential oil and its components (thymol and carvacrol) against larvae of lesser meal worm, Alphitobius diaperinus Panzer (Coleoptera: Tenebrionidae). Allelopathy J 30(1), 129–142 (2012)

A. Boughdad, R. El Kasimi, M. Kharchafi, Activité insecticide des huiles essentielles de Mentha sur Callosobrochus maculatus (F) (Coleoptera, Bruchidae). AFPP – Neuvième Conférence Internationale sur les ravageurs en Agriculture. Montpellier 26 et 27 Octobre (2011)

N. Benayad, Les huiles essentielles extraites des plantes médicinales marocaines: Moyen efficace de lutte contre les ravageurs des denrées alimentaires stockées. Report. Univ of Rabat, Morocco, (2008)

A.F. N'domo, A.L. Tapondjou, F. Tendonkeng, F.M. Tchouanguep, Evaluation des propriétés insecticides des feuilles de Callistemon viminalis (Myrtaceae) contre les adultes d'Acanthoscelides obtectus(Say) (Coleoptera, Bruchidae). Tropicultura 27(3), 137–143 (2009)

H.T. Prates, J.P. Santos, J.M. Waquil, J.D. Fabris, A.B. Oliveira, J. Foster, Insecticidal activity of monoterpenes against Rhyzoptera dominica (F) and Tribolium Castaneum (H). J. Stored. Pro. Res 34, 243–249 (1998)

G. Franzios, M. Mirotsou, E. Hatziapostolou, J. Kral, G.Z. Scouras, P. Mavragani-Tsipidou, Insecticidal and genotoxic activities of mint essential oils. J. Agric. Food Chem. 45, 2690–2694 (1997)

M. El Arch, B. Satrani, A. Farah, L. Bennani, D. Boriky, M. Fechtal, M. Blaghen, M. Talbi, Composition chimique et activités antimicrobienne et insecticide de l'huile essentielle de Mentha rotundifolia du Maroc. Acta Bot. Gallica 150, 267–274 (2003)

S. Hannin, K. Bourarach, M. Ismaili-Alaoui, B. Benjilali, Activité insecticide de Mentha pulegium vis-à-vis de Rhyzoptera dominica, Sitophilus oryzae et Tribolium castaneum (Actes Editions, Rabat, 1997), pp. 11–315

S. Lee, C.J. Peterson, J.R. Coats, Fumigation toxicity of monoterpenoids to several stored product insects. J. Stored Prod. Res. 39, 349–355 (2003)

P. Kumar, S. Mishra, A. Malik, S. Satya, Insecticidal properties of Mentha species: a review. Ind. Crops Prod. 34, 802–817 (2011)

M.D. López, M.J. Pascual-Villalobos, Mode of inhibition of acetylcholinesterase by monoterpenoids and implications for pest control. Ind. Crops Prod. 31, 284–288 (2010)

D.N. Price, M.S. Berry, Comparison of effects octopamine and insecticidal essential oils on activity in the nerve cord, foregut, and dorsal unpaired median neurons of cockroaches. J. Insect Physiol. 52, 309–319 (2006)
Acknowledgments
We are very indebted to Mr. A. Satrallah, Professor at the Institute of Agronomy and Veterinary Hassan II-Rabat, for his assistance in the accomplishment of this work.
About this article
Cite this article
Zekri, N., Handaq, N., El Caidi, A. et al. Insecticidal effect of Mentha pulegium L. and Mentha suaveolens Ehrh. hydrosols against a pest of citrus, Toxoptera aurantii (Aphididae). Res Chem Intermed 42, 1639–1649 (2016). https://doi.org/10.1007/s11164-015-2108-0
Received:

Accepted:

Published:

Issue Date:

DOI: https://doi.org/10.1007/s11164-015-2108-0
Keywords