Abstract
New derivatives bearing 6,7,8,9-tetrahydro-5H-carbazole moiety functionalized with different side chains and/or heterocycles were synthesized and evaluated for their in vitro antibacterial and antifungal activities. The reaction of the starting acid hydrazide 3 with benzoyl chloride yielded the corresponding compound 4. A series of Schiff's bases 5a–d were synthesized by the treatment of 3 with different aromatic or heterocyclic aldehydes. Furthermore, acid hydrazide 3 was refluxed with various acid anhydrides to give the derivatives 6a–c. Esterification of 3 with ethyl chloroformate produced the corresponding ester analogue 7 which was further reacted with hydrazine hydrate to give the carbonohydrazide derivative 8. Also, new derivatives carrying tetrahydrocarbazol-benzohydrazide core in conjugation with various heterocyclic ring systems: 5-aminopyrazole, thiadiazole oxadiazole, 1,3,4-triazol-2-thione, and triazolo[3,4-b]thiadiazole 9, 10, 13, 14, 15, 16, and 17, respectively, were synthesized. Antimicrobial evaluation exhibited that most of the synthesized compounds produced promising antibacterial and moderate to weak antifungal activities when compared with ciprofloxacin and ketoconazole as standard antibacterial and antifungal drugs. Dual efficient potency was gained by compounds 6a, 6c, and 12. A molecular docking study of some of the compounds was carried out inside the active site of DNA gyrase protein.
Access options
Buy single article
Instant access to the full article PDF.
USD 39.95
Price excludes VAT (USA)
Tax calculation will be finalised during checkout.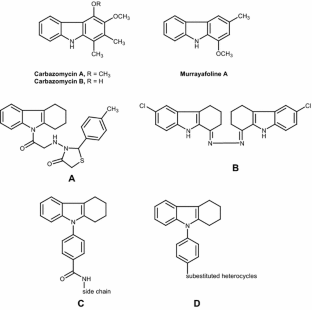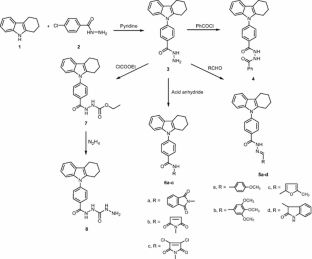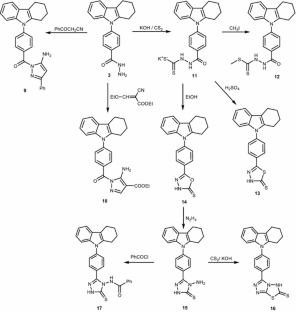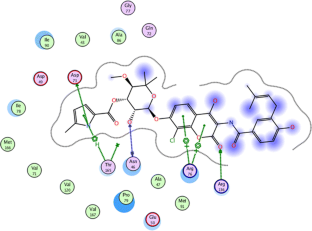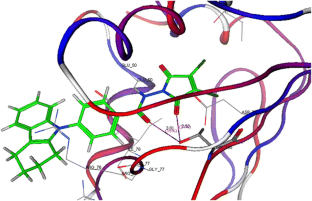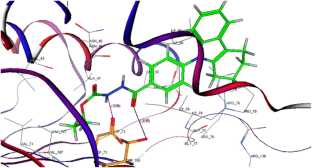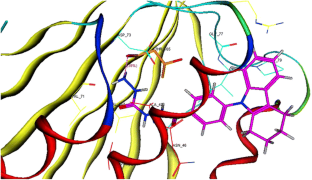 References
G. Zhu, S.E. Conner, X. Zhou, H.-K. Chan, C. Shih, T.A. Engler, R.S. Al-awar, H.B. Brooks, S.A. Watkins, C.D. Spencer, R.M. Schultz, J.A. Dempsey, E.L. Considine, B.R. Patel, C.A. Ogg, V. Vasudevan, M.L. Lytle, Bioorg. Med. Chem. Lett. 14, 3057–3061 (2004)

E. Conchon, F. Anizon, B. Aboab, R.M. Golsteyn, S. Leonce, B. Pfeiffer, M. Prudhomme, Eur. J. Med. Chem. 43, 282–292 (2008)

R. Kumar, U. Ramachandran, K. Srinivasan, P. Ramarao, S. Raichur, R. Chakrabarti, Bioorg. Med. Chem. 13, 4279–4290 (2005)

K. Kaushik, N. Kumar, D. Pathak, Der Pharmacia Sinica 3(4), 470–478 (2012)

B. Chakraborty, S. Chakraborty, C. Saha, Int. J. Microbiol. 8 (2014), Article ID 540208, 10.1155/2014/540208

F.F. Zhang, L.L. Gan, C.H. Zhou, Bioorg. Med. Chem. Lett. 20, 1881–1884 (2010)

P. Rajakumar, K. Sekar, V. Shanmugaiah, N. Mathivanan, Eur. J. Med. Chem. 44, 3040–3045 (2009)

K. Thevissen, A. Marchand, P. Chaltin, E.M. Meert, B.P. Cammue, Curr. Med. Chem. 16, 2205–2211 (2009)

T. Surendiran, Der Pharmacia Sinica 3, 156–159 (2012)

R. Akue-Gedu, E. Rossignol, S. Azzaro, S. Knapp, P. Filippakopoulos, A.N. Bullock, J. Bain, P. Cohen, M. Prudhomme, F. Anizon, P. Moreau, J. Med. Chem. 52, 6369–6381 (2009)

T. Lemster, U. Pindur, G. Lenglet, S. Depauw, C. Dassi, M.H. David-Cordonnier, Eur. J. Med. Chem. 44, 3235–3252 (2009)

H. Kaur, S. Kumar, P. Vishwakarma, M. Sharma, K.K. Saxena, A. Kumar, Eur. J. Med. Chem. 45, 2777–2783 (2010)

S.V.L. Reddy, K. Naresh, C.N. Raju, Der Pharmacia Lettre. 5, 221–231 (2013)

P. Sauerberg, I. Pettersson, L. Jeppesen, P.S. Bury, J.P. Mogensen, K. Wassermann, C.L. Brand, J. Sturis, H.F. Woldike, J. Fleckner, S.T. Andersen, J. Med. Chem. 45, 789–804 (2002)

S. Kantevari, T. Yempala, G. Surineni, B. Sridhar, D. Sriram, Eur. J. Med. Chem. 46, 4827–4833 (2011)

K. Sakano, K. Ishimaru, S. Nakamura, J. Antibiot. 33, 683–689 (1980)

N.M. Cuong, H. Wilhelm, A. Porzel, N. Arnold, L. Wessjohann, Nat. Prod. Res. 22, 1428–1432 (2008)

T. Surendiran, S. Balasubramanian, D. Sivaraj, E J. Chem. 6(S1), S374–S380 (2009)

I.A. Danish, K.R. Prasad, Acta Pharm. 54, 133–142 (2004)

M. Grare, M. Mourer, S. Fontanay, J.B. Regnouf-de-Vains, C. Finance, R.E. Duval, J. Antimicrob. Chemother. 60, 575–581 (2007)

H. Singh, J. Sindhu, J.M. Khurana, C. Sharma, K.R. Aneja, Eur. J. Med. Chem. 77, 145–154 (2014)

P.K. Mukherjee, D.J. Sheehan, C.A. Hitchcock, M.A. Ghannoum, Clin. Microbiol. Rev. 18, 163–194 (2005)

M.A. Pfaller, D.J. Diekema, Clin. Microbiol. Rev. 20, 133–163 (2007)

R.S. Shapiro, N. Robbins, L.E. Cowen, Microbiol. Mol. Biol. Rev. 75, 213–267 (2011)

M.K. Kathiravan, A.B. Salake, A.S. Chothe, P.B. Dudhe, R.P. Watode, M.S. Mukta, S. Gadhwe, Bioorg. Med. Chem. 20, 5678–5698 (2012)

M.D. Altıntop, Z.A. Kaplancıklı, G.A. Çiftçi, R. Demirel, Eur. J. Med. Chem. 74, 264–277 (2014)

N.H. Metwally, F.M. Abdelrazek, M.T. Jaafar, J. Heterocycl. Chem. 52, 358–365 (2015)

E.S. Darwish, A.M. Abdel Fattah, F.A. Attaby, O.N. Al-Shayea, Int. J. Mol. Sci. 15, 1237–1254 (2014)

O. Pintilie, L. Profire, V. Sunel, M. Popa, A. Pui, Molecules 12, 103–113 (2007)

G. Sahin, E. Palaska, M. Ekizoğlu, M. Ozalp, IL Farmaco 57, 539–542 (2002)

Dan Ji, Lu JunRui, Lu BoWei, ChunWei Xin, Mu JiangBei, JianFa Li, ChunYong Peng, XiuRong Bao, Bioorg. Med. Chem. Lett. 23, 1997–2000 (2013)

M.J. Ahsan, V.P.S. Rathod, M. Singh, R. Sharma, S.S. Jadav, S. Yasmin, Salahuddin, P. Kumar, Med. chem. 3, 294–297 (2013)

C. Perez, M. Pauli, P. Bazevque, Acta Biologiae et Medicine Experimentalis 15, 113–115 (1990)

A.C. Scott, Laboratory control of antimicrobial therapy, in Practical medical microbiology, vol. 2, 13th edn., ed. by T.J. Mackie, J.E. McCartne (Churchill Livingstone, Edinburgh, 1989), pp. 161–181. (Edited by Collee J. G., Duguid J. P., Fraser A. G. and Marmion B. P.)

R.A. Friesner, J.L. Banks, R.B. Murphy, T.A. Halgren, J.J. Klicic, D.T. Mainz, M.P. Repasky, E.H. Knoll, M. Shelley, J.K. Perry, D.E. Shaw, P. Francis, P.S. Shenkin, J. Med. Chem. 47, 1739–1749 (2004)

D. Lafitte, V. Lamour, P.O. Tsvetkov, A.A. Makarov, M. Klich, P. Deprez, D. Moras, C. Briand, R. Gilli, Biochemistry 41, 7217–7223 (2002)
About this article
Cite this article
Mohamed, N.A., El-Serwy, W.S., Abd El-Karim, S.S. et al. Synthesis, antimicrobial evaluation, and molecular docking studies of new tetrahydrocarbazole derivatives. Res Chem Intermed 42, 1363–1386 (2016). https://doi.org/10.1007/s11164-015-2090-6
Received:

Accepted:

Published:

Issue Date:

DOI: https://doi.org/10.1007/s11164-015-2090-6
Keywords
Tetrahydrocarbazole

Carbohydrazide

Antimicrobial activity

Molecular docking