Abstract
A simple and practical procedure is described for synthesis of 2-aryl dihydroperimidines. One-pot reaction of 1,8-diaminonaphthalene with a variety of aromatic aldehydes, in the presence of nano-copper Y zeolite as highly efficient catalyst, was performed in ethanol at room temperature. The CuY zeolite nanocatalyst was characterized by scanning electron microscopy (SEM). Novel compounds were characterized by spectroscopic and spectrometric analyses. This environmentally benign and clean synthetic procedure has several advantages, including the availability, safety, and reusability of the catalyst, high yields, short reaction times, and easy and rapid isolation of the product.
Access options
Buy single article
Instant access to the full article PDF.
USD 39.95
Price excludes VAT (USA)
Tax calculation will be finalised during checkout.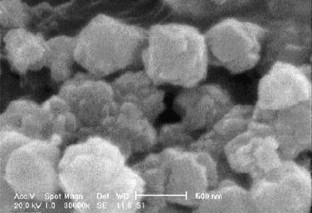 References
K. Undheim, C. Benneche, in Comprehensive Heterocyclic Chemistry II, ed. by A.R. Katritzky, C.W. Rees, E.F. Scriven (Pergamon, Oxford, 1996)

A.F. Pozharskii, V.V. Dalnikovskaya, Russ. Chem. Rev. 50, 816 (1981)

X. Bu, L.W. Deady, G.J. Finlay, B.C. Baguley, W.A. Denny, J. Med. Chem. 44, 2004 (2001)

J.M. Herbert, P.D. Woodgate, W.A. Denny, J. Med. Chem. 30, 2081 (1987)

D.P. Panchasara, S. Pande, E-J. Chem. 6, 591 (2009)

D.R. Luthin, A.K. Rabinovich, D.R. Bhumralkar, K.L. Youngblood, R.A. Bychowski, D.S. Dhanoa, J.M. May, Bioorg. Med. Chem. Lett. 9, 765 (1999)

F.A. Bassyouni, S.M. Abu-Bakr, K.H. Hegab, W. El-Eraky, A.A. El Beih, M.E. Abdel Rehim, Res. Chem. Intermed. 38, 1527 (2012)

V. Paragamian, M.B. Baker, B.M. Puma, J. Reale, J. Heterocycl. Chem. 5, 591 (1968)

A. Shaabani, A. Maleki, Chem. Pharm. Bull. 56, 79 (2008)

J.B. Hendrickson, M.S. Hussoin, J. Org. Chem. 52, 4137 (1987)

J.J. Vanden Eynde, F. Delfosse, A. Mayence, Y.V. Haverbeke, Tetrahedron 51, 5813 (1995)

I. Yavari, H. Mostafavi, D. Tahmassebi, R. Hekmat-Shoar, Monatsh, Chem. 128, 675 (1997)

V.A. Ozeryanskii, E.A. Filatova, V.I. Sorokin, A.F. Pozharskii, Russ. Chem. Bull. 50, 846 (2001)

A. Maquestiau, L. Berte, A. Mayence, L. Vanden Eynd, Synth. Commun. 21, 2171 (1991)

A. Mobinikhaledi, P.J. Steel, Synth. React. Inorg. Met.-Org. Chem. 39, 2009 (133)

S.-L. Zhang, J.-M. Zhang, Chin. J. Chem. 26, 185 (2008)

J. Zhang, S. Zhang, Synth. Commun. 37, 2615 (2007)

M.M. Belmonte, E.C. Escudero-Adán, J. Benet-Buchholz, R.M. Haak, A.W. Kleij, Eur. J. Org. Chem. 2010, 4823 (2010)

A. Mobinikhaledi, H. Moghanian, F. Sasani, Int.J. Green Nanotechnol Phys. Chem. 2, 47 (2010)

O. Maloshitskaya, J. Sinkkonen, V.V. Ovcharenko, K.N. Zelenin, K. Pihlaj, Tetrahedron 60, 6913 (2004)

L.W. Deady, T. Rodemann, J. Heterocycl. Chem. 35, 1417 (1998)

N. Morita, J.I. Dickstein, S.I. Miller, J. Chem. Soc. Perkin Trans. 1, 2103 (1979)

I. Yavari, F. Jahanimoghaddam, F. Adib, H.R. Bijanzadeh, Tetrahedron 58, 6901 (2002)

I.A.S. Smellie, A. Fromm, R.M. Paton, Tetrahedron Lett. 50, 4104 (2009)

A. Mobinikhaledi, N. Foroughifar, N. Basaki, Turk. J. Chem. 33, 555 (2009)

M. Tajbakhsh, M.M. Heravi, B. Mohajerani, A. Ahmadi, J. Mol. Catal. A 247, 213 (2006)

R.A. Sheldon, R.S. Downing, Appl. Catal. A 189, 163 (1999)

L. Bournay, D. Casanave, B. Delfort, G. Hillion, J.A. Chodorge, Catal. Today 106, 190 (2005)

Y.X. Yang, R.K. Singh, P.A. Webley, Adsorption 14, 265 (2008)

G. Centi, L. dall'Olio, S. Perathoner, P. Generali, Ind. Eng. Chem. Res. 39, 131 (2000)

M. Salavati-Niasari, Trans. Met. Chem. 32, 1 (2007)

S. Vijaikumar, T. Subramanian, K. Pitchumani, J. Nanomater. 49, 1818 (2008)

X.-J. Tang, J.-H. Fei, Z.-Y. Hou, X.-M. Zheng, H. Lou, Energy Fuels 22, 2877 (2008)

M. Zendehdel, H. Khanmohamadi, M. Mokhtari, J. Chin. Chem. Soc. 57, 205 (2010)

A. Mobinikhaledi, N. Foroughifar, M.A. Bodaghi-Fard, H. Moghanian, S. Ebrahimi, M. Kalhor, Synth. Commun. 39, 1166 (2009)

M. Kalhor, A. Mobinikhaledi, J. Jamshidi Res, Chem. Intermed. 39, 3127 (2013)

M. Kalhor, N. Khodaparast, M. Zendehdel, Lett. Org. Chem. 10, 573 (2013)

D.W. Breck, N.Y. Tonawanda, Assigned to Union Corbide pat. No 3130007 (1964)

M. Zendehdel, A. Mobinikhaledi, J.F. Hasanvand, J. Incl. Phenom. Macrocycl. Chem. 59, 41 (2007)
About this article
Cite this article
Kalhor, M., Khodaparast, N. Use of nano-CuY zeolite as an efficient and eco-friendly nanocatalyst for facile synthesis of perimidine derivatives. Res Chem Intermed 41, 3235–3242 (2015). https://doi.org/10.1007/s11164-013-1428-1
Received:

Accepted:

Published:

Issue Date:

DOI: https://doi.org/10.1007/s11164-013-1428-1
Keywords
Perimidine

Catalyst

Arylaldehyde

Transition nano-metal zeolite