Abstract
Dyes are complex organic materials which are important causes of environmental contamination. The purpose of this study was evaluation of the adsorption equilibrium and kinetics for bioadsorption of reactive red 198 dye from aqueous solutions by pomegranate seed powder. The effects of amount of adsorbent, initial dye concentration, and retention time were evaluated. Adsorption experiments were conducted under acidic conditions (pH 3). Pomegranate seeds were washed with distilled water, boiled for 2 h, dried in an oven, and milled, and the powder was passed through standard ASTM sieves (40–100 mesh). Experimental results were analyzed by use of the Langmuir and Freundlich isotherm models and the pseudo-first-order and pseudo-second-order kinetic models. According to the results, adsorption capacity (removal efficiency, %) for 0.2 g/100 cm3 adsorbent and initial dye concentrations 25 and 50 mg/l was 10.95 mg/g (87.64 %) and 17.75 mg/g (71 %), respectively. Results showed that increasing the amount of adsorbent and the retention time led to increased efficiency of dye removal, and that increasing the initial dye concentration led to reduced efficiency of dye removal. Maximum adsorption occurred after contact for 30 min. The experimental results were in good agreement with the Freundlich isotherm, and adsorption followed pseudo-second-order kinetics. On the basis of these results, this biosorbent enables effective removal of reactive red 198 dye.
Access options
Buy single article
Instant access to the full article PDF.
USD 39.95
Price excludes VAT (USA)
Tax calculation will be finalised during checkout.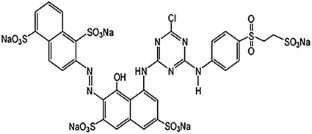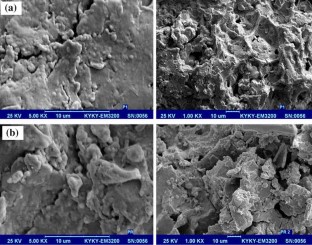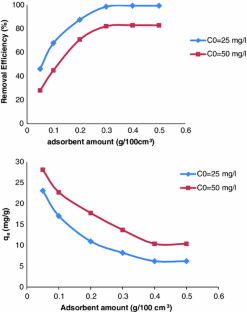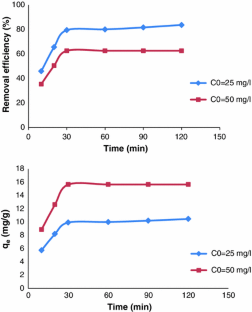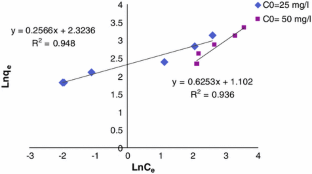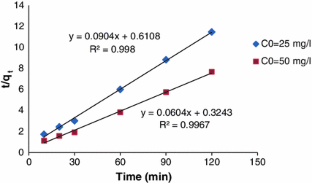 References
J.R. Easton, P. Cooper (ed.), Color in dye house effluent (Society of Dyers and Colourists, The Alden Press, Oxford, 1995)

M.F. Elkady, M. Ibrahim Amal, M.M. Abd El-Latif, Desalination 278(1–3), 412–423 (2011)

K. Kadirvelu, M. Kavipriya, C. Karthika, M. Radhika, N. Vennilamani, S. Pattabhi, Bioresour. Technol. 87(1), 129–132 (2003)

S. Rajeswari, C. Namasivayam, K. Kadirvelu, Waste Manag. 21(1), 105–110 (2001)

N. Dizge, C. Aydiner, E. Demirbas, M. Kobya, S. Kara, J. Hazard. Mater. 150(3), 737–746 (2008)

E.A. Clarke, R. Anliker, Handbook of Environmental Chemistry, part A, vol. 3 (1980), pp. 181–215

J. Sokolowska-Gajda, H.S. Freeman, A. Reife, Dyes Pig. 30(1), 1–20 (1996)

M. Tabatabaee, A. Ghotbifar, A. A.Mozafari, Fresenius Environ. Bull. 21(6), 1468–1473 (2012)

S.H. Lin, C.M. Lin, Water Res. 27(12), 1743–1748 (1993)

R. Ganesh, C.D. Boardman, D. Michelsen, Water Res. 28(6), 1367–1376 (1994)

Y.M. Slokar, A.M. LeMarechal, Dyes Pig. 37(4), 335–356 (1997)

N. Kamal Amin, J. Hazard. Mater. 165(1–3), 52–62 (2009)

B.H. Hameed, D.K. Mahmoud, A.L. Ahmad, J. Hazard. Mater. 158(1), 65–72 (2008)

T.G. Chuah, A. Jumasiah, I. Azni, S. Katayon, Desalination 175(3), 305–316 (2005)

D. Mohan, K.P. Singh, G. Singh, K. Kumar, Ind. Eng. Chem. Res. 41(15), 3688–3695 (2002)

B.H. Hameed, D.K. Mahmoud, A.L. Ahmad, Colloids Surf. A: Physicochem. Eng. Asp. 316(1–3), 78–84 (2008)

J.F. Osma, V. Saravia, J.L. Toca, H. Toca, S. Rodriguez, J. Hazard. Mater. 147(3), 900–905 (2007)

V. Ponnusami, S. Vikram, S.N. Srivastava, J. Hazard. Mater. 152(1), 276–286 (2008)

S.Y. Schubert, E.P. Lansky, I. Neeman, J Ethnopharmacol. 66(1), 11–17 (1999)

S.K. Devatkal, B.M. Naveena, Meat Sci. 85(2), 306–311 (2010)

M.G. Miguel, A. Maria, Neves, D. Maria, Antunes, J. Med. Plant Res. 4(25), 2836–2847 (2010)

S.-L. Wang, Y-Ch. Chen, Y.-H. Yen, T.-W. Liang, Food Chem. 135(3), 1134–1140 (2012)

A. El Nemr, O. Abdelwahab, A. El-Sikaily, A. Khaled, J. Hazard. Mater. 161(1), 102–110 (2009)

M.M. Davila-Jimenez, M.P. Elizalde-Gonzalez, A.A. Pelaez-Cid, Colloids Surf. A: Physicochem. Eng. Asp. 254(1–3), 107–114 (2005)

M.H. Ehrampoush, G.H. Ghanizadeh, M.T. Ghaneian, Iran. J. Environ. Health Sci. Eng. 8(2), 101–108 (2011)

P. Sharma, Kaur R, Baskar CH, Chung WJ. Desalination 259(1–3), 249–257 (2010)

A. Mittal, R. Jain, J. Mittal, M. Shrivastava, Fresenius Environ. Bull. 19(6), 1171–1179 (2010)

B.H. Hameed, R.R. Krishni, S.A. Sata, J. Hazard. Mater. 162(1), 305–311 (2009)

E. Yalçın, K. Çavuşoğlu, Ü. Şengül, Fresenius Environ. Bull. 19(1),108–114 (2010)

M.S. Tanyildizi, Chem. Eng. J. 168(3), 1234–1240 (2011)

G. Wang, Y. Zhou, X. Chai, X. Wang, J. Liu, N. Deng, Fresenius Environ. Bull. 19(5), 811–817 (2010)

J.x. Yu, L.y. Wang, R.a. Chi, Y.f. Zhang, Z.g. Xu, J. Guo, Res. Chem. Intermed. 39(8), 3775–3790 (2012)
About this article
Cite this article
Ghaneian, M.T., Jamshidi, B., Dehvari, M. et al. Pomegranate seed powder as a new biosorbent of reactive red 198 dye from aqueous solutions: adsorption equilibrium and kinetic studies. Res Chem Intermed 41, 3223–3234 (2015). https://doi.org/10.1007/s11164-013-1427-2
Received:

Accepted:

Published:

Issue Date:

DOI: https://doi.org/10.1007/s11164-013-1427-2
Keywords
Reactive red 198 dye

Pomegranate seed powder

Adsorption equilibrium and kinetics

Natural biosorbent