Abstract
Quaternary ammonium cationic surfactants were synthesized from reformate, a liquid mixture of hydrocarbons (aromatics, naphthenes and paraffins), via chloromethylation/quaternization sequences. The petroleum surfactants thus obtained were evaluated as corrosion inhibitors for carbon steel in 1 M HCl, by gravimetry, potentiodynamic polarization and electrochemical impedance spectroscopy. The corrosion inhibiting efficiency was assessed as functions of surfactant concentration. The results showed that the inhibiting efficiency increased with surfactant concentration; its optimal value of 70 % was for a surfactant concentration of 320 mg/L at 25 °C. Potentiodynamic polarization measurements showed that the mixture acts as a mixed type inhibitor. The corrosion inhibiting mechanism is thought to proceed via an adsorption of the surfactant molecules on the steel surface, generating a film and hindering the active sites. Our experimental adsorption data were found to obey the Langmuir adsorption isotherm. SEM images of the treated specimens, revealing the likely formation of a protective film, demonstrated the inhibiting capacity of the petroleum quaternary ammonium surfactants against the carbon steel corrosion.
Access options
Buy single article
Instant access to the full article PDF.
US$ 39.95
Tax calculation will be finalised during checkout.
Subscribe to journal
Immediate online access to all issues from 2019. Subscription will auto renew annually.
US$ 119
Tax calculation will be finalised during checkout.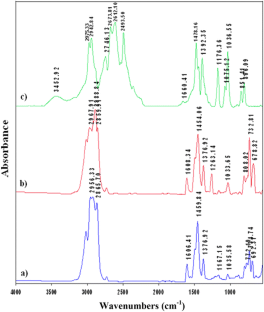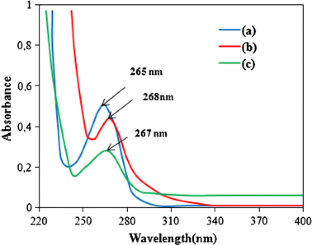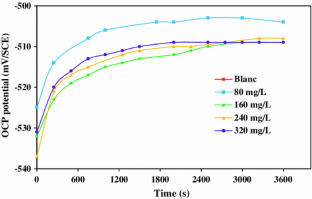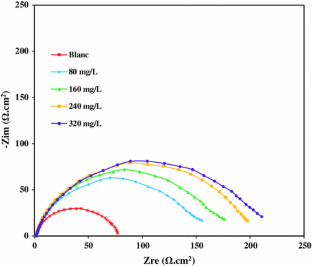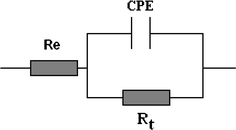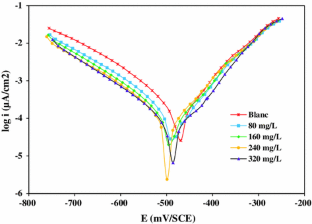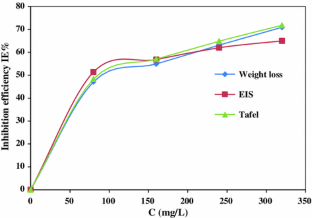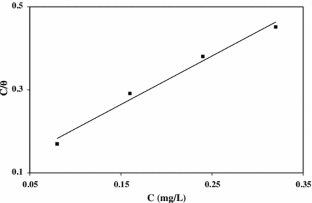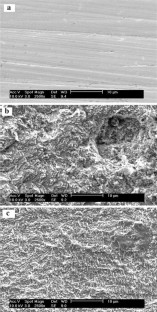 References
1.

M.A. Malik, M.A. Hashim, F. Nabi, S.A. AL-Thabaiti, Z. Khan, Int. J. Electrochem. Sci. 6, 1927–1948 (2011)

2.

R.F.V. Villamil, P. Corio, S.M.L. Agostinho, J.C. Rubim, J. Electroanal. Chem. 472, 112–119 (1999)

3.

S.S. Abd El Rehim, H.H. Hassan, M.A. Amin, Mater. Chem. Phys. 78, 337–348 (2002)

4.

E.E. Foad El-Sherbini, S.M. Abdel Wahaab, M. Deyab, Mater. Chem. Phys. 89, 183–191 (2005)

5.

M.M. Osman, R.A. El-Ghazawy, A.M. Al-Sabagh, Mater. Chem. Phys. 80, 55–62 (2003)

6.

M. Knag, J. Sjöblom, G. Øye, E. Gulbrandsen, Colloids Surf A 250, 269–278 (2004)

7.

X. Li, G. Mu, Appl. Surf. Sci. 252, 1254–1265 (2005)

8.

L.-G. Qiu, A.-J. Xie, Y.-H. Shen, Mater. Chem. Phys. 87, 237–240 (2004)

9.

M.A. Migahed, M. Abd-El-Raouf, A.M. Al-Sabagh, H.M. Abd-El-Bary, Electrochim. Acta 50, 4683–4689 (2005)

10.

L.-G. Qiu, A.-J. Xie, Y.-H. Shen, Mater. Chem. Phys. 91, 269–273 (2005)

11.

G. Mu, X. Li, J. Colloid Interf. Sci. 289, 184–192 (2005)

12.

R. Fuchs-Godec, Colloids Surf. A 280, 130–139 (2006)

13.

E.F. Moura, A.O.W. Neto, T.N.C. Dantas, H.S. Júnior, A. Gurgel, Colloids Surf. A 340, 199–207 (2009)

14.

Q. Zhang, Z. Gao, F. Xu, X. Zou, Colloids Surf. A 380, 191–200 (2011)

15.

S. Rajendran, S.M. Reenkala, N. Anthony, R. Ramaraj, Corros. Sci. 44, 2243–2252 (2002)

16.

Y. Soror, M.A. El-Ziady, Mater. Chem. Phys. 77, 697–703 (2002)

17.

L.-G. Qiu, Y. Wu, Y.-M. Wang, X. Jiang, Corros. Sci. 50, 576–582 (2008)

18.

A. Popova, M. Christov, A. Vasilev, Corros. Sci. 53, 1770–1777 (2011)

19.

A. Khamis, M.M. Saleh, M.I. Awad, Corros. Sci. 66, 343–349 (2013)

20.

A. Popova, M. Christov, A. Vasilev, A. Zwetanova, Corros. Sci. 53, 679–686 (2011)

21.

A.M. Badawi, M.A. Hegazy, A.A. El-Sawy, H.M. Ahmed, W.M. Kamel, Mater. Chem. Phys. 124, 458–465 (2010)

22.

L.G. Qiu, A.J. Xie, Y.H. Shen, Corros. Sci. 47, 273–278 (2005)

23.

N.A. Negm, A.M. Al Sabagh, M.A. Migahed, H.M. Abdel Bary, H.M. El Din, Corros. Sci. 52, 2122–2132 (2010)

24.

Z.H. Zhang, Z. Sen, C.S. Shao, Chin. J. Inorg. Chem. 15, 451 (1999)

25.

L. Niu, H. Zhang, F. Wei, S. Wu, X. Cao, P. Liu, Appl. Surf. Sci. 252, 1634–1642 (2005)

26.

A. El-Shafei, M.N.H. Moussa, A.A. El-Far, Mater. Chem. Phys. 70, 175–180 (2001)

27.

M.A. Hegazy, M. Abdallah, H. Ahmed, Corros. Sci. 52, 2897–2904 (2010)

28.

M.A. Deyab, Corros. Sci. 49, 2315–2328 (2007)

29.

H. Tavakoli, T. Shahrabi, M.G. Hosseini, Mater. Chem. Phys. 109, 281–286 (2008)

30.

R. Fuchs-Godec, Electrochim. Acta 54, 2171–2179 (2009)

31.

L.B. Tang, X.M. Li, G.N. Mu, G.H. Liu, L. Li, H.C. Liu, Y.S. Si, J. Mater. Sci. 41, 3063–3069 (2006)

32.

G.N. Mu, X.M. Li, G.H. Liu, Corros. Sci. 47, 1932–1952 (2005)

33.

X.M. Li, L.B. Tang, Mater. Chem. Phys. 90, 286–297 (2005)

34.

L. Robert, Rev. I.F.P. 7, 55–59 (1952)

35.

L. Robert, ibid 8, 586–590 (1953)

36.

A. Khadraoui, A. Khelifa, Res. Chem. Intermed. (2012). doi:10.1007/s11164-012-0910-5

37.

S. Moulay, Des. Monomers Polym. 14, 179–220 (2011)

38.

S. Moulay, N. Mehdi, Chin. J. Polym. Sci. 24, 1–9 (2006)

39.

V. Neagu, E.C. Avram, G. Lisa, React. Funct. Polym. 70, 88–97 (2010)

40.

B. Gao, X. Zhang, Y. Sheng, Mater. Chem. Phys. 108, 375–381 (2008)

41.

X. Li, S. Deng, H. Fu, Corros. Sci. 52, 2786–2792 (2010)

42.

R. Solmaz, E. Altunbas, G. Kardas, Mater. Chem. Phys. 125, 796–801 (2011)

43.

A. Khadraoui, A. Khelifa, H. Hamitouche, R. Mehdaoui, Res. Chem. Intermed (2013). doi:10.1007/s11164-012-1014-y

44.

H. Mirghasem, F.L. Stijn, M. Mertens, R. Arshadi, Corros. Sci. 45, 1473–1489 (2003)

45.

M.J. Bahrami, S.M.A. Hosseini, P. Pilvar, Corros. Sci. 52, 2793–2803 (2010)
About this article
Cite this article
Hamitouche, H., Khelifa, A., Kouache, A. et al. Study of the inhibiting effect of a quaternary ammonium surfactants mixture synthesized from petroleum fraction (reformate) against the carbon steel corrosion in HCl 1 M. Res Chem Intermed 40, 2859–2872 (2014). https://doi.org/10.1007/s11164-013-1133-0
Received:

Accepted:

Published:

Issue Date:
Keywords
Corrosion inhibition

Carbon steel

Petroleum quaternary ammonium

Cationic surfactants mixture