Abstract
The present study was carried out from January to June 2011 in Al-Manathera General Hospital in Al-Manathera City, Iraq. The study aimed at comparing between bacteriological etiologic agents of otitis media and urinary tract infection (UTI). The study revealed that, from the 130 specimens from outpatients (65 ear swab from patients infected with otitis media and 65 urine specimens from patients infected with UTI), there were 60 bacterial isolates from patients infected with otitis media (36 males, 60 %, and 24 females, 40 %) with five no-growth specimens. Pseudomonas aeruginosa was the most prevalent bacteriological etiologic agent of otitis media (25 isolates, 41.666 %), while from the 65 urine specimens from patients suffering from UTI, there were 65 bacterial isolates (24 males, 36.923 %, and 41 females, 63.077 %). Klebsiella pneumoniae was the most prevalent etiologic agent of UTI (27 isolates, 41.53 %). Nitrofurantoin was active against all the otitis bacterial isolates and the UTI isolates, while Ampicillin and Penicillin were not active against most of bacterial isolates.
Access options
Buy single article
Instant access to the full article PDF.
US$ 39.95
Tax calculation will be finalised during checkout.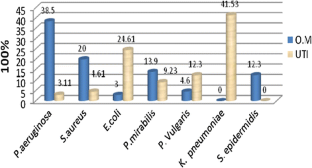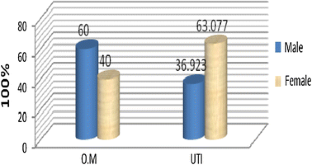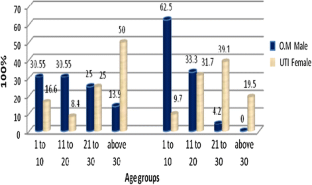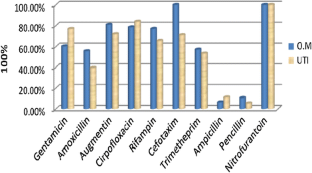 References
1.

Y. Balat, J. Med. Sci. 9, 65–68 (2009)

2.

O. Favour, A. Bmls, I. Aimlta, O. Emmanuel, O. Clement, North Am. J. Med. Sci. 3, 2 (2011)

3.

B. Arroll, Antibiotics for upper respiratory tract infections: an overview of Cochrane reviews. Respir. Med. 99(3), 255–261 (2005)

4.

W.C. Li, N.C. Chiu, C.H.H. SU, K.S. Lee, J. Microbiol. Immunol. Infect. 34, 190–194 (2001)

5.

R. Weiner, P.J. Collison, J. Med. 56, 103–107 (2003)

6.

G. Beyene, W. Tsegaye, Ethiop. J. Health Sci. 21, 2 (2011)

7.

A.M. Abu Setta, A.M. Doma, Egypt. J. Hosp. Med. 31, 211–221 (2008)

8.

G. Giammanco, P. Sarina, J. Med. Microbiol. 41, 389–392 (1994)

9.

K.H. Gathwan, I.H.T. Al-Karkhi, E.A.J. AL-Mulla, Res. Chem. Intermed. (2012). doi:10.1007/s11164-012-0780-x

10.

B.M. Minja, A. Machemba, Int. J. Pediatr. Otorhinolaryngol. 37, 29–34 (1996)

11.

D.S.Y. Ong, M.M. Kuyvenhoven, L. Dijk, T.J.M. Van, J. Antimicrob. Chemother. 62, 587–592 (2008)

12.

M.L. Aich, A.C. Biswas, M. Ahmed, M.A. Joarder, P.G. Datta, M. Alauddin, Bangladesh J. Otorhinolaryngol. 15, 31–34 (2009)

13.

E.A.J. Al-Mulla, N.A.B. Ibrahim, K. Shameli, M.B. Ahmad, W.M.Z.W. Yunus, Res. Chem. Intermed. (2012). doi:10.1007/s11164-012-0687-6

14.

J.F. Mcfadden, Biochemical tests for identification of medical bacteria, 3rd edn. (Lippincott Williams and Wilkins, Philadelphia, 2000)

15.

National Committee for Clinical Laboratory Standards. Approved Standard M2–A5 for antibacterial disc susceptibility test. (Villanova, Philadelphia,1993)

16.

R.M. Perez, Pharm. Biol. 41, 107–157 (2003)

17.

M.M. Yehia, H.M. Habib, N.M. Shehab, J. Laryngol. Otol. 104, 387–389 (1990)

18.

C.A. Egbe, R. Mordi, R. Omoregie, O. Enabulele, Maced. J. Med. Sci. 3, 299–302 (2010)

19.

D. Parry, D. Roland, J. Med. Treat. 11, 12–15 (2002)

20.

C. Nwabuisi, F.E. Ologe, East Afr. Med. J. 79, 202–205 (2002)

21.

A. Al-Mohana, I.K. Al-Yasiri, T.A. Al-Toriahi, J. Ku. Univers. 4, 26 (2006)

22.

C.D. Bluestone, J.S. Stephenson, L.M. Martin, Padiatr. Infect. Dis. J. 11, 11–57 (1992)

23.

N. Noor, M. Ajaz, S. Rasool, Pak. J. Pharm. Sci. 17, 115–123 (2004)

24.

S.M. Seyyednejad, S.N. Maleki, D. Mirzaei, H. Motamedi, Asian J. Biol. Sci. 1, 51–55 (2008)

25.

N. Kathy, M. Shaw, L. Gorelick, N. McGowan, J. Pediatr. 5, 15–19 (1998)

26.

P.J. Jenks, Y.M. Hu, F. Danel, S. Mehtar, D.M. Livermore, J. Antimicrob. Chemother. 35, 235–236 (1995)

27.

S.D. Shafran, J. Otolaryngol. 19, 158–168 (1990)

28.

D.F. Sahm, C. Thornsberry, D.C. Mayfield, M.E. Jones, J.A. Karlowsky, Antimicrob. Agents Chemother. 45, 1402–1406 (2001)

29.

V.M. Hughes, N. Datta, Nature 302, 725–726 (1983)

30.

A.M. Chakrabarty, S.G. Dastidar, M. Ganguli, M. Chattopadhyay, Indian J. Exp. Biol. 28, 58–62 (1990)

31.

V. Webb, J. Davis, Antimicrob. Agents Chemother. 37, 2379–2384 (1993)
About this article
Cite this article
Aljanaby, A.Aj.J., Gafil, F.AA. Effect of different antibiotics on aerobic pathogenic bacteria and urinary tract infection in Al-Manathera City, Iraq: a comparative study. Res Chem Intermed 39, 3679–3687 (2013). https://doi.org/10.1007/s11164-012-0871-8
Received:

Accepted:

Published:

Issue Date:
Keywords
Otitis media

Urinary tract infection

Antibiotics

Al-Manathera City

Iraq