Abstract
In the present work, we compare the catalytic behaviour, in the dry reforming of methane, of Ni-based Silicalite-1 type catalyst obtained by different post-synthesis treatments. The Silicalite-1 type material, used as Ni-support, has been treated in order to observe the role of the silanol groups on the Ni impregnation, and then on the overall catalyst performance. Among the applied treatments (ionic-exchange, calcinations and silylation), the silylation is the one that allows the formation of smaller and more reducible Ni-oxide species that not only improve the methane conversion but also reduce the deactivation of the catalyst, due to the coke deposition.
Access options
Buy single article
Instant access to the full article PDF.
US$ 39.95
Tax calculation will be finalised during checkout.
Subscribe to journal
Immediate online access to all issues from 2019. Subscription will auto renew annually.
US$ 119
Tax calculation will be finalised during checkout.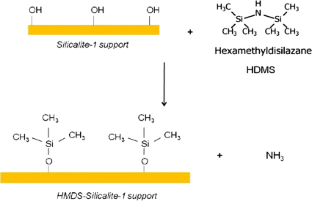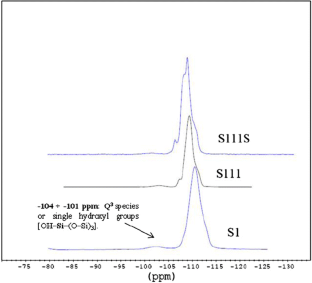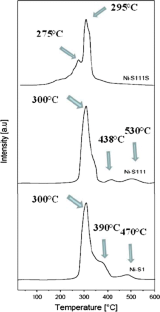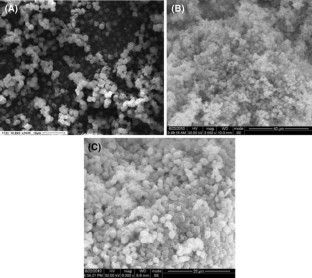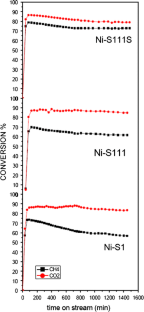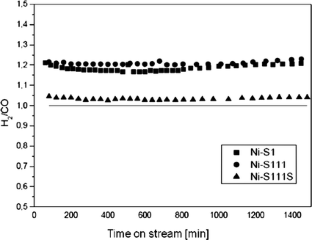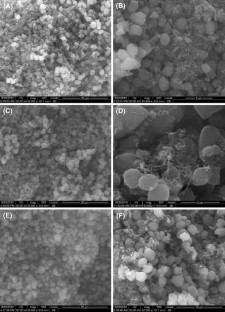 References
1.

V. Choudhary, V.R. Choudhary, Ang. Chem. Int. Ed. 47, 1828 (2008)

2.

J.M. Fox III, Catal. Rev. Sci. Eng. 35, 169 (1993)

3.

J.-R. Rostrup-Nielsen, J.-H. Bak-Hansen, J. Catal. 38, 144 (1993)

4.

A.T. Ashcroft, A.K. Cheetham, M.L.H. Green, P.D.F. Vernon, Nature 452, 225 (1991)

5.

J.R. Rostrup-Nielsen, in Catalysis Science and Technology, vol. 5, ed. by J. Anderson, M. Boudart (Springer, New York, 1984)

6.

J.S. Chang, S.E. Park, H. Chon, Appl. Catal. A 145, 111 (1996)

7.

B. Pavelec, S. Damyanova, K. Arishtirova, J.L. Fierro, L. Petrov, Appl. Catal. A 30, 188 (2007)

8.

J.R. Rostrup-Nielsen, J. Sehested, J.K. Nørskov, Adv. Catal. 47, 65 (2002)

9.

J.R.H. Ross, Catal. Today 100, 151 (2005)

10.

A. Kaengsilalai, A. Luengnaruemitchai, S. Jitkarnka, S. Wongkasemjit, J. Power Sources 165, 347 (2007)

11.

P. Frontera, A. Aloise, A. Macario, P.L. Antonucci, F. Crea, G. Giordano, J.B. Nagy, Top. Catal. 53, 265 (2010)

12.

W. Nimwattanakul, A. Luengnaruemitchai, S. Jitkarnka, Int. J. Hydrogen Energy 31, 93 (2006)

13.

K. Wang, X. Li, S. Ji, S. Sun, D. Ding, C. Li, Stud. Surf. Sci. Catal. 167, 367 (2007)

14.

J.S. Chang, S.E. Park, J.W. Yoo, J.N. Park, J. Catal. 195, 1 (2000)

15.

B. Bonelli, L. Forni, A. Aloise, J.B. Nagy, G. Fornasari, E. Garrone, A. Gedeon, G. Giordano, F. Trifirò, Microp. Mesop. Mater. 101, 153 (2007)

16.

J.A. Montoya, E. Romero-Pascual, C. Gimon, P. Del Angel, A. Monzón, Catal. Today 63, 71 (2000)

17.

D. Halliche, O. Cherifi, Y.B. Taarit, A. Auroux, Kinet. Catal. 49, 667 (2008)

18.

N. Kitamura, H. Hichihashi, I. Tojima, US Patent 5 212 302, 1993

19.

X.S. Zhao, G.Q. Lu, J. Phys. Chem. B 102, 1556 (1998)

20.

J.Z. Luo, L.Z. Gao, C.F. Ng, C.T. Au, Catal. Lett. 62, 153 (1999)

21.

M.C.J. Bradford, M.A. Vannice, Catal. Rev. Sci. Eng. 41, 1 (1999)

22.

H.Y. Wang, C.T. Au, Appl. Catal. A 155, 239 (1997)

23.

S. Haag, M. Burgard, B. Ernst, J. Catal. 252, 190 (2007)

24.

M.C. Demicheli, D. Duprez, J. Barbier, E.N. Ponzi, O.A. Ferretti, J.Catal. 145, 437 (1994)
About this article
Cite this article
Frontera, P., Aloise, A., Macario, A. et al. Zeolite-supported Ni catalyst for methane reforming with carbon dioxide. Res Chem Intermed 37, 267–279 (2011). https://doi.org/10.1007/s11164-011-0249-3
Received:

Accepted:

Published:

Issue Date:
Keywords
CO2/CH4 reforming

Nickel catalyst

Silicalite-1

Coke formation