Abstract
Colleges and universities face pressure to maintain enrollments in a time of demographic shifts in the college-going population and reductions in state funding. One indicator of successfully maintaining enrollments is the percentage of accepted students who matriculate—the enrollment yield. Factors known to contribute to yield include school size, cost, research, and reputation. Of interest in the present study is the import of academic reputation as measured by U. S. News and World Report rankings and social reputation as measured by designation as a 'party school' relative to accomplishments of the school's high-profile athletic teams. I use a 21 year panel to model yield for all institutions competing at the highest level of intercollegiate athletics. The results show that yield rates consistently respond to USNWR rankings, but being named a party school has a more sporadic influence. Athletic success has little effect on a school's enrollment yield. The findings suggest that the signals sent by academic rankings are stronger and better received than the signals sent by social or sports accomplishments.
Access options
Buy single article
Instant access to the full article PDF.
US$ 39.95
Tax calculation will be finalised during checkout.
Subscribe to journal
Immediate online access to all issues from 2019. Subscription will auto renew annually.
US$ 79
Tax calculation will be finalised during checkout.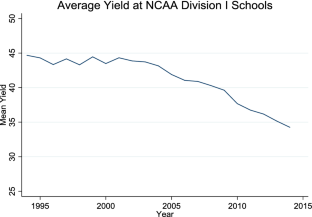 Notes
1.

School size could tap a student-level preference for a certain type of educational experience and not phenomena in the aggregate. Across institutions, larger schools receive more applications, accept more students, and have bigger entering classes. This creates the potential for results to reflect changes in the volume of applications received and in the denominator of the dependent variable—number of students accepted for admission—than effects on the aggregate matriculation decisions of accepted students. The size of the institution provides some control over findings being artifacts of changes in the number of applicants or students an institution accepts. Many of the other independent variables are also known to influence the size of the application pool providing further controls over results being driven primarily by application volume.

2.

The U. S. News and World Report has changed its ranking methodology multiple times since 1990 (Luca and Smith 2013). As a consequence, a school's movement in rank could simply be the result of a different methodology and not real change. However, a school's rank does identify position relative to other institutions regardless of the underlying methodology and that is what is seen by prospective students.

3.

For five of the 21 years of the panel only the top 25 ranked schools were found.

4.

For five out of the first 7 years only the top 10 party schools were found in Internet sources.

5.

Analyzing subgroups leads to insufficient variability in moving into the USNWR top 10, into the party school top 10 or into the AP top 10 rankings among some subgroups. Those variables will be dropped when necessary.
References
Ajzen, I. (1991). The theory of planned behavior. Organizational Management and Human Decision Processes, 50, 179–211.

Alter, M., & Reback, R. (2014). True for your school? How changing reputations alter demand for selective U.S. colleges. Educational and Policy Analysis, 36, 346–370.

Armstrong, E. A., & Hamilton, L. T. (2013). Paying for the Party: How College Maintains Inequality. Cambridge, MA: Harvard University Press.

Avery, C. N., Glickman, M. E., Hoxby, C. M., & Metrick, A. (2013). A revealed preference ranking of U.S. colleges and universities. Quarterly Journal of Economics, 128, 425–467.

Bowman, N. A., & Bastedo, M. N. (2009). Getting on the front page: Organizational reputation, status signals, and the impact of U.S. News and World Report on student decisions. Research in Higher Education, 50, 415–436.

Buss, C., Parker, J., & Rivenburg, J. (2004). Cost, quality, and enrollment demand at liberal arts colleges. Economics of Education Review, 23, 57–65.

Carnegie Foundation for the Advancement of Teaching. (2007). Retrieved February 1, 2007 from http://www.carnegiefoundation.org.

Chressanthis, G. A., & Grimes, P. W. (1993). Intercollegiate sports success and first-year student enrollment demand. Sociology of Sport Journal, 10, 286–300.

Chung, D. J. (2014). The dynamic advertising effect of collegiate athletics. Marketing Science, 32, 679–698.

Clark, B. R., & Trow, M. (1966). The organizational context. In T. M. Newcombe & E. K. Wilson (Eds.), College peer groups: Problems and prospects for research (pp. 17–70). Chicago: Aldeline.

Clotfelter, C. T. (2011). Big-time sports in American universities. Cambridge, MA: Cambridge University Press.

Cox, S. R., & Roden, D. M. (2010). Quality perception and the championship effect: Do collegiate sports influence academic rankings? Research in Higher Education Journal, 6, 1–11.

Curs, B., & Singell, L. D., Jr. (2002). An analysis of the application and enrollment processes for in-state and out-of-state students at a large public university. Economics of Education Review, 21, 111–124.

Dichev, I. (2001). News or noise? Estimating the noise in the U. S. News university rankings. Research in Higher Education, 42, 237–266.

Egan, K., Lozano, J. B., Hurtado, S., & Case, M. H. (2013). The American freshman: National norms fall 2013. Los Angeles: Higher Education Research Institute, UCLA.

Ehrenberg, R. G. (2003). Reaching for the brass ring: The U.S. News & World Report rankings and competition. The Review of Higher Education, 26, 145–162.

Espeland, W. N., & Sauder, M. (2007). Rankings and reactivity: How public measures recreate social worlds. American Journal of Sociology, 113, 1–40.

Espeland, W. N., & Sauder, M. (2009). Rating the rankings. Contexts, 8, 16–21.

Fallows, J. (2001). The early decision racket. The Atlantic, 288, 37–52.

Fisher, B. (2009). Athletic success and institutional rankings. New Directions for Higher Education, 148, 45–53.

Fleisher, A. A., III, Goff, B. L., & Tollison, R. D. (1992). The National Athletic Association: A study in cartel behavior. Chicago: The University of Chicago Press.

Gnolek, S. L., Falciano, V. T., & Kuncl, R. W. (2014). Modeling change and variation in U.S. New & World Report college rankings: What would it really take to be in the Top 20? Research in Higher Education, 55, 761–779.

Goidel, R. K., & Hamilton, J. M. (2006). Strengthening higher education through gridiron success? Public perceptions of the impact of national football championships on academic quality. Social Science Quarterly, 87, 851–862.

Golden, D. (2001). Glass floor: Colleges reject top applicants, accepting only the students likely to enroll, Wall Street Journal, May 29, A1. Retrieved December 30, 2014 from http://online.wsj.com/article/0,,SB991083160294634500,00.html.

Griffith, A., & Rask, K. (2007). The influence of the US News and World Report collegiate rankings on the matriculation decision of high-ability students: 1995–2004. Economics of Education Review, 26, 244–255.

Grigsby, M. (2009). College life through the eyes of students. Albany: SUNY Press.

Hausman, J. A. (1978). Specification tests in econometrics. Econometrica, 46, 1251–1272.

Hossler, D., Braxton, J., & Coopersmith, G. (1989). Understanding student college choice. Higher Education: Handbook of Theory and Research, 5, 231–288.

Jones, W. A. (2009). Athletics, applications, & yields: The relationships between successful college football and institutional attractiveness. College & University, 85, 10–19.

Lifschitz, A., Sauder, M., & Stevens, M. (2014). Football as a status system in U.S. higher education. Sociology of Education, 87, 204–219.

Lindo, J. M., Swensen, I. D., & Waddell, G. R. (2012). Are big-time sports a threat to student achievement? American Economic Journal: Applied Economics, 4, 254–274.

Liu, Y.-H, Albert, R. G., Ehrenberg, G., & Mrdjenovic, J. (2007). Diffusion of common application membership and admissions outcomes at American colleges and universities, Working Paper No, 13175. Cambridge, MA: National Bureau of Economic Research.

Luca, M., & Smith, J. (2013). Salience in quality disclosure: Evidence from the U.S. News college rankings. Journal of Economics & Management Strategy, 22, 58–77.

Marcus, J. (2013). Caught cheating: Colleges falsify admissions data for higher rankings, NBCNews.com. Retrieved February 21 2015 from http://investigations.nbcnews.com/news/2013/03/20/17376664-caught-cheating-colleges-falsify-admissions-data-for-higher-rankings.

McDonough, P. M., Antonio, A. L., Walpole, M., & Pérez, L. X. (1998). College rankings: Democratized college knowledge for whom? Research in Higher Education, 39, 513–537.

Meredith, M. (2004). Why do universities compete in the ratings game? An empirical analysis of the effects of the U.S. News and World Report college rankings. Research in Higher Education, 45, 443–461.

Mixon, F. G., Jr., & Hsing, Y. (1994). The determinants of out-of-state enrollments in higher education: A Tobit analysis. Economics of Education Review, 13, 329–335.

Mixon, F. G., Jr., & Ressler, R. W. (1995). An empirical note on the impact of college athletics on tuition revenues. Applied Economics Letters, 2, 383–387.

Monks, J, & Ehrenberg, R. G. (1999). The impact of U.S. News & World Report college rankings on admissions outcomes and pricing policies at selective private institutions. Working Paper 7227. Cambridge, MA: National Bureau of Economic Research.

Mulholland, S. E., Tomic, A. S., & Sholander, S. N. (2014). The faculty Flutie Factor: Does football performance affect a university's US News and World Report peer assessment score? Economics of Education Review, 43, 79–90.

National Association for College Admission Counseling. (2012). State of college admission 2012 fact sheet. Retrieved from http://www.nacacnet.org/research/KnowledgeCenter/Documents/SOCA%20Fact%20Sheet.pdf. Accessed 17 June 2013.

Niu, S. X., Tienda, M., & Cortes, K. (2006). College selectivity and the Texas top 10% law. Economics of Education Review, 25, 259–272.

Nurnberg, P., Schapiro, M., & Zimmerman, D. (2012). Students choosing colleges: Understanding the matriculation decision at a highly selective private institution. Economics of Education Review, 31, 1–8.

Parker, J., & Summers, J. (1993). Tuition and enrollment yield at selective liberal arts colleges. Economics of Education Review, 12, 311–324.

Perez, S. J. (2012). Does intercollege athletics draw local students to a university? Journal of Sports Economics, 13, 198–206.

Pope, D. G., & Pope, J. C. (2009). The impact of college sports success on the quantity and quality of student applications. Southern Economic Journal, 75, 750–780.

Pope, D. G., & Pope, J. C. (2014). Understanding college application decisions: Why college sports success matters. Journal of Sports Economics, 15, 107–131.

Quiggin, J. (2015) Rank delusions, The Chronicle of Higher Education. February 16, 2015. Retrieved February 27, 2015 from http://chronicle.com/article/Rank-Delusions/189919/.

Rindova, V. P., Williamson, I. O., Petkova, A. P., & Sever, J. M. (2005). Being good or being known: An empirical examination of the dimensions, antecedents, and consequences of organizational reputation. Academy of Management Journal, 48, 1033–1049.

Smith, J. (2013). The effect of college applications on enrollment. The B. E. Journal of Economic Analysis & Policy, 14, 151–188.

Sperber, M. (2001). Beer and circus: How big-time sports is crippling undergraduate education. New York: Henry Holt.

studentPoll. (2013). Influence of Rankings on College Choice. Arts & Science Group LLC. Retrieved February 27, 2015 from http://www.artsci.com/studentpoll/october/index.aspx.

The College Board. (Various years). The college handbook. New York: Author.

Volkwein, J. F., & Sweitzer, K. V. (2006). Institutional prestige and reputation among research universities and liberal arts colleges. Research in Higher Education, 47, 129–148.

Weiss, K. (2013). Party school: Crime, campus, and community. Boston: Northeastern University Press.

White, D. R., Cowan, B. W., & Wooten, J. (2017). March Madness: NCAA tournament participation and college alcohol use. Working Paper 23821, Cambridge, MA: National Bureau of Economic Research.
Appendix A: Alternate Specifications
Appendix A: Alternate Specifications
Different measures of athletic performance or school characteristics can be investigated though at a cost of fewer cases, a shorter panel, or more missing data. Athletic performance can be considered from multi-year perspectives of varying durations. Table 6 shows results when football and basketball measures are constructed over six- and fifteen-year windows. (Note the loss of cases and school years due to the longer time frame for athletic performance.) A six-year window covers the time frame when many students in an entering class begin to consider college and form choice sets and a successful team might put a school on a student's radar. The longer 15-year window is geared more toward a culture of high-level athletic achievement and that too could influence matriculation decisions.
The previous year's USNWR ranking has an impact similar to that found in analyses presented earlier, regardless of sport and how performance is measured. Movement into the upper echelon of those rankings has no impact, nor does rank as a 'party school.' As in Table 3, a new designation as a top 10 party school now is found to increase yield by over 1% among the sample of schools offering football. When considering football records over 6 years neither the harmonic mean of winning percentage, the number of appearances in post-season bowls, the number of times the season ended with an AP top 20 ranking, or the number of times an FCS school played in the tournament are related to yield. As the performance window increases, the individual indicators become much more highly correlated and that collinearity is responsible for the significant, opposite signed, effects seen for the 15-year average winning percentage and number of bowl appearances in 15 years. When each football indicator is run separately, no individual aspect of football 15 year success is related to a school's yield. A similar conclusion is reached when different time frames are used for basketball performance with one exception. Now the harmonic average winning percentage over 15 years is found to increase yield suggesting that a consistently successful basketball program can be a draw for some students. But the overall conclusions—that there is a consistent influence of USNWR ranking and little impact of football or basketball performance—found earlier is confirmed using a longer time frame to measure those performances.
The Integrated Postsecondary Education Data System (IPEDS) offers more direct measures of some school characteristics known to influence matriculation decisions. A measure of the average financial aid award from the institution (in 2004 dollars) comes closer to considering the actual price paid by students. That variable is correlated .90 with the tuition variable used earlier so tuition is not included in the models below. The instructional expenditures per full time equivalent student is a common indicator of a focus on education at a school and as noted by an anonymous reviewer allows for interpreting any effects for USNWR rankings as more likely due to the influence of reputation. IPEDS data for these variables are available from 2000 through the end of the panel and compiled by the Delta Cost Project (www.deltacostproject.org).
IPEDS originally allowed public schools to report financial data by system rather than institution (e.g. all University of Texas schools were grouped with the Texas at Austin campus). While this practice was discontinued after 2003–2004, the Delta Cost Project continued grouping schools to maintain consistency across years. Financial aid and instructional expenditures have been spread to each campus of grouped institutions in the current panel though this is at the expense of more accurate school-based measurement of those variables. With less than desirable measures and an increase in missing data in some years and schools, any results should be considered suggestive at best. (Membership in the Association of American Universities is not used as it is effectively time-invariant over the shorter panel.)
Conclusions reached from using the different school characteristics (Table 7) are similar, though not identical, to those from Table 2. Now some school-level characteristics are related to changes in yield rate while before only tuition had an (negative) effect. As the size of the institution increases, yield declines. State-level unemployment and per capita income reduce yields. In the full models, yield declines as more students receive financial aid. Being in a Power 6 basketball conference continues to be associated with a lower yield. More importantly the majority of the conclusions concerning the ranking and sports performance variables are reproduced: USNWR ranking has a small positive influence on the change in a school's yield while party school reputation does not and few measures of athletic success are related to yield. Movement into the top 10 of the AP football rankings, while having an almost identical coefficient, is now significant at just the .1 level (the standard error has increased). In this shorter panel there is no penalty for participating in the football championship. In the basketball sample we now see a positive effect for participating in the NCAA tournament two seasons earlier, though this can be offset by a decline in yield when the team moves into the top of the AP rankings.
Overall the additional analyses of the Appendix serve to confirm the conclusions reached in the main text about the consistent influence of USNWR rank, the overall lack of influence of party school designation on yield, and only a few consequences for yield rates that are attributable to a school's high-profile athletic teams.
About this article
Cite this article
Randall Smith, D. The Lure of Academic and Social Reputations Versus Athletic Success: Influences on Enrollment Yield at NCAA Division I Institutions. Res High Educ 60, 870–904 (2019). https://doi.org/10.1007/s11162-018-9537-8
Received:

Published:

Issue Date:
Keywords
Enrollment yield

College rankings

Intercollegiate athletics

Enrollment management