Abstract
Learning communities, the co-registration of student cohorts sharing curricular goals, are often associated with greater academic achievement, retention, inclusivity, and engagement. While not all previous studies unequivocally demonstrate a positive learning community effect on performance, many suggest that students participating in learning communities identify a greater sense of community and interaction with their peers and instructors. Few studies, however, have compiled both academic metrics of success as well as multiple quantitative measures of academic engagement. Moreover, few studies have contrasted these metrics to roughly equivalent classes where the only difference was linkage by a learning community, while holding course content, semester, and instructor constant. Our research goal was to compare academic performance, retention, student background, and engagement of students participating in learning communities to those in similar but unlinked sections. We found no significant differences in academic performance, student background, or engagement between linked learning community classes and unlinked, freestanding sections of the same class. We also found student retention was lower in learning community sections compared to unlinked sections. Some of our findings may reflect our student population of a non-residential, commuter campus where building relationships may be more difficult. We suggest that other metrics of success, including those that quantify interdisciplinary knowledge or skills and collaboration, may better reflect gains of success in learning community environments.
Access options
Buy single article
Instant access to the full article PDF.
US$ 39.95
Tax calculation will be finalised during checkout.
Subscribe to journal
Immediate online access to all issues from 2019. Subscription will auto renew annually.
US$ 79
Tax calculation will be finalised during checkout.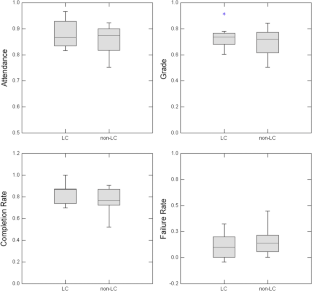 References
Andrade, M. S. (2007). Learning communities: Examining positive outcomes. Journal of College Student Retention, 9(1), 1–20.

Baker, S., & Pomerantz, N. (2001). Impact of learning communities on retention at a metropolitan university. Journal of College Student Retention, 2(2), 115–126.

Beachboard, M. R., Beachboard, J. C., Li, W., & Adkinson, S. R. (2011). Cohorts and relatedness: Self-Determination Theory as an explanation of how learning communities affect educational outcomes. Research in Higher Education, 52(8), 853–874.

Boix-Mansilla, V. (2005). Assessing student work at disciplinary crossroads. Change: The Magazine of Higher Learning, 37(1), 15–21.

Chickering, A. W., & Gamson, Z. F. (1987). Seven principles for good practice in undergraduate education (pp. 3–7). Washington, DC: American Association for Higher Education Bulletin.

Cole, J., & Dong, Y. (2013). Confirmatory factor analysis of the BCSSE Scales. The BCSSE Psychometric Report. http://bcsse.indiana.edu/pdf/BCSSE%20Psychometric%20Report.pdf.

Dodd, P. M. (2002). Assessing the Efficacy of Learning Communities at Four North Texas Community Colleges. PhD Dissertation, University of North Texas, Denton, TX, US.

Dodd, P. M., Allen, J. M., Philibert, N., Elleven, R., & Lewis, M. (2006). Efficacy of learning communities at four North Texas community colleges. Workforce Education Forum, 53(1), 1–12.

Fosnacht, K., & Graham, P. A. (2016). Livin' on a prayer: A quasi-experimental investigation into the efficacy of learning communities. Annual Meeting of the American College Personnel Association, Montreal, QC. http://nsse.indiana.edu/pdf/presentations/2016/ACPA_2016_Fosnacht_Graham_paper.pdf.

Franklin, K. K. (2000). Shared and connected learning in a freshman learning community. Journal of the First-Year Experience, 12(2), 33–60.

Graham, M. J., Frederick, J., Byars-Winston, A., Hunter, A.-B., & Handelsman, J. (2013). Increasing persistence of college students in STEM. Science, 341, 1455–1456.

Henscheid, J. M. (2015). It is time to count learning communities. Learning Communities Research and Practice, 3((2), 9.

Hill, W., & Woodward, L. S. (2013). Examining the impact learning communities have on College of Education students on an urban campus. Journal of College Student Development, 54(6), 643–648.

Hurlbert, S. H. (1984). Pseudoreplication and the design of ecological field experiments. Ecological Monographs, 54(2), 187–211.

Inkelas, K. K., Daver, Z. E., Vogt, K. E., & Leonard, J. B. (2007). Living-learning programs and first-generation college students' academic and social transition to college. Research in Higher Education, 48(4), 403–434.

Inkelas, K. K., Soldner, M., Longerbeam, S. D., & Leonard, J. B. (2008). Differences in student outcomes by types of living-learning programs: The development of an empirical typology. Research in Higher Education, 49(6), 495–512.

Kilgo, C. A., Ezell Sheets, J. K., & Pascarella, E. T. (2015). The link between high-impact practices and student learning: Some longitudinal evidence. Higher Education, 69(4), 509–525.

Kuh, G. D. (2008). High-impact educational practices: What they are, who has access to them, and why they matter. Washington DC, US: Association of American Colleges and Universities.

Lardner, E., & Malnarich, G. (2009). Assessing integrative learning: Insights from Washington Center's National Project on assessing learning in learning communities. Journal of Learning Communities Research, 3(3), 1–20.

Lenning, O. T., & Ebbers, L. H. (1999). The powerful potential of learning communities: Improving education for the future. ASHE-ERIC Higher Education Report, 26(6), 1–173.

MacGregor, J. (1991). What differences do learning communities make? Washington Center News, 6(1), 4–9.

Mundfrom, D. J. (2009). Can we make a silk purse from a sow's ear? In M. C. Shelley, L. D. Yore, & B. B. Hand (Eds.), Quality research in literacy and science education (pp. 427–439). Netherlands: Springer Science.

Mutnick, D. (2015). The right time: Building the learning community movement. Learning Communities Research and Practice, 3(2), 10.

O'Keeffe, P. (2013). A sense of belonging: Improving student retention. College Student Journal, 47(4), 605–613.

Pike, G. R. (1999). The effects of residential learning communities and traditional residential living arrangements on educational gains during the first year of college. Journal of College Student Development, 40(3), 269–284.

Pike, G. R., Kuh, G. D., & McCormick, A. C. (2011). An investigation of the contingent relationships between learning community participation and student engagement. Research in Higher Education, 52(3), 300–322.

Provencher, A., & Kassel, R. (2017). High-impact practices and sophomore retention: Examining the effects of selection bias. Journal of College Student Retention: Research, Theory & Practice. https://doi.org/10.1177/1521025117697728.

Rocconi, L. M. (2011). The impact of learning communities on first year students' growth and development in college. Research in Higher Education, 52(2), 178–193.

Shapiro, N. S., & Levine, J. H. (1999). Creating learning communities: A practical guide to winning support, organizing for Change, and implementing programs. California: Jossey-Bass Inc.

Smith, M. K., Jones, F. H. M., Gilbert, S. L., & Wieman, C. E. (2013). The Classroom Observation Protocol for Undergraduate STEM (COPUS): a new instrument to characterize university STEM classroom practices. CBE-Life Sciences Education, 12, 618–627.

Stains, M., Harshman, J., Barker, M. K., Chasteen, S. V., Cole, R., & DeChenne-Peters, S. E., et al. (2018). Anatomy of STEM teaching in North American universities. Science, 359(6383), 1468–1470.

Stassen, M. L. A. (2003). Student outcomes: The impact of varying living-learning community models. Research in Higher Education, 44(5), 581–613.

Stefanou, C. R., & Salisbury-Glennon, J. D. (2002). Developing motivation and cognitive learning strategies through an undergraduate learning community. Learning Environments Research, 5(1), 77–97.

Tinto, V. (1997). Enhancing learning via communities. Thought and Action, 13(1), 53–58.

Tinto, V., & Russo, P. (1994). Coordinated studies programs: Their effect on student involvement at a community college. Community College Review, 22(2), 16.

Tokuno, K. A., & Campbell, F. L. (1992). The Freshman Interest Group Program at the University of Washington: Effects on retention and scholarship. The Journal of Freshman Year Experience, 4(1), 7–22.

Zhao, C.-M., & Kuh, G. D. (2004). Adding value: Learning communities and student engagement. Research in Higher Education, 45(2), 115–138.
Acknowledgements
We thank the UVU University College for its support of this assessment, and Doug Gardner for his collaborations and assistance with the student survey data. Ethan Keller contributed to analysis of observation data. Ash Heim provided a critical review of an early version of this manuscript, and two anonymous reviewers provided insight to improve this manuscript.
About this article
Cite this article
Holt, E.A., Nielson, A. Learning Communities and Unlinked Sections: A Contrast of Student Backgrounds, Student Outcomes, and In-class Experiences. Res High Educ 60, 670–683 (2019). https://doi.org/10.1007/s11162-018-9531-1
Received:

Published:

Issue Date:
Keywords
Collaboration

Engagement

Performance

Retention