Abstract
Because it focuses on the interactions between students and their environments, Holland's theory of vocational choice provides a powerful framework for studying college experiences. The present study assessed the relative merits of psychological and sociological interpretations of Holland's theory by examining the relationships among students' expectations about college, their personality types, and their intended academic majors. Results indicated that both the psychological and sociological aspects of Holland's theory aid in understanding students' college expectations.
Access options
Buy single article
Instant access to the full article PDF.
USD 39.95
Price includes VAT (USA)
Tax calculation will be finalised during checkout.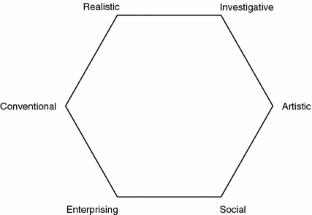 References
Astin A. W. (1970). The methodology of research on college impact (I). Sociology of Education 43:223–254

Baker R. W., McNeil O. V., Siryk B. (1985). Expectation and reality in freshman adjustment to college. Journal of Counseling Psychology 32:94–103

Berdie R. F. (1966). College expectations, experiences, and perceptions. Journal of College Student Personnel 7:336–344

Berdie R. F. (1968). Changes in university perceptions during the first two years. Journal of College Student Personnel 9:85–89

Braxton J. M., Vesper N., Hossler D. (1995). Expectations for college and student persistence. Research in Higher Education 36:595–612

Feldman K. A., Ethington C. A., Smart J. C. (2001). A further investigation of major field and person-environment fit: Sociological versus psychological interpretations of Holland's theory. Journal of Higher Education 72:670–698

Feldman K. A., Newcomb T. M. (1969). The Impact of College Students. Jossey-Bass, San Francisco

Feldman K. A., Smart J. C., Ethington C. A. (1999). Major field and person-environment fit: Using Holland's theory to study change and stability of college students. Journal of Higher Education 70:642–669

Gottfredson L. S., Richards J. M., Jr. (1999). The meaning and measurement of environments in Holland's theory. Journal of Vocational Behavior 55:57–73

Hackett G., Lent R. W. (1992). Theoretical advances and current inquiry in career psychology. In: Brown S. D., Lent R. W. (eds) Handbook of Counseling Psychology (2nd ed). John Wiley, New York, pp. 419–451

Hanson G. R. (1974). Assessing the Career Interests of College Youth: Summary of Research and Applications (ACT Research Report, No. 67). American College Testing Program, Iowa City, IA

Herr E. L. (1971). Student needs, college expectations, and "reality" perceptions. Journal of Educational Research 65:51–56

Holland J. L. (1973). Making Vocational Choices: A Theory of Careers. Prentice-Hall, Englewood Cliffs, NJ

Holland J. L. (1985). Making Vocational Choices: A Theory of Vocational Personalities and Work Environments (2nd ed). Prentice-Hall, Englewood Cliffs, NJ

Holland J. L. (1997). Making Vocational Choices: A Theory of Vocational Personalities and Work Environments (3r ed). Psychological Assessment Resources, Lutz FL

Howard J. A., (2005). Why should we care about student expectations?. In: Miller T. E., Bender B. E., Schuh J. H. & Associates (eds), Promoting Reasonable Expectations: Aligning Student and Institutional Views of the College Experience. Jossey-Bass, San Francisco, pp. 10–33

Jackson L. M., Pancer S. M., Pratt M. W., Hunsberger B. E. (2000). Great expectations: The relation between expectations and adjustment during the transition to university. Journal of Applied Social Psychology 30:2100–2125

King H., Walsh W. B. (1972). Change in environmental expectations and perceptions. Journal of College Student Personnel 13:331–337

Kuh G. D. (1991). The role of admissions and orientation in creating appropriate expectations for college life. College and University 66:75–82

Kuh G. D. (1999). Setting the bar high to promote student learning. In: Blimling G., Whitt E. (eds) Good Practice in Student Affairs: Principles That Foster Student Learning. Jossey-Bass, San Francisco, pp. 67–89

Kuh G. D., Gonyea R. M., Williams J. M. (2005). What students expect from college and what they get. In: Miller T. E., Bender B. E., Schuh J. H. & Associates (eds) Promoting Reasonable Expectations: Aligning Student and Institutional Views of the College Experience. Jossey-Bass, San Francisco, pp. 34–64

Kuh G. D., Pace C. R. (1999). College Student Expectations Questionnaire (2d ed). Indiana University, Bloomington, IN

Mayo M. W., Christenfeld N. (1999). Gender, race, and performance expectations of college students. Journal of Multicultural Counseling and Development 27:93–104

Moos R. H. (1976). The human context: Environmental determinants of behavior. John Wiley, New York

Olsen, D., Kuh, G. D., Schilling, K. M., Schilling, K., Connolly, M., Simmons A., and Vesper N. (1998, November). Great expectations: What first-year students say they will do and what they actually do. In: Paper presented at the annual meeting of the Association for the Study of Higher Education, Miami, FL.

Osipow S. H. (1983). Theories of Career Development (3rd ed). Prentice-Hall, Englewood Cliffs, NJ

Pace C. R., Stern G. G. (1958). An approach to the measurement of psychological characteristics of college environments. Journal of Educational Psychology 49:269–277

Pascarella E. T., Terenzini P. T. (1991). How College Affects Students: Findings and Insights from Twenty Years of Research. Jossey-Bass, San Francisco

Pascarella E. T., Terenzini P. T. (2005). How College Affects Students: A Third Decade of Research (2nd ed). Jossey-Bass, San Francisco

Pate R. H., Jr. (1970). Student expectations and later expectations of a university enrollment. Journal of College Student Personnel 11:458–462

Pike, G. R. (2006). Vocational preferences and college expectations: An extension of Holland's principle of self-selection. Research in Higher Education 47, DOI: 10.1007/s11162-005-9008-x, February 10, 2006

Risch T. J. (1970). Expectations for the college environment. Journal of College Student Personnel 11:463–466

Rosen D., Holmberg K., Holland J. L. (1989). The College Majors Finder, Psychological Assessment Resources, Odessa, FL

Rosenthal R., Rosnow R. L. (1991), Essentials of Behavioral Research: Methods and Data Analysis. McGraw-Hill, New York

Schoggen P. (1989). Behavior Settings: A Revision and Extension of Roger G. Barker's Ecological Psychology. Stanford University Press, Stanford, CA

Shaw K. A. (1968). Accuracy of expectation of a university's environment as it relates to achievement, attrition, and change of degree objective. Journal of College Student Personnel 9:44–48

Smart J. C. (1985). Holland environments as reinforcement systems. Research in Higher Education 23:279–292

Smart J. C. (1989). Life history influences on Holland vocational type development. Journal of Vocational Behavior 34:69–87

Smart J. C., Feldman K. A. (1998). "Accentuation effects" of dissimilar academic departments: An application and exploration of Holland's theory. Research in Higher Education 39:385–418

Smart J. C., Feldman K. A., Ethington C. A. (2000). Academic Disciplines: Holland's Theory and the Study of College Students and Faculty. Vanderbilt University Press, Nashville, TN

Terenzini P. T., Pascarella E. T. (1991). Twenty years of research on college students: Lessons for future research. Research in Higher Education 32:83–92

Walsh W. B., Holland J. L. (1992). A theory of personality types and work environments. In: Walsh W. B., Craik K. H., Price R. H. (eds) Person–environment Psychology: Models and Perspectives. Lawrence Erlbaum, Hillsdale, NJ, pp. 35–69
About this article
Cite this article
Pike, G.R. Students' Personality Types, Intended Majors, and College Expectations: Further Evidence Concerning Psychological and Sociological Interpretations of Holland's Theory. Res High Educ 47, 801–822 (2006). https://doi.org/10.1007/s11162-006-9016-5
KEYWORDS
Holland's theory

personality types

academic disciplines

college expectations