Abstract
Neglecting to account for the mortality of study animals in ecological research has the potential to lead to biased interpretation of behaviour. Considering the widespread use of acoustic telemetry to track the presence and movements of aquatic animals, if mortality is not appropriately addressed, conservation or management decisions affecting important resources may be distorted. Although mortality can be difficult to identify, it is unclear how frequent mortality is considered or incorporated in acoustic telemetry research, particularly studies relating to the behaviour of tagged animals. The main objective of this review was to characterize if and how mortality was incorporated in recent acoustic telemetry articles published during 2015–2019. For the 640 articles reviewed, criteria used to address mortality were summarized across study and animal types, providing a comprehensive view of 'mortality consideration'. Also, we discuss the common approaches that have been used in previous studies to incorporate mortality, as well as emerging tools, major concerns, and advice to help guide its inclusion in future work. We found that 50% of ecology/behaviour articles tracking the movements of elasmobranchs, bony fishes, and other aquatic animals did not communicate that mortality was either contemplated, investigated, or integrated into the study. For the studies that did incorporate mortality, 75% identified mortality events equating to an average of ~ 11% of animals tagged in each study. The criteria used to assess mortality varied among study types with horizontal movement, movements between adjacent receiver stations, and direct observation of fate as the most common for ecology/behaviour, mortality/survival, and tagging effects articles, respectively. We conclude that reporting of and methods to assess mortality should be more widespread in acoustic telemetry research, especially since movement ecology is increasingly being used to inform management decisions.
Access options
Buy single article
Instant access to the full article PDF.
US$ 39.95
Tax calculation will be finalised during checkout.
Subscribe to journal
Immediate online access to all issues from 2019. Subscription will auto renew annually.
US$ 79
Tax calculation will be finalised during checkout.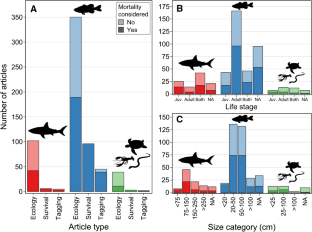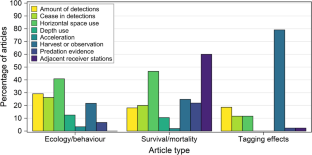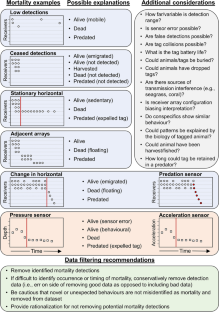 Data availability
Review data are available from the authors upon reasonable request.
References
Alós J, Cabanellas-Reboredo M, Lowerre-Barbieri S (2012) Diel behaviour and habitat utilisation by the pearly razorfish during the spawning season. Mar Ecol Prog Ser 460:207–220. https://doi.org/10.3354/meps09755

Alós J, Palmer M, Balle S, Arlinghaus R (2016) Bayesian state-space modelling of conventional acoustic tracking provides accurate descriptors of home range behavior in a small-bodied coastal fish species. PloS One 11:e0154089. https://doi.org/10.1371/journal.pone.0154089

Alós J, Martorell-Barbeló M, Campos-Candela A (2017) Repeatability of circadian behavioural variation revealed in free-ranging marine fish. R Soc Open Sci 4:160791. https://doi.org/10.1098/rsos.160791

Arechavala-Lopez P, Uglem I, Izquierdo-Gomez D, Fernandez-Jover D, Sanchez-Jerez P (2017) Rapid dispersion of escaped meagre (Argyrosomus regius) from a coastal Mediterranean fish farm. Aquac Res 48:1502–1512. https://doi.org/10.1111/are.12986

Bacheler NM, Michelot T, Cheshire RT, Shertzer KW (2019) Fine-scale movement patterns and behavioral states of gray triggerfish Balistes captriscus determined from acoustic telemetry and hidden Markov models. Fish Res 215:76–89. https://doi.org/10.1016/j.fishres.2019.02.014

Baktoft H, Gjelland K, Økland F, Thygesen UH (2017) Positioning of aquatic animals based on time-of-arrival and random walk models using YAPS (Yet Another Positioning Solver). Sci Rep 7:14294. https://doi.org/10.1038/s41598-017-14278-z

Binder TR, Holbrook CM, Hayden TA, Krueger CC (2016) Spatial and temporal variation in positioning probability of acoustic telemetry arrays: fine-scale variability and complex interactions. Anim Biotelem 4:4. https://doi.org/10.1186/s40317-016-0097-4

Bradley CE, Rice JA, Aday DD, Hightower JE, Rock J, Lincoln KL (2018) Juvenile and adult striped bass mortality and distribution in an unrecovered coastal population. N Am J Fish Manag 38:104–119. https://doi.org/10.1002/nafm.10036

Bridger CJ, Booth RK (2003) The effects of biotelemetry transmitter presence and attachment procedures on fish physiology and behavior. Rev Fish Sci 11:13–34. https://doi.org/10.1080/16226510390856510

Brooks JL, Boston C, Doka S, Gorsky D, Gustavson K, Hondorp D, Isermann D, Midwood JD, Pratt TC, Rous AM, Withers JL, Krueger CC, Cooke SJ (2017) Use of fish telemetry in rehabilitation planning, management, and monitoring in Areas of Concern in the Laurentian Great Lakes. Environ Manag 60:1139–1154. https://doi.org/10.1007/s00267-017-0937-x

Brown DT, Aday DD, Rice JA (2015) Responses of coastal largemouth bass to episodic hypoxia. Trans Am Fish Soc 14:655–666. https://doi.org/10.1080/00028487.2015.1024801

Bruce B, Bradford R, Foster S, Lee K, Lansdell M, Cooper S, Przeslawski R (2018) Quantifying fish behaviour and commercial catch rates in relation to a marine seismic survey. Mar Environ Res 140:18–30. https://doi.org/10.1016/j.marenvres.2018.05.005

Brunnschweiler JM (2009) Tracking free-ranging sharks with hand-fed intra-gastric acoustic transmitters. Mar Freshwater Behav Physiol 42:201–209. https://doi.org/10.1080/10236240903033519

Buchanan RA, Brandes PL, Skalski JR (2018) Survival of juvenile fall-run Chinook salmon through the San Joaquin River Delta, California, 2010–2015. N Am J Fish Manag 38:663–679. https://doi.org/10.1002/nafm.10063

Capizzano CW, Zemeckis DR, Hoffman WS, Benoît HP, Jones E, Dean MJ, Ribblett N, Sulikowski JA, Mandelman JW (2019) Fishery-scale discard mortality rate estimate for haddock in the Gulf of Maine recreational fishery. N Am J Fish Manag 39:964–979. https://doi.org/10.1002/nafm.10328

Carpenter-Bundhoo L, Butler GL, Espinoza T, Bond NR, Bunn SE, Kennard MJ (2020) Reservoir to river: quantifying fine-scale fish movements after translocation. Ecol Freshw Fish 29:89–102. https://doi.org/10.1111/eff.12490

Cooke SJ, Woodley CM, Eppard MB, Brown RS, Nielsen JL (2011) Advancing the surgical implantation of electronic tags in fish: a gap analysis and research agenda based on a review of trends in intracoelomic tagging effects studies. Rev Fish Biol Fisher 21:127–151. https://doi.org/10.1007/s11160-010-9193-3

Crisafulli BM, Fairclough DV, Keay IS, Lewis P, How JR, Ryan KL, Taylor SM, Wakefield CB (2018) Does a spatiotemporal closure to fishing Chrysophrys auratus (Sparidae) spawning aggregations also protect individuals during migration? Can J Fish Aquat Sci 76:1171–1185. https://doi.org/10.1139/cjfas-2017-0449

Crossin GT, Heupel MR, Holbrook CM, Hussey NE, Lowerre-Barbieri SK, Nguyen VM, Raby GD, Cooke SJ (2017) Acoustic telemetry and fisheries management. Ecol Appl 27:1031–1049. https://doi.org/10.1002/eap.1533

Currey LM, Heupel MR, Simpfendorder CA, Williams AJ (2015) Assessing fine-scale diel movement patterns of an exploited coral reef fish. Anim Biotelem 3:41. https://doi.org/10.1186/s40317-015-0072-5

Dainys J, Stakėnas S, Gorfine H, Ložys L (2018) Mortality of silver eels migrating through different types of hydropower turbines in Lithuania. River Res Appl 34:52–59. https://doi.org/10.1002/rra.3224

Daniels J, Chaput G, Carr J (2018) Estimating consumption rate of Atlantic salmon smolts (Salmo salar) by striped bass (Morone saxatilis) in the Miramichi River estuary using acoustic telemetry. Can J Fish Aquat Sc 75:1811–1822. https://doi.org/10.1139/cjfas-2017-0373

Daniels J, Sutton S, Webber D, Carr J (2019) Extent of predation bias present in migration survival and timing of Atlantic salmon smolt (Salmo salar) as suggested by a novel acoustic tag. Anim Biotelem 7:16. https://doi.org/10.1186/s40317-019-0178-2

Donaldson MR, Hinch SG, Suski CD, Fisk AT, Heupel MR, Cooke SJ (2014) Making connections in aquatic ecosystems with acoustic telemetry monitoring. Front Ecol Environ 12:565–573. https://doi.org/10.1890/130283

Doyle TK, Haberlin D, Clohessy J, Bennison A, Mark J (2017) Localised residency and interannual fidelity to coastal foraging areas may place sea bass at risk to local depletion. Sci Rep 7:45841. https://doi.org/10.1038/srep45841

Eberts RL, Butt JC, Somers CM (2018) Unexplained variation in movement by walleye and sauger after catch-and-release angling tournaments. N Am J Fish Manag 38:1350–1366. https://doi.org/10.1002/nafm.10235

Faust MD, Vandergoot CS, Brenden TO, Kraus RT, Hartman T, Krueger CC (2019) Acoustic telemetry as a potential tool for mixed-stock analysis of fishery harvest: a feasibility study using Lake Erie walleye. Can J Fish Aquat Sci 76:1019–1030. https://doi.org/10.1139/cjfas-2017-0522

Gauld NR, Campbell RNB, Lucas MC (2016) Salmon and sea trout spawning migration in the River Tweed: telemetry-derived insights for management. Hydrobiologia 767:111–123. https://doi.org/10.1007/s10750-015-2481-0

Gerber KM, Mather ME, Smith JM (2017) A suite of standard post-tagging evaluation metrics can help assess tag retention for field-based fish telemetry research. Rev Fish Biol Fisher 27:651–664. https://doi.org/10.1007/s11160-017-9484-z

Gibson AJF, Halfyard EA, Bradford RG, Stokesbury MJW, Redden AM (2015) Effects of predation on telemetry-based survival estimates: insights from a study on endangered Atlantic salmon smolts. Can J Fish Aquat Sci 72:728–741. https://doi.org/10.1139/cjfas-2014-0245

Halfyard EA, Webber D, Del Papa J, Leadley T, Kessel ST, Colborne SC, Fisk AT (2017) Evaluation of an acoustic telemetry transmitter designed to identify predation events. Meth Ecol Evol 8:1063–1071. https://doi.org/10.1111/2041-210X.12726

Havn TB, Økland F, Teichert MAK, Heermann L, Borcherding J, Sæther SA, Tambets M, Diserud OH, Thorstad EB (2017) Movements of dead fish in rivers. Anim Biotelem 5:7. https://doi.org/10.1186/s40317-017-0122-2

Hays GC, Bailey H, Bograd SJ et al (2019) Translating marine animal tracking data into conservation policy and management. Trends Ecol Evol 34:459–473. https://doi.org/10.1016/j.tree.2019.01.009

Hollensead LD, Grubbs RD, Carlson JK, Bethea DM (2018) Assessing residency time and habitat use of juvenile smalltooth sawfish using acoustic monitoring in a nursery habitat. Endanger Species Res 37:119–131. https://doi.org/10.3354/esr00919

Hussey NE, Kessel ST, Aarestrup K, Cooke SJ, Cowley PD, Fisk AT, Harcourt RG, Holland KN, Iverson SJ, Kocik JF, Flemming JEM, Whoriskey FG (2015) Aquatic animal telemetry: a panoramic window into the underwater world. Science 348:1255642. https://doi.org/10.1126/science.1255642

Huveneers C, Simpfendorfer CA, Kim S, Semmens JM, Hobday AJ, Pederson H, Stieglitz T, Vallee R, Webber D, Heupel MR, Peddemors V, Harcourt RG (2016) The influence of environmental parameters on the performance and detection range of acoustic receivers. Meth Ecol Evol 7:825–835. https://doi.org/10.1111/2041-210X.12520

Jensen LF, Rognon P, Aarestrup K, Bottcher JW, Pertoldi C, Thomsen SN, Hertz M, Winde J, Svendsen JC (2018) Evidence of cormorant-induced mortality, disparate migration strategies and repeatable circadian rhythm in the endangered North Sea houting (Coregonus oxyrinchus): a telemetry study mapping the postspawning migration. Ecol Freshw Fish 27:672–685. https://doi.org/10.1111/eff.12383

Kessel ST, Cooke SJ, Heupel MR, Hussey NE, Simpfendorfer CA, Vagle S, Fisk AT (2014) A review of detection range testing in aquatic passive acoustic telemetry studies. Rev Fish Biol Fisher 24:199–218. https://doi.org/10.1007/s11160-013-9328-4

Khan JA, Welsh JQ, Bellwood DR (2016) Using passive acoustic telemetry to infer mortality events in adult herbivorous coral reef fishes. Coral Reefs 35:411–420. https://doi.org/10.1007/s00338-015-1387-7

Klinard NV, Matley JK, Fisk AT, Johnson TB (2019) Long-term retention of acoustic telemetry transmitters in temperate predators revealed by predation tags implanted in wild prey fish. J Fish Biol 95:1512–1516. https://doi.org/10.1111/jfb.14156

Klinard NV, Matley JK, Halfyard EA, Connerton M, Johnson TB, Fisk AT (2020) Post-stocking movement and survival of hatchery-reared bloater (Coregonus hoyi) reintroduced to Lake Ontario. Freshw Biol 1–13. https://doi.org/10.1111/fwb.13491

Kristensen LD, Stottrup JG, Svendsen JC, Stenberg C, Hansen OKH, Gronkjaer P (2017) Behavioural changes of Atlantic cod (Gadus morhua) after marine boulder reef restoration: implications for coastal habitat management and Natura 2000 areas. Fisheries Manag Ecol 24:353–360. https://doi.org/10.1111/fme.12235

Kristensen ML, Birnie-Gauvin K, Aarestrup K (2018) Routes and survival of anadromous brown trout Salmo trutta L. post-smolts during early marine migration through a Danish fjord system. Estuar Coast Shelf S 209:102–109. https://doi.org/10.1016/j.ecss.2018.05.015

Lincoln KJ, Aday DD, Rice JA (2016) Seasonal mortality and movement patterns of white bass in a southeastern US reservoir. Trans Am Fish Soc 145:1035–1046. https://doi.org/10.1080/00028487.2016.1195444

March D, Palmer M, Alós J, Grau A, Cardona F (2010) Short-term residence, home range size and diel patterns of the painted comber Serranus scriba in a temperate marine reserve. Mar Ecol Prog Ser 400:195–206. https://doi.org/10.3354/meps08410

Matley JK, Heupel MR, Fisk AT, Simpfendorfer CA, Tobin AJ (2017) Measuring niche overlap between co-occurring Plectropomus spp. using acoustic telemetry and stable isotopes. Mar Freshw Res 68:1468–1478. https://doi.org/10.1071/MF16120

Matley JK, Eanes S, Nemeth RS, Jobsis PD (2019) Vulnerability of sea turtles and fishes in response to two catastrophic Caribbean hurricanes, Irma and Maria. Sci Rep 9:14254. https://doi.org/10.1038/s41598-019-50523-3

McGowan J, Beger M, Lewison RL, Harcourt R, Campbell H, Priest M, Dwyer RG, Lin HY, Lentini P, Dudgeon C, McMahon C, Watts M, Possingham HP (2017) Integrating research using animal-borne telemetry with the needs of conservation management. J Appl Ecol 54:423–429. https://doi.org/10.1111/1365-2664.12755

Melnychuk MC, Dunton KJ, Jordaan A, McKown KA, Frisk MG (2017) Informing conservation strategies for the endangered Atlantic sturgeon using acoustic telemetry and multi-state mark-recapture models. J Appl Ecol 54:914–925. https://doi.org/10.1111/1365-2664.12799

Moland E, Carlson SM, Villegas-Rios D, Wiig JR, Olsen EM (2019) Harvest selection on multiple traits in the wild revealed by aquatic animal telemetry. Ecol Evol 9:6480–6491. https://doi.org/10.1002/ece3.5224

Moore ME, Berejikian BA (2017) Population, habitat, and marine location effects on early marine survival and behavior of Puget Sound steelhead smolts. Ecosphere 8:e01834. https://doi.org/10.1002/ecs2.1834

Morfin M, Simon J, Morandeau F, Baulier L, Mehault S, Kopp D (2019) Using acoustic telemetry to estimate post-release survival of undulate ray Raja undulata (Rajidae) in northeast Atlantic. Ocean Coast Manage 178:104848. https://doi.org/10.1016/j.ocecoaman.2019.104848

Nakayama S, Doering-Arjes P, Linzmaier S, Briege J, Klefoth T, Pieterek T, Arlinghaus R (2018) Fine-scale movement ecology of a freshwater top predator, Eurasian perch (Perca fluviatilis), in response to the abiotic environment over the course of a year. Ecol Freshw Fish 27:798–812. https://doi.org/10.1111/eff.12393

Okuyama J, Shishidou H, Hayashibara T (2019) Post-release horizontal and vertical behavior and philopatry of deepwater longtail red snapper Etelis coruscans around a bank. Fish Sci 85:361–368. https://doi.org/10.1007/s12562-019-01287-2

Peel LR, Stevens GMW, Daly R, Daly CAK, Lea JSE, Clarke CR, Collin SP, Meekan MG (2019) Movement and residency patterns of reef manta rays Mobula alfredi in the Amirante Islands, Seychelles. Mar Ecol Prog Ser 621:169–184. https://doi.org/10.3354/meps12995

Pincock DG (2012) False detections: what they are and how to remove them from detection data. Amirix Document DOC-004691 Version 03. http://www.vemco/com/pdf/false_detections.pdf. Accessed 20 March 2020

Romine JG, Perry RW, Pope AC, Stumpner P, Liedtke TL, Kumagai KK, Reeves RL (2017) Evaluation of a floating fish guidance structure at a hydrodynamical complex river junction in the Sacramento-San Joaquin River Delta, California, USA. Mar Freshw Res 68:878–888. https://doi.org/10.1071/MF15285

Schultz AA, Kumagai KK, Bridges BB (2015) Methods to evaluate gut evacuation rates and predation using acoustic telemetry in the Tracy Fish Collection Facility primary channel. Anim Biotelem 3:13. https://doi.org/10.1186/s40317-015-0034-y

Segvic-Bubic T, Arechavala-Lopez P, Vuvic I, Talijancic I, Grubisic L, Zuzul I, Kovac Z (2018) Site fidelity of farmed gilthead seabream Sparus aurata escapees in a coastal environment of the Adriatic Sea. Aquacult Env Interac 10:21–34. https://doi.org/10.3354/aei00251

Selby TH, Hart KM, Fujisaki I, Smith BJ, Pollock CJ, Hillis-Starr Z, Lundgren I, Oli MK (2016) Can you hear me now? Range-testing a submerged passive acoustic receiver array in a Caribbean coral reef habitat. Ecol Evol 6:4823–4835. https://doi.org/10.1002/ece3.2228

Selby TH, Hart KM, Smith BJ, Pollock CG, Hillis-Starr Z, Oli MK (2019) Juvenile hawksbill residency and habitat use within a Caribbean marine protected area. Endanger Species Res 40:53–64. https://doi.org/10.3354/esr00975

Simpfendorfer CA, Huveneers C, Steckenreuter A, Tattersall K, Hoenner X, Harcourt R, Heupel MR (2015) Ghosts in the data: false detections in VEMCO pulse position modulation acoustic telemetry monitoring equipment. Anim Biotelem 3:55. https://doi.org/10.1186/s40317-015-0094-z

Smith BJ, Selby TH, Cherkiss MS, Crowder AG, Hillis-Starr Z, Pollock CG, Hart KM (2019) Acoustic tag retention rate varies between juvenile green and hawksbill sea turtles. Anim Biotelem 7:15. https://doi.org/10.1186/s40317-019-0177-3

Thorstad EB, Uglem I, Finstad B, Chittenden CM, Nilsen R, Økland F, Bjørn PA (2012) Stocking location and predation by marine fishes affect survival of hatchery-reared Atlantic salmon smolts. Fisheries Manag Ecol 19:400–409. https://doi.org/10.1111/j.1365-2400.2012.00854.x

Thortley JL, Andrusak GF (2017) The fishing and natural mortality of large, piscivorous bull trout and rainbow trout in Kootenay Lake, British Columbia (2008–2013). PeerJ 5:e2874. https://doi.org/10.7717/peerj.2874

Tickler DM, Carlisle AB, Chapple TK, Curnick DJ, Dale JJ, Schallert RJ, Block BA (2019) Potential detection of illegal fishing by passive acoustic telemetry. Anim Biotelem 7:1. https://doi.org/10.1186/s40317-019-0163-9

Tonkin Z, Lyon JP, Moloney P, Balcombe SR, Hackett G (2018) Spawning-stock characteristics and migration of a lake-bound population of the endangered Macquarie perch Macquaria australasica. J Fish Biol 93:630–640. https://doi.org/10.1111/jfb.13731

Udyawer V, Dwyer RG, Hoenner X, Babcock RC, Brodie S, Campbell HA, Harcourt RG, Huveneers C, Jaine FRA, Simpfendorfer CA, Taylor MD, Heupel MR (2018) A standardised framework for analysing animal detections from automated tracking arrays. Anim Biotelem 6:17. https://doi.org/10.1186/s40317-018-0162-2

Voegeli FA, Smale MJ, Webber DM, Andrade Y, O'Dor RK (2001) Ultrasonic telemetry, tracking and automated monitoring technology for sharks. Environ Biol Fishes 60:267–281. https://doi.org/10.1023/A:1007682304720

Watson WH III, Johnson SK, Whitworth CD, Chabot CC (2016) Rhythms of locomotion and seasonal changes in activity expressed by horseshoe crabs in their natural habitat. Mar Ecol Prog Ser 542:109–121. https://doi.org/10.3354/meps11556

Weinz AA, Matley JK, Klinard NV, Fisk AT, Colborne SF (2020) Identification of predation events in wild fish using novel acoustic transmitters. Anim Biotelem

Whoriskey K, Martins EG, Auger-Méthé M, Gutowsky LFG, Lennox RJ, Cooke SJ, Power M, Mills Flemming J (2019) Current and emerging statistical techniques for aquatic telemetry data: a guide to analysing spatially discrete animal detections. Methods Ecol Evol 10:935–948. https://doi.org/10.1111/2041-210X.13188

Williams-Grove LJ, Szedlmayer ST (2016) Mortality estimates for red snapped based on ultrasonic telemetry in the Northern Gulf of Mexico. N Am J Fish Manag 36:1036–1044. https://doi.org/10.1080/02755947.2016.1184197

Winton MV, Kneebone J, Zemeckis DR, Fay G (2018) A spatial point process model to estimate individual centres of activity from passive acoustic telemetry. Methods Ecol Evol 9:2262–2272. https://doi.org/10.1111/2041-210X.13080

Zemeckis DR, Dean MJ, DeAngelis AI, Van Parijs SM, Hoffman WS, Baumgartner MF, Hatch LT, Cadrin SX, McGuire CH (2019) Identifying the distribution of Atlantic cod spawning using multiple fixed and glider-mounted acoustic technologies. ICES J Mar Sci 76:1610–1625. https://doi.org/10.1093/icesjms/fsz064
Acknowledgements
The authors recognize and thank A. Fisk, S. Ivanova, S. Larocque, G. Raby, and A. Weinz for initial discussions regarding the topic of this review.
Ethics declarations
Conflicts of interest
Both authors declare that they have no conflict of interest.
Additional information
Publisher's Note
Springer Nature remains neutral with regard to jurisdictional claims in published maps and institutional affiliations.
Electronic supplementary material
About this article
Cite this article
Klinard, N.V., Matley, J.K. Living until proven dead: addressing mortality in acoustic telemetry research. Rev Fish Biol Fisheries 30, 485–499 (2020). https://doi.org/10.1007/s11160-020-09613-z
Received:

Accepted:

Published:

Issue Date:
Keywords
Biotelemetry

Death

Fate

Predation

Survival

Tracking