Abstract
The consequences of human influence can arise in vertebrates as primary, secondary, or even tertiary stressors and may be especially detrimental for slow growing species with long generation times (i.e., K-selected species). Here, we review the impacts of both direct and indirect human interactions on the reproductive biology of elasmobranchs. Within direct human influence, capture-induced stress from fisheries bycatch and poor coastal management practices leading to habitat destruction and pollution are among the most impactful on elasmobranch reproduction. Capture-induced stress has been shown to negatively influence offspring and reproductive capacity via capture-induced parturition as well as by disrupting the reproductive physiology of adults. Habitat degradation impacts essential ecosystems that are necessary for the development of young elasmobranchs. Pollutants such as heavy metals, legacy pesticides, and flame retardants have been traced through elasmobranch reproduction; however, the long-term effects of these exogenous chemicals are yet to be determined. Furthermore, within indirect human impacts, climate change-mediated influences (e.g., ocean warming and acidification) can impact development, physiological processes, and behavioral patterns necessary for essential tasks such as foraging, growth, reproduction, and ultimately survival. Here, we also present a case study, where data regarding temperature and incubation time from 28 egg-laying elasmobranch species were examined to show relevance of such data in predicting how suitable (e.g., via maximum threshold temperatures) habitats will be for skate and shark development in the coming century. Concomitantly, this information highlights areas for future research that will help inform better management as well as climate change forecasting for this threatened group of aquatic vertebrates.
This is a preview of subscription content, log in to check access.
Access options
Buy single article
Instant access to the full article PDF.
US$ 39.95
Price includes VAT for USA
Subscribe to journal
Immediate online access to all issues from 2019. Subscription will auto renew annually.
US$ 99
This is the net price. Taxes to be calculated in checkout.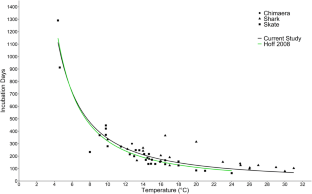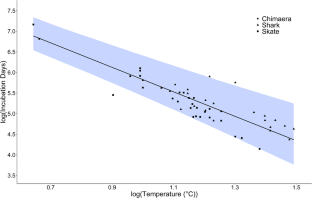 References
Adams KR, Fetterplace LC, Davis AR, Taylor MD, Knott NA (2018) Sharks, rays and abortion: the prevalence of capture-induced parturition in elasmobranchs. Biol Conserv 217:11–27. https://doi.org/10.1016/j.biocon.2017.10.010

Awruch CA, Pankhurst NW, Frusher SD, Stevens JD (2009) Reproductive seasonality and embryo development in the draughtboard shark Cepaloscyllium laticeps. Mar Freshw Res 60:1265–1272. https://doi.org/10.1071/MF09030

Bass NC, Mourier J, Knott NA, Day J, Guttridge T, Brown C (2017) Long-term migration patterns and bisexual philopatry in a benthic shark species. Mar Freshw Res 68:1414–1421. https://doi.org/10.1071/MF16122

Bindoff NL, Cheung WWL, Kairo JG et al (2019) Changing ocean, marine ecosystems, and dependent communities. In: Pörtner HO, Roberts DC, Masson-Delmotte V et al (eds) IPCC Special Report on the ocean and cryosphere in a changing climate. https://www.ipcc.ch/srocc/chapter/chapter-5/. Accessed 30 Jan 2020

Blaber SJM, Dichmont CM, White W, Buckworth R, Sadiyah L, Iskandar B, Nurhakim S, Pillans R, Andamari R, Dharmadi Fahmi (2009) Elasmobranchs in southern Indonesian fisheries: the fisheries, the status of the stocks and management options. Rev Fish Biol Fisher 19:367–391. https://doi.org/10.1007/s11160-009-9110-9

Chen WK, Liu KM (2006) Reproductive biology of whitespotted bamboo shark Chiloscyllium plagiosum in northern waters off Taiwan. Fish Sci 72:1215–1224. https://doi.org/10.1111/j.1444-2906.2006.01279.x

Clark E, Von Schmidt K (1965) Sharks of the central gulf coast of Florida. Bull Mar Sci 15:13–83

Compagno LJV, Dando M, Fowler S (2005) A field guide to the sharks of the world. Harper Collins Publishers Ltd, London

Conrath CL, Musick JA (2012) Reproductive biology of elasmobranchs. In: Carrier JC, Musick JA, Heithaus MR (eds) Biology of sharks and their relatives. CRC Press, Boca Raton, pp 291–311

Curtis TH, Parkyn DC, Burgess GH (2013) Use of human-altered habitats by bull sharks in a Florida nursery area. Mar Coast Fish 5:28–38. https://doi.org/10.1080/19425120.2012.756438

De Boeck G, Grosell M, Wood C (2001) Sensitivity of the spiny dogfish (Squalus acanthias) to waterborne silver exposure. Aquat Toxicol 54:261–275. https://doi.org/10.1016/S0166-445X(00)00180-6

De Boeck G, Eyckmans M, Lardon I, Bobbaers R, Sinha AK, Blust R (2010) Metal accumulation and metallothionein induction in the spotted dogfish Scyliorhinus canicula. Comp Biochem Physiol Part A Mol Integr Physiol 155:503–508. https://doi.org/10.1016/j.cbpa.2009.12.014

Di Santo V (2015) Ocean acidification exacerbates the impacts of global warming on embryonic little skate, Leucoraja erinacea (Mitchill). J Exp Mar Biol Ecol 463:72–78. https://doi.org/10.1016/j.jembe.2014.11.006

Dixson DL, Jennings AR, Atema J, Munday PL (2015) Odor tracking in sharks is reduced under future ocean acidification conditions. Glob Change Biol 21:1454–1462. https://doi.org/10.1111/gcb.12678

Donelson JM, Salinas S, Munday PL, Shama LNS (2018) Transgenerational plasticity and climate change experiments: where do we go from here? Glob Change Biol 24:13–34. https://doi.org/10.1111/gcb.13903

Dulvy NK, Reynolds JD (1997) Evolutionary transition among egg-laying, live-bearing and maternal inputs in sharks and rays. Proc R Soc B Biol Sci 264:1309–1315. https://doi.org/10.1098/rspb.1997.0181

Dulvy NK, Fowler SL, Musick JA et al (2014) Extinction risk and conservation of the world's sharks and rays. Elife 3:1–35. https://doi.org/10.7554/eLife.00590

Ebert DA, Compagno LJV, Cowley PD (2007) Aspects of the reproductive biology of skates (Chondrichthyes: Rajiformes: Rajoidei) from southern Africa. ICES J Mar Sci 65:81–102. https://doi.org/10.1093/icesjms/fsm169

Ebert DA, Fowler S, Compagno L (2013) Sharks of the world. Wild Nature Press, Plymouth

Elisio M, Awruch CA, Massa AM, Macchi GJ, Somoza GM (2019) Effects of temperature on the reproductive physiology of female elasmobranchs: the case of the narrownose smooth-hound shark (Mustelus schmitti). Gen Comp Endocr 284:113242. https://doi.org/10.1016/j.ygcen.2019.113242

Ellis JR, Cruz-Martínez A, Rackham BD, Rogers SI (2004) The distribution of chondrichthyan fishes around the British Isles and implications for conservation. J Northw Atl Fish Sci 35:195–213. https://doi.org/10.2960/J.v35.m485

Field IC, Meekan MG, Buckworth RC, Bradshaw CJ (2009) Chapter 4. Susceptibility of sharks, rays and chimaeras to global extinction. Adv Mar Biol 56:275–363. https://doi.org/10.1016/S0065-2881(09)56004-X

Flewelling LJ, Adams DH, Naar JP, Atwood KE, Granholm AA, O'Dea SN, Landsberg JH (2010) Brevetoxins in sharks and rays (Chondrichthyes, Elasmobranchii) from Florida coastal waters. Mar Biol 157:1937–1953. https://doi.org/10.1007/s00227-010-1463-z

Frías-Espericueta MG, Cardenas-Nava NG, Márquez-Farías JF, Osuna-López JI, Muy-Rangel MD, Rubio-Carrasco W, Voltolina D (2014) Cadmium, copper, lead and zinc concentrations in female and embryonic pacific sharpnose shark (Rhizoprionodon longurio) tissues. Bull Environ Contam Toxicol 93:532–535. https://doi.org/10.1007/s00128-014-1360-0

Frías-Espericueta MG, Zamora-Sarabia FKG, Márquez-Farías JF, Osuna-López JI, Ruelas-Inzunza J, Voltolina D (2015) Total mercury in female Pacific sharpnose sharks Rhizoprionodon longurio and their embryos. Lat Am J Aquat Res 43:534–538. https://doi.org/10.3856/vol43-issue3-fulltext-14

Gallucci VF, Taylor IG, Erzini K (2006) Conservation and management of exploited shark populations based on reproductive value. Can J Fish Aquat Sci 63:931–942. https://doi.org/10.1139/f05-267

Gattuso JP et al (2015) Contrasting futures for ocean and society from different anthropogenic CO2 emissions scenarios. Science 349:aac4722. https://doi.org/10.1126/science.aac4722

Gelsleichter J, Manire CA, Szabo NJ, Cortés E, Carlson J, Lombardi-Carlson L (2005) Organochlorine concentrations in bonnethead sharks (Sphyrna tiburo) from four Florida estuaries. Arch Environ Contam Toxicol 48:474–483. https://doi.org/10.1007/s00244-003-0275-2

Gervais C, Mourier J, Rummer JL (2016) Developing in warm water: irregular colouration and patterns of a neonate elasmobranch. Mar Biodivers 46:743–744. https://doi.org/10.1007/s12526-015-0429-2

Gervais CR, Nay TJ, Renshaw G, Johansen JL, Steffensen JF, Rummer JL (2018) Too hot to handle? Using movement to alleviate effects of elevated temperatures in a benthic elasmobranch, Hemiscyllium ocellatum. Mar Biol 165:162. https://doi.org/10.1007/s00227-018-3427-7

Green L, Jutfelt F (2014) Elevated carbon dioxide alters the plasma composition and behaviour of a shark. Biol Lett 10:20140538. https://doi.org/10.1098/rsbl.2014.0538

Grosell M, Wood CM, Walsh PJ (2003) Copper homeostasis and toxicity in the elasmobranch Raja erinacea and the teleost Myoxocephalus octodecemspinosus during exposure to elevated water-borne copper. Comp Biochem Physiol Toxicol Pharmacol 135:179–190. https://doi.org/10.1016/S1532-0456(03)00089-9

Guida L, Awruch C, Walker TI, Reina RD (2017) Prenatal stress from trawl capture affects mothers and neonates: a case study using the southern fiddler ray (Trygonorrhina dumerilii). Sci Rep 7:1–10. https://doi.org/10.1038/srep46300

Hammerschag N, Schmitz OJ, Flecker AS, Lafferty KD, Sih A, Atwood TB, Gallagher AJ, Irschick DJ, Skubel R, Cooke SJ (2019) Ecosystem function and services of aquatic predators in the Anthropocene. Trends Ecol Evol 34:369–383. https://doi.org/10.1016/j.tree.2019.01.005

Hammerschlag N, Gallagher AJ (2011) Global shark currency: the distribution, frequency, and economic value of shark ecotourism. Curr Issues Tour 14:797–812. https://doi.org/10.1080/13683500.2011.585227

Hare JA, Morrison WE, Nelson MW et al (2016) A vulnerability assessment of fish and invertebrates to climate change on the northeast U.S. continental shelf. PLoS ONE 11:1–30. https://doi.org/10.1371/journal.pone.0146756

Heinrich DDU, Rummer JL, Morash AJ et al (2014) A product of its environment: the epaulette shark (Hemiscyllium ocellatum) exhibits physiological tolerance to elevated environmental CO2. Conserv Physiol 2:cou047. https://doi.org/10.1093/conphys/cou047

Hempson TN, Graham NAJ, Macneil MA, Williamson DH, Jones GP, Almany GR (2017) Coral reef mesopredators switch prey, shortening food chains, in response to habitat degradation. Ecol Evol 6:2626–2635. https://doi.org/10.1002/ece3.2805

Heupel MR (2007) Exiting Terra Ceia Bay: examination of cues stimulating migration from a summer nursery area. In: McCandless CT, Kohler NE Jr, Pratt HL (eds) Shark nursery grounds of the Gulf of Mexico and east coast waters of the United States, vol 50. Am Fish Soc Symp, Bethesda, pp 265–280

Heupel MR, Whittier JM, Bennett MB (1999) Plasma steroid hormone profiles and reproductive biology of the epaulette shark, Hemiscyllium ocellatum. J Exp Zool 284:586–594

Hight BV, Lowe CG (2007) Elevated body temperatures of adult female leopard sharks, Triakis semifasciata, while aggregating in shallow nearshore embayments: evidence for behavioral thermoregulation? J Exp Mar Biol Ecol 352:114–128. https://doi.org/10.1016/j.jembe.2007.07.021

Hoff GR (2008) A nursery site of the Alaska skate (Bathyraja parmifera) in the eastern Bering Sea. Fish Bull 106:233–244. https://doi.org/10.1111/j.1095-8649.2008.02137.x

Hoff GR (2010) Identification of skate nursery habitat in the eastern Bering Sea. Mar Ecol Prog Ser 403:243–254. https://doi.org/10.3354/meps08424

Hughes TP, Anderson KD, Connolly SR, Heron SF, Kerry JT et al (2018) Spatial and temporal patterns of mass bleaching of corals in the Anthropocene. Science 359:80–83. https://doi.org/10.1126/science.aan8048

Jeffree RA, Warnau M, Oberhansli F, Teyssie JL (2006) Bioaccumulation of heavy metals and radionuclides from seawater by encased embryos of the spotted dogfish Scyliorhinus canicula. Mar Pollut Bull 52:1278–1286. https://doi.org/10.1016/j.marpolbul.2006.03.015

Jennings D, Gruber S, Franks B, Kessel S, Robertson A (2008) Effects of large-scale anthropogenic development on juvenile lemon shark (Negaprion brevirostris) populations of Bimini, Bahamas. Environ Biol Fish 83:369–377. https://doi.org/10.1007/s10641-008-9357-3

Johnson MS, Kraver DW, Renshaw GMC, Rummer JL (2016) Will ocean acidification affect the early ontogeny of a tropical oviparous elasmobranch (Hemiscyllium ocellatum)? Conserv Physiol 4:1–11. https://doi.org/10.1093/conphys/cow003

Kinney MJ, Simpfendorfer CA (2009) Reassessing the value of nursery areas to shark conservation and management. Conserv Lett 2:52–60. https://doi.org/10.1111/j.1755-263X.2008.00046.x

Knotek RJ, Rudders DB, Mandelman JW, Benoît HP, Sulikowski JA (2018) The survival of rajids discarded in the New England scallop dredge fisheries. Fish Res 198:50–62. https://doi.org/10.1016/j.fishres.2017.10.015

Last PR, White WT, de Carvalho MR, Séret B, Stehmann MF, Naylor GJP (2016) Rays of the world. CSIRO Publishing, Clayton

Lopes AR, Sampaio E, Santos C, Couto A, Pegado MR, Diniz M, Munday PL, Rummer JL, Rosa R (2018) Absence of cellular damage in tropical newly hatched sharks (Chiloscyllium plagiosum) under ocean acidification conditions. Cell Stress Chaperon 23:837–846. https://doi.org/10.1007/s12192-018-0892-3

Lyons K, Adams DH (2014) Maternal offloading of organochlorine contaminants in the yolk-sac placental scalloped hammerhead shark (Sphyrna lewini). Ecotoxicology 24:553–562. https://doi.org/10.1007/s10646-014-1403-7

Lyons K, Lowe CG, Gillanders BM (2013) Mechanisms of maternal transfer of organochlorine contaminants and mercury in the common thresher shark (Alopias vulpinus). Can J Fis Aquat Sci 70:1667–1672. https://doi.org/10.1139/cjfas-2013-0222

Mandelman JW, Cicia AM, Ingram GW, Driggers WB, Coutre KM, Sulikowski JA (2013) Short-term post-release mortality of skates (family Rajidae) discarded in a western North Atlantic commercial otter trawl fishery. Fish Res 139:76–84. https://doi.org/10.1016/j.fishres.2012.09.020

Marler H, Adams DH, Wu Y, Nielsen CK, Shen L, Reiner EJ, Chen D (2018) Maternal Transfer of Flame Retardants in Sharks from the Western North Atlantic Ocean. Environ Sci Technol 52:12978–12986. https://doi.org/10.1021/acs.est.8b01613

Mathews T, Fisher NS (2009) Dominance of dietary intake of metals in marine elasmobranch and teleost fish. Sci Total Environ 407:5156–5161. https://doi.org/10.1016/j.scitotenv.2009.06.003

McConnaughey RA, Syrjala SE (2014) Short-term effects of bottom trawling and a storm event on soft-bottom benthos in the eastern Bering Sea. ICES J Mar Sci 71:2469–2483. https://doi.org/10.1093/icesjms/fss153

Merly L, Lange L, Meÿer M, Hewitt AM, Koen P, Fischer C, Muller J, Schilack V, Wentzel M, Hammerschlag N (2019) Blood plasma levels of heavy metals and trace elements in white sharks (Carcharodon carcharias) and potential health consequences. Mar Pollut Bull 142:85–92. https://doi.org/10.1016/J.MARPOLBUL.2019.03.018

Mull CG, Lyon K, Blasius ME, Winkler C, O'Sulliva JB, Lowe CG (2013) Evidence of maternal offloading of organic contaminants in white sharks (Carcharodon carcharias). PLoS ONE 8:e62886. https://doi.org/10.1371/journal.pone.0062886

Nakata H (2005) Occurrence of synthetic musk fragrances in marine mammals and sharks from Japanese coastal waters. Environ Sci Technol 39:3430–3434. https://doi.org/10.1021/es050199l

Nielsen J, Hedeholm RB, Heinemeier J, Bushnell PG, Christiansen JS, Olsen J, Bronk Ramsey C, Brill RW, Simon M, Steffensen KF, Steffensen JF (2016) Eye lens radiocarbon reveals centuries of longevity in the Greenland shark (Somniosus microcephalus). Science 353:702–704. https://doi.org/10.1126/science.aaf1703

Núnez-Nogueira G (2005) Concentration of essential and non-essential metals in two shark species commonly caught in Mexican (Gulf of Mexico) coastline. In: Botello AV, Rendón-von Osten J, Gold-Bouchot G, Agraz-Hernandéz C (eds) Golfo de México Contaminación e impacto ambiental: Diagnóstico y tendencias. Univ. Autón. de Campeche, Univ. Nal. Autón. de México, Instituto Nacional de Ecologia, Tlacopac, pp 451–474

Olin JA, Beaudry M, Fisk AT, Paterson G (2014) Age-related polychlorinated biphenyl dynamics in immature bull sharks (Carcharhinus leucas). Environ Toxicol Chem 33:35–43. https://doi.org/10.1002/etc.2402

Pegado MR, Santos C, Couto A et al (2019a) Reduced impact of ocean acidification on growth and swimming performance of newly hatched tropical sharks (Chiloscyllium plagiosum). Mar Freshw Behav Physiol 51:347–357. https://doi.org/10.1080/10236244.2019.1590120

Pegado MR, Santos CP, Pimentel M, Cyrne R, Maulvaut AL, Raffoul D, Diniz M, Bispo R, Rosa R (2019b) Effects of elevated carbon dioxide on hematological parameters of a temperate catshark. J Exp Zool A Ecol Genet Physiol 333:126–132. https://doi.org/10.1002/jez.2333

Pistevos JCA, Nagelkerken I, Rossi T, Olmos M, Connell SD (2015) Ocean acidification and global warming impair shark hunting behaviour and growth. Sci Rep 5:16293. https://doi.org/10.1038/srep16293

Pistevos JCA, Nagelkerken I, Rossi T, Connell SD (2017) Antagonistic effects of ocean acidification and warming on hunting sharks. Oikos 126:241–247. https://doi.org/10.1111/oik.03182

Pörtner HO, Karl D, Boyd P et al (2014) Ocean systems. In: Field CB, Barros VR, Dokken DJ, Mach KJ, Mastrandrea MD, Bilir TF et al (eds) Climate change 2014: impacts, adaptation, and vulnerability. Part A: global and sectoral aspects. Contribution of Working Group II to the Fifth Assessment Report of the Intergovernmental Panel on Climate Change. Cambridge University Press, Cambridge, pp 411–484

Prado AC, Wosnick N, Freire C (2018) Capture stress in Zapteryx brevirostris (Muller and Henle, 1841) (Elasmobranchii, Trygonorrhinidae) males during the reproductive period: Nutritional and reproductive consequences and conservation impacts. Sharks International Meeting, João Pessoa, Paraíba, Brazil, p 339

Pretorius C, Griffiths CL (2013) Patterns of Egg Deposition and Egg Development in the Catsharks Poroderma pantherinum and Haploblepharus pictus. Afr Zool 48:115–124. https://doi.org/10.1080/15627020.2013.11407574

Queiroz N, Humphries NE, Couto A et al (2019) Global spatial risk assessment of sharks under the footprint of fisheries. Nature 572:461–466. https://doi.org/10.1038/s41586-019-1444-4

Rolim FA, Rotundo MM, Vaske-Júnior T (2016) Notes on the reproductive biology of the Brazilian electric ray Narcine brasiliensis (Elasmobranchii: Narcinidae). J Fish Biol 89:1105–1111. https://doi.org/10.1111/jfb.12778

Rosa R, Baptista M, Lopes VM et al (2014) Early-life exposure to climate change impairs tropical shark survival. Proc R Soc B Biol Sci 281:20141738. https://doi.org/10.1098/rspb.2014.1738

Rosa R, Paula JR, Sampaio E et al (2016a) Neuro-oxidative damage and aerobic potential loss of sharks under elevated CO2. Mar Biol 163:119. https://doi.org/10.1007/s00227-016-2898-7

Rosa R, Pimentel M, Galan JG et al (2016b) Deficit in digestive capabilities of bamboo shark early stages under climate change. Mar Biol 163:1–5. https://doi.org/10.1007/s00227-016-2840-z

Rosa R, Rummer JL, Munday PL (2017) Biological responses of sharks to ocean acidification. Biol Lett 13:20160796. https://doi.org/10.1098/rsbl.2016.0796

Salinas-De-León P, Phillips B, Ebert D, Shivji M, Cerutti-Pereyra F, Ruck C, Fisher CR, Marsh L (2018) Deep-sea hydrothermal vents as natural egg-case incubators at the Galapagos Rift. Sci Rep 8:1–7. https://doi.org/10.1038/s41598-018-20046-4

Shiffman DS, Hueter RE (2017) A United States shark fin ban would undermine sustainable shark fisheries. Mar Policy 85:138–140. https://doi.org/10.1016/j.marpol.2017.08.026

Simpfendorfer CA, Heupel MR, White WT, Dulvy NK (2011) The importance of research and public opinion to conservation management of sharks and rays: a synthesis. Mar Freshw Res 62:518–527. https://doi.org/10.1071/MF11086

Skomal GB, Mandelman JW (2012) The physiological response to anthropogenic stressors in marine elasmobranch fishes: a review with a focus on the secondary response. Comp Biochem Phys A 162:146–155. https://doi.org/10.1016/j.cbpa.2011.10.002

Speed CW, Field IC, Meekan MG, Bradshaw CJA (2010) Complexities of coastal shark movements and their implications for management. Mar Ecol Prog Ser 408:275–293. https://doi.org/10.3354/meps08581

Speed CW, Meekan MG, Field IC, McMahon CR, Bradshaw CJA (2012) Heat-seeking sharks: support for behavioral thermoregulation in reef sharks. Mar Ecol Prog Ser 463:231–244. https://doi.org/10.3354/meps09864

Stevens GC (1989) The latitudinal gradient in geographical range: how many species coexist in the tropics. Am Nat 133:240–256

Stevens JD, Bonfil R, Dulvy NK, Walker PA (2000) The effects of fishing on sharks, rays, and chimaeras (chondrichthyans), and the implications for marine ecosystems. ICES J Mar Sci 57:476–494. https://doi.org/10.1006/jmsc.2000.0724

Stevens JD, Walker TI, Cook SF, Fordham SV (2005) Threats faced by chondrichthyan fish. In: Fowler SL, Cavanagh RD, Camhi M et al (eds) Sharks, rays and chimeras: the status of chondrichthyan fishes. IUCN/SSC Shark Specialist Group. IUCN, Gland and Cambridge, pp 48–54

Sulikowski JA, Wheeler CR, Gallagher AJ, Prohaska BK, Langan JA, Hammerschlag N (2016) Seasonal and life-stage variation in the reproductive ecology of a marine apex predator, the tiger shark Galeocerdo cuvier, at a protected female-dominated site. Aquat Biol 24:175–184. https://doi.org/10.3354/ab00648

Tricas TC, Michael SW, Sisneros JA (1995) Electrosensory optimization to conspecific phasic signals for mating. Neurosci Lett 202:129–132. https://doi.org/10.1016/0304-3940(95)12230-3

Trujillo JE, Pardo LM, Vargas-Chacoff LV, Valdivia N (2019) Sharks in the forest: relationships between kelp physical-complexity attributes and egg deposition sites of the red-spotted catshark. Mar Ecol Prog Ser 610:125–135. https://doi.org/10.3354/meps12818

Vila Pouca C, Gervais C, Reed J, Michard J, Culum B (2019) Quantity discrimination in Port Jackson sharks incubated under elevated temperatures. Behav Ecol Sociobiol 73:93. https://doi.org/10.1007/s00265-019-2706-8

Wallman HL, Bennett WA (2006) Effects of parturition and feeding on thermal preference of Atlantic stingray, Dasyatis sabina (Lesueur). Environ Biol Fishes 75:259–267. https://doi.org/10.1007/s10641-006-0025-1

Ward-Paige CA, Keith DM, Worm B, Lotze HK (2012) Recovery potential and conservation options for elasmobranchs. J Fish Biol 80:1844–1869. https://doi.org/10.1111/j.1095-8649.2012.03246.x

Weijs L, Briels N, Adams DH, Lepoint G, Das K, Blust R, Covaci A (2015a) Bioaccumulation of organohalogenated compounds in sharks and rays from the southeastern USA. Environ Res 137:199–207. https://doi.org/10.1016/j.envres.2014.12.022

Weijs L, Briels N, Adams DH, Lepoint G, Das K, Blust R, Covaci A (2015b) Maternal transfer of organohalogenated compounds in sharks and stingrays. Mar Pollut Bull 92:59–68. https://doi.org/10.1016/j.marpolbul.2014.12.056

White WT, Blaber SJM, Craig JF (2012) The current status of elasmobranchs: biology, fisheries and conservation. J Fish Biol 80:897–900. https://doi.org/10.1111/j.1095-8649.2012.03268.x

Wosnick N, Awruch CA, Adams KR, Gutierre SMM, Bornatowski H, Prado AC, Freire CA (2018) Impacts of fisheries on elasmobranch reproduction: high rates of abortion and subsequent maternal mortality in the shortnose guitarfish. Anim Conserv 22:198–206. https://doi.org/10.1111/acv.12458
Acknowledgements
CRW is supported by a research assistantship jointly through the Anderson Cabot Center for Ocean Life at New England Aquarium and the University of Massachusetts Boston as well as a graduate fellowship from the American Australian Association. RR is supported by Fundação para a Ciência e Tecnologia (FCT, Portugal) through the MARE strategic project UID/MAR/04292/2019 and a project grant PTDC/AAG-GLO/1926/2014. JLR is supported by an Australian Research Council (ARC) Early Career Discovery Fellowship (2015–2018), a L'Oréal-UNESCO Women in Science Foundation Fellowship (2015–2016), and research allocation from the ARC Centre of Excellence for Coral Reef Studies at James Cook University. We thank the three anonymous reviewers for their insightful feedback and suggestions on this manuscript.
Additional information
Publisher's Note
Springer Nature remains neutral with regard to jurisdictional claims in published maps and institutional affiliations.
Electronic supplementary material
Below is the link to the electronic supplementary material.
About this article
Cite this article
Wheeler, C.R., Gervais, C.R., Johnson, M.S. et al. Anthropogenic stressors influence reproduction and development in elasmobranch fishes. Rev Fish Biol Fisheries 30, 373–386 (2020). https://doi.org/10.1007/s11160-020-09604-0
Received:

Accepted:

Published:

Issue Date:
Keywords
Chondrichthyes

Developmental biology

Climate change

Reproductive biology