Abstract
Shark-diving is part of a rapidly growing industry focused on marine wildlife tourism. Our study aimed to provide an estimate of the economic value of shark-diving tourism across Australia by comprehensively surveying the whale shark (Rhincodon typus), white shark (Carcharodon carcharias), grey nurse shark (Carcharias taurus), and reef shark (mostly Carcharhinus amblyrhynchos and Triaenodon obesus) diving industries using a standardised approach. A socio-economic survey targeted tourist divers between March 2013 and June 2014 and collected information on expenditures related to diving, accommodation, transport, living costs, and other related activities during divers' trips. A total of 711 tourist surveys were completed across the four industries, with the total annual direct expenditure by shark divers in Australia estimated conservatively at $25.5 M. Additional expenditure provided by the white-shark and whale-shark-diving industries totalled $8.1 and $12.5 M for the Port Lincoln and Ningaloo Reef regions respectively. International tourists diving with white sharks also expended another $0.9 M in airfares and other activities while in Australia. These additional revenues show that the economic value of this type of tourism do not flow solely to the industry, but are also spread across the region where it is hosted. This highlights the need to ensure a sustainable dive-tourism industry through adequate management of both shark-diver interactions and biological management of the species on which it is based. Our study also provides standardised estimates which allow for future comparison of the scale of other wildlife tourism industries (not limited to sharks) within or among countries.
This is a preview of subscription content, log in to check access.
Access options
Buy single article
Instant access to the full article PDF.
US$ 39.95
Price includes VAT for USA
Subscribe to journal
Immediate online access to all issues from 2019. Subscription will auto renew annually.
US$ 99
This is the net price. Taxes to be calculated in checkout.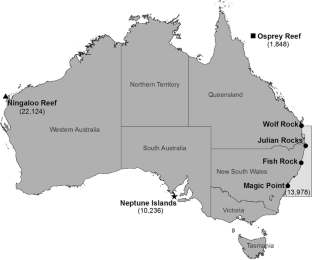 References
Apps K et al (2014) Scuba diving with the grey nurse shark (Carcharias taurus): an application of the theory of planned behaviour to identify divers beliefs. Aquat Conserv Marine Freshw Ecosyst 25(2):201–211

Apps K et al (2015) Scuba divers and the Greynurse shark: beliefs, knowledge, and behavior. Hum Dimens Wildl 20(5):425–439

Apps K et al (2016) In the water with white sharks (Carcharodon carcharias): participants' beliefs toward Cage-diving in Australia. Anthrozoös 29(2):231–245

Apps K et al (2017) Is there a place for education and interpretation in shark-based tourism? Tour Recreat Res. doi:10.1080/02508281.2017.1293208

Ballantyne R et al (2011) Visitors' learning for environmental sustainability: testing short-and long-term impacts of wildlife tourism experiences using structural equation modelling. Tour Manag 32(6):1243–1252

Barker SM et al (2011a) Recreational SCUBA diver interactions with the critically endangered Grey Nurse Shark (Carcharias taurus). Pac Conserv Biol 16(4):261–269

Barker SM et al (2011b) A video and photographic study of aggregation, swimming and respiratory behaviour changes in the Grey Nurse Shark (Carcharias taurus) in response to the presence of SCUBA divers. Mar Freshw Behav Physiol 44(2):75–92

Barnett A et al (2012) Residency and spatial use by reef sharks of an isolated seamount and its implications for conservation. PLoS ONE 7(5):e36574

Beaver D, Keily T (2015) The scuba dive industry in Australia: towards estiamtes of economic size and impact, Centre for Conservation Geography

Bennett M et al (2003) The sustainability of dive tourism in Phuket, Thailand. Communities in SE Asia: Challenges and responses. In: Landsdown H, Dearden P, Neilson W (eds) Victoria, BC, University of Victoria, Center for Asia Pacific Initiatives, pp 97–106

Bradford RW, Robbins RL (2013) Rapid assessment technique to assist management of the white shark (Carcharodon Carcharias) cage dive industry, South Australia. Open Fish Sci J 6:13–18

Bruce BD, Bradford RW (2013) The effects of shark cage-diving operations on the behaviour and movements of white sharks, Carcharodon Carcharias, at the Neptune Islands, South Australia. Mar Biol 160:889–907

Brunnschweiler JM, Ward-Paige CA (2014) Shark fishing and tourism. Oryx 48(04):486–487

Burgin S, Hardiman N (2015) Effects of non-consumptive wildlife-oriented tourism on marine species and prospects for their sustainable management. J Environ Manage 151:210–220

Butler RW (2006) The concept of a tourist area cycle of evolution: implications for management of resources. In: Butler RW (ed) The tourism area life cycle: applications and modifications. Channel View Publications, Clevedon, vol 1, pp 3–12

Catlin J, Jones R (2010) Whale shark tourism at Ningaloo Marine Park: a longitudinal study of wildlife tourism. Tour Manag 31:386–394

Catlin J et al (2010) Consolidation in a wildlife tourism industry: the changing impact of whale shark tourist expenditure in the Ningaloo coast region. Int J Tourism Res 12:134–148

Catlin J et al (2013) Valuing individual animals through tourism: science or speculation? Biol Cons 157:93–98

Cisneros-Montemayor AM et al (2013) Global economic value of shark ecotourism: implications for conservation. Oryx

Colman, J. (1997). Whale shark interaction management, with particular reference to Ningaloo Marine Park, 1997–2007, Department of Conservation and Land Management

Curtin S (2009) Wildlife tourism: the intangible, psychological benefits of human–wildlife encounters. Curr Issues Tour 12(5–6):451–474

Davis D et al (1997) Whale sharks in Ningaloo Marine Park: managing tourism in an Australian marine protected area. Tour Manag 18:259–271

Dearden P et al (2006) Implications for coral reef conservation of diver specialization. Environ Conserv 33:353–363

Diamantis D (2004) Ecotourism: management and assessment. Thomson Learning, Padstow

Dicken M (2014) Socio-economic aspects of the Sodwana Bay SCUBA diving industry, with a specific focus on sharks. Afr J Mar Sci 36(1):39–47

Dicken ML, Hosking SG (2009) Socio-economic aspects of the tiger shark diving industry within the Aliwal Shoal Marine Protected Area, South Africa. Afr J Mar Sci 31:227–232

Du Preez M et al (2012) The value of tiger shark diving within the Aliwal shoal marine protected area: a travel cost analysis. S Afr J Econ 80:387–399

Duffus DA, Dearden P (1990) Non-consumptive wildlife oriented recreation: a conceptual framework. Biol Cons 53:213–231

Dwyer L et al (2010) Tourism economics and policy. Channel View Publications, Bristol

Edney J (2012) Diver characteristics, motivations, and attitudes: Chuuk Lagoon. Tou Marine Environ 8(1–2):7–18

Environment Australia (2002) Recovery plan for the grey nurse shark (Carcharius taurus) in Australia. Canberra, Australia, Environment Australia

Farr M et al (2014) The non-consumptive (tourism)'value'of marine species in the Northern section of the Great Barrier Reef. Marine Policy 43:89–103

Fitzpatrick R et al (2011) Variation in depth of whitetip reef sharks: does provisioning ecotourism change their behaviour? Coral Reefs 30:569–577

Fowler SL (2000) Whale shark Rhincodon typus. Policy and research scoping paper. Nature Conservation Bureau, London

Gallagher AJ, Hammerschlag N (2011) Global shark currency: the distribution, frequency, and economic value of shark ecotourism. Curr Issues Tour 14(8):797–812

Graham R (2004) Global whale shark tourism: a "golden goose" of sustainable and lucrative income. Shark News 16:8–9

Green R, Giese M (2004) Negative effects of wildlife tourism on wildlife. In: Higginbottom K (ed) Wildlife tourism: impacts, management and planning. Gold Coast, Sustainable Tourism Cooperative Research Centre

Green RJ, Higginbottom K (2001) Status assessment of wildlife tourism in Australia series: the negative effects of wildlife tourism on wildlife. Wildlife Tourism Research Report Gold Coast, Queensland, CRC for Sustainable Tourism

Griffith Institute for Tourism (2014) Nature-based tourism in Australia. Year ending December 2014. In: Moyle B, McLennan C-L, Becken S, Battye R, Godfrey A (eds) Tourism Research Australia

Hara M et al (2003) Marine-based tourism in Gansbaai: a socio-economic study. University of the Western Cape, South Africa, The Department of Environmental Affairs Programme for Land and Agrarian Studies

Higginbottom K, Tribe A (2004) Contributions of wildlife tourism to conservation. Wildlife tourism: Impacts, management and planning. In: Higginbottom K (ed) Gold coast. Common Ground Publishing, CRC for Sustainable Tourism, pp 99–123

Huveneers C, Robbins W (2014) Species at the intersection. In: Techera E, Klein N (eds) Sharks: conservation, governance and management, pp 236–260

Just RE et al (2004) The welfare economics of public policy. A practical approach to project and policy evaluation. Edward Elgar Publishing, Cheltenham

Newman H et al (2002) Whale shark tagging and ecotourism. In: Fowler S, Reid T, Dipper FA (eds) Elasmobranch biodiversity, conservation and management. IUCN, Switzerland

Norman B (2002) Review of current and historical research on the ecology of whale sharks (Rhincodon typus), and applications to conservation through management of the species. CALM, Perth

NSW Department of Primary Industries (2011) Discussion paper for grey nurse shark protection. NSW Department of Primary Industries, Nelson Bay

NSW Department of Primary Industries and Fisheries (2007) Fishing and diving rules at Greynurse Shark aggregation sites. Retrieved 6 May 2009, from http://www.dpi.nsw.gov.au/fishing/species-protection/conservation/what-current/critically/grey-nurse-shark/new-fishing-and-diving-rules

O'Connor S et al (2009) Whale watching worldwide: tourism numbers, expenditures and expanding economic benefits, a special report from the International Fund for Animal Welfare. Yarmouth MA, USA

Orams M (2002) Feeding wildlife as a tourism attraction: a review of issues and impacts. Tour Manag 23:281–293

Otway NM et al (2003) Monitoring and identification of NSW critical habitat sites for conservation of grey nurse sharks. NSW Fisheries, Sydney, p 62

Pollard DA (1996) The biology and conservation status of the grey nurse shark (Carcharias taurus Rafinesque 1810) in New South Wales, Australia. Aquat Conserv 6:1–20

Pollard DA et al (2003) Red list assessment. The conservation status of Australasian Chondrichthyans. Report of the IUCN shark specialist group Australia and Oceania regional red list workshop; Queensland, Australia, 7–9 March 2003. In: Cavanagh R, Kyne P, Fowler SL, Musick JA, Bennett MB (eds) Brisbane, Australia, The University of Queensland, School of Biomedical Sciences, p. 170

Rowat D, Engelhardt U (2007) Seychelles: a case study of community involvement in the development of whale shark ecotourism and its socio-economic impact. Fish Res 84:109–113

Shackley M (1996) Wildlife tourism. International Thomson Business Press, London

Scheyvens R (1999) Ecotourism and the empowerment of local communities. Tour Manag 20:245–249

Smith K et al (2010) Grey nurse shark (Carcharias taurus) diving tourism: tourist compliance and shark behaviour at Fish Rock, Australia. Environ Manage 46:699–710

Smith KR et al (2016) Scuba-diving impacts and environmental influences on the patrolling behaviour of grey nurse sharks (Carcharias taurus): a preliminary assessment using acoustic telemetry at Fish Rock, Australia. Tour Marine Environ 12(1):17–34

Stoeckl N et al (2005) Regional economic dependence on iconic wildlife tourism: case studies of Monkey Mia and Hervey Bay. J Tour Stud 16(1):69

Stoeckl N et al (2010a) Live-aboard dive boats in the Great Barrier Reef: regional economic impact and the relative values of their target marine species. Tour Econ 16(4):995–1018

Stoeckl N et al (2010b) Understanding the Social and Economic Values of Key Marine Species in the Great Barrier Reef: MTSRF Project 4.8. 6 (a) Final Report, June 2010 with a section focusing on marine turtles

Tisdell C (2012) Economic benefits, conservation and wildlife tourism. Working paper no. 181. Brisbane, Queensland, Australia, University of Queensland

Vianna GMS et al (2011) The socio-economic value of the shark-diving industry in Fiji. University of Western Australia, Perth, Australian Institute of Marine Science

Vianna G et al (2013) Valuing individual animals through tourism: science or speculation? Reply to Catlin et al. (2013). Biol Conserv 166: 301–302

Vianna G et al (2016) Indicators of fishing mortality on reef-shark populations in the world's first shark sanctuary: the need for surveillance and enforcement. Coral Reefs 1–5(35): 973–977

Vianna GMS, Meekan M (2012) The economics of shark diving in the Semporna region, Malaysia. Perth, Western Australia, Australian Institute of Marine Science. University of Western Australia

Vianna G et al (2012) Socio-economic value and community benefits from shark-diving tourism in Palau: a sustainable use of reef shark populations. Biol Cons 145:267–277

Wearing S, Neil J (2009) Ecotourism: impacts, potentials, and possibilities. Butterworth-Heinemann, Oxford

Wells MP (1997) Economic perspectives on nature tourism, conservation and development, Environment Department, World Bank

Wilson C, Tisdell C (2003) Conservation and economic benefits of wildlife-based marine tourism: sea turtles and whales as case studies. Hum Dimens Wildl 8(1):49–58

Wilson SG et al (2001) The seasonal aggregation of whale sharks at Ningaloo Reef, Western Australia: currents, migrations and the El Nino/Southern Oscillation. Environ Biol Fishes 61:1–11

Zeppel H (2008) Education and conservation benefits of marine wildlife tours: developing free-choice learning experiences. J Environ Educ 39(3):3–18
Acknowledgements
All interviews were conducted in accordance with the requirements of the National Statement on Ethical Conduct in Human Research and the policies and procedures of The University of Western Australia. Social and behavioural research ethics for this project was approved by the University of Western Australia Social and Behavioural Ethics Committee (Approval No. RA/4/1/4180). We thank all the operators for the information provided and for allowing us to ask their visitors to complete our surveys. We thank Dani Rob from the WA Department of Parks and Wildlife–Exmouth District for assisting with surveys and providing information on the tourism industry for the Ningaloo Reef region. We thank John and Linda Rumney. Johanna Zimmerhackel and Vanessa Bettcher for assistance with data processing. David Pannell acknowledges the ARC Centre of Excellence for Environmental Decisions for funding support.
About this article
Cite this article
Huveneers, C., Meekan, M.G., Apps, K. et al. The economic value of shark-diving tourism in Australia. Rev Fish Biol Fisheries 27, 665–680 (2017). https://doi.org/10.1007/s11160-017-9486-x
Received:

Accepted:

Published:

Issue Date:
Keywords
Economic evaluation

Grey nurse sharks

Reef sharks

Whale sharks

White sharks

Wildlife tourism