Abstract
Climate change-related disturbances are increasingly recognized as critical threats to biodiversity and species abundance. On coral reefs, climate disturbances have known consequences for reef fishes, but it is often difficult to isolate the effect of coral bleaching from preceding or simultaneous disturbances such as fishing, pollution, and habitat loss. In this study, pre-bleaching surveys of fish family assemblages in the remote Phoenix Islands in 2002 are compared to post-bleaching in 2005, following severe thermal stress. Post-bleaching, total coral cover decreased substantially, as did the combined abundance of all fish families. Yet, changes in abundance for specific fish families were not uniform, and varied greatly from site to site. Of the 13 fish families examined, 3 exhibited significant changes in abundance from 2002 to 2005, regardless of site (Carangidae, Chaetodontidae, and serranid subfamily Epinephelinae). For these families, we explored whether changes in abundance were related to island type (island vs atoll) and/or declining coral cover (percent change). Carangidae on islands experienced larger changes in abundance than those on atolls, though declines in abundance over time were not associated with changes in live coral cover. In contrast, for Chaetodontidae, declines in abundance over time were most dramatic on atolls, and were also associated with changes in live coral cover. The remoteness of the Phoenix Islands excludes many typical local anthropogenic stressors as drivers of short-term changes; observed changes are instead more likely attributed to natural variation in fish populations, or associated with coral loss following the 2002–2003 major thermal stress event.
Access options
Buy single article
Instant access to the full article PDF.
US$ 39.95
Tax calculation will be finalised during checkout.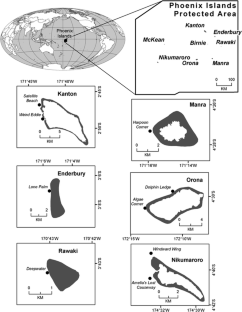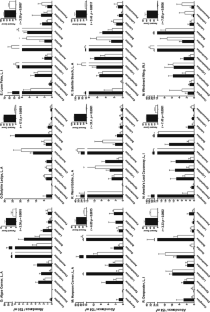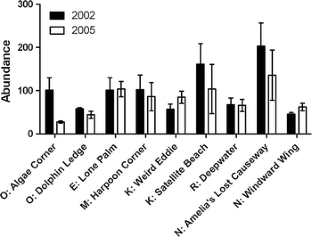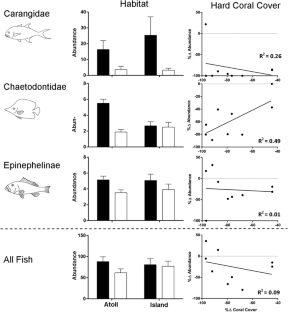 References
Allen GR (2007) Conservation hotspots of biodiversity and endemism for Indo-Pacific coral reef fishes. Aquatic Conserv Mar Fresh Eco 18:541–556

Allen GR, Bailey S (2011) Reef fishes of the Phoenix Islands, Central Pacific Ocean. Atoll Res Bull 589:83–118

Alling A, Doherty O, Logan H, Feldman L, Dustan P (2007) Catastrophic coral mortality in the remote central Pacific Ocean: Kirabati (sic) Phoenix Islands. Atoll Res Bull 551:1–18

Anderson GRV, Ehrlich AH, Ehrlich PR, Roughgarden JD, Russell BC, Talbot FH (1981) Community Struct Coral Reef Fishes. Am Nat 117(4):476–495

Balmford A, Bennun L, Ten Brink B (2005) The convention on biological diversity's 2010 target. Science 307:212–213

Berumen ML, Pratchett MS (2006) Recovery without resilience: persistent disturbance and long-term sifts in the structure of fish and coral communities at tiahura Reef, Moorea. Coral Reefs 25:647–653

Bonin MC, Munday PL, McCormick MI, Srinivasan M, Jones GP (2009) Coral-dwelling fishes resistant to bleaching but not to mortality of host corals. Mar Ecol Prog Ser 394:215–222

Bozec YM, Doledec S, Kulbicki M (2005) An analysis of fish-habitat associations on disturbed coral reefs: chaetodontic fishes in New Caledonia. J Fish Biol 66:966–982

Burkepile DE, Hay ME (2008) Herbivore species richness and feeding complementarity affect community structure and function on a coral reef. Proc Natl Acad Sci 105:16201–16206

Chong-Seng KM, Mannering TD, Pratchett MS, Bellwood DR, Graham NAJ (2012) The influence of coral reef benthic condition on associated fish assemblages. PLoS ONE 7:e42167

Christensen N, Bartuska A, Brown J, Carpenter S, Da C, Francis R, Franklin JF, MacMahon JA, Noss RF, Parsons DJ, Peterson CH, Turner MG, Woodmansee RG (1996) The report of the ecological society of America committee on the scientific basis for ecosystem management. Ecol App 9:1266–1277

Cole AJ, Pratchett MS, Jones GP (2008) Diversity and functional importance of coral-feeding fishes on tropical coral reefs. Fish Fish 9(3):286–307

DeMartini EE, Friedlander AM, Sandin SA, Sala E (2008) Differences in fish-assemblage structure between fished and unfished atolls in the northern Line Islands, central Pacific. Mar Ecol Prog Ser 365:199–215

English C, Wilkinson C, Baker V (1997) Survey manual for tropical marine resources 2nd edn. Australian Institute of Marine Sciences ISBN 0 642 2594 4

Feary DA, McCormick MI, Jones GP (2009) Growth of reef fishes in response to live coral cover. J Exp Mar Biol Ecol. doi:10.1016/j.jembe.2009.03.002

Findley JS, Findley MT (1985) A search for pattern in butterflyfish communities. Am Nat 126:800–816

Garpe KC, Yahya SAS, Lindahl U, Οhman MC (2006) Long-term effects of the 1998 coral bleaching even on reef fish assemblages. Mar Ecol Prog Ser 315:237–247

Gaston KJ, Williams PH (1993) Mapping the world's species - the higher taxon approach. Biodivers Lett 1:2–8

Gilmour JP, Smith LD, Heyward AJ, Baird AH, Pratchett MS (2013) Recovery of an isolated coral reef system following severe disturbance. Science 340:69–70

Gladstone W, Alexander T (2005) A test of the higher-taxon approach in the identification of candidate sites for marine reserves. Biodivers Conserv 14:3151–3168

Graham NAJ, Wilson SK, Jennings S, Polunin NVC, Bijoux JP, Robinson J (2006) Dynamic fragility of oceanic coral reef ecosystems. Proc Nat Acad Sci 103:8425–8429

Graham NAJ, McClanahan TR, MacNeil MA, Wilson SK, Polunin NVC et al (2008) Climate warming, marine protected areas and the ocean-scale integrity of coral reef ecosystems. PLoS ONE 3(8):e3039. doi:10.1371/journal.pone.0003039

Graham NAJ, Chabanet P, Evans RD, Jennins S, Letourner Y, MacNeil MA, McClanahan TR, Ohman MC, Polunin NVC, Wilson SK (2011) Extinction vulnerability of coral reef fishes. Ecol Lett 14:341–348

Green AL, Bellwood DR (2009) Monitoring functional groups of herbivorous reef fishes as indicators of coral reef resilience – A practical guide for coral reef managers in the Asia Pacific region. IUCN working group on climate change and coral reefs, IUCN, Gland, Switzerland, 70 pp

Grimsditch G, Mwaura JM, Kilonzo J, Amiyo N (2010) The effects of habitat on coral bleaching responses in Kenya. Ambio 39:195–304

Halford AR, Caley MJ (2009) Towards an understanding of resilience in isolated coral reefs. Glob Change Biol 15:3031–3045

Hoegh-Guldberg O, Mumby PJ, Hooten AJ, Steneck RS, Greenfield P, Gomez E, Harvell CD, Sale PF, Edwards AJ, Caldeira K, Knowlton N, Eakin CM, Iglesias-Prieto R, Muthiga NA, Bradbury RH, Dubi A, Hatziolos ME (2007) Coral reefs under rapid climate change and ocean acidification. Science 318(5857):1737–1742

Jackson JBC (2001) What was natural in the coastal oceans? Proc Nat Acad Sci 98(10):5411–5418

Jones GP, Syms C (1998) Disturbance, habitat structure and the ecology of fishes on coral reefs. Aust J Ecol 23:287–297

Jones GP, McCormick MI, Srinivasan M, Eagle JV (2004) Coral decline threatens fish biodiversity in marine reserves. Proc Nat Acad Sci 101:8251–8253

Kallimanis AS, Mazaris AD, Tsakanikas D, Dimopoulos P, Pantis JD, Sgardelis SP (2012) Efficient biodiversity monitoring: which taxonomic level to study? Ecol Indic 15:100–104

Kerr RA (2011) Humans are driving extreme weather; time to prepare. Science 334:1040

Lieske E, Myers R (1994) Coral reef fishes: Indo-Pacific and Caribbean. Harper Collins, London

Lindahl U, Ohman MC, Schelten CK (2001) The 1997/1998 mass mortality of corals: effects on fish communities on a Tanzanian coral reef. Mar Poll Bull 42(2):127–131

Mangubhai S, Rotjan RD, Obura DO (2012) Phoenix Islands Protected Area 2012 Expedition Report. New England Aquarium, Boston, MA, USA, 44 p

McClanahan TR, Graham NAJ, Maina J, Chabanet P, Bruggemann JH, Polunin NVC (2007) Influence of instantaneous variation on estimates of coral reef fish populations and communities. Mar Ecol Prog Ser 340:221–234

McCormick MI, Moore JAY, Munday PL (2010) Influence of habitat degradation on fish replenishment. Coral Reefs 29:537–546

Munday PL, Jones GP, Pratchett MS, Williams AJ (2008) Climate change and the future for coral reef fishes. Fish Fish 9:261–285

Obura DO, Grimsditch G (2009) Resilience assessment of coral reefs – Assessment protocol for coral reefs, focusing on coral bleaching and thermal stress. IUCN working group on climate change and coral reefs, IUCN, Gland, Switzerland, 70 pp

Obura DO, Mangubhai S (2011) Coral mortality associated with thermal fluctuations in the Phoenix Islands, 2002-2005. Coral Reefs 30:607–619

Obura DO, Stone GS (2002) Phoenix Islands: Summary of marine and terrestrial assessments conducted in the Republic of Kiribati: June 5-July 10, 2002. New England Aquarium, Boston

Obura D, Stone G, Mangubhai S, Bailey S, Yoshinaga A, Holloway C, Barrel R (2011) Baseline marine biological surveys of the Phoenix Islands, July 2000. Atoll Res Bull 589:1–62

Pandolfi JM, Bradbury RH, Sala E, Hughes TP, Bjorndal KA, Cooke RG, McArdle D, McClenachan L, Newman M, Paredes G, Warner RR, Jackson JBC (2003) Global trajectories of the long-term decline of coral reef ecosystems. Science 301:955–958

Petraitis PS, Latham RE, Niesenbaum RA (1989) The maintenance of species diversity by disturbance. Q Rev Biol 64:393–418

Pickett STA, White PS (eds) (1986) The ecology of natural disturbance and patch dynamics. Academic Press, Ontario

Pratchett MS, Wilson SK, Berumen ML, McCormick MI (2004) Sublethal effects of coral bleaching on an obligate coral feeding butterflyfish. Coral Reefs 23(3):352–356

Pratchett MS, Munday PL, Wilson SK, Graham NAJ, Cinner JE, Bellwood DR, Jones GP, Polunin NVC, McClanahan TR (2008) Effects of climate-induced coral bleaching on coral-reef fishes: ecological and economic consequences. Oceanogr Mar Biol Ann Rev 46:251–296

Pratchett MS, Trapon N, Berumen ML, Chong-Seng K (2010) Recent disturbances augment community shifts in coral assemblages in Moorea, French Polynesia. Coral Reefs online first. doi:10.1007/s00338-00010-00678-00332

Pratchett MS, Hoey AS, Wilson SK, Messmer V, Graham NAJ (2011) Changes in the biodiversity and functioning of reef fish assemblages following coral bleaching and coral loss. Diversity 3:424–452

Rotjan RD, Lewis SM (2008) Impact of coral predators on tropical reefs. Mar Ecol Prog Ser 367:73–91

Salvat B (2002) Status of southeast and central Pacific coral reefs 'Polynesia Mana Node': Cook Islands, French Polynesia, Kiribati, Niue, Tokelau, Tonga, Wallis and Futuna. In: Wilkinson C (ed) Status of coral reefs of the world: 2002. Australian Institute of marine Science, Townsville, pp 203–216

Sandin SA, Smith JE, deMartini EE, Dinsdale EA, Donner SD, Friedlander AM, Konotchick T, Malay M, Maragos JE, Obura D, Pantos O, Paulay G, Ritchie M, Rohwer F, Schroeder RE, Walsh S, Jackson JBC, Knowlton N, Sala E (2008) Baslines and degredation of coral reefs in the Northern Line Islands. PLoS ONE 3(2):w1548

Sano M, Shimizu M, Nose Y (1987) Long-term effects of destruction of hermatypic corals by Acanthaster planci infestation on reef fish communities at Iriomote Island, Japan. Mar Ecol Prog Ser 37:191–199

Schmitz OJ, Hamback PA, Beckerman AP (2000) Trophic cascades in terrestrial systems: a review of the effects of carnivore removals on plants. Am Nat 155:141–153

Sheppard CRC, Spalding MD, Bradshaw C, Wilson SK (2002) Erosion vs. recovery of coral reefs after 1998 El Nino: Chagos reefs. Ambio 31:40–48

Smale DA, Wernberg T (2013) Extreme climatic event drives range contraction of a habitat-forming species. Proc Roy Soc B 280:20122829

Sousa WP (1984) The role of disturbance in natural communities. Ann Rev Ecol Sys 5:353–391

Thomas CD, Cameron A, Green RE (2004) Extinction risk from climate change. Nature 416:389–395

Vargas-Angel B, Looney EE, Vetter OJ, Coccagna EF (2011) Severe, widespread El Niño associated coral bleaching in the US Phoenix Islands. Bull Mar Sci 87:623–638

Wernberg T, Smale DA, Thomsen MS (2012a) A decade of climate change experiments on marine organisms: procedures, patterns, and problems. Glob Change Biol 18:1491–1498

Wernberg T, Smale DA, Tuya F, Thomsen MS, Langlois TJ, deBettignes T, Bennett S, Rousseaux CS (2012b) An extreme climatic event alters marine ecosystem structure in a global biodiversity hotspot. Nat Clim Chang 3:78–82

Williams DM (1986) Temporal variation in the structure of reef slope fish communities (central great barrier reef): short-term effects of Acanthaster planci infestation. Mar Ecol Prog Ser 28:157–164

Williams GJ, Knapp IS, Maragos JE, Davy SK (2010) Modeling patterns of coral bleaching at a remote Central Pacific atoll. Mar Poll Bull 60:1467–1476

Wilson SK, Graham NAJ, Pratchett MS, Jones GP, Polunin NVC (2006) Multiple disturbances and the global degredation of coral reefs: are reef fishes at risk or resilient? Glob Change Biol 12:2220–2234

Wilson SK, Burgess S, Cheal A, Emslie M, Fisher R, Miller I, Polunin NVC, Sweatman HPA (2008) Habitat utilisation by coral reef fish: implications for specialists vs. generalists in a changing environment. J Anim Ecol 77:220–228

Wilson SK, Dolman AM, Cheal AJ, Emslie MJ, Pratchett MS, Sweatman HPA (2009) Maintenance of fish diversity on disturbed coral reefs. Coral Reefs 28:3–14

Wilson SK, Adjeroud M, Bellwood DR, Berument ML, Booth D, Bozec Y-M, Chabanet P, Cheal AJ, Cinner J, Depczynski M, Feary DA, Gagliano M, Graham NAJ, Halford AR, Halpern BS, Harbone AR, Hoey AS, Holbrook SJ, Jones GP, Kulbiki M, Letourneur Y, De Loma TL, McClanahan T, McCormick MI, Meekan MG, Mumby PJ, Munday PL, Ohman MC, Pratchett MS, Riegl B, Sano M, Schmitt RJ, Syms C (2010a) Crucial knowledge gaps in current understanding of climate change impacts on coral reef fishes. J Exp Biol 213:894–900

Wilson SK, Fisher R, Pratchett MS, Graham NAJ, Dulvy NK, Turner RA, Cakacaka A, Polunin NVC (2010b) Habitat degredation and fishing effects on the size structure of coral reef fish communities. Ecol App 20:442–451
Acknowledgments
The authors would like to thank Stuart Sandin and Les Kaufman for their thoughtful comments on this manuscript. We are grateful to Kerry Lagueux for producing the maps depicted in Fig. 1, and to Tania Lemos Eskin for drawing the fish sketches used in Table 2 and Fig. 3. This study is part of a larger effort examining reef recovery and resilience processes on isolated atoll reefs in the central Pacific; this effort has been funded and supported by the New England Aquarium, the National Geographic Society, Conservation International (Global Conservation Fund), the Government of Kiribati, the Akiko Shiraki Dynner Fund for Ocean Exploration and Conservation, and the Nai'a (Rob Barrel and Cat Holloway). Findings from this manuscript were presented at the World Fisheries Congress in 2012.
About this article
Cite this article
Mangubhai, S., Strauch, A.M., Obura, D.O. et al. Short-term changes of fish assemblages observed in the near-pristine reefs of the Phoenix Islands. Rev Fish Biol Fisheries 24, 505–518 (2014). https://doi.org/10.1007/s11160-013-9327-5
Received:

Accepted:

Published:

Issue Date:
Keywords
Climate change

Disturbance

Coral reef

Kiribati

Chaetodontidae