Abstract
In our post-modern, globalised world, there is a risk of unique cultural heritages being lost. This loss contributes to the detriment of civilization, because individuals need to be rooted in their own specific identity in order to actively participate in community life. This article discusses a longitudinal case study of the efforts being made by Australian Jewish schools to maintain Jewish heritage through annual experiential religious education camps, coordinated in a programme called Counterpoint. The researchers' aim was to analyse how a school youth camp can serve as a site for socialisation and education into a cultural and religious heritage through experiential learning and informal education. During research trips which took place over several years, interviews enabling insights into the process of experiential education were conducted with a total of three different Directors of Informal Jewish Education, two Jewish Studies heads, five participating teachers, seven youth leaders, as well as seven student focus groups. In their analysis of the semi-structured interviews, the authors of this article employed a grounded theory approach using a constant comparative method, which enabled a more nuanced understanding of the main phenomenon investigated. Over the years, they were able to observe two philosophical approaches, one of which focused more on socialisation, with immersion into experience, while the other focused on education, with immersion into Jewish knowledge. Their findings reveal that some educators aim to "transmit" knowledge through "evocation", with the students involved in active learning; while others focus more on students' "acquisition" of knowledge through transmission. Experiential learning activities were found to be more meaningful and powerful if they combined both approaches, leading to growth.
Résumé
Apprentissage expérientiel et éducation aux valeurs dans un camp scolaire de jeunes : entretenir la culture et le patrimoine juifs – Dans notre monde post-moderne et planétarisé, les patrimoines culturels uniques risquent de disparaître. Cette perte a lieu au détriment de la civilisation, car les individus ont besoin d'être ancrés dans leur identité spécifique pour participer activement à la vie de leur communauté. Cet article présente une étude de cas longitudinale sur les efforts déployés par les écoles juives en Australie pour entretenir le patrimoine juif à travers des camps annuels d'éducation religieuse expérientielle, coordonnés par un programme baptisé Counterpoint. Les chercheurs avaient pour but d'explorer comment un camp scolaire de jeunes peut servir de lieu de socialisation et d'éducation à un patrimoine culturel et religieux à travers l'apprentissage expérientiel et l'éducation informelle. Lors de voyages d'études entrepris pendant plusieurs années, des entretiens permettant d'observer la démarche de l'éducation expérientielle ont été menés avec trois directeurs d'éducation juive informelle, deux responsables d'études juives, cinq enseignants, sept animateurs de jeunes et sept groupes de discussion étudiants. Pour analyser ces entretiens semi-structurés, les auteurs de l'article ont appliqué une approche théorique à base empirique qui utilise une méthode comparative constante permettant une appréhension plus nuancée du principal phénomène étudié. Ils ont pu observer au cours des années deux approches philosophiques, l'une davantage axée sur la socialisation, avec immersion dans l'expérience, l'autre sur l'éducation avec immersion dans le savoir juif. Leurs résultats révèlent que certains éducateurs visent à « transmettre » les connaissances par « évocation » , les élèves étant impliqués dans un apprentissage actif, alors que d'autres privilégient « l'acquisition » par transmission du savoir. Les activités d'apprentissage expérientiel semblent être plus porteuses de sens et efficaces quand elles associent les deux approches, qui mènent ainsi à une amplification.
This is a preview of subscription content, log in to check access.
Access options
Buy single article
Instant access to the full article PDF.
US$ 39.95
Price includes VAT for USA
Subscribe to journal
Immediate online access to all issues from 2019. Subscription will auto renew annually.
US$ 99
This is the net price. Taxes to be calculated in checkout.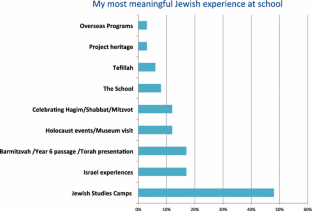 Notes
1.

Experiential learning is generally defined as learning through experience, i.e. by doing, but with the added element of learning through reflecting on this doing. The learner thus gets actively involved instead of passively listening to or watching a teacher. In the particular context of the research discussed in this article, experiential learning refers to experiencing Jewish culture (customs, ceremonies) and engaging deeply with Jewish canonical texts and knowledge.

2.

Children in Australia enter primary school (years K–6) at age 5, moving on to secondary school (years 7–12) at age 12.

3.

Established in 1942, Moriah College has grown into one of the largest Jewish schools in Sydney (Rutland 2003). The school's website is at http://www.moriah.nsw.edu.au/ [accessed 28 October 2016].

4.

5.

This study began in 2007 as a broad investigation of "Power, organizational structure and identity of Jewish day schools in multicultural Australia and the Pacific region". We received ethics permission in 2008 and Professor Gross undertook her first research trip in May 2008. Since then, she has undertaken research trips in 2009, 2012, 2013, 2014 and 2015. We have investigated all elements of Jewish education in the formal school environment as well as in government schools and have already published some of our findings in these areas in a number of articles and one book chapter.

6.

As the camps are run by the madrichim, the number of teachers involved in Counterpoint is fairly small, but interestingly, most of the teachers who volunteer to participate are not Jewish.

7.

We use the term literacy here to mean a kind of interpretive knowledge.
References
Berger, P. L. (1990 [1967]). The sacred canopy. Garden City, NY: Anchor Books.

Bryfman, D. (2008). The challenge of experiential Jewish education. In J. Reimer & S. A. Shavelson (Eds.), How Jewish experiential learning works (pp. 33–39). New York, NY: The Covenant Foundation and the Institute for Informal Jewish Education.

Chazan, B. (2003). The philosophy of informal Jewish education. The encyclopedia of informal education (infed). Retrieved 17 Aug 2015 from http://www.infed.org/informaljewisheducation/informal_jewish_education.htm.

Cremin, L. A. (1977). Traditions of American education. New York: Basic Books.

Dewey, J. (1963 [1938]). Experience and education. New York, NY: Collier Books.

Geertz (1973). The interpretation of cultures: Selected essays. New York: Basic Books.

Graham, D. (2012). Education: A statistical analysis. Report series on the GEN08 Survey. Melbourne: Monash University and the Australian Centre for Jewish Civilisation. Retrieved 24 Oct 2016 from http://artsonline.monash.edu.au/gen08/files/2012/12/gen08-report5-education.pdf.

Graham, D. (2014). The Jewish population of Australia: Key findings from the 2011 census. Melbourne: Monash University and the Jewish Communal Appeal.

Gross, Z. (2010). Reflective teaching as a path to religious meaning-making and growth. Religious Education, 105(3), 265–282.

Jackson, M. (2006). "Serving time": The relationship of good and bad teaching. Quality Assurance in Education, 14(4), 385–397.

Jacobs, J. (1999). Experiential education: The main dish, not just a side course. Boulder, CO: Association for Experiential Education.

Kahane, R. (1997). The origins of postmodern youth: Informal youth movements in a comparative perspective. Berlin: Walter de Gruyter.

Kahane, R. (2004). Toward a theory of informality and its implications. In Z. Gross & Y. Dror (Eds.), Education as a social challenge (pp. 129–152). Ramot, Tel-Aviv: Tel Aviv University Press (Hebrew).

Kolb, D. A. (1984). Experiential learning: Experience as the source of learning and development. Englewood Cliffs, NJ: Prentice-Hall.

Kress, J. S. (2014). Experiential Jewish education has arrived! Now what? Journal of Jewish Education, 80(3), 319–342.

Markus, A. (2011). Jewish continuity. Report series on the GEN08 Survey. Melbourne: Monash University and the Australian Centre for Jewish Civilisation. Retrieved 28 Oct 2016 from http://artsonline.monash.edu.au/gen08/files/2012/12/gen08-report2-jewish-continuity-overview.pdf.

Parsons, T. (1967). Sociological theory and modern society. New York: Free Press.

Raviv, Z. (2000). On truth, tradition, and respect in Jewish education. Journal of Jewish Communal Service, 76(4), 275–291.

Reimer, J. (2007). Beyond more Jews doing Jewish: Clarifying the goals of informal Jewish education. Journal of Jewish Education, 73(1), 5–23.

Reisman, B. (1991). Informal Jewish education in the United States: A report for the Mandel Commission. New York: Mandel Foundation.

Rutland, S. D. (2003). "If you will it, it is no dream": The Moriah story. Sydney: Playright Publishers.

Sagi, A. (2002). A critique of the Jewish identity discourse. In A. Sagi & N. Ilan (Eds.), Jewish culture in the eye of the storm. A jubilee book in honor of Yosef Ahituv (pp. 248–292). Tel-Aviv: Hakibutz Hameuchad and The Center of Jacob Herzog for Jewish Studies.

Segalowitz, N., & Freed, B. F. (2004). Context, contact, and cognition in oral fluency acquisition: Learning Spanish in at home and study abroad contexts. Studies in Second Language Acquisition, 26(2), 173–199.

Sfard, A. (1998). On two metaphors for learning and the dangers of choosing just one. Educational Researcher, 27(2), 4–13.

Sfard, A. (2007). When the rules of discourse change, but nobody tells you: Making sense of mathematics learning from a commognitive standpoint. The Journal of the Learning Sciences, 16(4), 567–615.

Strauss, A. L., & Corbin, J. (1997). Grounded theory in practice. London: Sage.

Vannest, K. J., & Hagan-Burke, S. (2010). Teacher time use in special education: An objective snapshot. Remedial and Special Education, 31(2), 126–142.

Zajda, J., & Zajda, R. (2008). Experiential learning. In G. McCulloch & D. Crook (Eds.), The Routledge international encyclopedia of education (pp. 242–244). London: Routledge.
Acknowledgements
The research for this paper was sponsored by the Pratt Foundation, Melbourne, Australia.
About this article
Cite this article
Gross, Z., Rutland, S.D. Experiential learning and values education at a school youth camp: Maintaining Jewish culture and heritage. Int Rev Educ 63, 29–49 (2017). https://doi.org/10.1007/s11159-016-9609-y
Keywords
Experiential learning

Informal education

Immersion

Transmitting knowledge

Evoking, acquiring