Zweiwegintegration durch zweisprachige Bildung? Ergebnisse aus der Staatlichen Europa-Schule Berlin
Zusammenfassung
Es gibt kein Rezept, wie mit der an Schulen in Europa häufig vorkommenden Sprachenvielfalt umgegangen werden sollte. Dieser Artikel präsentiert eine vielversprechende Alternative zum einsprachigen Unterricht. Die Staatliche Europa-Schule Berlin (SESB) ist ein Modell der Zweiwegimmersion (ZWI), das Kinder mit deutscher Muttersprache und Kinder mit einer anderen vor Ort gesprochenen Muttersprache in der gleichen Schulklasse vereint, und sie in zwei Sprachen gemeinsam unterrichtet. In diesem Modell, das in Berlin an 17 Grundschulen und 13 weiterführenden Schulen angeboten wird, lernen Kinder und Jugendliche in zwei Sprachen voneinander und miteinander. Auf der Grundlage einer hauptsächlich quantitativen, quasi-experimentellen Studie mit 603 Jugendlichen wird bewiesen, dass es eine Anzahl von friedenslinguistischen Vorteilen gibt, die neben persönlicher und gesellschaftlicher Mehrsprachigkeit soziale Zweiwegintegration fördern können. Dies führt zu dem Schluss, dass ZWI-Erziehung, so wie sie in Berlin praktiziert wird, als Bildungsmodell für andere mehrsprachige Regionen Europas dienen könnte.
Abstract
While there is no simple recipe of how to respond to the multitude of languages present in many European schools, this article presents a promising alternative to monolingual education. The focus is on Staatliche Europa-Schule Berlin (SESB), a two-way immersion (TWI) model that unites children whose mother tongue is German with children whose mother tongue is another locally spoken language in one class and teaches them together in two languages. Thus in this model, offered by 17 primary schools and 13 secondary schools in Berlin, pupils learn in two languages from and with each other. Based on a largely quantitative, quasi-experimental study with 603 students, evidence is provided that there are a number of peace-linguistic benefits that can promote two-way social integration, besides fostering personal and societal multilingualism. This suggests that TWI education as practised in Berlin could serve as an educational model for other multilingual parts of Europe.
Keywords
Zweisprachige Bildung 
Staatliche Europa-Schule Berlin 
SESB 
Soziale Integration 
Migration 
Herkunftssprachen 
Two-way immersion 
Bilingual education 
Résumé
Immersion réciproque dans l'enseignement bilingue ? Résultats de la Staatliche Europa-Schule Berlin – S'il est vrai qu'il n'existe pas de recette toute faite pour gérer la multitude des langues présentes dans un grand nombre d'écoles en Europe, cet article présente une alternative prometteuse à l'enseignement monolingue. Il fait un gros plan sur la Staatliche Europa-Schule Berlin (SESB), modèle d'immersion réciproque qui réunit dans une classe des élèves de langue maternelle allemande et des élèves dont la langue maternelle est une autre langue parlée localement, et les instruit ensemble dans les deux langues. Proposé par 17 écoles primaires et 13 établissements secondaires de Berlin, ce modèle permet donc aux élèves d'apprendre dans deux langues, ensemble et mutuellement. À travers une étude essentiellement quantitative et quasi-expérimentale réalisée avec 603 élèves, la preuve est apportée de l'existence de plusieurs bienfaits pacifiques à travers la diversité linguistique, susceptibles de promouvoir l'intégration sociale dans un double sens, en outre de favoriser le multilinguisme individuel et sociétal. Ces résultats laissent supposer que l'enseignement à immersion réciproque tel qu'il est pratiqué à Berlin pourrait servir de modèle éducatif dans d'autres régions multilingues d'Europe.
Resumen
¿Inmersión bidireccional mediante una educación bilingüe? Resultados de la Staatliche Europa-Schule, Berlín – Si bien no existe una receta simple sobre cómo responder a la diversidad de lenguas presentes en muchas escuelas europeas, este artículo ofrece una alternativa prometedora de la educación monolingüe. Este trabajo está enfocado en la Escuela Estatal Europea de Berlín (SESB, por sus siglas en alemán), un modelo de inmersión bidireccional que agrupa a niños cuya lengua materna es el alemán con niños cuya lengua materna es una lengua extranjera hablada localmente en una misma clase, donde reciben las lecciones en ambas lenguas. Mediante este modelo, ofrecido por 17 escuelas primarias y 13 escuelas secundarias en Berlín, los alumnos aprenden en dos lenguas, los unos de los otros y cada uno con los demás. Sobre la base de un estudio predominantemente cuantitativo y cuasiexperimental realizado con 603 estudiantes, se han comprobado numerosos beneficios de lingüística de la paz que pueden promover una integración social bidireccional y asimismo cultivar el multilingüismo personal y de la sociedad. Todo esto indica que la educación bidireccional, tal como se la practica en Berlín, podría servir de modelo educativo para otras partes multilingües de Europa.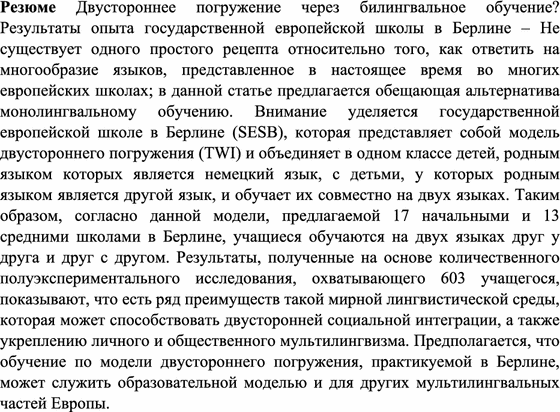 Copyright information
© Springer Science+Business Media B.V. 2012