From barriers to bridges: An investigation on Saudi student mobility (2006–2009)
Abstract
Globalisation is often thought to advocate for a single set of beliefs and customs and for a rejection of the need to protect regional cultures and traditions. In the aftermath of 9/11, the rift between Western and Arab cultures has deepened, and there is a patent need for cultural bridges to be built. The government of Saudi Arabia has, by increasing funding for higher education through grants and scholarships, enabled Saudi students to study at overseas universities. A number of non-Saudi students are also enrolled at Saudi Arabian universities. After a brief introduction to the cultural and educational history of the Arab region and Saudi identity, this article turns to contemporary higher education in Saudi Arabia. It introduces the King Abdullah Scholarship Programme and then goes on to present detailed enrolment data for 2006–2009, demonstrating trends and policy changes and identifying patterns in student mobility.
Keywords
King Abdullah Scholarship Programme (KASP) 
Student mobility 
Identity 
Higher education 
Saudi Arabia 
Globalisation 
Résumé
Supprimer les barrières et jeter des ponts : étude sur la mobilité des étudiants saoudiens (2006–2009) – Il est souvent supposé que la mondialisation favorise un ensemble unique de croyances et de coutumes et le rejet de la nécessité de protéger les cultures et traditions régionales. En conséquence du 11 Septembre, la faille entre les cultures occidentale et arabe s'est creusée, et il est manifestement devenu impératif d'édifier des ponts culturels. En accroissant le financement de l'enseignement supérieur par le biais d'allocations et de bourses, le Gouvernement de l'Arabie saoudite permet à ses étudiants des séjours dans des universités à l'étranger. À l'inverse, de nombreux étudiants non saoudiens sont inscrits dans les universités du pays. Après une brève introduction sur l'histoire culturelle et éducative de la région arabe et sur l'identité saoudienne, les auteurs analysent l'enseignement supérieur aujourd'hui en Arabie saoudite. Ils présentent le Programme de bourses du roi Abdallah, puis les données détaillées des immatriculations pendant les années 2006–2009, en indiquant les tendances, l'évolution des politiques et les schémas de mobilité des étudiants.
Zusammenfassung
Brücken statt Schranken: eine Untersuchung zur Mobilität der Studierenden aus Saudi-Arabien (2006–2009) – Globalisierung, so wird häufig angenommen, stehe für ein festgelegtes System von Denk- und Verhaltensmustern. Die Notwendigkeit, regionale Kulturen und Traditionen zu schützen, werde dagegen abgelehnt. Infolge des 11. Septembers 2001 ist der Graben zwischen westlichen und arabischen Kulturen tiefer geworden, und es ist ganz offensichtlich notwendig, kulturelle Brücken zu bauen. Die Regierung Saudi-Arabiens hat die Finanzierung der Hochschulausbildung durch Beihilfen und Stipendien aufgestockt und damit saudischen Studierenden ein Studium an ausländischen Universitäten ermöglicht. Es sind auch einige nichtsaudische Studierende an saudi-arabischen Universitäten eingeschrieben. Nach einer kurzen Einführung in die Kultur- und Bildungsgeschichte der arabischen Region und die saudische Identität wenden sich die Autoren in diesem Artikel der heutigen Hochschulausbildung in Saudi-Arabien zu. Zunächst wird das King Abdullah Scholarship Programme [König-Abdullah-Stipendienprogramm] vorgestellt. Anhand detaillierter Daten zu den Einschreibungen in den Jahren 2006 bis 2009 werden anschließend Trends und Veränderungen der politischen Strategie aufgezeigt und Muster studentischer Mobilität eruiert.
Resumen
De barreras a puentes: una investigación sobre la movilidad de estudiantes árabes sauditas (2006–2009) – Muchas veces, se piensa que la globalización aboga por un solo conjunto de creencias y costumbres y que rechaza la necesidad de proteger culturas y tradiciones regionales. En consecuencia de los sucesos del 11 de septiembre se profundizó la brecha entre las culturas occidental y árabe; por lo tanto, existe una clara necesidad de construir puentes culturales. Incrementando los fondos de la educación superior con subsidios y becas, el gobierno de Arabia Saudita posibilitó que los estudiantes sauditas estudien en universidades de otros países. Por otra parte, hay numerosos estudiantes no sauditas matriculados en universidades de Arabia Saudita. Tras una breve introducción a la historia de la cultura y de la educación de la región árabe y a la identidad saudita, los autores abordan la educación superior contemporánea en Arabia Saudita, presentan el Programa de Becas del Rey Abdalá y, finalmente, pasan a exponer detalladamente los datos de matriculación para los años 2006–2009, demostrando cambios en tendencias y políticas e identificando patrones de movilidad de los estudiantes.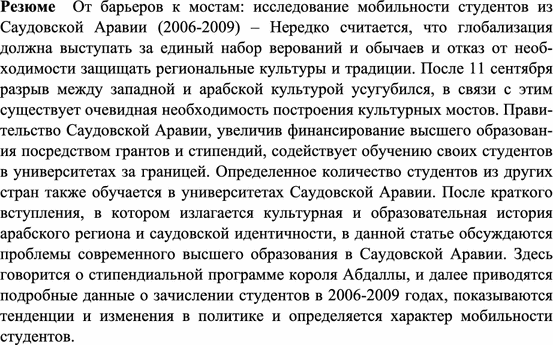 Copyright information
© Springer Science+Business Media B.V. 2011