Women and higher education in Iran: What are the implications for employment and the "marriage market"?
Abstract
In contemporary Iran, women with higher education face both gender discrimination and an unfavourable economic system, one that is not conducive to employment-generation for women. This paper provides an analysis of women's access to higher education in Iran, which has varied over the last 30 years, and their continuously limited participation in the job market. Based on qualitative field research, this paper includes the voices of individual women, discussing their experience of higher education and factors they think are contributing to their limited choice of employment. The paper suggests that while the recent trend in negotiating mehrieh (a nuptial gift which is payable by the groom to the bride) has been a strategy employed by Iranian women to overcome some of the discriminatory laws they are subject to, this trend cannot actually be explained by the fact that women's employment opportunities are limited. The paper concludes by asserting that limited labour force participation for educated women is a consequence of both political economy and gender ideology.
Keywords
Women and higher education 
Women and employment 
Iran 
Gender relations in Iran 
Higher education and mehrieh 
Unemployment 
Résumé
Les femmes et l'enseignement supérieur en Iran : quelles répercussions sur l'emploi et sur le « marché du mariage » ? – Aujourd'hui en Iran, les femmes dotées d'un bagage universitaire sont confrontées à la fois à une discrimination sexuelle et à un système économique défavorable, non propice à la création d'emplois pour les femmes. Les auteures présentent une analyse sur l'accès des femmes à l'enseignement supérieur en Iran, qui a évolué au cours des 30 dernières années, et sur leur participation au marché de l'emploi qui est restée limitée. À partir d'un travail de recherche qualitative de terrain, les auteures font entendre la voix de femmes concernées, qui relatent leur expérience dans l'enseignement supérieur et citent les facteurs qui à leur avis ont contribué à limiter leur choix sur le marché du travail. Les auteures avancent que, si la tendance récente à négocier le mehrieh (dote prénuptiale remise par le marié à la future épouse) est une stratégie appliquée par les Iraniennes pour atténuer certaines lois discriminatoires dont elles font l'objet, cette tendance ne peut s'expliquer par l'insuffisance d'opportunités d'emploi pour les femmes. Les auteures concluent en affirmant que la faible participation des femmes instruites au marché du travail est une conséquence à la fois de l'économie politique et d'une idéologie sexiste.
Zusammenfassung
Frauen und Hochschulausbildung im Iran und die Implikationen für die Beschäftigung und den "Heiratsmarkt" – Im heutigen Iran haben Frauen mit Hochschulausbildung sowohl mit geschlechtsspezifischer Diskriminierung zu kämpfen als auch mit einer ungünstigen Wirtschaftsordnung, die kein förderliches Umfeld für die Berufstätigkeit von Frauen bietet. In dieser Analyse geht es um den Zugang von Frauen zur Hochschulausbildung im Iran, der im Lauf der letzten 30 Jahre Veränderungen unterworfen war, und um ihre dauerhaft eingeschränkte Teilhabe am Arbeitsmarkt. Auf der Grundlage qualitativer Feldforschung kommen in diesem Artikel auch einzelne Frauen zu Wort. Sie sprechen über ihre Erfahrungen mit der Hochschulausbildung und darüber, welche Faktoren ihrer Meinung nach mitverantwortlich sind für ihre begrenzten beruflichen Möglichkeiten. Zwar ist der neue Trend zum Aushandeln einer Mehrieh (einer Hochzeitsgabe, die der Bräutigam an die Braut zahlen muss) eine Strategie iranischer Frauen zur Überwindung von einigen der diskriminierenden Gesetze, denen sie unterworfen sind, doch in diesem Artikel wird der Standpunkt vertreten, dass sich dieser Trend nicht dadurch erklären lässt, dass die Beschäftigungsmöglichkeiten der Frauen eingeschränkt sind. Der Artikel schließt mit der Feststellung, dass die eingeschränkte Teilhabe gebildeter Frauen am Arbeitsmarkt sowohl auf die politische Ökonomie als auch auf die Geschlechterideologie zurückzuführen ist.
Resumen
Las mujeres y la educación superior en Irán: ¿Cuáles son las implicaciones para el empleo y el "mercado matrimonial"? – En el Irán contemporáneo, las mujeres con educación superior deben encarar tanto la discriminación de género como un sistema económico desfavorable que no propiciar la generación de empleo para mujeres. Este trabajo ofrece un análisis del acceso que las mujeres tienen a la educación superior en Irán, que ha variado a lo largo de los últimos 30 años, y la limitación permanente de su participación en el mercado laboral. Basado en una investigación de campo cualitativa, este trabajo incluye las voces de mujeres individuales que exponen su experiencia con la educación superior y los factores que, según su opinión, contribuyen a que sean limitadas sus opciones de empleo. El trabajo plantea que, si bien la tendencia reciente a negociar el
mehrieh
(un regalo nupcial que debe pagar el novio a la novia) ha sido una estrategia empleada por las mujeres iraníes para superar algunas de las leyes discriminatorias a las que están expuestas, esta tendencia en realidad no puede explicarse por el hecho de que las oportunidades de empleo sean limitados para las mujeres. El trabajo termina con la afirmación de que la participación limitada en la fuerza laboral de las mujeres con educación es una consecuencia tanto de la economía política como de la ideología de género.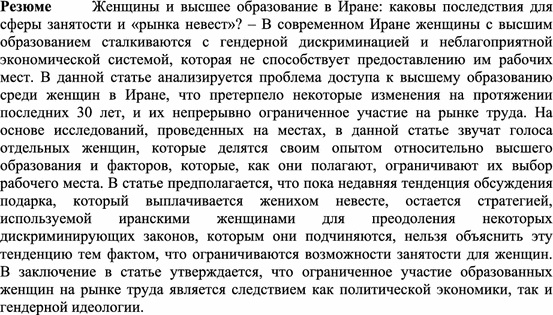 Notes
Acknowledgments
Field research for this paper was conducted by Goli M. Rezai-Rashti with funding from the Social Sciences and Humanities Research Council of Canada, as part of the project Women and Higher Education in Iran (No. 410-2006-1426). Goli M. Rezai-Rashti is also enormously grateful for all support provided by Dr. Golnar Mehran in facilitating her research in Iran and also for her valuable intellectual support and friendship.
Copyright information
© Springer Science+Business Media B.V. 2011