Abstract
This essay contributes a Pacific Islands perspective to the global discussion of "Living Together: Education and Intercultural Dialogue". Through poetry and prose, this essay traces the impact of the Tongan concept of vaa (values/valued relationships) on learning and language. By invoking UNESCO's mandate to build peace through education, the concept of vaa is shown to be a key to promoting peace. The challenges and prospects of nurturing peace through international cooperation in education are discussed with examples drawn from the Pacific. Specifically, Tonga's social and linguistic histories provide avenues for interpreting Pacific educational ideals in relation to Western concepts of knowing and learning. Reflection on cultural literacy in the Pacific context raises deeper questions about the role of educators when working interculturally. Lessons to be learned include the oft-quoted maxim that educators must first learn about their own culture before learning about others', and before imposing their own pedagogies and curricula on others' education systems.
Résumé
CONSOLIDER LES RAPPORTS ET RENDRE HONNEUR AUX RESPONSABILITÉS : UNE PERSPECTIVE SUR LE PACIFIQUE  – cet essai contribue, avec une perspective sur les îles du Pacifique, à la discussion globale de « vivre ensemble : Éducation et Dialogue Interculturel  ». En poÉsie et en prose, cet essai trace l'impact du concept tongien du vaa (valeurs/rapports ÉvaluÉs) sur l'apprentissage et le langage. En Évoquant le mandat de l'UNESCO pour Établir la paix par l'Éducation, le concept du vaa s'avère être une clef favorisant la paix. Les dÉfis et les perspectives de la consolidation de la paix par le biais d'une coopÉration internationale dans le domaine de l'Éducation sont discutÉs avec des exemples tirÉs du Pacifique. De manière spÉcifique, les histoires sociales et linguistiques du Tonga fournissent des voies d'accès pour interprÉter les idÉaux Éducatifs du Pacifique par rapport aux concepts occidentaux du savoir et de l'apprentissage. La rÉflexion sur l'instruction culturelle dans le contexte du Pacifique soulève des questions plus profondes au sujet du rôle des Éducateurs lorsque ceux-ci travaillent interculturellement. Les leçons à apprendre incluent la maxime souvent citÉe que les Éducateurs doivent d'abord apprendre de leur propre culture avant d'en apprendre d'autres, et avant d'imposer leurs propres pÉdagogies et programmes d'Études aux systèmes d'Éducation des autres.
Zusammenfassung
BEZIEHUNGEN PFLEGEN UND VERANTWORTUNG ÜBERNEHMEN: PAZIFISCHE PERSPEKTIVEN – In die globale Diskussion zum Thema "Zusammenleben: Bildung und interkultureller Dialog" bringt dieser Artikel die Sichtweise der pazifischen Inseln ein. In Poesie und Prosa beschreibt der Beitrag die Auswirkungen des tonganischen Konzepts der vaa (Werte/wertschätzende Beziehungen) auf Lernen und Sprache. Es wird gezeigt, dass das Konzept der vaa, ganz im Sinne des UNESCO-Mandats der Friedensschaffung durch Bildung, ein SchlÜssel zur Friedensbildung ist. Anhand von Beispielen aus dem pazifischen Raum werden Herausforderungen und Zukunftsperspektiven der Friedensförderung durch internationale Zusammenarbeit im Bildungswesen diskutiert. Insbesondere können Aspekte der Sozial- und Sprachgeschichte Tongas Wege der Interpretation pazifischer Bildungsideale in Relation zu westlichen Wissens- und Lernkonzepten aufzeigen. Die Reflexion kultureller Alphabetisierung im pazifischen Kontext wirft tiefergehende Fragen Über die Rolle der Lehrer im interkulturellen Arbeitsprozess auf. Zu den Lektionen, die zu lernen sind, gehört die vielzitierte Maxime, dass Lehrer zunächst etwas Über die eigene Kultur lernen mÜssen, bevor sie etwas Über fremde Kulturen lernen und bevor sie fremden Erziehungs- und Bildungssystemen die eigene Pädagogik und die eigenen Lerninhalte aufzwingen.
Resumen
NUTRIR RELACIONES Y RESPETAR RESPONSABILIDADES: Una ÓPTICA DESDE EL PACÍFICO SUR – Este ensayo aporta una Óptica de las Islas del PacÍfico al tema global de "Convivencia: EducaciÓn y Diálogo Intercultural". A través de la poesÍa y la prosa, este ensayo dibuja el impacto que vaa , un concepto tongués (valores/valorar relaciones), tiene sobre el aprendizaje y la lengua. Invocando el mandato de la UNESCO, de construir la paz a través de la educaciÓn, el concepto de vaa aparece aquÍ como una clave para la promociÓn de la paz. Los retos y las perspectivas del fomento de la paz a través de la cooperaciÓn internacional en la educaciÓn se tratan aquÍ usando ejemplos extraÍdos de las Islas del PacÍfico. En particular, la historia social y la historia lingüÍstica de Tonga proveen vÍas importantes para interpretar los ideales del PacÍfico Sur en relaciÓn con los conceptos occidentales de saber y aprender. La reflexiÓn sobre lectoescritura cultural en el contexto del PacÍfico Sur plantea interrogantes más profundos sobre el papel de los educadores en su trabajo intercultural. Una de las conclusiones que deben sacarse de este análisis incluye la máxima, frecuentemente citada, de que los educadores deben conocer los trasfondos de su propia cultura antes de estudiar culturas foráneas, y antes de imponer sus propias pedagogÍas y planes de estudio en otros sistemas de educaciÓn.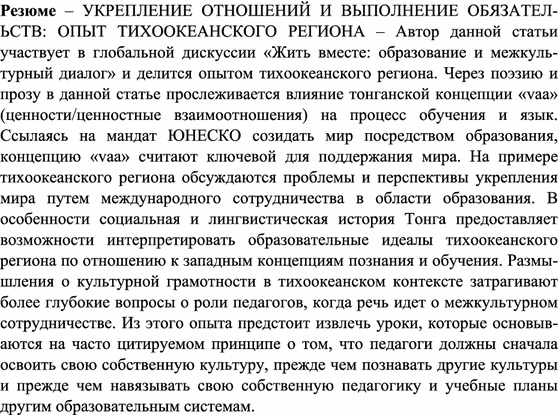 This is a preview of subscription content, log in to check access.
Access options
Buy single article
Instant access to the full article PDF.
US$ 39.95
Price includes VAT for USA
Subscribe to journal
Immediate online access to all issues from 2019. Subscription will auto renew annually.
US$ 99
This is the net price. Taxes to be calculated in checkout.
References
Fiji Times. 2005. Promotion of Reconciliation, Tolerance and Unity Bill 2005. Suva: Fiji Times

Firth Stewart. 2000. The Pacific Islands and the Globalization Agenda. The Contemporary Pacific 12(1):178–192

Gal Susan. 2006. Contradictions of Standard Language in Europe: Implications for the Study of Practices and Publics. Social Anthropology 14(2):163–181

Hviding Edward. 2003. Between Knowledges: Pacific Studies and Academic Disciplines. The Contemporary Pacific 15(1):43–73

Johansson-Fua, S. 2006. SLEP Report. Suva: IOE/USP

Ka'ili Tevita O. 2005. Tauhi va: Nurturing Tongan Sociospatial Ties in Maui and Beyond. The Contemporary Pacific 17(1):83–114

Lovett, L. W. 1958. A Study of Tongan Children. Unpublished Dip. Ed. Thesis, Massey University, NZ

Marcus, G. 1980. Nobility and the Chiefly Tradition in the Kingdom of Tonga. Auckland: Polynesian Society

Morton, K. L. 1972. Kinship, Economics and Exchange in a Tongan Village. Unpublished PhD thesis, University of Oregon, Eugene, USA

Radcliffe David. 1971. Ki Hadjar Dewantara and the Taman Siswa Schools: Notes on an Extra-Colonial Theory of Education. Comparative Education Review 15(2):219–226

Taufe'ulungaki A., C. Benson, and F. Pene. 2002. Tree of Opportunity. Suva: IOE/USP

Thaman Konai. 1987. Hingano. Suva: MANA Publications

Thaman, Konai. 1988. Educational Ideas, Cultural Values and Teachers' Role Perceptions in Tonga. Unpublished PhD thesis, USP, Suva

UNESCO. 1974, 1980. Recommendation Concerning Education for International Understanding, Cooperation and Peace and Education relating to Human Rights and Fundamental Freedoms. World Congress on Disarmament Education. UNESCO 18th General Conference. Paris: UNESCO

UNESCO. 1993. World Plan of Action on Education for Human Rights and Democracy. International Congress on Education for Human Rights and Democracy, Montreal, Canada, 8–11 March 1993. Convened in Montreal (Canada) from 8 to 11 March 1993, by UNESCO and the United Nations Centre for Human Rights, in Collaboration with the Canadian Commission for UNESCO

UNESCO. 1995. Declaration and Integrated Framework of Action on Education for Peace, Human Rights and Democracy. International Conference on Education. Paris: UNESCO

UNESCO. 1996. From a Culture of Violence to a Culture of Peace. Paris: UNESCO

UNESCO. 2001. Universal Declaration of Cultural Diversity. General Conference of UNESCO. Paris: UNESCO

United Nations. 2000. International Year for the Culture of Peace. Launched in Paris 1999 by the UN Secretary-General. Paris: UNESCO

United Nations. 2001. The International Decade for a Culture of Peace and Non-violence for the Children of the World (2001 to 2010). UN resolution 53/25

United Nations High Commissioner for Human Rights. 1993. Vienna Declaration and Programme of Action. Vienna: World Conference on Human Rights

United Nations High Commissioner for Human Rights. 1995. Report on the Plan of Action for the United Nations Decade for Human Rights Education (document A/50/698). Geneva

Yari, Marin. 2004. Beyond "Subsistence Affluence": Poverty in Pacific Island Countries. Prepared for Poverty and Development Division, ESCAP. Bulletin on Asia-Pacific Perspectives 2003/04. Bangkok: ESCAP
About this article
Cite this article
Thaman, K.H. Nurturing Relationships And Honouring Responsibilities: A Pacific Perspective. Int Rev Educ 54, 459–473 (2008). https://doi.org/10.1007/s11159-008-9092-1
Received:

Accepted:

Published:

Issue Date:
Keywords
Cultural Literacy

Prose

United Nations High Commissioner

Building Peace

Intercultural Dialogue