Abstract
Poor indoor air quality is a health problem of escalating magnitude, as communities become increasingly urbanised and people's behaviours change, lending to lives spent almost exclusively in indoor environments. The accumulation of, and continued exposure to, indoor air pollution has been shown to result in detrimental health outcomes. Particulate matter penetrating into the building, volatile organic compounds (VOCs) outgassing from synthetic materials and carbon dioxide from human respiration are the main contributors to these indoor air quality concerns. Whilst a range of physiochemical methods have been developed to remove contaminants from indoor air, all methods have high maintenance costs. Despite many years of study and substantial market demand, a well evidenced procedure for indoor air bioremediation for all applications is yet to be developed. This review presents the main aspects of using horticultural biotechnological tools for improving indoor air quality, and explores the history of the technology, from the humble potted plant through to active botanical biofiltration. Regarding the procedure of air purification by potted plants, many researchers and decades of work have confirmed that the plants remove CO2 through photosynthesis, degrade VOCs through the metabolic action of rhizospheric microbes, and can sequester particulate matter through a range of physical mechanisms. These benefits notwithstanding, there are practical barriers reducing the value of potted plants as standalone air cleaning devices. Recent technological advancements have led to the development of active botanical biofilters, or functional green walls, which are becoming increasingly efficient and have the potential for the functional mitigation of indoor air pollutant concentrations.
Access options
Buy single article
Instant access to the full article PDF.
US$ 39.95
Tax calculation will be finalised during checkout.
Subscribe to journal
Immediate online access to all issues from 2019. Subscription will auto renew annually.
US$ 79
Tax calculation will be finalised during checkout.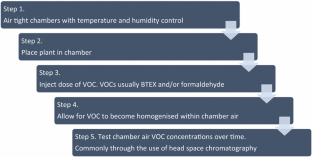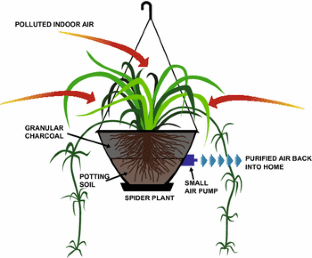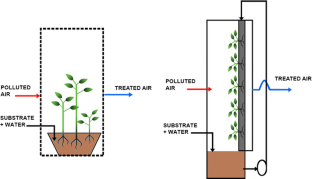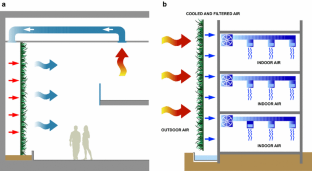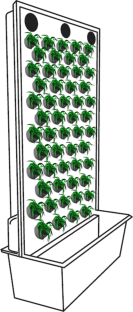 References
Abdo P, Huynh BP, Avakian V, Nguyen T, Torpy FR, Irga PJ (2016) Measurement of air flow through a green-wall module. In: Paper presented at Australasian fluid mechanics conference, Perth, Australia

Affiliated Innovation Management Inc. (1992) Recirculated room air purification. In: United States Patent and Trademark Office (ed) vol US5078972. https://patents.google.com/patent/US5130091A/en

AgroSci (2017) Interior walls. http://www.agrosci.com/interior-walls.html. Accessed 20 Dec 2017

AIRAH Group (2016) Improving Australian housing envelope integrity: a net benefit case for post contstruction fan pressurisation testing. In: Australian institute of refrigeration air conditioning and heating (AIRAH). https://www.airah.org.au/Content_Files/Industryresearch/Improving-Australian-Housing-Envelope-Integrity-20-10-16.pdf. Accessed 27 Sept 2017

André M, Chagvardieff P (1997) CELSS research: interaction between space and terrestrial approaches in plant science. In: Goto E, Kurata K, Hayashi M, Sase S (eds) Plant production in closed ecosystems: the international symposium on plant production in closed ecosystems held in Narita, Japan, August 26–29, 1996. Springer, Dordrecht, pp 245–261

Atkin O, Day D (1990) A comparison of the respiratory processes and growth rate of selected Australian alpine and related lowland plant species. Funct Plant Biol 17:517–526. https://doi.org/10.1071/PP9900517

Aydogan A, Montoya LD (2011) Formaldehyde removal by common indoor plant species and various growing media. Atmos Environ 45:2675–2682

Babbitt CW, Pacheco A, Lindner AS (2009) Methanol removal efficiency and bacterial diversity of an activated carbon biofilter. Bioresour Technol 100:6207–6216

Baosheng K, Shibata SI, Sawada A, Oyabu T, Kimura H (2009) Air purification capability of potted Phoenix roebelenii and its installation effect in indoor space. Sens Mater 21:445–455

Chen L-m, Yurimoto H, Li K-z, Orita I, Akita M, Kato N, Sakai Y, Izui K (2010) Assimilation of formaldehyde in transgenic plants due to the introduction of the bacterial ribulose monophosphate pathway genes. Biosci Biotechnol Biochem 74(3):627–635. https://doi.org/10.1271/bbb.90847

Chun S-C, Yoo M-H, Moon Y-S, Shin M-H, Son K-C, Chung I-M, Kays SJ (2010) Effect of bacterial population from rhizosphere of various foliage plants on removal of indoor volatile organic compounds. Korean J Hortic Sci Technol 28(3):476–783

Daly L (2005) Closed loop work station bioremediation using mini-reactor cartridges. In: United States Patent and Trademark Office (ed) vol US20050250201. https://patents.google.com/patent/US20050250201

Darlington A, Dat J, Dixon M (2001) The biofiltration of indoor air: air flux and temperature influences the removal of toluene, ethylbenzene, and xylene. Environ Sci Technol 35:240–246

De Kempeneer L, Sercu B, Vanbrabant W, Van Langenhove H, Verstraete W (2004) Bioaugmentation of the phyllosphere for the removal of toluene from indoor air. Appl Microbiol Biotechnol 64:284–288

Dela Cruz M, Christensen JH, Thomsen JD, Müller R (2014a) Can ornamental potted plants remove volatile organic compounds from indoor air?—a review. Environ Sci Pollut Res 21:13909–13928

Dela Cruz M, Müller R, Svensmark B, Pedersen JS, Christensen JH (2014b) Assessment of volatile organic compound removal by indoor plants—a novel experimental setup. Environ Sci Pollut Res 21:7838–7846

Delhoménie M-C, Heitz M (2003) Elimination of chlorobenzene vapors from air in a compost-based biofilter. J Chem Technol Biotechnol 78:588–595

Dever SA, Swarbrick GE, Stuetz RM (2011) Passive drainage and biofiltration of landfill gas: results of Australian field trial. Waste Manag 31:1029–1048

Franco A, Fernández-Cañero R, Pérez-Urrestarazu L, Valera DL (2012) Wind tunnel analysis of artificial substrates used in active living walls for indoor environment conditioning in Mediterranean buildings. Build Environ 51:370–378

Gawrońska H, Bakera B (2015) Phytoremediation of particulate matter from indoor air by Chlorophytum comosum L. plants. Air Qual Atmos Health 8:265. https://doi.org/10.1007/s11869-014-0285-4

Gibson DT, Mahadevan V, Davey JF (1974) Bacterial metabolism of para- and meta-Xylene: oxidation of the aromatic ring. J Bacteriol 119:930–936

Goodman NB, Steinemann A, Wheeler AJ, Paevere PJ, Cheng M, Brown SK (2017) Volatile organic compounds within indoor environments in Australia. Build Environ 122:116–125

Guieysse B, Hort C, Platel V, Munoz R, Ondarts M, Revah S (2008) Biological treatment of indoor air for VOC removal: potential and challenges. Biotechnol Adv 26:398–410

Ho Y-N, Hsieh J-L, Huang C-C (2013) Construction of a plant–microbe phytoremediation system: combination of vetiver grass with a functional endophytic bacterium, Achromobacter xylosoxidans F3B, for aromatic pollutants removal. Bioresour Technol 145:43–47

Hörmann V, Brenske K-R, Ulrichs C (2017) Suitability of test chambers for analyzing air pollutant removal by plants and assessing potential indoor air purification. Water Air Soil Pollut 228:402

Hörmann V, Brenske KR, Ulrichs C (2018) Assessment of filtration efficiency and physiological responses of selected plant species to indoor air pollutants (toluene and 2-ethylhexanol) under chamber conditions. Environ Sci Pollut Res 25:447–458

Irga PJ, Torpy FR (2016) Indoor air pollutants in occupational buildings in a sub-tropical climate: comparison among ventilation types. Build Environ 98:190–199

Irga PJ, Torpy FR, Burchett MD (2013) Can hydroculture be used to enhance the performance of indoor plants for the removal of air pollutants? Atmos Environ 77:267–271

Irga PJ, Abdo P, Zavattaro M, Torpy FR (2017a) An assessment of the potential fungal bioaerosol production from an active living wall. Build Environ 111:140–146

Irga PJ, Paull NJ, Abdo P, Torpy FR (2017b) An assessment of the atmospheric particle removal efficiency of an in-room botanical biofilter system. Build Environ 115:281–290

Kays SJ (2011) Phytoremediation of indoor air—current state of the art. In: Kim KJ (ed) The value creation of plants for future urban agriculture. National Institute for Horticulture and Herbal Science Research, Suwon, pp 3–21

Khaksar G, Treesubsuntorn C, Thiravetyan P (2016) Effect of endophytic Bacillus cereus ERBP inoculation into non-native host: potentials and challenges for airborne formaldehyde removal. Plant Physiol Biochem 107:326–336

Kim K-J, Kang C-S, You Y-J, Chung M-C, Woo M-W, Jeong W-J, Park N-C, Ahn H-G (2006) Adsorption–desorption characteristics of VOCs over impregnated activated carbons. Catal Today 111:223–228

Kim KJ, Song JS, Yoo EH, Son KC, Kays SJ (2008) Efficiency of volatile formaldehyde removal by indoor plants: contribution of aerial plant parts versus the root-zone. J Am Soc Hortic Sci 133:1–6

Kim KJ, Jeong MI, Lee DW, Song JS, Kim HD, Yoo EH, Jeong SJ, Han SW, Kays SJ, Lim YW, Kim HH (2010) Variation in formaldehyde removal efficiency among indoor plant species. HortScience 45:1489–1495

Kim KJ, Jung HH, Seo HW, Lee JA, Kays SJ (2014) Volatile toluene and xylene removal efficiency of foliage plants as affected by top to root zone size. HortScience 49:230–234

Kim KJ, Kim HJ, Khalekuzzaman M, Yoo EH, Jung HH, Jang HS (2016) Removal ratio of gaseous toluene and xylene transported from air to root zone via the stem by indoor plants. Environ Sci Pollut Res 23:6149–6158

Klepeis NE, Nelson WC, Ott WR, Robinson JP, Tsang AM, Switzer P, Behar JV, Hern SC, Engelmann WH (2001) The national human activity pattern survey (NHAPS): a resource for assessing exposure to environmental pollutants. J Expo Anal Environ Epidemiol 11:231–252

Kruglick E (2017) Biofilters for living spaces. In: United States Patent and Trademark Office (ed) vol US 9534800B2. https://patents.google.com/patent/US9534800

Leavey A, Fu Y, Sha M, Kutta A, Lu C, Wang W, Drake B, Chen Y, Biswas P (2015) Air quality metrics and wireless technology to maximize the energy efficiency of HVAC in a working auditorium. Build Environ 85:287–297

Lee CH, Choi B, Chun MY (2015) Stabilization of soil moisture and improvement of indoor air quality by a plant-biofilter integration system. Korean J Hortic Sci Technol 33:751–762

Leonard R, McArthur C, Hochuli D (2016) Particulate matter deposition on roadside plants and the importance of leaf trait combinations. Urban For Urban Green 20:249–253

Lin MW, Chen LY, Chuah YK (2017) Investigation of a potted plant (Hedera helix) with photo-regulation to remove volatile formaldehyde for improving indoor air quality. Aerosol Air Qual Res 17:2543–2554

Liu Y-J, Mu Y-J, Zhu Y-G, Ding H, Crystal Arens N (2007) Which ornamental plant species effectively remove benzene from indoor air? Atmos Environ 41:650–654

Llewellyn D, Dixon M (2011) 4.26—Can plants really improve indoor air quality? In: Murray M-Y (ed) Comprehensive biotechnology, 2nd edn. Academic Press, Burlington, pp 331–338

Luengas A, Barona A, Hort C, Gallastegui G, Platel V, Elias A (2015) A review of indoor air treatment technologies. Rev Environ Sci Bio/Technol 14:499–522

Mittelmark M (2011) Plant air purification enclosure apparatus and method. In: World Intellectual Property Organization (ed) vol US9010019B2. https://patents.google.com/patent/WO2011115806A2/da

Morotti K, Ramirez AA, Jones JP, Heitz M (2011) Analysis and comparison of biotreatment of air polluted with ethanol using biofiltration and biotrickling filtration. Environ Technol 32:1967–1973

Mosaddegh MH, Jafarian A, Ghasemi A, Mosaddegh A (2014) Phytoremediation of benzene, toluene, ethylbenzene and xylene contaminated air by D. Deremensis and O. Microdasys plants. J Environ Health Sci Eng 12:39–46

Nelson M, Allen J, Ailing A, Dempster WF, Silverstone S (2003) Earth applications of closed ecological systems: relevance to the development of sustainability in our global biosphere. Adv Space Res 31:1649–1655

Nelson M, Pechurkin NS, Allen JP, Somova LA, Gitelson JI (2010) Closed ecological systems, space life support and biospherics. In: Wang LK, Ivanov V, Tay J-H (eds) Environmental biotechnology. Humana Press, Totowa, pp 517–565

Nesa and Associates Inc. (2007) Biofiltration system for treating airborne volatile organic compounds. In: United States Patent and Trademark Office (ed) vol US20070178578. https://patents.google.com/patent/US20070178578

Omasa K, Saji H, Youssefian S, Kondo N (2002) Air pollution and plant biotechnology - prospects for phytomonitoring and phytoremediation. Springer, Tokyo. https://doi.org/10.1007/978-4-431-68388-9

Ondarts M, Hort C, Sochard S, Platel V, Moynault L, Seby F (2012) Evaluation of compost and a mixture of compost and activated carbon as biofilter media for the treatment of indoor air pollution. Environ Technol 33:273–284

Orwell RL, Wood RA, Tarran J, Torpy F, Burchett MD (2004) Removal of benzene by the indoor plant/substrate microcosm and implications for air quality. Water Soil Air Pollut 157:193–207

Orwell RL, Wood RA, Burchett MD, Tarran J, Torpy F (2006) The potted-plant microcosm substantially reduces indoor air VOC pollution: II Laboratory study. Water, Soil Air Pollut 177:59–80

Park JS, Jee NY, Jeong JW (2014) Effects of types of ventilation system on indoor particle concentrations in residential buildings. Indoor Air 24:629–638

Paull N (2016) Horticultural technology for indoor air pollution removal. In: Hons Thesis, School of life sciences, University of Technology Sydney, Sydney

Pérez-Urrestarazu L, Fernández-Cañero R, Franco A, Egea G (2016) Influence of an active living wall on indoor temperature and humidity conditions. Ecol Eng 90:120–124

Peterson G, Jones T, Rispoli D, Stitt D, Haddadi S, Niri V (2016) Monitoring volatile organic compound removal by common indoor plants using solid phase microextraction and gas chromatography-mass spectrometry. In: Paper presented at 252nd American chemical society national meeting; August 21–25, Philadelphia

Pettit T, Irga PJ, Abdo P, Torpy FR (2017) Do the plants in functional green walls contribute to their ability to filter particulate matter? Build Environ 125:299–307

Pilon-Smits E (2005) Phytoremediation. Annu Rev Plant Biol 56:15–39

Richardson DC (1993) Air purification planter. In: United States Patent and Trademark Office (ed) vol US5201860. https://patents.justia.com/patent/5201860

Sæbø A, Popek R, Nawrot B, Hanslin HM, Gawronska H, Gawronski SW (2012) Plant species differences in particulate matter accumulation on leaf surfaces. Sci Total Environ 427–428:347–354 (Supplement C)

Salisbury FB, Gitelson JI, Lisovsky GM (1997) Bios-3: Siberian experiments in bioregenerative life support. Bioscience 47:575–585

Sandhu A, Halverson LJ, Beattie GA (2007) Bacterial degradation of airborne phenol in the phyllosphere. Environ Microbiol 9:383–392

Sarkar C, Webster C (2017) Urban environments and human health: current trends and future directions. Curr Opin Environ Sustain 25:33–44

Setsungnern A, Treesubsuntorn C, Thiravetyan P (2017) The influence of different light quality and benzene on gene expression and benzene degradation of Chlorophytum comosum. Plant Physiol Biochem 120:95–102

Singh K et al (2017) Biofiltration of xylene using wood charcoal as the biofilter media under transient and high loading conditions. Bioresour Technol 242:351–358

Soreanu G (2016) 12—Biotechnologies for improving indoor air quality. Start-Up Creation, Woodhead Publishing, pp 301–328

Soreanu G, Dixon M, Darlington A (2013) Botanical biofiltration of indoor gaseous pollutants—a mini-review. Chem Eng J 229:585–594. https://doi.org/10.1016/j.cej.2013.06.074

Space Biospheres Venture (1990) Indoor air purifier. In: United States Patent and Trademark Office (ed) vol US4961763. https://patents.google.com/patent/US4961763

Spadafora PF (2008) System for improving both energy efficiency and indoor air quality in buildings. In: United States Patent and Trademark Office (ed) vol US20080014857. https://patents.google.com/patent/US20080014857

Sriprapat W, Thiravetyan P (2013) Phytoremediation of BTEX from indoor air by Zamioculcas zamiifolia. Water Air Soil Pollut 224:1482–1491

Sriprapat W, Thiravetyan P (2016) Efficacy of ornamental plants for benzene removal from contaminated air and water: effect of plant associated bacteria. Int Biodeterior Biodegradation 113:262–268

Sriprapat W, Suksabye P, Areephak S, Klantup P, Waraha A, Sawattan A, Thiravetyan P (2014) Uptake of toluene and ethylbenzene by plants: removal of volatile indoor air contaminants. Ecotoxicol Environ Saf 102:147–151

Stanley G (2004) Degradation of polycyclic aromatic hydrocarbons by microorganisms. In: United States Patent and Trademark Office (ed) vol US20040023362. https://patents.google.com/patent/US20040023362

Stapleton E, Ruiz-Rudolph P (2016) The potential for indoor ultrafine particle reduction using vegetation under laboratory conditions. Indoor Built Environ 27(1):70–83. https://doi.org/10.1177/1420326X16668388

Stensel DH (1999) Device and method for removal of gas contaminates through a shallow sparged bioreactor. In: United States Patent and Trademark Office (ed) vol US5985649. https://patents.google.com/patent/US5954858/pt

Strong D, Burrows V (2017) A whole-system approach to high performance green buildings ARTECH house

Su Y, Liang Y (2015) Foliar uptake and translocation of formaldehyde with Bracket plants (Chlorophytum comosum). J Hazard Mater 291:120–128

Sundell J et al (2011) Ventilation rates and health: multidisciplinary review of the scientific literature. Indoor Air 21:191–204

Tani A, Hewitt CN (2009) Uptake of aldehydes and ketones at typical indoor concentrations by houseplants. Environ Sci Technol 43:8338–8343

Tani A, Kato S, Kajii Y, Wilkinson M, Owen S, Hewitt N (2007) A proton transfer reaction mass spectrometry based system for determining plant uptake of volatile organic compounds. Atmos Environ 41:1736–1746

Teiri H, Pourzamani H, Hajizadeh Y (2018) Phytoremediation of VOCs from indoor air by ornamental potted plants: a pilot study using a palm species under the controlled environment. Chemosphere 197:375–381. https://doi.org/10.1016/j.chemosphere.2018.01.078

The National Aeronautics and Space Administration N (1974) NASA technical memorandium. The proceedings of the Skylab life sciences symposium. Lyndon B. Johnson Space Center, p 426

Thomas CK, Kim KJ, Kays SJ (2015) Phytoremdiation of indoor air. HortScience 50:765–768

Torpy F, Irga P, Brennan J, Burchett M (2013a) Do indoor plants contribute to the aeromycota in city buildings? Aerobiologia 29:321–331

Torpy FR, Irga PJ, Moldovan D, Tarran J, Burchett MD (2013b) Characterization and biostimulation of benzene biodegradation in the potting-mix of indoor plants. J Appl Hortic 15:10–15

Torpy F, Clements N, Pollinger M, Dengel A, Mulvihill I, He C, Irga P (2018) Testing the single-pass VOC removal efficiency of an active green wall using methyl ethyl ketone (MEK). Air Qual Atmos Health 11(2):163–170. https://doi.org/10.1007/s11869-017-0518-4

Treesubsuntorn C, Thiravetyan P (2012) Removal of benzene from indoor air by Dracaena sanderiana: effect of wax and stomata. Atmos Environ 57:317–321

Treesubsuntorn C, Suksabye P, Weangjun S, Pawana F, Thiravetyan P (2013) Benzene adsorption by plant leaf materials: effect of quantity and composition of wax. Water Air Soil Pollut 224:1736–1745

Tsao CW, Song HG, Bartha R (1998) Metabolism of benzene, toluene, and xylene hydrocarbons in soil. Appl Environ Microbiol 64:4924–4929

Uhde E, Schulz N (2015) Impact of room fragrance products on indoor air quality. Atmos Environ 106:492–502

United Nations (UN), Department of Economic and Social Affairs, Population Division (2015) Population 2030 Demographic challenges and opportunities for sustainable development planning, New York

Vertigro Israel Ltd. (2003) A method and apparatus for improving the quality of indoor air. In: World Intellectual Property Organization (ed) vol WO2003059037A2. https://patentscope.wipo.int/search/en/detail.jsf?docId=WO2003059037

Wang Z (2011) Dynamic botanical filtration system for indoor air purification. In: Ph.D. Dissertation. Syracuse University, Syracuse

Wang Z, Zhang JS (2011) Characterization and performance evaluation of a full-scale activated carbon-based dynamic botanical air filtration system for improving indoor air quality. Build Environ 46:758–768

Wang Z, Pei J, Zhang JS (2014) Experimental investigation of the formaldehyde removal mechanisms in a dynamic botanical filtration system for indoor air purification. J Hazard Mat 280:235–243

Waring MS (2016) Bio-walls and indoor houseplants: Facts and fictions. In: Microbiomes of the Built Environment: From Research to Application, Meeting #3. University of California, Irvine

Weerakkody U, Dover JW, Mitchell P, Reiling K (2017) Particulate matter pollution capture by leaves of seventeen living wall species with special reference to rail-traffic at a metropolitan station. Urban For Urb Green 27:173–186

Wei X, Lyu S, Yu Y, Wang Z, Liu H, Pan D, Chen J (2017) Phylloremediation of air pollutants: exploiting the potential of plant leaves and leaf-associated microbes. Front Plant Sci 8:1–23. https://www.frontiersin.org/articles/10.3389/fpls.2017.01318/full

Wheeler RM, Mackowiak CL, Stutte GW, Sager JC, Yorio NC, Ruffe LM, Fortson RE, Dreschel TW, Knott WM, Corey KA (1996) NASA's biomass production chamber: a testbed for bioregenerative life support studies. Adv Space Res 18:215–224

Whipps JM, Hand P, Pink D, Bending GD (2008) Phyllosphere microbiology with special reference to diversity and plant genotype. J Appl Microbiol 105:1744–1755

Wolverton BC (1995) Indoor humidifier and air purifier. In: United States Patent and Trademark Office (ed) vol US5433923. https://patents.google.com/patent/US5433923A/en

Wolverton BC, Wolverton JD (1993) Plants and soil microorganisms: removal of formaldehyde, xylene, and ammonia from the indoor environment. J Miss Acad Sci 38:11–15

Wolverton BC, McDonald RC, Watkins EA Jr (1984) Foliage plants for removing indoor air pollutants from energy-efficient homes. Econ Bot 38:224–228

Wolverton BC, Johnson A, Bounds K (1989) Interior landscape plants for indoor air pollution abatement. National Aeronautics and Space Administration, John C. Stennis Space Center. MS 39529-6000. https://ntrs.nasa.gov/archive/nasa/casi.ntrs.nasa.gov/19930073077.pdf

Wood RA, Orwell RL, Tarran J, Torpy F (2002) Potted plant-growth media: interactions and capacities in removal of volatiles from indoor air. J Environ Hortic Biotechnol 77:120–129

World Health Organisation (WHO) (2014) Burden of disease from ambient air pollution for 2012. The World Health Organisation

Xu Z, Wang L, Hou H (2011) Formaldehyde removal by potted plant–soil systems. J Hazard Mater 192:314–318

Yang DS, Pennisi SV, Son KC, Kays SJ (2009) Screening indoor plants for volatile organic pollutant removal efficiency. HortScience 44:1377–1381

Yoo MH, Kwon YJ, Son K-C, Kays SJ (2006) Efficacy of indoor plants for the removal of single and mixed volatile organic pollutants and the physiological effects of the volatiles on the plants. J Am Soc Hortic Sci 131:452–458

Yu CWF, Jeong Tai K (2010) Building pathology, investigation of sick buildings—VOC emissions. Indoor Built Environ 19:30–39

Yutthammo C, Thongthammachat N, Pinphanichakarn P, Luepromchai E (2010) Diversity and activity of PAH-degrading bacteria in the phyllosphere of ornamental plants. Microb Ecol 59:357–368

Zak JC (2002) Implications of leaf surface habitat for fungal community structure and function. In: Lindow SE, Hecht-Poinar EI, Elliott VJ (eds) Phyllosphere microbiology. APS Press, St Paul, pp 299–315

Zhai J, Wang Z, Shi P, Long C (2017) Microbial community in a biofilter for removal of low load nitrobenzene waste gas. PLoS ONE 12(1):e0170417

Zhang H, Pennisi SV, Kays SJ, Habteselassie MY (2013) Isolation and identification of toluene-metabolizing bacteria from rhizospheres of two indoor plants. Water Air Soil Pollut 224:1648

Zhou JH, Qin FF, Su J, Liao JW, Xu HL (2011) Purification of formaldehyde-polluted air by indoor plants of Araceae, Agavaceae and Liliaceae. J Food Agric Environ 9:1012–1018

Zhu T, Melamed M, Parrish D, Gauss M, Gallardo Klenner L, Lawrence M, Konare A, Liousse C (2012) WMO/IGAC impacts of megacities on air pollution and climate
Acknowledgements
Our greatest appreciation goes to Kate Barker for her assistance in preparing the figures in this manuscript. Additional recognition goes to Naomi J Paull, Ashely Naomi Jane Douglas, Nic Surawski and Jess Braun for their interest in the research.
Ethics declarations
Conflict of interest
The authors report no conflict of interest.
About this article
Cite this article
Irga, P.J., Pettit, T.J. & Torpy, F.R. The phytoremediation of indoor air pollution: a review on the technology development from the potted plant through to functional green wall biofilters. Rev Environ Sci Biotechnol 17, 395–415 (2018). https://doi.org/10.1007/s11157-018-9465-2
Keywords
Biofiltration

Indoor air

Indoor plants

Air pollution

Purification