Abstract
Indoor air pollution is a complex issue involving a wide diversity and variability of pollutants that threats human health. In this context, major efforts should be made to enhance indoor air quality. Thus, it is important to start by the control of indoor pollution sources. Nevertheless, when the suppression or minimization of emission sources is insufficient, technically unfeasible, or economically unviable, abatement technologies have to be used. This review presents a general overview of single treatment techniques such as mechanical and electrical filtration, adsorption, ozonation, photolysis, photocatalytic oxidation, biological processes, and membrane separation. Since there is currently no technology that can be considered fully satisfactory for achieving "cleaner" indoor air, special attention is paid to combined purification technologies or innovative alternatives that are currently under research and have not yet been commercialized (plasma-catalytic hybrid systems, hybrid ozonation systems, biofilter-adsorption systems, etc.). These systems seem to be a good opportunity as they integrate synergetic advantages to achieve good indoor air quality.
Access options
Buy single article
Instant access to the full article PDF.
US$ 39.95
Tax calculation will be finalised during checkout.
Subscribe to journal
Immediate online access to all issues from 2019. Subscription will auto renew annually.
US$ 79
Tax calculation will be finalised during checkout.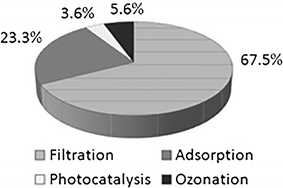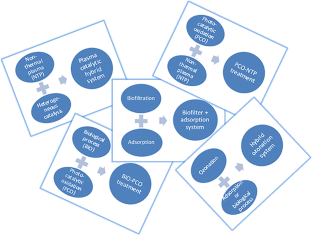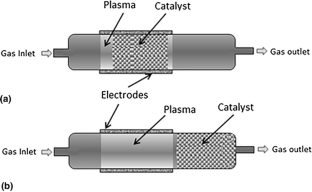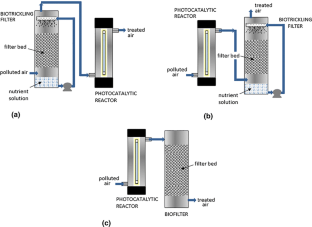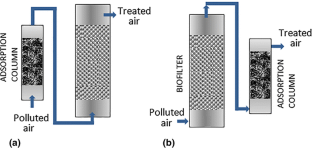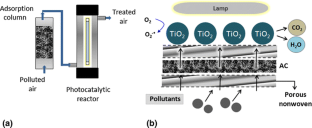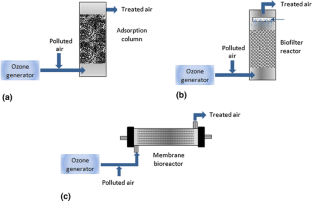 References
Aguado S, Polo AC, Bernal MP, Coronas J, Santamaría J (2004) Removal of pollutants from indoor air using zeolite membranes. J Membr Sci 240:159–166

Alberta Health (2012) Environmental public health indoor air quality manual. A guide for environmental public health professionals. Government of Alberta. http://www.health.alberta.ca/documents/Indoor-Air-Quality-Manual-2012.pdf. Accessed 5 Jan 2015

ANSES: French Agency for Food, Environmental and Occupational Health & Safety (2013) Asbestos: presentation, health effects, exposure and regulatory framework. https://www.anses.fr/en/content/asbestos. Accessed 28 Jan 2015

ANSES: French Agency for Food, Environmental and Occupational Health & Safety (2014a) Etude exploratoire du coût socio-économique des polluants de l'air intérieur. Rapport d'étude. http://www.anses.fr/en/documents/AUT-Ra-CoutAirInterieurSHS2014.pdf. Accessed 26 June 2014

ANSES: French Agency for Food, Environmental and Occupational Health & Safety (2014b) Valeurs guides de qualité d'air intérieur. https://www.anses.fr/fr/content/valeurs-guides-de-qualit%C3%A9-d%E2%80%99air-int%C3%A9rieur-vgai. Accessed 22 Dec 2014

Ao CH, Lee SC (2005) Indoor air purification by photocatalyst TiO2 immobilized on an activated carbon filter installed in an air cleaner. Chem Eng Sci 60:103–109

Ao CH, Lee SC, Mak CL, Chan LY (2003) Photodegradation of volatile organic compounds (VOCs) and NO for indoor air purification using TiO2: promotion versus inhibition effect of NO. Appl Catal B 42:119–129

Ayoko GA, Wang H (2014) Volatile organic compounds in indoor environments. In: Pluschke P, Schleibinger H (eds) Indoor air pollution, 2nd edn. Handbook of environmental chemistry. doi:10.1007/698_2014_259

Bacaloni A, Insogna S, Zoccolillo L (2005) Indoor air quality—volatile organic compounds: sources, sampling and analysis. In: Mazzeo N (ed) Chemistry, emission control, radioactive pollution and indoor air quality. doi:10.5772/21645

Bliss S (2005) Best practices guide to residential construction: materials, finishes, and details. Wiley, London

Bo ZH, Yan JH, Li XD, Chi Y, Cen KF, Chéron BG (2007) Effects of oxygen and water vapor on volatile organic compounds decomposition using gliding arc gas discharge. Plasma Chem Plasma Process 27:546–558

Brauer M, Herderson S, Kirkham T, Lee KS, Rich K, Teschke K (2002) Review of the health risks associated with nitrogen dioxide and sulfur dioxide in indoor air. Report to Health Canada. University of British Colombia. https://circle.ubc.ca/bitstream/id/3561/IAQNO2SO2full.pdf. Accessed 15 Dec 2015

Casset A, Braun JJ (2010) Relationships between indoor allergens, sensitization, and allergic asthma and rhinitis symptoms. Rev Mal Respir 27(8):913–920

Chen W, Zhang JS, Zhang Z (2005) Performance of air cleaners for removing multiple volatile organic compounds in indoor air. ASHRAE Trans 111(1):1101–1114

Chen JM, Cheng ZW, Jiang YF, Zhang LL (2010) Direct VUV photodegradation of gaseous α-pinene in a spiral quartz reactor: intermediates, mechanism, and toxicity/biodegradability assessment. Chemosphere 81(9):1053–1060

Cheng HH, Hsieh CC, Tsai CH (2012) Antibacterial and regenerated characteristics of Ag-zeolite for removing bioaerosols in indoor environment. Aerosol Air Qual Res 12:409–419

Chithra VS, Shiva-Nagendra SM (2012) Indoor air quality investigations in a naturally ventilated school building located close to an urban roadway in Chennai, India. Build Environ 54:159–167

De Lacy Costello B, Amann A, Al-Kateb H, Flynn C, Filipiak W, Khalid T, Osborne D, Ratcliffe NM (2014) A review of the volatiles from the healthy human body. J Breath Res. doi:10.1088/1752-7155/8/1/014001

Delagrange S, Pinard L, Tatibouët JM (2006) Combination of a non-thermal plasma and a catalyst for toluene removal from air: manganese based oxide catalysts. Appl Catal B 68:92–98

Destaillats H, Sleiman M, Sullivan DP, Jacquiod C, Sablayrolles J, Molins L (2012) Key parameters influencing the performance of photocatalytic oxidation (PCO) air purification under realistic indoor conditions. Appl Catal B 128:159–170

Dorado AD, Lafuente J, Gabriel D, Gamisans X (2012) Interaction between sorption and biodegradation in a biofilter packed with activated carbon. Water Sci Technol 66(8):1743–1750

Environment Health Standing Committee (enHealth) (2013) Asbestos: a guide for householders and the general public. Australian Health Protection Principal Committee, Canberra. http://www.health.gov.au/internet/publications/publishing.nsf/Content/asbestos-toc. Accessed 12 Jan 2015

Erdmann CA, Apte MG (2004) Mucous membrane and lower respiratory building related symptoms in relation to indoor carbon dioxide concentrations in the 100-building BASE dataset. Indoor Air 14:127–134

Esswein EJ, Boeniger MF (1994) Effect of an ozone-generating air-purifying device on reducing concentrations of formaldehyde in air. Appl Occup Environ Hyg 9(2):139–146

Fan X, Zhu TL, Wang MY, Li XM (2009) Removal of low-concentration BTX in air using a combined plasma catalysis system. Chemosphere 75(10):1301–1306

Fisk WJ, Black P, Brunner G (2011) Benefits and costs of improved IEQ in U.S. offices. Indoor Air 21:357–367

Fromme H, Nitschke L, Boehmer S, Kiranoglu M, Göen T (2013) Exposure of German residents to ethylene and propylene glycol ethers in general and after cleaning scenarios. Chemosphere 90:2714–2721

Gale RW, Cranor WL, Alvarez DA, Huckins JN, Petty JD (2009) Semivolatile organic compounds in residential air along the Arizona–Mexico border. Environ Sci Technol 43(9):3054–3060

Gallego E, Roca X, Perales JF, Guardino X (2009) Determining indoor air quality and identifying the origin of odour episodes in indoor environments. J Environ Sci 21:333–339

Geiss O, Giannopoulos G, Tirendi S, Barrero-Moreno J, Larsern BR, Kotzias D (2011) The AIRMEX study—VOC measurements in public buildings and schools/kindergartens in eleven European cities: statistical analysis of the data. Atmos Environ 45:3676–3684

Gligorovski S, Weschler CJ (2013) The oxidative capacity of indoor atmospheres. Environ Sci Technol 47(24):13905–13906

Gu F, Xi J, Hu HY, Tang H (2013) A new biomass control method by continuous ozone injection in biofilters treating toluene. In: Proceedings of the 5th IWA odours and air emissions conference jointly held with 10th conference on biofiltration for air pollution control, 4–7 March 2013, San Francisco, CA, EU

Guieysse B, Hort C, Platel V, Munoz R, Ondarts M, Revah S (2008) Biological treatment of indoor air for VOC removal: potential and challenges. Biotechnol Adv 26(5):398–410

Gunschera J, Mentese S, Salthammer T, Andersen JR (2013) Impact of building materials on indoor formaldehyde levels: effect of ceiling tiles, mineral fiber insulation and gypsum board. Build Environ 64:138–145

Hanoune, B, Nicolas M, Guilhot J, Bulteau G, Cuny MA, Cuny D (2013) Inefficiency of passive plant-based systems for indoor air cleaning. In: ASHRAE IAQ 2013 conference collection: environmental health in low energy buildings, pp 31–35

He Z, Li J, Chen J, Chen Z, Li G, Sun G, An T (2012) Treatment of organic waste gas in a paint plant by combined technique of biotrickling filtration with photocatalytic oxidation. Chem Eng J 200–202:645–653

Health Canada (2012) Indoor air pollutant: ozone. http://www.hc-sc.gc.ca/ewh-semt/air/in/poll/ozone/index-eng.php. Accessed 29 May 2014

Health Canada (2014) Residential indoor air quality guidelines, Canada. http://www.hc-sc.gc.ca/ewh-semt/air/in/res-in/index-eng.php. Accessed 13 Dec 2014

Hinojosa-Reyes M, Rodríguez-González V, Arriaga S (2012) Enhancing ethylbenzene vapors degradation in a hybrid system based on photocatalytic oxidation UV/TiO2–In and a biofiltration process. J Hazard Mater 209–210:365–371

Hoeben WFLM, Beckers FJCM, Pemen AJM, Van Heesch EJM, Kling WL (2012) Oxidative degradation of toluene and limonene in air by pulsed corona technology. J Phys D Appl Phys 45:055202

Holzer F, Roland U, Kopinke FD (2002) Combination of non-thermal plasma and heterogeneous catalysis for oxidation of volatile organic compounds. Part 1. Accessibility of the intra-particle volume. Appl Catal B 38:163–181

Huang ZH, Kang F, Liang KM, Hao J (2003) Breakthrough of methyethylketona and benzene vapors in activated carbon fiber beds. J Hazard Mater B98:107–115

Huang Y, Ho SSH, Ho KF, Lee SC, Yu JZ, Louie PKK (2011) Characteristics and health impacts of VOCs and carbonyls associated with residential cooking activities in Hong Kong. J Hazard Mater 186:344–351

Hubbard HF, Coleman BK, Sarwar G, Corsi RL (2005) Effects of an ozone-generating air purifier on indoor secondary particles in three residential dwellings. Indoor Air 15(6):432–444

International Agency for Research on Cancer (2012) Asbestos (chrysotile, amosite, crocidolite, tremolite, actinolite, and anthophyllite). IARC Monogr Eval Carcinog Risks Hum 100C:219–309. http://monographs.iarc.fr/ENG/Monographs/vol100C/mono100C-11.pdf. Accessed 24 Jan 2015

Jiang C, Li S, Zhang P, Wang J (2013) Pollution level and seasonal variations of carbonyl compounds, aromatic hydrocarbons and TVOC in a furniture mall in Beijing, China. Build Environ 69:227–232

Jo WK, Yang CH (2009) Granular-activated carbon adsorption followed by annular-type photocatalytic system for control of indoor aromatic compounds. Sep Purif Technol 66(3):430–442

Kabir E, Kim KH, Ahn JW, Hong OF, Sohn JR (2010) Barbecue charcoal combustion as a potential source of aromatic volatile organic compounds and carbonyls. J Hazard Mater 174:492–499

Kennes C, Montes M, Lopez ME, Veiga MC (2009) Waste gas treatment in bioreactors: environmental engineering aspects. Can J Civ Eng 36:1887–1894

Kim KJ, Ahn HG (2012) The effect of pore structure of zeolite on the adsorption of VOCs and their desorption properties by microwave heating. Microporous Mesoporous Mater 152:78–83

Kim JH, Seo G, Cho DL, Choi BC, Kim JB, Park HJ et al (2006) Development of air purification device through application of thin-film photocatalyst. Catal Today 111(3–4):271–274

Kim KJ, Jung HH, Seo HW, Lee JA, Kays SJ (2014) Volatile toluene and xylene removal efficiency of foliage plants as affected by top to root zone size. HortSience 49(2):230–234

Kotzias D, Koistinen K, Kephalopulos S, Schlitt C, Carrer P, Maroni M et al (2005) The INDEX project—critical appraisal of the setting and implementation of indoor exposure limits in the EU. Report. European Commission—Joint Research Centre, Ispra, pp 51–74

Kubba S (2010) LEED practices, certification and accreditation handbook. Chap 7: Indoor environmental quality. Butterworth-Heinemann/Elsevier, Burlington, MA, pp 211–269

Kwong CW, Chao CYH, Hui KS, Wan MP (2008) Removal of VOCs from indoor environment by ozonation over different porous materials. Atmos Environ 42:2300–2311

Lan L, Wargocki P, Wyon DP, Lian Z (2011) Effects of thermal discomfort in an office on perceived air quality, SBS symptoms, physiological responses, and human performance. Indoor Air 21:376–390

Lee SC, Lam S, Fai HK (2001) Characterization of VOCs, ozone, and PM10 emissions from office equipment in an environmental chamber. Build Environ 36:837–842

Lee CM, Kim YS, Nagajyoti PC, Park W, Kim KY (2011) Pattern classification of volatile organic compounds in various indoor environments. Water Air Soil Pollut 215:329–338

Li L, Zhang C, He H, Liu J (2007) An integrated system of biological and catalytic oxidation for the removal of o-xylene from exhaust. Catal Today 126:338–344

Liang Y, Wu Y, Sun K, Chen Q, Shen F, Zhang J, Yao M, Zhu T, Fang J (2012) Rapid inactivation of biological species in the air using atmospheric pressure nonthermal plasma. Environ Sci Technol 46(6):3360–3368

Liébana EA, Calleja AH (1998) El aire en interiores: métodos de control y depuración. Enciclopedia de Salud y Seguridad en el Trabajo 45:7–11. www.insht.es/InshtWeb/Contenidos/Documentacion/TextosOnline/EnciclopediaOIT/tomo2/45.pdf. Accessed 22 June 2012

Lin LY, Chen HW, Su TL, Hong GB, Huang LC, Chuang KJ (2011) The effects of indoor particle exposure on blood pressure and heart rate among young adults: an air filtration-based intervention study. Atmos Environ 45(31):5540–5544

Liu W, Zhang J, Zhang L, Turpin BJ, Weisel CP, Morandi MT et al (2006) Estimating contributions of indoor and outdoor sources to indoor carbonyl concentrations in three urban areas of the United States. Atmos Environ 40:2202–2214

Lu Y, Liu J, Lu B, Jiang A, Wan C (2010) Study on the removal of indoor VOCs using biotechnology. J Hazard Mater 182:204–209

Lu Y, Wang D, Wu Y, Ma C, Zhang X, Yang C (2012) Synergistic effect of nanophotocatalysis and non thermal plasma on the removal of indoor HCHO. Int J Photoenergy. ID 354032

MacIntosh DL, Myatt TA, Ludwig JF, Baker BJ, Suh HH, Spengler JD (2008) Whole house particle removal and clean air delivery rates for in-duct and portable ventilation systems. J Air Waste Manag Assoc 58:1474–1482

Maldonado-Díaz G, Arriaga S (2014) Biofiltration of high formaldehyde loads with ozone additions in long-term operation. Appl Microbiol Biotechnol. doi:10.1007/s00253-014-5848-7

Mallawaarachchi H, De Silva L (2012) Green framework to improve indoor air quality in buildings: reducing the impact of sick building syndrome on office workers in Sri Lanka: a literature review. In: International conference on sustainable built environment, 14–16 Dec 2012, Sri Lanka

Manéro MH, Monneyron P (2005) Traitement sélectif de l'air industriel pollué en COV par un procédé hybride adsorption-ozonation. Techniques de l'Ingénieur IN34. http://www.techniques-ingenieur.fr/res/pdf/encyclopedia/42600210-in34.pdf. Accessed 20 June 2012

Mentese S, Rad AY, Arisoy M, Güllü G (2012) Multiple comparisons of organic, microbial, and fine particulate pollutants in typical indoor environments: diurnal and seasonal variations. J Air Waste Manag Assoc 62:1380–1393

Ministry of the Ecology, Suitable Development, Transport and Accommodation in France (2011a) Decrees No. 2011-1727 dated the 2nd of December 2011. http://www.legifrance.gouv.fr/affichTexte.do?cidTexte=JORFTEXT000024909119&dateTexte=&categorieLien=id. Accessed 24 June 2014

Ministry of the Ecology, Suitable Development, Transport and Accommodation in France (2011b) Decrees No. 2011-1728 dated the 2nd of December 2011. http://www.legifrance.gouv.fr/affichTexte.do?cidTexte=JORFTEXT000024909128&categorieLien=id. Accessed 24 June 2014

Missia L, Dafni A, Demetriou E, Michael N, Tolis EI, Bartzis JG (2010) Indoor exposure from building materials: a field study. Atmos Environ 44(35):4388–4395

Mista W, Kacprzyk R (2008) Decomposition of toluene using non-thermal plasma reactor at room temperature. Catal Today 137:345–349

Mo J, Zhang Y, Xu Q, Lamson JJ, Zhao R (2009) Photocatalytic purification of volatile organic compounds in indoor air: a literature review. Atmos Environ 43:2229–2246

Mølgaard B, Koivisto AJ, Hussein T, Hämeri K (2014) A new clean air delivery rate test applied to five portable indoor air cleaners. Aerosol Sci Technol 48:409–417

Moussavi G, Mohseni M (2007) Using UV pretreatment to enhance biofiltration of mixtures of aromatic VOCs. J Hazard Mater 144:59–66

Nazaroff WW (2013) Editorial. Four principles for achieving good indoor air quality. Indoor Air 23:353–356

Ohura T, Amagai T, Senga Y, Fusaya M (2006) Organic air pollutants inside and outside residences in Shimizu, Japan: levels, sources and risks. Sci Total Environ 366:485–499

Ondarts M, Hort C, Platel V, Reguer S, Sochard S, Moynault L (2010) Developments and new applications of biological gas treatment systems for the removal of micro-pollution in indoor air: study of the design parameters and the associated potential. In: Proceedings of the 2010 Duke-UAM conference on biofiltration for air pollution control, pp 178–187

Ondarts M, Hort C, Sochard S, Platel V, Moynault L, Seby F (2012) Evaluation of compost and a mixture of compost and activated carbon as biofilter media for the treatment of indoor air pollution. Environ Technol 33(3):273–284

Orwell RI, Wood A, Tarran J, Torpy F, Burchett MD (2004) Removal of benzene by the indoor plant/substrate microcosm and implications for air quality. Water Air Soil Pollut 157:193–207

OSHA (Occupational Safety and Health Administration) (2012) Sampling and analytical methods: carbon dioxide in workplace atmospheres. http://www.osha.gov/dts/sltc/methods/inorganic/id172/id172.html. Accessed 20 Jan 2015

Ourrad H, Thevenet F, Gaudion V, Riffault V (2015) Limonene photocatalytic oxidation at ppbv levels: assessment of gasphase reaction intermediates and secondary organic aerosol heterogeneous formation. Appl Catal B 168–169:183–194

Palau J, Penya-Roja JM, Gabaldon C, Alvarez-Hornos FJ, Martinez-Soria V (2012) Effect of pre-treatments based on UV photocatalysis and photo-oxidation on toluene biofiltration performance. J Chem Technol Biotechnol 87:65–72

Panagiotaras D, Nikolopoulos D, Petraki E, Kottou S, Koulougliotis D, Panayiotis et al (2014) Comprehensive experience for indoor air quality assessment: a review on the determination of volatile organic compounds (VOCs). J Phys Chem Biophys 4:159–171

Paz Y (2010) Application of TiO2 photocatalysis for air treatment: patents' overview. Appl Catal B 99:448–460

Pei L, Zhou J, Zhang L (2013) Preparation and properties of Ag-coated activated carbon nanocomposites for indoor air quality control. Build Environ 63:108–113

Quincy N, Vera M, Choi H, Puma G, Dionysiou D, Litter M, Destaillats H (2010) Effect of key parameters on the photocatalytic oxidation of toluene at low concentrations in air under 254 + 185 nm UV irradiation. Appl Catal B 95:312–319

Ragazzi M, Tosi P, Rada EC, Torretta V, Schiavon M (2014) Effluents from MBT plants: plasma techniques for the treatment of VOCs. Waste Manag 34:2400–2406

Rehwagen M, Schlink U, Herbarth O (2003) Seasonal cycle of VOCs in apartments. Indoor Air 13:283–291

Rene ER, Veiga MC, Kennes C (2012) Combined biological and physicochemical waste gas cleaning techniques. J Environ Sci Health Part A Toxic/Hazard Subst Environ Eng 47(7):920–939

Ribot B, Frochot D, Blondeau P, Ginestet A, Squinazi F, De Blay F et al (2006) Mise en place de protocoles de qualification des appareils d'épuration d'air. Convention ADEME-EDF no. 04 04 C 0080 Rapport Final

Roda C, Barral S, Ravelomanantsoa H, Dusséaux M, Tribout M, Le Moullec Y et al (2011) Assessment of indoor environment in Paris child day care centers. Environ Res 111:1010–1017

Russell JA, Hu Y, Chau L, Pauliushchyk M, Anastopoulos J, Anandan S, Waring MS (2014) Indoor-biofilter growth and exposure to airborne chemicals drive similar changes in plant root bacterial communities. Appl Environ Microbiol 80(16):4805–4813

Sappänen OA, Fisk WJ, Mendell MJ (1999) Association of ventilation rates and CO2 concentrations with health and other responses in commercial and institutional buildings. Indoor Air 9:226–252

Sarigiannis DA, Karakitsios SP, Gotti A, Liakos IL, Katsoyiannis A (2011) Exposure to major volatile organic compounds and carbonyls in European indoor environments and associated health risk. Environ Int 37:743–765

Saucedo-Lucero JO, Quijano G, Arriaga S, Muñoz R (2014) Hexane abatement and spore emission control in a fungal biofilter–photoreactor hybrid unit. J Hazard Mater 276:287–294

Shiraishi F, Ishimatsu T (2009) Toluene removal from indoor air using a miniaturized photocatalytic air purifier including a preceding adsorption/desorption unit. Chem Eng Sci 64:2466–2472

Shiraishi F, Yamaguchi S, Ohbuchi Y (2003) A rapid treatment of formaldehyde in a highly tight room using a photocatalytic reactor combined with a continuous adsorption and desorption apparatus. Chem Eng Sci 58:929–934

Sidheswaran MA, Destaillats H, Sullivan DP, Cohn S, Fisk WJ (2012) Energy efficient indoor VOC air cleaning with activated carbon fiber (ACF) filters. Build Environ 47:357–367

Sittig M (1991) Handbook of toxic and hazardous chemicals and carcinogens, vol 2, 3rd edn. Noyes Publications, Park Ridge

Srikanth P, Sudharsanam S, Steinberg R (2008) Bioaerosols in indoor environment: composition, health effects and analysis. Indian J Med Microbiol 26:302–312

Stranger M, Potgieter-Vermaak SS, Van Grieken R (2007) Comparative overview of indoor air quality in Antwerp, Belgium. Environ Int 33:789–797

Sundell J (2004) On the history of indoor air quality and health. Indoor Air 14(7):51–58

Taner S, Pekey B, Pekey H (2013) Fine particulate matter in the indoor air of barbeque restaurants: elemental compositions, sources and health risks. Sci Total Environ 454–455:79–87

Tseng CC, Li CS (2005) Inactivation of virus-containing aerosols by ultraviolet germicidal irradiation. Aerosol Sci Technol 39:1136–1142

Uhde E, Salthammer T (2007) Impact of reaction products from building materials and furnishings on indoor air quality—a review of recent advances in indoor chemistry. Atmos Environ 41:3111–3128

U.S. Environmental Protection Agency (EPA) (1997) Health and environmental effects of ground-level ozone. OAQPS Fact Sheet. http://www.epa.gov/groundlevelozone/health.html. Accessed on 24 April 2014

U.S. Environmental Protection Agency (EPA) (2009) Residential air cleaners, 2nd edn. A summary of available information. http://www.epa.gov/iaq/pdfs/residential_air_cleaners.pdf. Accessed on 13 May 2012

U.S. Environmental Protection Agency (EPA) (2014) Asbestos laws and regulations. http://www2.epa.gov/asbestos/asbestos-laws-and-regulations. Accessed on 20 Jan 2015

Van Durme J, Dewulf J, Demeestere K, Leys C, Van Langenhove H (2009) Post-plasma catalytic technology for the removal of toluene from indoor air: effect of humidity. Appl Catal B 87:78–83

Van Ras N, Krooneman J, Ogink N, Willers H, D'Amico A, di Natale C et al (2005) Biological air filter for air-quality control. In: Wilson A (ed) Microgravity applications programme: successful teaming of science and industry. ESA publication SP-1290, Noordwijk, The Netherlands, pp 270–280

Vandenbroucke AM, Morent R, De Geyter N, Leys C (2011) Non-thermal plasmas for non-catalytic and catalytic VOC abatement. J Hazard Mater 195:30–54

Vildozo D, Portela R, Ferronato C, Chovelon JM (2011) Photocatalytic oxidation of 2-propanol/toluene binary mixtures at indoor air concentration levels. Appl Catal B 107(3–4):347–354

Wainman T, Weschler CJ, Lioy PJ (2001) Effects of Surface type and relative humidity on the production and concentration of nitrous acid in a model indoor environment. Environ Sci Technol 35:2200–2206

Wan Y, Fan X, Zhu T (2011) Removal of low-concentration formaldehyde in air by DC corona discharge plasma. Chem Eng J 171:314–319

Wang S, Ang HM, Tade MO (2007) Volatile organic compounds in indoor environment and photocatalytic oxidation: state of the art. Environ Int 33:694–705

Wang C, Xi JY, Hu HY, Yao Y (2009) Advantages of combined UV photodegradation and biofiltration processes to treat gaseous chlorobenzene. J Hazard Mater 171:1120–1125

Wang Z, Xiu G, Qiao T, Zhao K, Zhang D (2013) Coupling ozone and hollow fibers membrane bioreactor for enhanced treatment of gaseous xylene mixture. Bioresour Technol 130:52–58

Wang Z, Pei J, Zhang JS (2014) Experimental investigation of the formaldehyde removal mechanisms in a dynamic botanical filtration system for indoor air purification. J Hazard Mater 280:235–243

Waring MS, Siegel JA (2011) The effect of an ion generator on indoor air quality in a residential room. Indoor Air 21:267–276

Weichenthal S, Dufresne A, Infante-Rivard C (2007) Indoor ultrafine particles and childhood asthma exploring a potential public health concern. Indoor Air 17(2):81–91

Weschler CJ (2000) Ozone in indoor environments: concentration and chemistry. Indoor Air 10:269–288

Weschler CJ (2009) Changes in indoor pollutants since the 1950s. Atmos Environ 43:153–169

Wood A, Orwell RL, Tarran J, Torpy F, Burchett M (2002) Potted-plant/growth media interactions and capacities for removal of volatiles from indoor air. J Hortic Sci Biotechnol 77(1):120–129

World Health Organization (WHO) (1989) Indoor air quality: organic pollutants. Report WHO meeting, Berlin, 23–27 Aug 1987. EURO reports and studies 111. Regional Office for Europe, Copenhagen

World Health Organization (WHO) (2000) Air quality guidelines for Europe, 2nd edn. World Health Organization Regional Publications, European Series No. 91. Health Organization, Regional Office for Europe, Copenhagen. http://www.euro.who.int/document/e71922.pdf

World Health Organization (WHO) (2010) WHO guidelines for indoor air quality: selected pollutants. World Health Organization Regional Office for Europe, Copenhagen. http://www.euro.who.int/document/e71922.pdf

World Health Organization (WHO) (2013) Asthma. Media Center. Fact Sheet No. 30. http://www.who.int/mediacentre/factsheets/fs307/en/

World Health Organization (WHO) (2014) Public health, environmental and social determinants of health (PHE), Geneva. http://www.who.int/phe/health_topics/outdoorair/databases

Xu Z, Wang L, Hou H (2011) Formaldehyde removal by potted plant–soil systems. J Hazard Mater 192:314–318

Yoo MH, Kwon YJ, Son KC, Kays SJ (2006) Efficacy of indoor plants for the removal of single and mixed volatile organic pollutants and physiological effects of the volatiles on the plants. J Am Soc Hortic Sci 131(4):452–458

Yu BF, Hu ZB, Liu M, Yang HL, Kong QX, Liu YH (2009) Review of research on air-conditioning systems and indoor air quality control for human health. Int J Refrig 32:3–20

Zaatari M, Nirlo E, Jareemit D, Crain N, Srebric J, Siegel J (2014) Ventilation and indoor air quality in retail stores: a critical review (RP-1596). HVAC&R Res 20:276–294

Zhang Y, Moa J, Li Y, Sundell J, Wargocki P, Zhang J et al (2011) Can commonly-used fan-driven air cleaning technologies improve indoor air quality? A literature review. Atmos Environ 45:4329–4343

Zhang LZ, Zhang XR, Miao QZ, Pei LX (2012) Selective permeation of moisture and VOCs through polymer membranes used in total heat exchangers for indoor air ventilation. Indoor Air 22:321–330

Zhao P, Siegel JA, Corsi RL (2007) Ozone removal by HVAC filters. Atmos Environ 41(15):3151–3160

Zhao W, Yang Y, Dai J, Liu F, Wang Y (2013) VUV photolysis of naphthalene in indoor air: intermediates, pathways, and health risk. Chemosphere 91:1002–1008
Acknowledgments
This research has been conducted with the financial support of the University of the Basque Country UPV/EHU (Project GIU12/07) and the Spanish Government (Project CTM2012-35565). The authors are grateful to the General Council of the Pyrenées Atlantiques and Aquitaine's Regional Council for their financial support. Angela Luengas wishes to thank the University of the Basque Country for the fellowship granted (PIFGO15/2011).
About this article
Cite this article
Luengas, A., Barona, A., Hort, C. et al. A review of indoor air treatment technologies. Rev Environ Sci Biotechnol 14, 499–522 (2015). https://doi.org/10.1007/s11157-015-9363-9
Keywords
Abatement technologies for indoor pollution

Chemical pollutants

Indoor atmospheres