Abstract
Seawater desalination has significantly developed towards membrane technology than phase change process during last decade. Seawater reverse osmosis (SWRO) in general is the most familiar process due to higher water recovery and lower energy consumption compared to other available desalination processes. Despite major advancements in SWRO technology, desalination industry is still facing significant amount of practical issues. Therefore, the potentials and problems faced by current SWRO industries and essential study areas are discussed in this review for the benefit of desalination industry. It is important to consider all the following five components in SWRO process i.e. (1) intake (2) pre-treatment (3) high pressure pumping (4) membrane separation (performance of membranes and brine disposal) and (5) product quality. Development of higher corrosion resistant piping materials or coating materials, valves, and pumps is believed to be in higher research demand. Furthermore, brine management, that includes brine disposal and resource recovery need further attention. Pre-treatment sludge management and reduced cleaning in place flush volume will reduce the capital costs associated with evaporation ponds and the maintenance costs associated with disposal and transportation reducing the unit cost of water.
Access options
Buy single article
Instant access to the full article PDF.
USD 39.95
Price excludes VAT (USA)
Tax calculation will be finalised during checkout.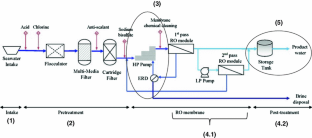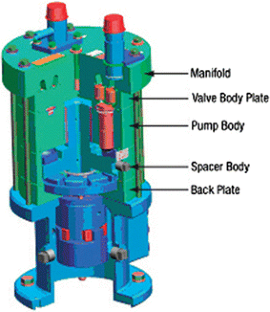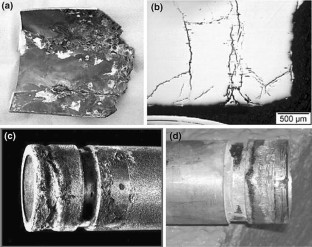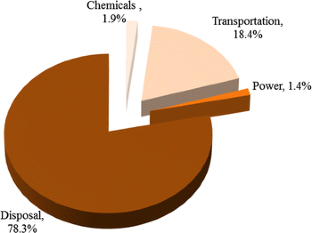 References
Abou Rayan M, Khaled I (2003) Seawater desalination by reverse osmosis (case study). Desalination 153(1–3):245–251

Agus E, Voutchkov N, Sedlak DL (2009) Disinfection by-products and their potential impact on the quality of water produced by desalination systems: a literature review. Desalination 237(1–3):214–237

Ahmed M, Shayya WH, Hoey D, Al-Handaly J (2001) Brine disposal from reverse osmosis desalination plants in Oman and the United Arab Emirates. Desalination 133(2):135–147

Alhadidi A, Kemperman AJB, Schurer R, Schippers JC, Wessling M, van der Meer WGJ (2012) Using SDI, SDI+ and MFI to evaluate fouling in a UF/RO desalination pilot plant. Desalination 285:153–162

Alvarado O (2008) (Business Development Manager CADAGUA) Intake Systems in Sea Water Reverse Osmosis (SWRO) Desalination Plants. Presentation at international congress on water Management in the Mining industry (WATER IN MINING INDUSTRY Santiago de Chile, July 2008)

Amy G (2013) Water desalination: present practice, future trends and research needs. Director, Water Desalination and Reuse Center, King Abdullah University of Science & Technology. Available from: http://www.kaust.edu.sa/media/features/chinawatershowagenda.html

Bick A, Oron G (2005) Post-treatment design of seawater reverse osmosis plants: boron removal technology selection for potable water production and environmental control. Desalination 178(1–3):233–246

Blank JE, Tusel GF, Nisan S (2007) The real cost of desalted water and how to reduce it further. Desalination 205(1–3):298–311

Brehant A, Bonnelye V, Perez M (2002) Comparison of MF/UF pretreatment with conventional filtration prior to RO membranes for surface seawater desalination. Desalination 144(1–3):353–360

Charcosset C (2009) A review of membrane processes and renewable energies for desalination. Desalination 245(1–3):214–231

Colombo D, de Gerloni M, Reali M (1999) An energy-efficient submarine desalination plant. Desalination 122(2–3):171–176

Dreizin Y (2006) Ashkelon seawater desalination project—off-taker's self costs, supplied water costs, total costs and benefits. Desalination 190(1–3):104–116

Ebrahim S, Abdel-Jawad M (1994) Economics of seawater desalination by reverse osmosis. Desalination 99(1):39–55

Elimelech M (2007) Yale constructs forward osmosis desalination pilot plant. Membr Technol 2007(1):7–8

El-Sadek A (2010) Water desalination: an imperative measure for water security in Egypt. Desalination 250(3):876–884

Fujiwara N, Matsuyama H (2008) Elimination of biological fouling in seawater reverse osmosis desalination plants. Desalination 227(1–3):295–305

Greenlee LF, Lawler DF, Freeman BD, Marrot B, Moulin P (2009) Reverse osmosis desalination: water sources, technology, and today's challenges. Water Res 43(9):2317–2348

Habib K, Fakhral-Deen A (2001) Risk assessment and evaluation of materials commonly used in desalination plants subjected to pollution impact of the oil spill and oil fires in marine environment. Desalination 139(1–3):249–253

Harris J (2012) Presented at the Australian Corrosion Association INC Seminar. In: Corrosion issues, prevention and asset rehabilitation in the water and waste water industry at Mercure Grosvenor Hotel, Adelaide, 26th June 2012

Hoang M, Bolto B, Haskard C, Barron O, Gray S and Leslie G (2009) Desalination in Australia. CSIRO: Water for a Healthy Country National Research Flagship

Jacob C (2007) Seawater desalination: boron removal by ion exchange technology. Desalination 205(1–3):47–52

Jeppesen T, Shu L, Keir G, Jegatheesan V (2009) Metal recovery from reverse osmosis concentrate. J Clean Prod 17(7):703–707

Ji X, Curcio E, Al Obaidani S, Di Profio G, Fontananova E, Drioli E (2010) Membrane distillation-crystallization of seawater reverse osmosis brines. Sep Purif Technol 71(1):76–82

Johnson A, Anderson B, Askue A, Jones B (2013) Thermosets beat pressure and corrosion in desalination. Retrieved 22/02/2013, from http://www.norplex-micarta.com/whatsnew/NM%20Amicon%20Aquapump%20Application%20Sheet_Layout%205_070108sm.pdf

Karagiannis IC, Soldatos PG (2008) Water desalination cost literature: review and assessment. Desalination 223:448–456

Kim SH (2013) Technology Development of (RO)-MD/PRO Hybrid Desalination Demonstration Plant. In: Proceedings from 2013 Gyungbook Global Water Forum (Water and Asia) presented on 2013-10-28, South Korea

Kim YM, Kim SJ, Kim YS, Lee S, Kim IS, Kim JH (2009) Overview of systems engineering approaches for a large-scale seawater desalination plant with a reverse osmosis network. Desalination 238(1–3):312–332

Kremen SS, Tanner M (1998) Silt density indices (SDI), percent plugging factor (%PF): their relation to actual foulant deposition. Desalination 119(1–3):259–262

Kwon Y-N, Hong S, Choi H, Tak T (2012) Surface modification of a polyamide reverse osmosis membrane for chlorine resistance improvement. J Membr Sci 415–416:192–198

Latorre M (2005) Environmental impact of brine disposal on Posidonia seagrasses. Desalination 182(1–3):517–524

Lee S, Boo C, Elimelech M, Hong S (2010) Comparison of fouling behavior in forward osmosis (FO) and reverse osmosis (RO). J Membr Sci 365(1–2):34–39

Liyanaarachchi S, Jegatheesan V, Shu L, Muthukumaran S, Baskaran K (2013) A preliminary study on the volume reduction of pre-treatment sludge in seawater desalination by forward osmosis. Desalination Water Treat (in press)

Luo M, Wang Z (2001) Complex fouling and cleaning-in-place of a reverse osmosis desalination system. Desalination 141(1):15–22

Martinetti CR, Childress AE, Cath TY (2009) High recovery of concentrated RO brines using forward osmosis and membrane distillation. J Membr Sci 331(1–2):31–39

Matin A, Khan Z, Zaidi SMJ, Boyce MC (2011) Biofouling in reverse osmosis membranes for seawater desalination: phenomena and prevention. Desalination 281:1–16

McCutcheon JR, McGinnis RL, Elimelech M (2006) Desalination by ammonia–carbon dioxide forward osmosis: influence of draw and feed solution concentrations on process performance. J Membr Sci 278(1–2):114–123

Misdan N, Lau WJ, Ismail AF (2012) Seawater Reverse Osmosis (SWRO) desalination by thin-film composite membrane—current development, challenges and future prospects. Desalination 287:228–237

Mohamed AMO, Maraqa M, Al Handhaly J (2005) Impact of land disposal of reject brine from desalination plants on soil and groundwater. Desalination 182(1–3):411–433

Morton AJ, Callister IK, Wade NM (1997) Environmental impacts of seawater distillation and reverse osmosis processes. Desalination 108(1–3):1–10

NCED (2010) Australian desalination research road map, National Centre of Excellence in Desalination

Nguyen T, Roddick FA, Fan L (2012) Biofouling of water treatment membranes: a review of the underlying causes, monitoring techniques and control measures. Membranes 2:804–840

Nooijen WFJM, Wouters JW (1992) Optimizing and planning of seawater desalination. Desalination 89(1):1–19

Olsson J (2005) Stainless steels for desalination plants. Desalination 183(1–3):217–225

Palmer N (2012) Changing perception of the value of urban water in Australia following investment in seawater desalination. Desalination Water Treat 43(1–3):298–307

Pandey S, Jegatheesan V, Baskaran K, Shu L (2012) Fouling in reverse osmosis (RO) membrane in water recovery from secondary effluent: a review. Rev Environ Sci Bio/Technol 11(2):125–145

Raluy G, Serra L, Uche J (2006) Life cycle assessment of MSF, MED and RO desalination technologies. Energy 31(13):2361–2372

Sadhwani JJ, Veza JM, Santana C (2005) Case studies on environmental impact of seawater desalination. Desalination 185(1–3):1–8

Sarp S, Lee S, Ren X, Lee E, Chon K, Choi SH, Kim S, Kim IS, Cho J (2008) Boron removal from seawater using NF and RO membranes, and effects of boron on HEK 293 human embryonic kidney cell with respect to toxicities. Desalination 223(1–3):23–30

Semiat R (2008) Energy issues in desalination processes. Environ Sci Technol 42(22):8193–8201

Sheikholeslami R, Tan S (1999) Effects of water quality on silica fouling of desalination plants. Desalination 126(1–3):267–280

Tularam GA, Ilahee M (2007) Environmental concerns of desalinating seawater using reverse osmosis. J Environ Monit 9(8):805–813

Valdez B, Schorr M (2010) Corrosion control in the desalination industry. Adv Mater Res 95:29–32

Vedavyasan CV (2007) Pretreatment trends—an overview. Desalination 203(1–3):296–299

Vollprecht R (2013) Personnel communication with DEGREMONT PTY LTD, Perth Seawater Desalination Plant, Lot 3003 Barter Road, 6165 NAVAL BASE, WA, AUSTRALIA

Water Reuse Association (2011) Seawater desalination power consumption, White paper November 2011

Wilf M, Klinko K (1998) Effective new pretreatment for seawater reverse osmosis systems. Desalination 117(1–3):323–331

Wittholz MK, O'Neill BK, Colby CB, Lewis D (2008) Estimating the cost of desalination plants using a cost database. Desalination 229:10–20

Yang HL, Huang C, Lin JC-T (2010) Seasonal fouling on seawater desalination RO membrane. Desalination 250(2):548–552
Acknowledgments
The authors would like to acknowledge the financial support of the VU-CRGS grant from Victoria University. Authors would like to thank Robert Vollprecht, Degremont PTY LTD for supplying valuable data throughout the study.
About this article
Cite this article
Liyanaarachchi, S., Shu, L., Muthukumaran, S. et al. Problems in seawater industrial desalination processes and potential sustainable solutions: a review. Rev Environ Sci Biotechnol 13, 203–214 (2014). https://doi.org/10.1007/s11157-013-9326-y
Published:

Issue Date:

DOI: https://doi.org/10.1007/s11157-013-9326-y
Keywords