Abstract
In this paper we present a review of Biofiltration, one of the air pollution control technologies (APCT) used to treat volatile organic compounds (VOCs) effectively. It also talks about the history of biofiltration, and also proposes few ideas for the future developments in the biofiltration research pertaining to VOC control. Moreover, the paper also discusses about various important physical, chemical and biological factors which affect the performance of a biofilter both directly and indirectly. This paper will be handier for those who are new to the field of biofiltration research for VOC treatment.
Access options
Buy single article
Instant access to the full article PDF.
USD 39.95
Price excludes VAT (USA)
Tax calculation will be finalised during checkout.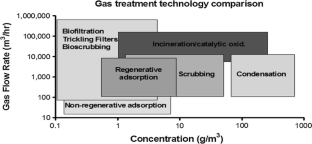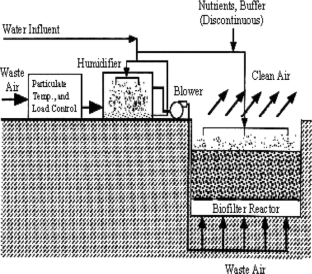 Notes
Petrochemical industry, paint industry, pharmaceutical industry, wastewater treatment, meat processing etc.,

A temperature change from 11 to 15.5 °C increased the RE from 92 to 100 %.

Bed porosity also impacts the residence time and surface area available for mass transfer.

Soil, compost, peat, wood bark etc.,

Reactive carbon/reactive nitrogen.

Activated sludge is usually added to the inert packing material used in biofilters.

Varies with the type of pollutant to be degraded in a biofilter.

Henry's law coefficient of 0.26 and water solubility ranges 515–627 g m−3.
Abbreviations
Cg,in :

Inlet concentration of the pollutant gas (g m−3)

Cg,out :

Outlet concentration of the pollutant gas (g m−3)

Q:

Volumetric flow rate of the pollutant gas (m3 h−1)

V:

Biofilter bed volume (m3)
References
Aizpuru A, Malhautier L, Roux JC, Fanlo JL (2001) Biofiltration of a mixture of volatile organic emissions. J Air Waste Manage Assoc 51:1662–1670

Aizpuru A, Malhautier L, Roux J, Fanlo J (2003) Biofiltration of a mixture of volatile organic compounds on granular activated carbon. Biotechnol Bioeng 83:479–488

Aizpuru A, Dunat B, Christen P, Auria R, García-Peña I, Revah S (2005) Fungal biofiltration of toluene on ceramic rings. J Environ Eng 131:396

Baquerizo G, Maestre JP, Sakuma T, Deshusses MA, Gamisans X, Gabriel D, Lafuente J (2005) A detailed model of a biofilter for ammonia removal: model parameters analysis and model validation. Chem Eng J 113:205–214

Beerli M, Rotman A (1989) Control of VOC emissions by use of peat biofilters in the flexography industry. In: Fisrt international conference on environmental issues for converters, Jacksonville, Florida, USA

Beuger AL, Gostomski PA (2009) Development of a biofilter with water content control for research purposes. Chem Eng J 151:89–96

Bina B, Dehghanzadeh R, Pourmoghadas H, Kalantary A, Torkian A (2004) Removal of styrene from waste gas stream using a biofilter. J Res Med Sci 9:280–288

Bohn H (1992) Consider biofiltration for decontaminating gases. Chem Eng Prog 88:34–40

Bohn H, Bohn R (1986) Gas scrubbing by bio-washers and bio-filters. Pollut Eng 18:34–35

Carlson D, Leiser C (1966) Soil beds for the control of sewage odors. J Water Pollut Control Fed 38:829–840

Christen P, Domenech F, Michelena G, Auria R, Revah S (2002) Biofiltration of volatile ethanol using sugar cane bagasse inoculated with Candida utilis. J Hazard Mater 89:253–265

Chung YC (2007) Evaluation of gas removal and bacterial community diversity in a biofilter developed to treat composting exhaust gases. J Hazard Mater 144:377–385

Delhomenie MC, Heitz M (2005) Biofiltration of air: a review. Crit Rev Biotechnol 25:53–72

Delhomenie MC, Bibeau L, Roy S, Brzezinski R, Heitz M (2001) Influence of nitrogen on the degradation of toluene in a compost-based biofilter. J Chem Technol Biot 76:997–1006

Delhoménie MC, Bibeau L, Bredin N, Roy S, Broussau S, Brzezinski R, Kugelmass JL, Heitz M (2002) Biofiltration of air contaminated with toluene on a compost-based bed. Adv Environ Res 6:239–254

Delhoménie MC, Bibeau L, Gendron J, Brzezinski R, Heitz M (2003) A study of clogging in a biofilter treating toluene vapors. Chem Eng J 94:211–222

Deshusses MA, Johnson CT (2000) Development and validation of a simple protocol to rapidly determine the performance of biofilters for VOC treatment. Environ Sci Technol 34:461–467

Devinny JS, Deshusses MA, Webster TS (1999) Biofiltration for air pollution control. CRC Press LLC, New York

Diks RMM, Ottengraf SPP (1991) Verification Studies of a Simplified Model for the Removal of Dichloromethane from Waste Gases Using a Biological Trickling Filter.1. Bioprocess Eng 6:93–99

Dorado A, Lafuente F, Gabriel D, Gamisans X (2010) A comparative study based on physical characteristics of suitable packing materials in biofiltration. Environ Technol 31:193–204

Elmrini H, Bredin N, Shareefdeen Z, Heitz M (2004) Biofiltration of xylene emissions: bioreactor response to variations in the pollutant inlet concentration and gas flow rate. Chem Eng J 100:149–158

Farmer RW, Chen JS, Kopchynski DM, Maler WJ (1995) Reactor switching: proposed biomass control strategy for the biofiltration process. In: 3rd International in situ and on-site bioreclamation symposium, San Diego, CA-USA, pp 243–248

García-Peña E, Hernández S, Favela-Torres E, Auria R, Revah S (2001) Toluene biofiltration by the fungus Scedosporium apiospermum TB1. Biotechnol Bioeng 76:61–69

Girard MGM, Nikiema JNJ, Brzezinski RBR, Buelna GBG, Heitz MHM (2009) A review of the environmental pollution originating from the piggery industry and of the available mitigation technologies: towards the simultaneous biofiltration of swine slurry and methane. This article is one of a selection of papers published in this Special Issue on Biological Air Treatment. Can J Civ Eng 36:1946–1957

Guelfo G, Sordelli D, Pozzoli L (1987) Valori limite di soglia. ACGIH G Ig Ind 12:1–122

Hwang SCJ, Wu SJ, Lee CM (2002) Water transformation in the media of biofilters controlled by Rhodococcus fascians in treating an ethyl acetate-contaminated airstream. J Air Waste Manag Assoc 52:511–520

Iranpour R, Cox HHJ, Deshusses MA, Schroeder ED (2005) Literature review of air pollution control biofilters and biotrickling filters for odor and volatile organic compound removal. Environ Prog 24:254–267

Kampbell DH, Wilson JT, Read HW, Stocksdale TT (1987) Removal of volatile aliphatic-hydrocarbons in a soil bioreactor. Japca J Air Waste Ma 37:1236–1240

Kennes C, Veiga MC (2001) Bioreactors for waste gas treatment. Kluwer, Dordrecht

Lee EY, Jun YS, Cho KS, Ryu HW (2002) Degradation characteristics of toluene, benzene, ethylbenzene, and xylene by Stenotrophomonas maltophilia T3-c. J Air Waste Manag Assoc 52:400–406

Leson G, Winer AM (1991) Biofiltration—an innovative air-pollution control technology for voc emissions. J Air Waste Manag Assoc 41:1045–1054

Lewis K, Naroditskaya V, Ferrante A, Fokina I (1994) Bacterial resistance to uncouplers. J Bioenerg Biomembr 26:639–646

Li L, Liu JX (2006) Removal of xylene from off-gas using a bioreactor containing bacteria and fungi. Int Biodeterior Biodegrad 58:60–64

Martin Jr RW, Li H, Mihelcic JR, Crittenden JC, Lueking DR, Hatch CR, Ball P (2002) Optimization of biofiltration for odor control: model calibration, validation, and applications. Water Environ Res 74:17–27

Menasveta P, Panritdam T, Sihanonth P, Powtongsook S, Chuntapa B, Lee P (2001) Design and function of a closed, recirculating seawater system with denitrification for the culture of black tiger shrimp broodstock. Aquacult Eng 25:35–49

Metcalf I, Eddy H (2003) Wastewater engineering: treatment and reuse, 4th edn. Tata McGraw–Hill Publishing Co, New Delhi

Morales M, Revah S, Auria R (1998) Start-up and the effect of gaseous ammonia additions on a biofilter for the elimination of toluene vapors. Biotechnol Bioeng 60:483–491

Mpanias CJ, Baltzis BC (1998) An experimental and modeling study on the removal of mono-chlorobenzene vapor in biotrickling filters. Biotechnol Bioeng 59:328–343

Nanda S, Sarangi PK, Abraham J (2012) Microbial biofiltration technology for odour abatement: an introductory review. J Soil Sci Environ Manage 3:28–35

Nicholls DG (1982) Bioenergetics: an introduction to the chemiosmotic theory. Academic Press, New York

Nicolai R, Janni K (2000) Designing biofilters for livestock facilities. Proceedings of the 2nd international conference on air pollution from agricultural operations, Des Moines, Iowa, USA, pp 376–383

Oh YS, Choi SC (2000) Selection of suitable packing material for biofiltration of toluene, m- and p-xylene vapors. J Microbiol 38:31–35

Ottengraf SPP (1987) Biological-Systems for Waste-Gas Elimination. Trends Biotechnol 5:132–136

Ottengraf SPP, Vandenoever AHC (1983) Kinetics of organic-compound removal from waste gases with a biological filter. Biotechnol Bioeng 25:3089–3102

Park DW, Kim SS, Haam S, Ahn IS, Kim EB, Kim WS (2002) Biodegradation of toluene by a lab-scale biofilter inoculated with Pseudomonas putida DK-1. Environ Technol 23:309–318

Pedersen AR, Moller S, Molin S, Arvin E (1997) Activity of toluene-degrading Pseudomonas putida in the early growth phase of a biofilm for waste gas treatment. Biotechnol Bioeng 54:131–141

Pomeroy RD (1982) Biological treatment of odorous air. J Water Pollut Con F 54:1541–1545

Prenafeta-Boldú FX, Illa J, van Groenestijn JW, Flotats X (2008) Influence of synthetic packing materials on the gas dispersion and biodegradation kinetics in fungal air biofilters. Appl Microbiol Biotechnol 79:319–327

Rene ER, Lopez ME, Murthy DVS, Swaminathan T (2009a) Removal of xylene in gas phase using compost ceramic ball biofilter. Int J Phys Sci 4:638–644

Rene ER, Murthy DVS, Swaminathan T (2009b) Treatment of benzene vapors from contaminated air stream in a laboratory-scale compost biofilter. Maced J Chem Chem En 28:119–123

Sene L, Converti A, Felipe M, Zilli M (2002) Sugarcane bagasse as alternative packing material for biofiltration of benzene polluted gaseous streams: a preliminary study. Bioresour Technol 83:153–157

Sorial GA, Papadimas SP, Suidan MT, Speth TF (1994) Competitive adsorption of vocs and bom—oxic and anoxic environments. Water Res 28:1907–1919

Spigno G, Pagella C, Daria Fumi M, Molteni R, Marco De Faveri D (2003) VOCs removal from waste gases: gas-phase bioreactor for the abatement of hexane by Aspergillus niger. Chem Eng Sci 58:739–746

Theodore L (2008) Air pollution control equipment calculations. Wiley, New Jersey

Torkian A, Dehghanzadeh R, Hakimjavadi M (2003) Biodegradation of aromatic hydrocarbons in a compost biofilter. J Chem Technol Biot 78:795–801

van Groenestijin JW, Hesselink PGM (1994) Biotechniques for air pollution control. Biodegradation 4:282–301

Wang Z, Govind R (1997) Biofiltration of isopentane in peat and compost packed beds. AIChE J 43:1348–1356

Williams TO, Miller FC (1992) Odor control—biofilters and facility operations. 2. Biocycle 33:75–79

Woertz J, van Heiningen W, van Eekert M, Kraakman N, Kinney K, Van Groenestijn J (2002) Dynamic bioreactor operation: effects of packing material and mite predation on toluene removal from off-gas. Appl Microbiol Biot 58:690–694

Xie B, Liang S, Tang Y, Mi W, Xu Y (2009) Petrochemical wastewater odor treatment by biofiltration. Bioresour Technol 100:2204–2209

Yang Y, Allen ER (1994) Biofiltration control of hydrogen sulfide 1. Design and operational parameters. J Air Waste Manag Assoc 44:863–868

Yang H, Minuth B, Allen DG (2002) Effects of nitrogen and oxygen on biofilter performance. J Air Waste Manag Assoc 52:279–286

Yoon IK, Park CH (2002) Effects of gas flow rate, inlet concentration and temperature on biofiltration of volatile organic compounds in a peat-packed biofilter. J Biosci Bioeng 93:165–169

Zilli M, Converti A, Lodi A, Delborghi M, Ferraiolo G (1993) Phenol removal from waste gases with a biological filter by Pseudomonas putida. Biotechnol Bioeng 41:693–699
About this article
Cite this article
Detchanamurthy, S., Gostomski, P.A. Biofiltration for treating VOCs: an overview. Rev Environ Sci Biotechnol 11, 231–241 (2012). https://doi.org/10.1007/s11157-012-9288-5
Published:

Issue Date:

DOI: https://doi.org/10.1007/s11157-012-9288-5
Keywords
Biofiltration

APCT

Air pollution

VOC