Abstract
For a long time now, the combustion of fossil fuels to give usable energy has led to the release of many types of pollutants into the atmosphere. Of particular interest is sulfur dioxide derived from combustion of diesel and related organic-sulfur containing media. Its presence in the air has resulted in the deterioration of health and depletion in aesthetic quality of materials. As a result, environmental regulations are now put in place to regulate the level of sulfur in different fuel types. To achieve this goal, many techniques have been tested, and bio-catalytic desulfurization is now being considered due to some limitations with conventional hydrodesulfurization approach. This essay discusses various kinds of microbial isolates that are harnessed for this purpose, and the influence of genetic engineering techniques and various factors on the activities of these biocatalysts. With increasing knowledge of microbial ecology, better understanding of biochemical systems, exploration of new conversion pathways and optimization of bioreactor design, enhancement in this approach is expected to bring an increase in its acceptability and improve the prospects of its full commercialization as viable alternative to the conventional hydrodesulfurization of fossil fuels.
Access options
Buy single article
Instant access to the full article PDF.
USD 39.95
Price excludes VAT (USA)
Tax calculation will be finalised during checkout.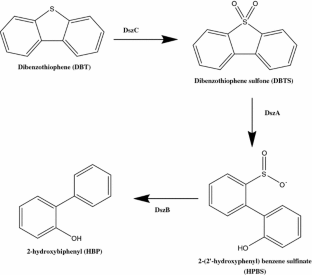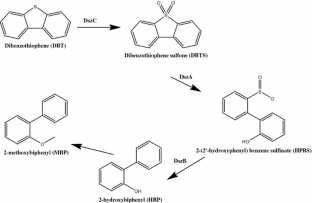 References
Abbad-Andaloussi S, Lagnel C, Warzywoda M, Monot F (2003) Multi-criteria comparison of resting cell activities of bacterial strains selected for biodesulfurization of petroleum compounds. Enzyme Microb Technol 32:446–454

Abed RMM, Koster J (2005) The direct role of aerobic heterotrophic bacteria associated with cyanobacteria in the degradation of oil compounds. Int Biodetior Biodegrad 55:29–37

Abed RMM, Zein B, Al-Thukair A, de Beer D (2007) Phylogenetic diversity and activity of aerobic heterotrophic bacteria from a hypersaline oil-polluted microbial mat. Syst Appl Microbiol 30:319–330

Alcon A, Santos VE, Martin AB, Yustos P, Garcia-Ochoa F (2005) Biodesulfurisation of DBT with Pseudomonas putida CECT5279 by resting cells: influence of cell growth time on reducing equivalent concentration and HpaC activity. Biochem Eng J 26:168–175

Alves L, Paixão SM (2011) Toxicity evaluation of 2-hydroxybiphenyl and other compounds involved in studies of fossil fuels biodesulphurisation. Bioresour Technol 102:9162–9166

Alves L, Melo M, Mendonca D, Simoes F, Matos J, Tenreiro R, Girio FM (2007) Sequencing, cloning and expression of the dsz genes required for dibenzothiophene sulfone desulfurization from Gordonia alkanivorans strain 1B. Enzyme Microb Technol 40:1598–1603

Alves L, Marques S, Matos J, Tenreiro R, Girio FM (2008) Dibenzothiophene desulfurization by Gordonia alkanivorans strain1B using recycled paper sludge hydrolyzate. Chemosphere 70:967–973

Amin GA (2011) Integrated two-stage process for biodesulfurization of model oil by vertical rotating immobilized cell reactor with the bacterium Rhodococcus erythropolis. Petr Environ Biotechnol 2:1–4

Ansari F, Prayuenyong P, Tothill I (2007) Biodesulfurization of dibenzothiophene by Shewanella putrefaciens NCIMB 8768. J Biol Phys Chem 7:75–78

Ansari F, Grigoriev P, Libor S, Tothill IE, Ramsden JJ (2009) DBT degradation enhancement by decorating Rhodococcus erythropolis IGTS8 with magnetic Fe3O4 nanoparticles. Biotechnol Bioeng 102:1505–1512

Babich IV, Moulijn JA (2003) Science and technology of novel process for deep desulfurization of oil refinery streams: a review. Fuel 82:607–631

Bahuguna A, Lily MK, Munjal A, Singh RN, Dangwal K (2010) Desulfurization of dibenzothiophene (DBT) by a novel strain Lysinibacillus sphaericus DMT-7 isolated from diesel contaminated soil. J Environ Sci 23:975–982

Bhatia S, Sharma DK (2010a) Mining of genomic databases to identify novel biodesulfurizing microorganisms. J Ind Microbiol Biotechnol 37:425–429

Bhatia S, Sharma DK (2010b) Biodesulfurization of dibenzothiophene, its alkylated derivatives and crude oil by a newly isolated strain Pantoea agglomerans D23W3. Biochem Eng J 50:104–109

Boniek D, Figueiredo D, Pylro VS, Duarte GF (2010) Characterization of bacterial strains capable of desulphurization in soil and sediment samples from Antarctica. Extremophiles 14:475–481

Bouchez-Naïtali M, Abbad-Andaloussi S, Warzywoda M, Monot F (2004) Relation between bacterial strain resistance to solvents and biodesulfurization activity in organic medium. Appl Microbiol Biotechnol 65:440–445

Calzada J, Heras S, Carbajo J, Alcon A, Santos VE, Garcia JL, Garcia-Ochoa F (2008) Opitimization of a desulfurizating biocatalyst by combining cells of different age of Pseudomonas putida CECT 5279. Chem Eng Trans 14:259–466

Calzada J, Heras S, Alcon A, Santos VE, Garcia-Ochoa F (2009) Biodesulfurization of dibenzothiophene (DBT) using Pseudomonas putida CECT 5279: a biocatalyst formulation comparison. Energy Fuels 23:5491–5495

Calzada J, Alcon A, Santos VE, Garcia-Ochoa F (2011) Mixtures of Pseudomonas putida CECT 5279 cells of different ages: optimization as biodesulfurization catalyst. Process Biochem 46:1323–1328

Caro A, Boltes K, Leton P, Garcia-Calvo E (2007a) Dibenzothiophene biodesulfurization in resting cell conditions by aerobic bacteria. Biochem Eng J 35:191–197

Caro A, Leton P, Garcia-Calvo E, Setti L (2007b) Enhancement of dibenzothiophene biodesulfurization using β-cyclodextrins in oil-to-water media. Fuel 86:2632–2636

Caro A, Boltes K, Leton P, Garcia-Calvo E (2008) Biodesulfurization of dibenzothiophene by growing cells of Pseudomonas putida CECT 5279 in biphasic media. Chemosphere 73:663–669

Chen H, Zhang W-J, Cai Y-B, Zhang Y, Li W (2008a) Elucidation of 2-hydroxybiphenyl effect on dibenzothiophene desulfurization by Microbacterium sp. strain ZD-M2. Bioresour Technol 99:6928–6933

Chen H, Zhang W-J, Chen J-M, Cai Y-B, Li W (2008b) Desulfurization of various organic sulfur compounds and the mixture of DBT + 4,6-DMDBT by Mycobacterium sp. ZD-19. Bioresour Technol 99:3630–3634

Chen H, Cai Y-B, Zhang W-J, Li W (2009) Methoxylation pathway in biodesulfurization of model organosulfur compounds with Mycobacterium sp. Bioresour Technol 100:2085–2087

Davoodi-Dehaghani F, Vosoughi M, Ziaee AA (2010) Biodesulfurization of dibenzothiophene by a newly isolated Rhodococcus erythropolis strain. Bioresour Technol 101:1102–1105

De Vasconcellos SP, Crespim E, da Cruz GF, Senatore DB, Simioni KCM, Neto EVS, Marsaioli AJ, de Oliveira VM (2009) Isolation, biodegradation ability and molecular detection of hydrocarbon degrading bacteria in petroleum samples from a Brazilian offshore basin. Org Geochem 40:574–588

Del Olmo CH, Alcon A, Santos VE, Garcia-Ochoa F (2005) Modeling the production of a Rhodococcus erythropolis IGTS8 biocatalyst for DBT biodesulfurization: influence of media composition. Enzyme Microb Technol 37:157–166

Díaz E (2004) Bacterial degradation of aromatic pollutants: a paradigm of metabolic versatility. Int Microbiol 7:173–180

Dinamarca MA, Ibacache-Quiroga C, Baeza P, Galvez S, Villarroel M, Olivero P, Ojeda J (2010) Biodesulfurization of gas oil using inorganic supports biomodified with metabolically active cells immobilized by adsorption. Bioresour Technol 101:2375–2378

Distel DL, Lane DJ, Olsen GJ, Giovannoni SJ, Pace B, Pace NR, Stahl DA, Felbeck H (1988) Sulfur-oxidizing bacterial endosymbionts: analysis of phylogeny and specificity by 16S rRNA sequences. J Bacteriol 170:2506–2510

Etemadifar ZG, Emtiazi G, Christofi N (2008) Enhanced desulfurization activity in protoplast transformed Rhodococcus erythropolis. Am Eur J Agric Environ Sci 3:795–801

Feng J, Zeng Y, Ma C, Cai X, Zhang Q, Tong M, Yu B, Xu P (2006) The surfactant Tween 80 enhances biodesulfurization. Appl Environ Microbiol 72(11):7390–7393

Folsom BR, Schieche DR, Digrazia PM, Werner J, Palmer S (1999) Microbial desulfurization of alkylated dibenzothiophenes from a hydrodesulfurized middle distillate by Rhodococcus erythropolis I-19. Appl Environ Microbiol 65:4967–4972

Frase H, Smith CA, Toth M, Champion MM, Mobashery S, Vakulenko SB (2011) Identification of products of inhibition of GES-2 β-lactamase by tazobactam by x-ray crystallography and spectrometry. J Biol Chem 286:14396–14409

Furuya T, Takahashi S, Ishii Y, Kino K, Kirimura K (2004) Cloning of a gene encoding flavin reductase coupling with dibenzothiophene monooxygenase through coexpression screening using indigo production as selective indication. Biochem Biophys Res Commun 313:570–575

Galan B, Diaz E, Garcia JL (2000) Enhancing desulphurization by engineering a flavin reductase-encoding gene cassette in recombinant biocatalysts. Environ Microbiol 2:687–694

Gallardo ME, Victor De Lorenzo AF, Garcia JL, Diaz E (1997) Designing recombinant Pseudomonas strains to enhance biodesulfurization. J Bacteriol 179:7156–7160

Garcia CL, Becchi M, Grenier-Loustalot MF, Paisse O, Szymanski R (2002) Analysis of aromatic sulfur compounds in gas oils using GC with sulfur chemiluminescence detection and high-resolution MS. Anal Chem 74:3849–3857

Gomez E, Santos VE, Alcon A, Martin AB, Garcia-Ochoa F (2006) Oxygen-uptake and mass-transfer rates on the growth of Pseudomonas putida CECT5279: influence on biodesulfurization (BDS) capability. Energy Fuels 20:1565–1571

Gornall AG, Bardawill CJ, David MM (1949) Determination of serum proteins by means of the biuret reaction. J Biol Chem 177:751–766

Grötzschel S, Köster J, Abed RMM, de Beer D (2002) Degradation of petroleum model compounds immobilized on clay by a hypersaline microbial mat. Biodegradation 13:273–283

Guchhait S, Biswas D, Bhattacharya P, Chowdhury R (2005) Bio-desulfurization of model organo-sulfur compounds and hydrotreated diesel—experiments and modeling. Chem Eng J 112:145–151

Gunam IBW, Yaku Y, Hirano M, Yamamura K, Tomita F, Sone T, Asano K (2006) Biodesulfurization of alkylated forms of dibenzothiophene and benzothiophene by Sphingomonas subarctica T7b. J Biosci Eng 101:322–327

Guobin S, Jianmin X, Chen G, Huizhou L, Jiayong C (2005) Biodesulfurization using Pseudomonas delafieldii in magnetic polyvinyl alcohol beads. Lett Appl Microbiol 40:30–36

Guobin S, Huaiying Z, Jianmin X, Guo C, Wangliang L, Huizhou L (2006) Biodesulfurization of hydrodesulfurized diesel oil with Pseudomonas delafieldii R-8 from high density culture. Biochem Eng J 27:305–309

Gupta N, Roychoudhury PK, Deb JK (2005) Biotechnology of desulfurization of diesel: prospects and challenges. Appl Microbiol Biotechnol 66:356–366

Gupta N, Adhikari DK, Stobdan T, Roychoudhury PK, Deb JK (2007) Purification of dibenzothiophene monooxygenase from a recombinant Escherichia coli. Biotechnol Lett 29:1465–1468

Hai Y, Xudong S, Qianqian X, Zhao M, Chengbin X, Jun N (2008) Effects of nicotinamide and riboflavin on the biodesulfurization activity of dibenzothiophene by Rhodococcus erythropolis USTB-03. J Environ Sci 20:613–618

Hou Y, Kong Y, Yang J, Zhang J, Shi D, Xin W (2005) Biodesulfurization of dibenzothiophene by immobilized cells of Pseudomonas stutzeri UP-1. Fuel 84:1975–1979

HuaiYing Z, QingFen L, YuGuang L, WangLiang L, XiaoChao X, JianMin X, HuiZhou L (2008) Selection of adsorbents for in situ coupling technology of adsorptive desulfurization and biodesulfurization. Sci China Ser B 51:69–77

Ishii Y, Kozaki S, Furuya T, Kino K, Kirimura K (2005) Thermophilic biodesulfurization of various heterocyclic sulfur compounds and crude straight-run light gas oil fraction by a newly isolated strain Mycobacterium phlei WU-0103. Curr Microbiol 50:63–70

Jiménez V, Bravo V, Gutierrez LG (2011) integral approach for improving the degradation of recalcitrant petrohydrocarbons in a fixed-film reactor. Water Air Soil Pollut 220:301–312

Jorjani E, Rezai B, Vossoughi M, Osanloo M (2004) Biodesulfurization of the tabas deposit coal by microorganisms. J Min Sci 40:310–320

Kamali N, Tavallaie M, Bambai B, Karkhane AA, Miri M (2010) Site-directed mutagenesis enhances the activity of NADH-FMN oxidoreductase (DszD) activity of Rhodococcus erythropolis. Biotechnol Lett 32:921–927

Kawaguchi H, Kobayashi H, Sato K (2011) Metabolic engineering of hydrophobic Rhodococcus opacus for biodesulfurization in oil–water biphasic reaction mixtures. J Biosci Bioeng. doi:10.1016/j.jbiosc.2011.10.017

Kilbane JJ (2006) Microbial biocatalyst developments to upgrade fossil fuels. Curr Opin Biotechnol 17:305–314

Kirimura K, Furuya T, Nishii Y, Ishii Y, Kino K, Usami S (2001) Biodesulfurization of dibenzothiophene and its derivatives through the selective cleavage of carbon-sulfur bonds by a moderately thermophilic bacterium Bacillus subtilis WU-S2B. J Biosci Bioeng 91:262–266

Kirkwood KM, Andersson JT, Fedorak PM, Foght JM, Gray MR (2007) Sulfur from benzothiophene and alkylbenzothiophenes supports growth of Rhodococcus sp. strain JVH1. Biodegradation 18:541–549

Kropp KG, Fedorak PM (1998) A review of the occurrence, toxicity and biodegradation of condensed thiophenes found in petroleum. Can J Microbiol 44:605–622

Kruger NJ (2002) The Bradford method for protein quantitation. In: Walker JM (ed) The protein protocols handbook, 2nd edn. Humana Press Inc., Totowa, pp 15–21

Labana S, Pandey G, Jain RK (2005) Desulphurization of dibenzothiophene and diesel oils by bacteria. Lett Appl Microbiol 40:159–163

Larssen T, Lydersen E, Tang D, He Y, Gao J, Liu H, Duan L, Seip HM, Vogt RD, Mulder J et al (2006) Acid rain in China: rapid industrialization has put citizens and ecosystems at risk. Environ Sci Technol 40:418–425

Lee WC, Ohshiro T, Matsubara T, Izumi Y, Tanokura M (2004) Crystallization and preliminary X-ray analyses of desulfurization enzyme DszB and its C27S mutant complexed with biphenyl-2-sulfinic acid. Act Crystallogr Sec D Biol Chrystallogr 60:1636–1638

Li W, Zhang Y, Wang MD, Shi Y (2005) Biodesulfurization of dibenzothiophene and other organic sulfur compounds by a newly isolated Microbacterium strain ZD-M2. FEMS Microbiol Lett 247:45–50

Li W, Wang M-D, Chen H, Chen J-M, Shi Y (2006) Biodesulfurization of dibenzothiophene by growing cells of Gordonia sp. in batch cultures. Biotechnol Lett 28:1175–1179

Li F, Zhang Z, Feng J, Cai X, Xu P (2007a) Biodesulfurization of DBT in tetradecane and crude oil by a facultative thermophilic bacterium Mycobacterium goodii X7B. J Biotechnol 127:222–228

Li Y, Xing J, Li W, Xiong X, Xin Li X, Liu H (2007b) Medium optimization of Rhodococcus erythropolis LSSE8-1 by Taguchi methodology for petroleum biodesulfurization. Korean J Chem Eng 24:781–786

Li G-Q, Li S–S, Qu S-W, Liu Q-K, Ma T, Zhu L, Liang F-L, Liu R-L (2008) Improved biodesulfurization of hydrodesulfurized diesel oil using Rhodococcus erythropolis and Gordonia sp. Biotechnol Lett 30:1759–1764

Li J, Feng J, Li Q, Ma C, Yu B, Gao C, Wu G, Xu P (2009a) Both FMNH2 and FADH2 can be utilized by the dibenzothiophene monooxygenase from a desulfurizing bacterium Mycobacterium goodii X7B. Bioresour Technol 100:2594–2599

Li W, Tang H, Liu Q, Xing J, Li Q, Wang D, Yang M, Li X, Liu H (2009b) Deep desulfurization of diesel by integrating adsorption and microbial method. Biochem Eng J 44:297–301

Li Y-G, Gao H-S, Li W-L, Xing J-M, Liu H-Z (2009c) In situ magnetic separation and immobilization of dibenzothiophene-desulfurizing bacteria. Bioresour Technol 100:5092–5096

Ma X, Sakanishi K, Mochida I (1996) Hydrodesulfurization reactivities of various sulfur compounds in vacuum gas oil. Ind Eng Chem Res 35:2487–2494

Ma X, Sun L, Song C (2002) A new approach to deep desulfurization of gasoline, diesel fuel and jet fuel by selective adsorption for ultra-clean fuels and for fuel cell applications. Catal Today 77:107–116

Ma C-Q, Feng J-H, Zeng Y–Y, Cai X-F, Sun B-P, Zhang Z-B, Blankespoor HD, Xu P (2006) Methods for the preparation of a biodesulfurization biocatalyst using Rhodococcus sp. Chemosphere 65:165–169

Martin AB, Alcon A, Santos VE, Garcia-Ochoa F (2004) Production of a biocatalyst of Pseudomonas putida CECT5279 for dibenzothiophene (DBT) biodesulfurization for different media compositions. Energy Fuels 18:851–857

Martin AB, Alcon A, Santos VE, Garcia-Ochoa F (2005) Production of a biocatalyst of Pseudomonas putida CECT5279 for DBT biodesulfurization: influence of the operational conditions. Energy Fuels 19:775–782

McFarland BL (1999) Biodesulfurization. Curr opin Microbiol 2:257–264

Meesala L, Balomajumder C, Chatterjee S, Roy P (2008) Biodesulfurization of dibenzothiophene using recombinant Pseudomonas strain. J Chem Technol Biotechnol 83:294–298

Mehrnia MR, Towfighi J, Bonakdarpour B, Akbarnegad MM (2004) Influence of top-section design and draft-tube height on the performance of airlift bioreactors containing water-in-oil microemulsion. J Chem Technol Biotechnol 79:260–267

Mezcua M, Fernandez-Alba AR, Rodriguez A, Boltes K, Leton P, Garcia-Calvo E (2007) Chromatographic methods applied in the monitoring of biodesulfurization processes—state of the art. Talanta 73:103–114

Mezcua M, Fernandez-Alba AR, Boltes K, Del Aguila RA, Leton P, Rodriguez A, Garcia-Calvo E (2008) Determination of PASHs by various analytical techniques based on gas chromatography–mass spectrometry application to a biodesulfurization process. Talanta 75:1158–1166

Miao-dong W, Wei L, Yao S, Da-hui W, Hai F (2006) Effects of surfactant on biodesulfurization by Corynebacterium sp. ZD-1 in the presence of organic phase. J Zhejiang Univ Sci A 7(Suppl. II): 371–375

Mirgorodskaya OA, Kozmin YP, Titov MI, Korner R, Sonksen CP, Roepstorff P (2000) Quantitation of peptides and proteins by matrixassisted laser desorption/ionization mass spectrometry using 18O-labeled internal standards. Rapid Commun Mass Spectrom 14:1226–1232

Mohebali G, Ball AS, Rasekh B, Kaytash A (2007) Biodesulfurization potential of a newly isolated bacterium, Gordonia alkanivorans RIPI90A. Enzyme Microb Technol 40:578–584

Mohebali G, Ball AS, Kaytash A, Rasekh B (2008) Dimethyl sulfoxide (DMSO) as the sulfur source for the production of desulfurizing resting cells of Gordonia alkanivorans RIPI90A. Microbiology 154:878–885

Monticello DJ (2000) Biodesulfurization and the upgrading of petroleum distillates. Curr Opin Biotechnol 11:540–546

Monticello DJ, Finnerty WR (1985) Microbial desulfurization of fossil fuels. Ann Rev Microbiol 39:371–389

Nandi S (2010) Biodesulfurization of hydro-desulfurized diesel in airlift reactor. J Sci Ind Res 69:543–547

Nichols PD, Guckert JB, White DC (1986) Determination of monounsaturated fatty acid double-bond position and geometry for microbial monocultures and complex consortia by capillary GC-MS of their dimethyl disulphide adducts. J Microbiol Methods 5:49–55

Nomura N, Takada M, Okada H, Shinohara Y, Nakajima-Kambe T, Nakahara T, Uchiyama H (2005) Identification and functional analysis of genes required for desulfurization of alkyl dibenzothiophenes of Mycobacterium sp. G3. J Biosci Bioeng 100:398–402

Ohshiro T, Izumi Y (1999) Microbial desulfurization of organic sulfur compounds in petroleum. Biosci Biotechnol Biochem 63:1–9

Ohshiro T, Ishii Y, Matsubara T, Ueda K, Izumi Y, Kino K, Kirimura K (2005) Dibenzothiophene Desulfurizing enzymes from moderately thermophilic bacterium Bacillus subtilis WU-S2B: purification, characterization and overexpression. J Biosci Bioeng 100:266–273

Papizadeh M, Ardakani MR, Ebrahimipour G, Motamedi H (2010) Utilization of dibenzothiophene as sulfur source by Microbacterium sp. NISOC-06. World J Microbiol Biotechnol 26:1195–1200

Pope CA III, Bates DV, Raizenne ME (1995) Health effects of particulate air pollution: time for reassessment? Environ Health Perspect 103:472–480

Raheb J, Hajipour MJ, Saadati M, Rasekh B, Memari B (2009) The enhancement of biodesulfurization activity in a novel indigenous engineered Pseudomonas putida. Iranian Biomed J 13(4):207–213

Rashtchi M, Mohebali GH, Akbarnejad MM, Towfighi J, Rasekh B, Keytash A (2006) Analysis of biodesulfurization of model oil system by the bacterium, strain RIPI-22. Biochem Eng J 29:169–173

Saxena A, Tripathi BP, Kumar M, Shahi VK (2009) Membrane-based techniques for the separation and purification of proteins: an overview. Adv Colloid Interface Sci 145:1–22

Shavandi M, Sadeghizadeh M, Zomorodipour A, Khajeh K (2009) Biodesulfurization of dibenzothiophene by recombinant Gordonia alkanivorans RIPI90A. Bioresour Technol 100:475–479

Smith SJ, Pitcher H, Wigley TML (2001) Global and regional anthropogenic sulfur dioxide emissions. Global Planet Change 29:99–119

Soleimani M, Bassi A, Margaritis A (2007) Biodesulfurization of refractory organic sulfur compounds in fossil fuels. Biotechnol Adv 25:570–596

Song C (2003) An overview of new approaches to deep desulfurization for ultra-clean gasoline, diesel fuel and jet fuel. Catal Today 86:211–263

Subashchandrabose SR, Ramakrishnan B, Megharaj M, Venkateswarlu K, Naidu R (2011) Consortia of cyanobacteria/microalgae and bacteria: Biotechnological potential. Biotechnol Adv 29:896–907

Takada M, Nomura N, Okada H, Nakajima-Kambe T, Nakahara T, Uchiyama H (2005) De-repression and comparison of oil–water separation activity of the dibenzothiophene desulfurizing bacterium, Mycobacterium sp. G3. Biotechnol Lett 27:871–874

Tanaka Y, Matsui T, Konishi J, Maruhashi K, Kurane R (2002) Biodesulfurization of benzothiophene and dibenzothiophene by a newly isolated Rhodococcus strain. Appl Microbiol Biotechnol 59:325–328

Tangaromsuk J, Borole AP, Kruatrachue M, Pokethitiyook P (2008) An integrated biodesulfurization process, including inoculum preparation, desulfurization and sulfate removal in a single step, for removing sulfur from oils. J Chem Technol Biotechnol 83:1375–1380

Tao F, Yu B, Xu P, Ma CQ (2006) Biodesulfurization in biphasic systems containing organic solvents. Appl Environ Microbiol 72:4604–4609

Ting M, Shanshan L, Guoqiang L, Renjing W, Fenglai L, Rulin L (2006) Cloning and expressing DBT (dibenzothiophene) monooxygenase gene (dsz C) from Rhodococcus sp. DS-3 in Escherichia coli. Front Biol China 4:375–380

Torkamani S, Shayegan J, Yaghmaei S, Alemzadeh I (2008) Study of the first isolated fungus capable of heavy crude oil biodesulfurization. Ind Chem Eng Res 47:7476–7482

Ware JH, Thibodeau LA, Speizer FE, Colome S, Ferris BG Jr (1981) Assessment of the health effects of atmospheric sulfur oxides and particulate matter: evidence from observational studies. Environ Health Perspect 41:255–276

Whitehurst DD, Isoda T, Mochida I (1998) Present state of the art and future challenges in the hydrodesulfurization of polyaromatic sulfur compounds. Adv Catal 42:345–471

Wubbeler JH, Lutke-Eversloh T, Van Trappen S, Vandamme P, Steinbuchel A (2006) Tetrathiobacter mimigardefordensis sp. nov., isolated from compost, a betaproteobacterium capable of utilizing the organic disulfide 3,3′-dithiodipropionic acid. Int J Syst Evol Microbiol 56:1305–1310

Xiong X, Xing J, Li X, Bai X, Li W, Li Y, Liu H (2007) Enhancement of biodesulfurization in two-liquid systems by heterogeneous expression of Vitreoscilla hemoglobin. Appl Environ Microbiol 73:2394–2397

Yang J, Marison IW (2005) Two-stage process design for the biodesulphurisation of a model diesel by a newly isolated Rhodococcus globerulus DAQ3. Biochem Eng J 27:77–82

Yang J, Hu Y, Zhao D, Wang S, Lau PCK, Marison IW (2007) Two-layer continuous-process design for the biodesulfurization of diesel oils under bacterial growth conditions. Biochem Eng J 37:212–218

Yu B, Ma C, Zhou W, Wang Y, Cai X, Tao F, Zhang Q, Tong M, Qu J, Xu P (2006a) Microbial desulfurization of gasoline by freewhole-cells of Rhodococcus erythropolis XP. FEMS Microbiol Lett 258:284–289

Yu B, Xu P, Shi Q, Ma C (2006b) Deep desulfurization of diesel oil and crude oils by a newly isolated Rhodococcus erythropolis strain. Appl Environ Microbiol 72:54–58

Zhang H, Shan G, Liu H, Xing J (2007a) Surface modification of γ-Al2O3 nano-particles with gum arabic and its applications in adsorption and biodesulfurization. Surf Coat Technol 201:6917–6921

Zhang Q, Tong MY, Li YS, Gao HJ, Fang XC (2007b) Extensive desulfurization of diesel by Rhodococcus erythropolis. Biotechnol Lett 29:123–127
Acknowledgments
The author wishes to extend his appreciation to King Fahd University of Petroleum and Minerals for providing the avenue for this review.
About this article
Cite this article
Nuhu, A.A. Bio-catalytic desulfurization of fossil fuels: a mini review. Rev Environ Sci Biotechnol 12, 9–23 (2013). https://doi.org/10.1007/s11157-012-9267-x
Published:

Issue Date:

DOI: https://doi.org/10.1007/s11157-012-9267-x
Keywords
Bio-catalytic desulfurization

Fossil fuel

Analytical techniques

Environmental regulations

Hydrodesulfurization

Cyanobacteria